Laser Levels make the job so much easier, no more messing around trying to draw a pencil line while holding the spirit level and just when you're about to mark the position, the spirit level moves.
Yes, we've all been there.
So, here are the best laser levels that we really would recommend you buy to make your work life a whole lot easier when you're trying to find those levels.
The Best Laser Levels Reviewed
That's a huge difference, and well worth the extra cost if you're simply looking for the absolute best laser level out there.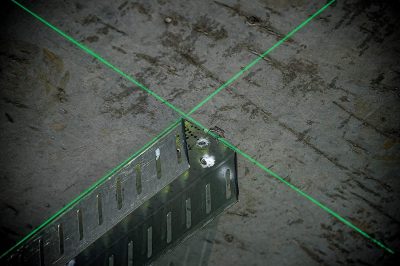 This one gives an amazing visibility range of 100 feet and a working range of 165 feet. That may not matter to you if you don't need that kind of range, but it just shows you how good the laser is.
Because the DW089LG uses green as opposed to red lasers, that'll give you much better interior and exterior line visibility and it's all powered by just 1 12V Lithium-ion battery pack.
The laser level is quite simply amazing. It will make that various leveling and layout jobs so much easier and when you want to get those levels perfect, then the DW089LG is ideal for projecting bright crossing horizontal and vertical lines inside or out.
As the name implies this unit offers the user the ability to use 3 x 360-degree line lasers, a real advantage when planning a full room layout.
There's also the option to add a detector like this for even longer runs if required. You can mount the unit on a tripod such as this one by DeWalt or simply use the Integrated magnetic bracket to secure the unit to any steel or metal track.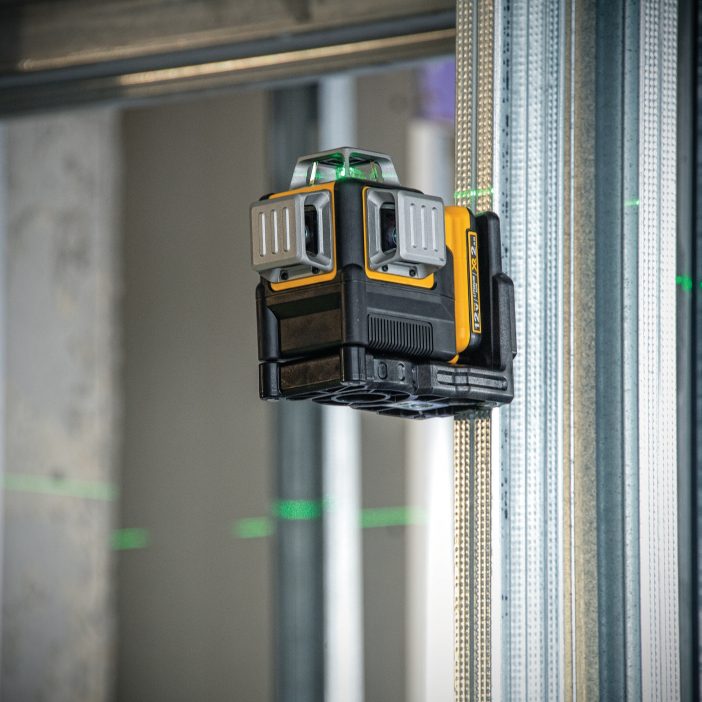 As we know work areas can be very busy places, people rushing about, things getting knocked and bumped but you don't need to worry about damaging the DW089LG because it comes as standard in a tough outer case housing and of course the dust and weatherproof protection rating of IP65. You also get a 12V MAX Battery and Charger, an Integrated magnetic Bracket, Green Target Card and some pretty cool Green Laser Enhancement Glasses too.
What We Like:
Built for site work – This Laser Level can take the knocks and combat the elements that you come across in everyday site use.
Green lasers for better visibility – See the lines so much easier inside and outside, essential for detailed working projects.
3-year warranty – This is built to do the job, that's how confident DeWalt is in giving it such a long warranty.
Self Levelling – No messing around trying to find a level surface, just place this in your chosen spot and it will find its own level.
Things to Consider:
It's quite bulky – That's ok for big work sites, but maybe not for your smaller job site areas where space is limited.
Do you really need all these features? – Yes, if you have lots of big setting out jobs, maybe not if you are generally working on smaller less detailed jobs.
Check the latest price on Amazon.
Best Mid Range Laser Level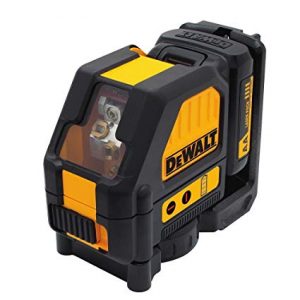 Professional workers will know that some features are a must when working in busy, dusty areas on site. This ticks all those boxes, such as the tough outer casing to protect it from bumps and knocks and the weather and dustproof rating. It uses green beam laser technology, that's an amazing – four times brighter than red laser beams.
And just in case you didn't know, it's self-leveling and also comes with the integrated magnetic brackets for attaching to metal or steel structures, so you don't have to mess around finding a level place to site it.
All powered by the 12V lithium-ion rechargeable power tool battery system.
This Laser Level can also be used with a tripod such as this one. This really is a great Laser Level and is perfect for household jobs and industry jobs alike.
What We Like:
100′ indoor range – No need to worry that the lines are going to disappear on long runs when projected onto floors, walls or ceilings.
3-year warranty – That's how confident DeWalt is about their build quality, giving you confidence that you have made the right choice.
Green laser technology – So much better than red lasers for visibility, in fact, an amazing 4 x brighter.
Value for money – You really could spend a lot more of your hard-earned money for less quality and fewer features.
Self-leveling – No messing about, it'll find it's own level for you.
Things to Consider:
Maybe still too expensive – for some people, if you are not going to be using it that often if that's the case, check out the Best Budget Laser Level DW088LG review below.
Check the latest price on Amazon.
Best Budget Laser Level
DEWALT 12V MAX Cross Line Laser, Red (DW088LR)
This is our best budget option Laser Level from DeWalt and make no mistake this is an amazing piece of kit. If you are a professional worker or you just want a reliable Laser Level addition to your tool collection then look no further.
This unit has a 50′ indoor working range, and pretty much all the same specifications as the DW088LG unit, but for a lot less money.
What We Like:
Great value for money – If you are only going to use this Laser Level now and again then it will be a great addition to your toolbox for the price.
12V MAX compatible – You can use your existing DeWalt 12V battery pack.
Quality – You still get the same high standards of dust and weather-resistant qualities as the more expensive DeWalt models.
Self-leveling – Same as the more expensive models, this finds its own level so you can get on with the job.
Things to Consider:
Uses 4 x AA Batteries as standard – But remember you can use DeWalt 12V batteries if you have them.
Red laser beam – Not as bright as green lasers but does this matter to you if you are only using this for smaller jobs?
Check the latest price on Amazon.