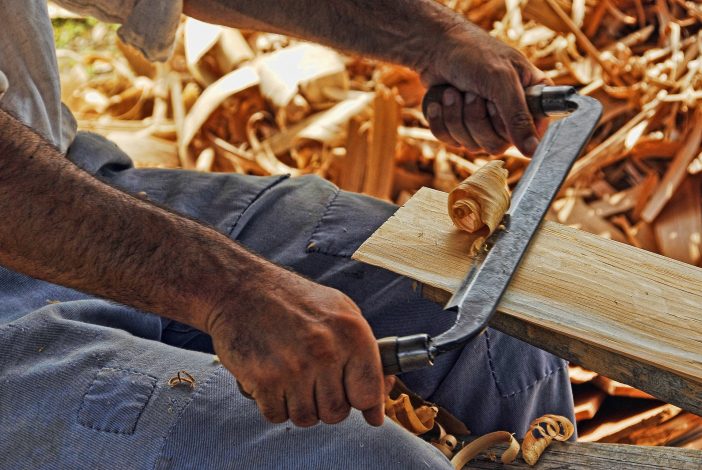 While power tools are great for quickly cutting, drilling, and shaping wood, there's something to be said for the precision and control of hand tools.
From chisels and saws to planes and spoke shaves, woodworking hand tools allow for a level of craftsmanship and attention to detail that simply can't be achieved with power tools. Lets take a look at some essential woodworking hand tools for traditional craftsmanship.
Hand Saws for Precise Cuts
Another indispensable tool for traditional woodworking is the hand saw. Hand saws come in a variety of shapes and sizes, each designed for cutting specific materials or making specific types of cuts.
The most common type of hand saw is the crosscut saw, which is used for cutting across the grain of the wood. Other types of hand saws include the rip saw, which is used for cutting along the grain of the wood, and the dovetail saw, which is used for making precise, angled cuts.
Planes for Smoothing and Shaping
Planes are used to smooth and shape wood, and come in a variety of sizes and shapes, each designed for a specific purpose. The most common type of plane is the bench plane, which is used for general smoothing and shaping of wood. Other types of planes include the essential jack plane which is used for rough shaping and the smoother plane which is used for final smoothing and finishing.
Spokeshaves for Curved Work
Spokeshaves are another important tool for traditional woodworking. Spokeshaves are used to shape and smooth curved surfaces, such as the spokes of a wheel or the curved arms of a chair.
Like other hand tools, spokeshaves come in a variety of sizes and shapes, each designed for a specific purpose.
Chisels for Tidying and Sculpturing
A chisel is a woodworking staple, acting as the pen to your scribe in wood carving. Be it cutting, shaping, or meticulously carving delicate designs, a chisel's sharp blade assures precision. Various types, like bevel-edge, mortise, or gouge chisels, allow for an array of woodworking design possibilities.
Moreover, their versatile nature makes chisels invaluable, with their use ranging from roughing out large portions of material to creating finely detailed work in joinery. The different types cater to specific tasks, enhancing their indispensable status in your traditional woodworking toolkit.
The Wooden Mallet for Applying Force Without Damage
In the woodworking realm, the mallet is your silent yet robust ally. With its trademark large wooden head, the mallet serves to exert necessary force without causing damage. It's ideal for driving chisels or dowels into your workpiece, ensuring the integrity of your tools and project alike.
Mallets' importance can't be overstated in tasks needing more force. Unlike metal hammers that risk harming wood or causing tool damage, mallets work softly but powerfully. They exemplify the balance of force and control necessary for precision woodworking.
The Drawknife Is the Time-Honored Tool for Shaping and Stripping
Its design is straightforward yet effective: a blade, typically 8 to 20 inches long, with handles at each end. The craftsperson pulls the drawknife toward themselves, hence the name, 'drawing' the knife across the piece of wood.
Drawknives excel at tasks such as debarking logs, creating wooden rods or shafts, and quickly removing excess wood from a workpiece before finer carving. In the hands of an expert, a drawknife can perform surprisingly delicate and precise tasks.
In use, the angle at which the drawknife is held, the angle of the edge to the wood, and the direction of draw all significantly affect the type and amount of wood removed. With the bevel of the blade facing towards the user, the drawknife can remove thinner, more precise shavings. With the bevel facing away, it removes larger chunks.
The Coping Saw Is Your Route to Artistic Precision
The coping saw serves as a gateway to artistic expression in woodworking. It's designed to undertake intricate cuts and work through exceptional curved shapes with finesse. A tool like this transforms a simple piece of wood into a work of art, a testament to your woodworking skills.
The precision the coping saw brings to the table can be contrasted with painting fine details on a canvas. With its thin blade and flexible frame, it offers a level of control that leads to detailed work becoming less laborious and more about pure crafting passion.
The Mighty Auger Is the Drilling Hero for Resilient Tasks
An auger steps into the limelight when there's a need to bore holes in wood. Equipped with a rotating shaft and an efficient spiraling cutting edge, the auger does its job with minimum effort but maximum efficiency.
The smooth and clean holes left behind by an auger exemplify the sophistication of traditional woodworking. A tool that might seem basic, even primitive, to the untrained eye, becomes a symbol of expertise, craft, and perseverance to those who understand the real wonders of working with wood.
Screwdrivers for Assembly and Disassembly Tasks
The talk of the town might be the more visually impressive tools like saws and planes, but silently holding it all together are the humble screwdrivers. Be they flat head or Phillips, screwdrivers ensure the integrity of your wood joints, assembling your pieces at the right angles and depths.
Their meticulous work, while often underappreciated, is pivotal to the stability and durability of the final wooden structure. Associated primarily with assembly and disassembly, screwdrivers are truly the connective tissue in any piece of woodworking – a feature that truly elevates them from mundane to miraculous.
Marking Gauge for Precise Line Marking
Lastly, consider the marking gauge as the meticulous architect that assists in draft planning. Keeping your work neat and accurate, it etches distinctive markings guiding the woodcutting process. They are especially useful for marking out mortises and tenons or scribing a line parallel to an edge.
For a craftsperson, the marking gauge is the tool that keeps you within the lines, helping you maintain the symmetry and precision that transforms an everyday piece into an exhibit of traditional woodworking flair.