If you are looking to add the best smoothing plane to your woodworking tool collection, then you'll probably already have a few hand planes already in your workshop set up.
A smoothing plane is usually the last of the bench type planes to be used on the wood surface.
Smoothing planes are typically used after the workpiece has been worked on by other planes such as a low angle block plane, jointer plane, fore plane, or a low angle Jack plane to name just a few.
Smoothing planes are an essential tool for anyone who works with wood, and they are particularly useful for achieving a smooth, polished finish on wooden boards and other materials.
To use a smoothing plane, the user holds the plane in their hand and moves it along the surface of the wood, applying pressure to the blade to cut away any remaining rough or uneven areas.
The user can adjust the blade of the plane to suit the material being cut, and they can also adjust the depth of the cut to control the amount of material that is removed.
The most common smoothing plane in use today is the number 4 smoothing plane, and as the name indicates, its job is to smooth the wood by removing very fine shavings leaving a super smooth finish.
We've taken a look at and reviewed the best smoothing planes around, we've selected the ones that are of the highest build quality, that offer real value for money, and of course, produce outstanding results.
Click on a link below to jump to that section
The Best Smoothing Planes Reviewed
Top Pick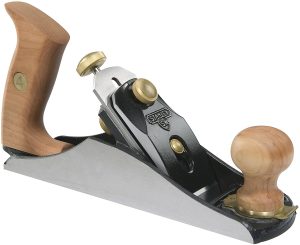 Woodworkers tend to acquire a lot of tools to help them with their woodworking jobs, most of you I imagine, will already own a variety of hand planes.
But as we all know, that doesn't stop us from wanting to add to our collection, we are always on the hunt for the ultimate tool that is going to help us in our woodworking jobs.
The number 4 smoothing plane from Stanley is one hand plane that you should definitely have in your tool collection.
Stanley have been making hand planes since 1870, so you can be sure that they know a thing or two about how a hand plane should be constructed and how it should perform.
Weighing 5.79 lbs this 13.1 x 6.8 x 3.2 inch smoothing plane boasts iron that is extra thick at 1/8 inch and made from A2 grade steel.
The base and frog of the plane are made in one piece which really is effective and helps to virtually eliminate chatter.
The Norris type adjuster features lateral locking and with an adjustable throat plate that means different types of wood can be worked on with this plane, you really do have a truly versatile tool.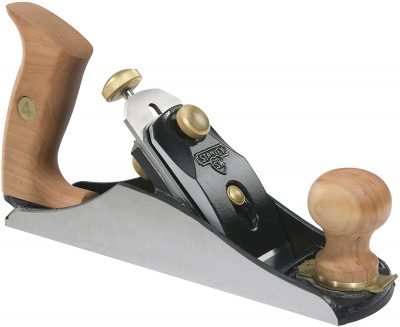 As you would expect from a top-quality tool manufacturer, you get all the nice finishing touches too, this smoothing plane features a Cherrywood handle and knob that not only looks superb but is also comfortable to work with.
You know what to expect when you buy a Stanley hand plane, you can set to work right out of the box if you wanted to, but we all know that we like to set things up to our own preferences don't we, even when we don't really need too.
What We Like:
Top Quality Hand Plane – This is a top-quality smoothing hand plane, if you want the best smoothing plane to finish off your woodworking jobs, then this is the one to go for.
Great Size And Weight – This well-balanced hand plane will give outstanding results time after time.
Fine Looking Plane – This smoothing hand plane looks the part, it is well designed and with a Cherrywood handle and knob that finishes the look off nicely it would be a great addition to anyone's tool collection.
Check the latest price on Amazon.
Runner Up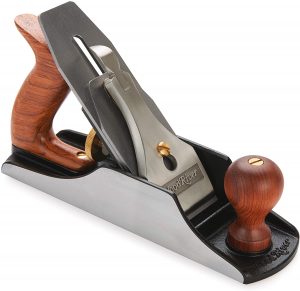 WoodRiver #4-1/2 Smoothing Plane
This is our runner up choice, this smoothing plane from WoodRiver comes with a high price tag.
Costing more than our top pick choice this hand plane is going to put a dent in your wallet.
Remember though, as we all know, if you want quality tools that are going to serve you well, then you have to pay good money for them.
This hand plane just could be the one for you, sized at 10.9 x 5.6 x 3.6 inches and weighing in at 6.38 lbs it features a 2-3/8 inch wide blade.
Fully machined frog and fine-grained ductile iron castings ensure quality is maintained throughout.
The production machining process on the soles and sides ensures flatness and squareness, of course, this is something that is expected from a quality smoothing plane.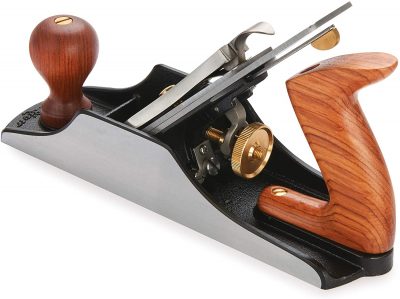 This plane is a firm favorite with woodworkers everywhere, with the design modelled on Stanley's best plane line with the expected and respected frog adjustment mechanism in place.
Precision milling of the ramp, results in the firm and effective positioning of the blade to the sole which in turn results in less chatter and better cuts.
Frog adjustment can be achieved without the need to remove the blade, this is great as it means that the mouth can easily and quickly be closed for other tasks such as end grain jobs or for when you just want to reduce the chances of tear-out.
As we mentioned in the top pick review, these high quality planes are good to go right out of the box, but as we all know, we do like to get them set up to our own high standards and working preferences, that's all part of the fun.
What We Like:
Top Quality – High on quality and some would say high on price, but we always say 'you get what you pay for' when it comes to tool quality and performance.
Great Size And Weight – Ensuring the right balance between size and weight makes for a great performing plane, the right balance is what this plane has.
One For The Collection – If you are a woodworker and has room for 'just one more' bench plane, then go for this one you won't be dissapointed.
Check the latest price on Amazon.
Worthy Mention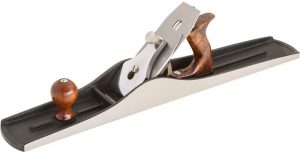 Most of the smoothing planes that you come across are a lot shorter in length than this smoothing plane from Grizzly, but that doesn't mean that that's how it should always be.
Most of the time the type of work that you are going to be using this hand plane for is, of course, final surface finishing so some would say that the greater the contact length of the plane actually helps to ensure a more perfectly smooth surface.
Not everyone will agree with that comment, but that's why there is a good variety of smoothing planes to choose from.
A lot depends upon the size of wood being worked on, some people prefer the most common traditional length of around 14 inches for a smoothing hand plane while others prefer a longer plane length, again it all comes down to personal preference.

As you would expect because of the bigger size of this smoothing plane, its weight is obviously going to be more than the traditional sized smoothing plane.
This plane weighs 10.2 lbs and measures 6 x 22.4 x 3.5 inches. The biggest difference that you will notice about this plane compared to other smoothing planes (apart from the length) is that this one has a serrated sole.
The idea behind the ground serrated sole is to enable better sliding when working because of the reduction of resistance on the worked surface.
Of course, you have full plane adjustment combined with a cast iron base, attention to detail can be seen and appreciated with touches like the rosewood knob and handle, frog and lever caps, and also the knurled brass adjusting nuts.
What We Like:
Bigger Than Normal – OK so it's bigger than the traditional size of around 14 inches for a smoothing plane, but we say give it a go you might find yourself with a new favorite smoothing plane.
Nice Attention To Detail – This thing looks great, in fact, it looks amazing and it does what it's supposed to do and that's what it's all about.
Nice And Heavy – We like heavy! a heavy smoothing plane working a long piece of timber is a great combination.
Check the latest price on Amazon.
Alternative Worthy Mention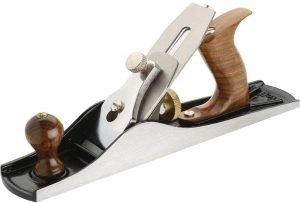 This smoothing plane is sized at 6.14 x 14.56 x 2.91 inches, and weighing in at 5.74 lbs 'hooray, that's more like it' I hear you shout.
Well, this is the smaller version of the H7568 and is used for final surface finishing, beautiful Rosewood is used for the knob and handle, and as you'd expect full iron adjustment is possible.
Featuring a cast iron base, frog and lever caps, chip breakers and knurled brass nuts for adjusting the set up.
What We Like:
Traditional Block Plane – Usual size and weight, this is what you'd expect from a standard smoothing plane.
Well Made Woodworking Plane – This smoothing plane is well put together and will give you good performance, once you have it set up to your own working preferences.
Value For Money – This block smoothing plane does give you real bang for your buck.
Check the latest price on Amazon.
Frequently Asked Questions
What is a wood plane used for?
A wood plane is a woodworking hand tool, it can be used to shape, smooth and reduce timber thickness.
There are many different types of wood planes, each plane has their own part to play in how a carpenter, cabinet maker, or indeed anyone who likes to work with wood wants their woodworking task to look.
Traditionally a hand plane would be human powered, but there are electrically powered versions available that do help with big woodworking projects.
Are Stanley planes any good?
Stanley woodworking hand planes are a firm favourite with woodworkers, Stanley is renowned for producing high-quality, reliable planes.
Chances are that you will have seen a Stanley plane if you have visited woodworking workshops as they are often the first choice plane for everyday use.
What hand planes should I start with?
If you are new to woodworking then you should start off with a small block plane. Starting off with a small block plane makes sense as you can try out and gain experience using it on different wooden surfaces and trying out various angles.
If you go for a small block plane you can usually work it with one hand, they're not too expensive (depending on which brand you go for) and are good for a wide variety of woodworking jobs.
As a second choice plane to start off with, go for a Jack plane. A Jack plane is a bench plane and is good for a wide variety of woodworking jobs, hence the name 'Jack' as in Jack of all trades.
A Jack plane is an extremely versatile bench plane and can be used to flatten, smooth, shape, and straighten up timber to name just a few of its capabilities.
What do the numbers mean on hand planes?
The numbers on a hand plane are an indication as to the length of the plane. For example, a number 1 would indicate that it is a very short plane, a number 4 being the more common mid-range size of around 14 inches. A high number such as the number 8 would be a long plane over 22 inches in length.
There are many different types and sizes of woodworking planes to choose from, there is no particular plane that is good for all tasks although the Jack plane is considered to be good for a wide variety of woodworking jobs.