Ask any woodworker, whether professional-grade or an enthusiastic DIYer if having the best woodworking tools, such as the best low angle block hand plane in your tool collection really does help, and they will tell you that having the best tools for the job is essential if you want to achieve a top-quality finish to your work.
When it comes to woodworking, it is really important that you select the right tool for the job. As you probably know, there are lots of different woodworking planes to choose from, such as jointer, bench, bullnose, chisel, shoulder, smoothing, and low angle Jack planes.
Remember, having the correct tool for the job in hand is essential for getting the best results. This review is all about low angle block planes, if you are interested in standard angle block planes as well then please check out my review of the best block planes.
Apart from motorized woodworking tools like belt sanders, the most frequently used hand woodworking plane is the smoothing plane. A low angle block plane is different from a smoothing plane in the fact that it has an adjust­able mouth, there's no cap iron, and the cutting blade is installed bevel up.
The best low angle block planes are, as the name tells you, used for obtaining a low cutting blade angle which makes it the ideal choice for cleaning up end grain and also for removing arris.
Low angle block planes are perfect for instances when you need to shape outside curves, and also for cutting angles such as an under-bevel section.
We've reviewed the best low angle block planes out there for you, our results are based on build quality, tool performance, and of course, value for money.
Click on the link to jump to that section
The Best Low Angle Block Planes Reviewed
Top Pick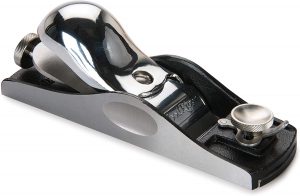 The first thing to note here is that this low angle block plane has a good weight to it. It weighs in at 2.04 lbs which gives it a solid robust feeling, which is just the kind of feeling you would expect to get from a quality tool.
Size-wise this low angle block plane measures 7.85 x 3.15 x 2.75 inches, the low bed angle is 12 degrees, it has a bevel angle of 25 degrees, and features the knuckle style lever cap.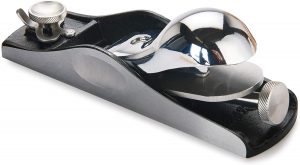 Blade adjustment is achieved via the rear knob, the front knob operates the adjustable mouth which gives you the option to really fine-tune just how thin you want those shavings to be, if you want paper-thin, you got it.
The all-important 1-5/8 inch blade itself is made from high carbon steel which has been hardened to RC60-64 standard to ensure you get impressive results time after time.
You really could just use this low angle block hand plane right out of the box if you wanted to, the blade is sharp and the sole is flat. But we all know that we like to add our own touch to our new tools with a little bit of our own fine-tuning, like honing the blade and getting it set up just how we like it.
What We Like:
Good Working Weight – Weighing in at 2.04 pounds giving a solid robust feel to the tool.
Adjustable Mouth – Smooth mouth adjustment so that you can really fine-tune those shavings down to paper-thin size.
Quality Product – Part of the Woodcraft family going back over 90 years these guys supply top quality hand planes.
Check the latest price on Amazon.
Alternative Top Pick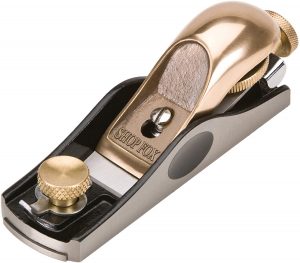 This block plane weighs in just a little less than our top pick, it comes in at 1.85 lbs and again you get that solid, quality feeling like our top pick.
Fully adjustable, this bronze and cast iron constructed, 6-inch low angle block plane has a 1-3/8 blade size and is a great performer when it comes to end grain and face grain work.
Fine adjustment is a breeze via the front and rear knobs so that you can get that blade working just how you want it to work.
What We Like:
Top Quality Tool – Strong, well made, and ready to go.
Fully Adjustable – Set it to how you want it to work and away you go.
Looks Great – We like the bronze and cast iron look that this low angle block plane has.
Check the latest price on Amazon.
Worth Serious Consideration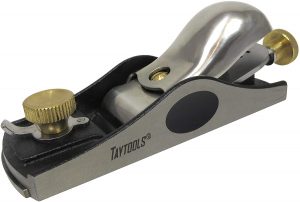 Ideal for smoothing and trimming jobs the low blade angle will soon have that end grain looking good.
Sized at 7 inches in length and 2-1/8 inches wide, this 1.8 lb plane with a 12-degree bed may just be your next best buddy.

Providing a comfortable palm rest the stainless steel knuckle joint cap holds the 1/8 inch thick steel blade, hardened and tempered to 55-60 HRC securely.
The blade is sharpened to a 25-degree angle, with the sole precision ground to within 0.001 of an inch over its entire length.
What We Like:
Well Made – The plane body is made from stress-relieved ductile cast iron, it features precision lapped sides and sole.
Comfortable To Use – The stainless steel knuckle joint cap provides a comfortable palm rest when using for long periods of time.
Not Too Heavy – Not as heavy as our first two choices, making it worth thinking about and giving the Taytools 468273 some serious consideration for those long time-consuming jobs.
Check the latest price on Amazon.
Best Bang for Your Buck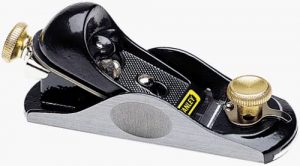 The Stanley 12-920 is a 6-1/4-inch long contractor grade low angle block plane featuring a 1-5/8-inch cutter.
The fully adjustable cutter sits at 21 degrees and is adjustable to 13 1/2 degrees, it is the perfect tool for end grain woodworking jobs and can even be used on plastics too.
The casing is made from cast iron with precision-ground sides and sole. There's a quick-release cam-lock for quick iron removal.
You know what you are going to get with Stanley products, this low angle block plane gives you real bang for your buck that's for sure.
What We Like:
Tried And Trusted – Stanley tools are tried and trusted by tradesmen and DIYer's the world over.
Great Value – Real bang for your buck with this contractor-grade low angle block plane.
High Quality Tool – Cast-iron base precision-ground sides and bottom.
Check the latest price on Amazon.
Best Budget Choice
This brand may not be a familiar name to you but if you are after a low priced block plane then this may just be the tool for you.
We have here a 6-1/4 inch block plane that comes with a 1-3/8 inch cutter, the plane is fully adjustable with the blade resting at 13 1/2 degrees.
As you'd expect this 1.77 lb model features an adjustable mouth and is a great choice for working on end grain applications.
This is a contractor grade low angle block plane and is a good choice for the occasional woodworker that doesn't want to spend too much money on a tool that won't be used that often.
What We Like:
Great Quality Tool – For the price, you'll be pleased with the performance of this tool.
Low Cost – What's not to like, it's low cost and it does the job.
Budget Bargain -If you want a budget-priced low angle block plane, this is the one to go for.
Check the latest price on Amazon.
Other Worthy Mentions
These low angle block planes didn't make it into our top pick sections but we think that they are definitely worth a mention.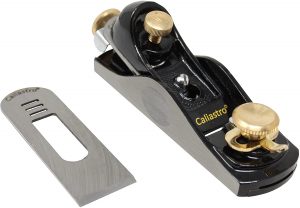 No. 60-1/2 Adjustable Mouth Low Angle Block Plane
This Caliastro LLC block plane is ready to use right out of the box, with the hardened and tempered blade bedded at 13.5 degrees.
Key Features:
Block plane length of 6.1 inches.
Fully adjustable mouth.
Weighs in at 1.9 lbs.
2 blades supplied.

Stanley 12-139 Bailey No.60-1/2 Low Angle Block Plane
This is a quality low angle block plane from Stanley it's sized is 9 x 3.5 x 3.25 inches you can be assured of getting smooth planing results time after time.
Key Features:
Adjustable mouth.
The plane iron is honed to 25 degrees.
Norris-style adjustment combined with lateral locking.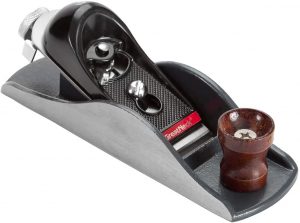 Great Neck Saw G2 7″ Adjustable Block Plane
This is a great choice for everyday woodworking tasks.
Key Features:
Weighing 1.44 lbs making it a nice weight for long use.
Sized at 7.5 x 5.4 x 2.3 inches.
Featuring a hardened and tempered 1-5/8 inch width Cutter.
Stanley 12-960 Contractor Grade Low Angle Plane
This 6 inch Stanley low angle block plane comes complete with a 1-3/8-inch cutter resting at 13.5 degrees.
Key Features:
Fully adjustable cutter.
Precision ground sides and a cast iron base.
Easy iron removal with the quick release cam lock system.
Frequently Asked Questions
What is a low angle block plane used for?
A low angle block plane is used for fine detailed, trimming woodworking tasks, ideally suited to end-grain work, creating custom bevels, shaping curves, and cutting angles.
Low angled block planes are capable of producing shavings so thin that it is possible to see through the shaving.
What angle is a low angle block plane?
A low angle block plane has a bed angle of 12 degrees, usually, when you buy a new low angle block plane the blade is already honed at an angle of 25 degrees. With the blade being used in the bevel up position, this gives a cutting angle of 37 degrees.
What is the correct grinding angle for sharpening a plane blade?
As with any wood cutting tool, it is essential that the cutting blade is kept sharp to enable efficient woodworking and precise cutting of the wood being worked on.
Plane blades are usually sharpened at a 25-degree bevel angle, this is usually achieved with the help of a motorized grinding wheel although it can be done by hand too.
Of course, many woodworkers, carpenters, joiners, cabinet makers, and DIY enthusiasts like to set up their own tools to their own specific specifications depending upon the type of woodworking task being undertaken.
Why do planes have low angles?
Planes have low angles to enable you to change the cutting angle of the blade, this helps you to create different cutting angles for different jobs or woodworking tasks. With a low angle block plane, the bevel is in the up position which means that any cutting angle can be varied on the irons bevel angle.