For this review we've selected the best block plane based on value for money, build quality and reliability only the best block planes have been selected so that you can decide for yourself which one is right for your needs.
A block plane is a type of hand plane that is used in woodworking for trimming and smoothing the surfaces of wooden boards and other materials. It is called a block plane because it is small and compact, and it is designed to be held in the hand like a block. The blade of a block plane is set at a low angle, which allows it to cut very smoothly and evenly across the grain of the wood.
Block planes are an essential tool for anyone who works with wood, and they are particularly useful for trimming and smoothing the edges and surfaces of wooden boards. To use a block plane, the user holds the plane in their hand and moves it along the surface of the wood, applying pressure to the blade to cut away any rough or uneven areas. The user can adjust the blade of the plane to suit the material being cut, and they can also adjust the depth of the cut to control the amount of material that is removed.
Block planes are typically made of metal, with a wooden or plastic handle for grip. Some block planes also have additional features, such as a built-in level or a fence that can be adjusted to make angled cuts.
There are many different types of woodworking hand planes available, this review focuses on standard angled block planes, if you require a low angle block plane, please check out my review of the best low angle block planes.
Naming just a few of the different types of hand planes available such as a low angle jack plane which is a great all rounder plane, shoulder planes for tricky detail work and smoothing planes, which as the name suggests gives a nice smooth flat finished surface to the wood being worked on.
Whether you are a professional woodworker, carpenter, joiner or enthusiastic DIYer there is sure to be a block plane reviewed here that will help you with your woodworking tasks.
Click link to jump straight to each section.
The Best Block Planes Reviewed
Best Block Plane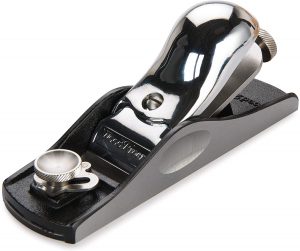 WoodRiver Standard Block Plane with Adjustable Mouth
This block plane from WoodRiver is fully adjustable and features a 20 degree bed angle. Quality features make this 'the go to' block plane and certainly one that should be included in your woodworking tool collection.
The first thing you notice about this block plane is its striking appearance, the chrome plated knuckle cap is instantly recognisable,
But we all know what really matters is just how well the tool performs, this block plane with its 25° bevel high carbon steel tool blade which is hardened to Rc60-64 ensures maximum edge retention, this cutting blade is good to go right out of the box.
As for blade adjustment this is easily achieved with the rear knob, the adjustable mouth is smooth to use and anything from fine whisper thin shavings can be taken for delicate work through to thicker shavings for more coarse work requirements.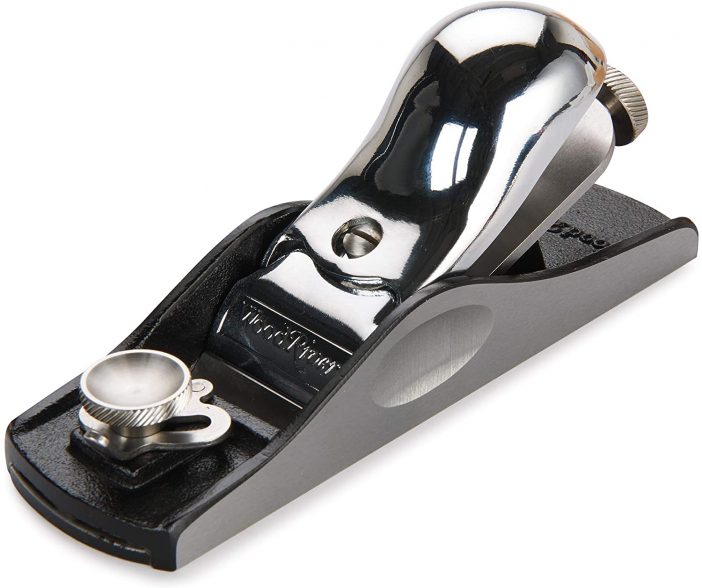 Of course, we all like to get our hand tools set up and working just how we want them to work, so if you want to hone the blade just that extra little bit then go for it.
This WoodRiver block plane is the 1-5/8″W x 0.125″T, 2″W x 7″L version and weighs in at 2.2 lbs.
Precision machined ductile iron castings are flat and square which is all part of the attention to detail that this hand block plane is all about.
What We Like:
Looks Great – Striking appearance, grabs the attention.
Quality Block Plane – Not the cheapest, but for decent quality tools, it's worth paying a few extra bucks.
Good To Go – Right out of the box, but if you want to fine tune the set up, then that's OK to do too.
Check the latest price on Amazon.
Alternative Top Pick
Stanley 1-12-020 Block Plane No. 9, Black/Silver
If you are a woodworker or a collector of tools then you'll be familiar with the Stanley name.
Stanley are renowned for making quality hand tools and woodworking equipment, this block plane continues in that great tradition.
Most woodworking tool collectors will have at least one Stanley plane in their collection, this Stanley No 9 block plane is the ideal choice for general woodworking tasks, great for craft projects and any light duty working too.
The cutting blade sits at 21 degrees making it the perfect choice of plane for end and cross grain woodworking jobs.
Size wise the plane comes in at 2.76 x 7.87 x 5.31 inches and has a weight of 1.92 lbs to complete the set up.
What We Like:
Quality Block Plane – Stanley have been producing great hand tools for a long time, this plane is a great tool to have in your tool collection.
Blade Angle of 21 degrees – Perfect for cross and end grain woodworking jobs.
Easily Adjusted – Quick and easily adjustable parts to get the plane working just how you want it to.
Check the latest price on Amazon.
Worth Consideration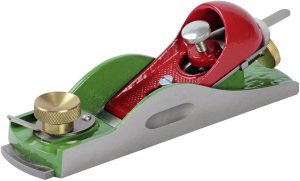 You may not be familiar with this German tool manufacturer but if you give this plane a chance to impress you, then you may become a big fan of their woodworking planes.
All the component parts of this woodworking block plane are finely machined ensuring smooth trouble free adjustment and thanks to the heavy casting the plane has a sturdy feel to it.
This design is based around the tried and trusted Stanley planes which as we all know are renowned for their quality and reliability.
Featuring an adjustable throat opening, lateral blade adjustment and sturdy cast iron body construction, you'll be impressed with the results you get when working with this block plane.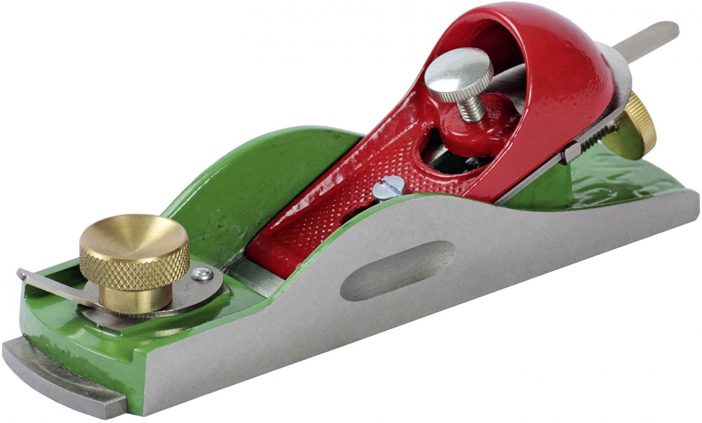 The cutting blade angle for this block plane is at 20° and has a 1 5/8″ blade, the overall size of this block plane is 7.64 x 2.68 x 2.52 inches and has a good weight to it of 1.94 lbs.
What We Like:
Strong Build Quality – Precise adjustment and finely machined for reliable results.
Versatile Block Plane – Suitable for everyday woodworking tasks.
Good Working Weight – At 1.94 lbs this block plane feels sturdy and robust.
Check the latest price on Amazon.
Best Budget Option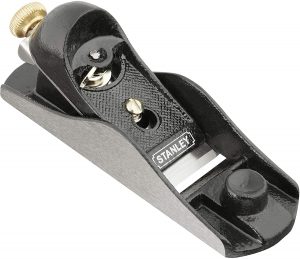 As we mentioned before, Stanley planes are well made and get the job done. This block plane is the ideal choice for someone that wants good results, but may not want to spend too much on a plane because of the amount of use that it might be given.
Featuring a cast iron base, machined sides, and fully adjustable cutting depth and alignment. The cutting blade is at 21 degrees making it a great choice when working on cross grain planing tasks.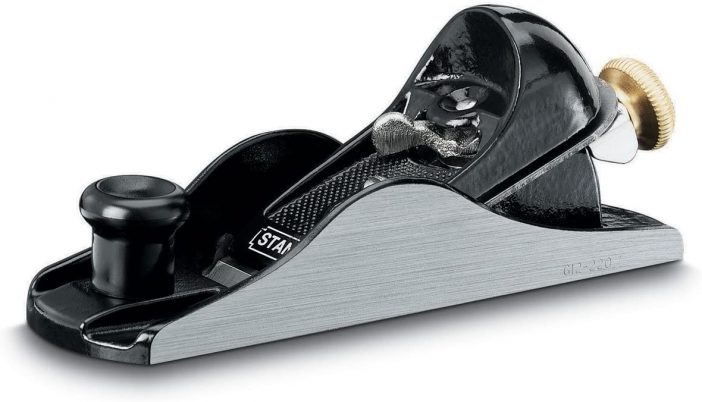 An epoxy resin coating ensures lasting protection and to help create a comfortable working position and added control of the plane as you work there is a finger rest incorporated into the front knob.
What We Like:
Real Bang For Your Buck – Yes, for what you get here and the price you pay, it really is value for money.
Fully Adjustable Block Plane – Bargain price but still has the essential features you need.
Good To Go – Get working right out of the box.
Check the latest price on Amazon.
Another Worthy Mention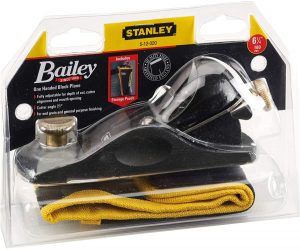 Stanley 512020 9.1/2 Block Plane C/w Pouch
This Stanley block plane comes with a handy pouch to keep the plane safely packed away when not in use.
Key Features:
Great for working on end grain and plastic material.
Precise tool control with cutting depth and alignment adjustment.
Cast iron base with finger grips at the side.
Sized at 2.36 x 7.87 x 5.51 inches.
Frequently Asked Questions
What's a block plane used for?
Block planes are quite versatile hand tools, they are an essential tool to have in your collection if you are a carpenter, joiner or DIYer that undertakes woodworking tasks.
A block plane is a small hand plane, it can be used or worked with one hand, and is the ideal choice of hand plane to use for face and end grain wood work.
Other uses for a block plane include chamfering, corner joint levelling jobs, smoothing off sawn cuts of wood, and tidying miters.
Many craft and model hobbyists use a block plane for use on fine or detailed woodworking projects, super fine paper thin wood shavings can be taken from the work piece, in some cases so fine that the work surface requires little or no sanding.
It's also a great choice of hand plane for small woodworking maintenance jobs around the house, such jobs like trimming a small area from a sticking or scraping door or tidying up rough wooden edges.
What is the difference between a block plane and a bench plane?
The first big difference you notice when you look at a block plane and a bench plane is the actual physical difference in size between the two.
A block plane is typically only 6 or 7 inches in length, bench planes are longer, some bench planes are as long as 24 inches in length and as being such a large sized plane are generally used in workshops by carpenters, joiners and enthusiastic DIYer's on bench's.
Blade angles differ too, on a standard block plane the bevel faces upwards and the blade angle is usually set at 20 degrees, on a low angle block plane the blade angle is set at 12 degrees. Compare that to the blade angle on a bench plane which is set at 45 degrees, with the bevel facing down and you can see a big difference in the cutting angles between the two models.
When working with a block plane, because of its small size you will usually only need to work the plane with one hand. With a bench plane, because of its large size you will need to use two hands, one hand holding the rear handle, known as the tote and the other hand holding the front knob.
What angle do you sharpen block plane blades?
Sharpening block plane blades is an essential part of maintaining your hand tool, keeping the cutting blade in a good sharp and clean condition plays a vital role in how well the tool performs its woodworking tasks.
There are two types of block plane, there is the standard block plane with a 25 degrees bevel and a bed angle of 20 degrees which gives an effective cutting angle of 45 degrees.
With a low angle block block plane you have a 25 degree bevel and a bed angle of 12 degrees, this gives an effective cutting angle of 37 degrees.
What do you look for in a block plane?
The first thing I would say here is that all block planes are not equal. There are some really cheap block planes available that quite simply are not up to the task. So if you want consistently good results from a block plane then don't go looking in the bargain buckets for one.
What you should be looking for is a block plane that has a flat sole, this really is important because if that sole isn't perfectly flat then the blade will miss area's on the work piece as it is being used.
Next you need to be able to adjust the plane quickly, easily and smoothly. Planes that are fully adjustable, meaning depth of cut and an adjustable throat are a must if you want a truly versatile block plane that will serve you well on your woodworking projects.
A sharp cutting blade is arguably the most important part of the whole planing process and as such cutting blades that are made from hardened steel are essential to ensuring a blade remains sharper for longer and in return gives a smooth planed surface more consistently which is what we all strive for when we are woodworking.
---
We hope this list of the best block planes has been helpful.
If there's anything good that you think we've missed, or if you have any questions about anything, then let us know down in the comments below.