Having the best gas backpack leaf blower really is the best solution when you have a lot of leaves to shift.
A gas backpack leaf blower is a type of power tool that is used for blowing leaves, grass clippings, and other debris from yards, sidewalks, and other outdoor surfaces. It is a portable, self-contained unit that is worn on the back, with a long nozzle that is held in the hand and pointed at the debris to be blown away.
These leaf blowers are typically powered by small, two-stroke or four stroke engines that run on a mixture of gasoline and oil. The engine is mounted on the back of the unit, along with a fuel tank, an air intake, and a muffler. The engine drives a fan that generates a high-speed stream of air, which is directed out of the nozzle at the end of a long, flexible hose. The user holds the nozzle and points it at the debris to be blown away, using the force of the air stream to clear away leaves, grass clippings, and other debris.
One of the key advantages of gas backpack leaf blowers is their portability and maneuverability. Because the unit is worn on the back, the user has complete freedom of movement and can easily reach into corners, under shrubs, and around obstacles to blow away debris. This makes them an ideal tool for clearing leaves and debris from large areas, such as yards, park grounds, or hiking trails.
Gas powered backpack leaf blowers, like handheld gas leaf blowers, really do give you the freedom to move about without being restricted by the length of an electrical cord.
Forget the hassle of electrical cords getting tangled up and you spend most of the time you had set aside to actually do the job, sorting out that tangled mess. And no waiting around for batteries to charge like you sometimes have to do with a battery powered leaf blower.
As for clearing those leaves, you'll want a blower that is suitable for your needs, that's efficient and comfortable to use.
Best Gas Backpack Leaf Blowers Reviewed
Best Gas Backpack Leaf Blower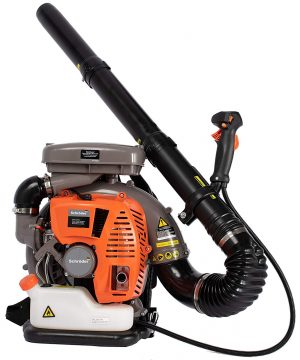 Although I do have a theory.
What becomes obvious is the number of times you see the same model listed in categories such as the top 10 best…… In most cases when you actually look at what the best model can do and then compare it to the other models, you wonder why was that one chosen when it clearly isn't the best option.
The reason is clear, what you have is a site that is basically just listing products with a very basic product description and supplying you with a link to buy the product. They aren't giving you a review of the product at all.
There are many sites out there that do this, what I'm doing here is reviewing the products and talking about its qualities and if I think there's something negative about it, then I'll tell you.
Rant over, let's get on with the review.
This is our top pick gas-powered backpack leaf blower. First off, designed by German manufacturer Schroder, a name that may not be as familiar to you as brand names such as DeWalt, Makita, Milwaukee, or Bosch but that shouldn't mean that the product isn't worth consideration.
So let's see what we've got here, some folks may be put off by the mention of Industrial in the product description.
Fear not, because what that is telling you is that what we have here is an industrial quality leaf blower that is going to be able to withstand plenty of hard work.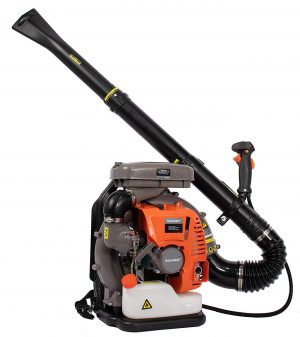 If you live in an area where you get a lot of leaf fall, then you want a machine that will effortlessly clear those wet or dry leaves.
You don't want an underpowered leaf blower that just can't cope with high volumes of leaf fall, the Schroder SR-6400L is one of the most powerful backpack blowers around.
If you've got a lot of leaves to shift then isn't that what everyone looks for first when buying a leaf blower, the airpower output?
We basically just want to shift as many leaves as possible in the quickest amount of time, the Schroder SR-6400L is a monster when it comes to airspeed and air volume output.
Powered by a 63.3 cc, 2-stroke 3.7 HP gasoline engine with tube throttle control the maximum airspeed output is an incredible 230 mph, which should be more than enough to keep the speed freaks happy.
Airspeed alone though is not the defining factor here, ok so we can blow those leaves about at 230 mph if we want to which, I admit, is kinda fun.
Its volume of air movement that is more important than airspeed if you have a lot of leaves to shift. So here it comes and I advise you to hold on to your hats for this one because we are talking a massive 920 CFM. Yup, you read correctly, a massive 920 CFM, so good I said it twice.
I'll explain CFM for you, just in case you were wondering why I got so excited. The initials CFM stands for cubic feet per minute, so with a CFM capacity of 920, we are talking about being able to move a volume of 920 cubic feet of air every minute. That's gotta put a smile on your face.
So what's the next important feature to consider when buying a gas backpack leaf blower?
I reckon we need to know about the weight of the blower. Remember that if we have a serious amount of leaves to shift, then it ain't gonna be a five-minute job.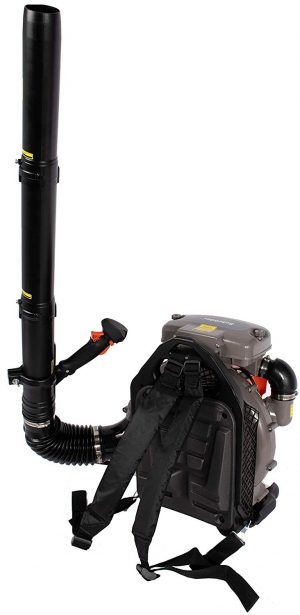 Obviously, that's why we're looking at a backpack option here, you might be using the blower for a couple of hours at a time.
So you want the backpack to feel as comfy as possible when you have it on.
This one comes with padded shoulder straps and padded back support to help you feel comfortable when working, and also helps to keep a bit of air ventilation between you and the leaf blower.
Weight-wise then, this blower comes in at just 19.5 lbs which when compared to the, shall we say, popular choice of leaf blowers, is actually lighter by 2 – 3 pounds.
So to recap, we've got much higher airspeed and air volume output. We also have a lighter weighing backpack than most of the other contenders.
Right, what shall we look at next? Let's check out noise levels, that's another really important factor to consider, especially with gas engines.
Everyone knows that leaf blowers make noise, whether they are battery or electric powered, and you would expect gasoline engines to make the most noise. That isn't always the case, just how much noise, or rather, how little noise is what's important here.
The Schroder SR-6400L comes in at 98 decibels, which again if you looked at the actual specifications of other gas leaf blowers then you'll see that most 2-stroke engined gas leaf blowers are louder than this model.
OK so we know that obviously we will be wearing our safety gear, eye protection, gloves, boots, and ear protection whenever we are using power tools, that's a must. So maybe you're thinking, hey, why worry about the noise, I ain't gonna hear it, I've got my ear protection on.
That's true, if you do have the correct ear protection then the noise level is reduced down to safe working levels, but spare a thought for your neighbors or people passing by. At least you can say that you did bare in mind noise levels when you made your choice as to which backpack blower to buy.
You can see that this is a darn good option to think about, I mean what's not to like here? Even assembly is easy, it comes with very detailed easy to follow color instructions along with a few extras. You get an extra starter handle assembly, a tool kit, a gas/oil measuring container and two nozzles.
Oh, and if you were thinking about Warranties, how does a 5-year warranty sound?
I'd say it sounds like music to my ears, well, in that case, start dancing because a 5-year warranty is what you get.
What We Like:
Powerful Performance – 230 mph airspeed and a massive 920 cubic feet per minute air volume.
Lighter Than Most – At just 19.5 lbs this is one of the lightest gas-powered backpack leaf blowers out there.
Peace Of Mind – 5-year warranty included as standard, that's much longer than most companies offer.
Things to Consider:
Do You Need A Big Capacity Leaf Blower – If you have lots of leaves to clear and you want them clearing fast, then this is the leaf blower for you.
Check the latest price on Amazon.
Alternative Pick
To start with the biggest difference between the two models is that this backpack leaf blower is powered by a 4 stroke gasoline engine. The 4 stroke engine has some advantages over 2 stroke engines, such as just using regular unleaded gasoline. There's no oil to mix in with the gas which is standard practice with 2 stroke engined leaf blowers. Engine noise is reduced to a much more comfortable working level, it's more fuel-efficient and fewer engine emissions are produced.
So everything is sounding pretty good here, should this have been the top pick? Well, this backpack leaf blower is a slight step down in airpower output, but none the less is certainly up to the job.
Powered by a 4 stroke 52.5 cc 2.5 HP engine, and with a fuel tank capacity of 60.9 oz to keep you working longer. This 4 stroke engine requires no fuel mixing and has what Makita calls a "mechanical automatic engine decompression system." This basically means it will be easier and quicker to start, so, sorry, but you're getting no pull cord workouts with this leaf blower.
Airpower talk now, the maximum airspeed output is an impressive 184 mph, our top pick was 230 mph. And a maximum air volume output of 516 cubic feet per minute compared to our top pick which was 920 CFM.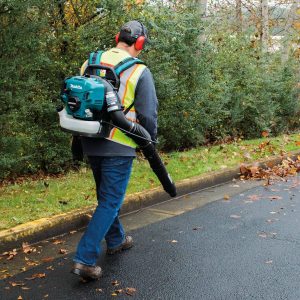 These are both very impressive air outputs considering that this is only a 52.5 cc engine.
And again if you compared it to similar-sized 2 stroke engines, you'll find it hard to beat these air output measurements.
This is a very good option to consider if you are looking for just a little less power than our top pick.
Weight-wise the Makita comes in at 19.7 lbs, our top pick weighed in at 19.5 lbs so not much difference here even though this is a 4 stroke engine which many people think are usually a lot heavier than 2 stroke engines.
The backpack is designed for comfort, you could be using this blower for many hours at a time, so comfort is very important.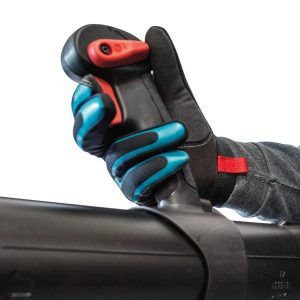 The engine is mounted on heavy-duty anti-vibration mounts, there's also a padded back panel and padded shoulder straps.
Again I would like to have seen a waist strap included. Waist straps can be bought separately if you require one, it's just down to personal choice I suppose.
All these features working together to give you as much comfort as possible when you're battling with those piles of leaves.
With easy tool-less, tube throttle handle adjustment, you can quickly find your most comfortable holding position.
Moving on to the important subject of noise output, this in itself could be a defining factor in your decision as to which gas-powered backpack leaf blower to buy.
Maybe you have neighbors that are quite close to your property or perhaps you are local to a walkway, either way, noise can be an issue.
At the start of this review, when we talked about the advantages of 4 stroke engines over 2 stroke engines, I mentioned that engine noise was reduced in 4 stroke engines. Well, it's time to see if that statement was correct.
Our top pick Schroder model came in with a noise rating of 98 decibels, which as I said before was a very respectable level of noise compared to some of the other gas-powered leaf blowers out there.
Ok, so are you ready for this?
The Makita blower comes in at just 70 decibels, you've gotta be impressed with that, and maybe your neighbors would be too. That's a huge 28-decibel difference between the two models there. So would the Makita's lower noise levels be more important to you than the extra air power of the Schroder model?
We've all got to do a bit of maintenance from time to time to keep things running along as they should be.
Maintenance is a simple job on the Makita blower with easy access to the air filter for example.
Air filters do an important job and need to be kept clean to ensure optimum engine performance.
So if you ever do need to replace the air filter in the future then it's an easy job and doesn't everyone love an easy job.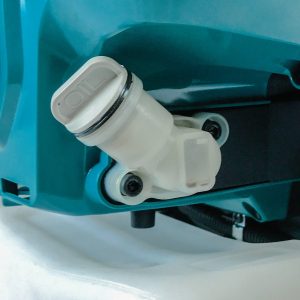 Access to the engine oil filler cap is not a problem either, it's not hidden away behind a panel it's easily accessible too.
So when you need to top up the engine oil, which we have to do from time to time, it's not a major task to do it.
Just remember when working with any power tools, always wear your safety gear. Protect your eyes, ears, hands, and feet. Always wear suitable clothing and give yourself plenty of time to complete the job.
What We Like:
4 Stroke Engine – No messing around mixing gas and oil, it runs on regular unleaded
gasoline.
Low Noise Output – At only 70 decibels, that is impressive.
Low Emissions – Due to the cleaner burning 4 stroke engine, fewer fumes are given off.
Things to Consider:
Is It Powerful Enough – More than enough for most routine jobs. But are you working on big scale leaf clearance? If you are then our top pick choice should be your choice too.
Check the latest price on Amazon.