We've selected the best electric leaf blowers available and reviewed them for you so that you can choose which electric powered leaf blower is best suited to your own personal requirements.
If you need to move high volumes of leaves or just a quick tidy up, the best and easiest way to do this is to use a leaf blower. Leaf blowers are available in electric, gasoline, and battery powered versions and there are also gas backpack leaf blowers out there too.
Electric leaf blowers offer a convenient solution to getting rid of those piles of leaves, they are lightweight, powerful and best of all there's no refueling required with gasoline like you have to do with gas powered leaf blowers or having to make sure that batteries are charged prior to use in battery powered leaf blowers.
The Best Electric Leaf Blowers Reviewed
Click below to jump to each section
Our Top Pick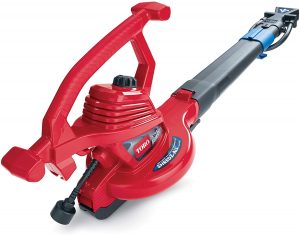 Toro 51621 UltraPlus Leaf Blower
This is the top of the range leaf blower from Toro, it's the 51621 ultra plus model and it packs a couple of extra features that you may not be aware of.
What you are actually getting is 3 machines in one here, you get a leaf blower, you get a leaf shredder and you also get a leaf vacuum machine.
When it comes to getting those leaves shifted you can expect an airspeed of up to 260 mph to help you with your task. Airspeed is controlled via a variable speed control knob handly positioned below the handle for quick easy access.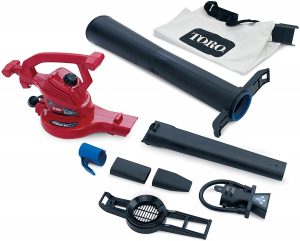 Helping you to Make sure you get all those leaves rounded up are the included tube inserts. You get the main tube which is ideal for shifting leaves or other debris out from where it's hiding, like under shrubs and bushes for instance.
Then there's the power insert tube which is great for moving those leaves into rows or piles. And finally, to complete the setup is the concentrator tube that removes those leaves or other bits of debris out of cracks and other hard to access areas.
Feature wise this is a very impressive machine and weighing only 8.9 lbs it's certainly very user friendly when it comes to using it.
Air volume movement is a very impressive 340 CFM in the leaf blowing mode and 405 CFM in the vacuum function. So plenty of airspeed and air movement created by this electric leaf blower.
What We Like:
Multiple Use – A 3 in 1 machine, leaf blower, leaf shredder, and leaf vacuum are all options available to be used with this our top pick leaf blower.
Powerful – Airspeed of up to 260 mph and air movement of 405 CFM can be achieved using this leaf blower.
Lots of Accessories – Everything you need to get you up and running is included.
Check the latest price on Amazon.
Alternative Top Pick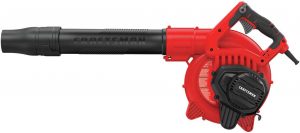 This is a really great leaf blower, super powerful compact and lightweight the perfect combination.
This is our alternative top pick and this is for those of you that just want a single function machine, what you get here is a lightweight, compact, top performing leaf blower, that's for sure.
You get a very impressive airspeed of 145 mph made available to you, this airspeed is controlled by a variable speed control trigger which helps with different job requirements.
And as for any stubborn bits that need an extra bit of airpower, there's a concentrator nozzle included that whips that airspeed up to 180 mph.
Air volume movement is also very impressive at 410 CFM, which is really going to shift a lot of leaves very quickly. You also get a 3 year limited warranty included, and if you need to get started quickly on those leaves then this leaf blower is good to go, right out of the box.
What We Like:
Concentrator Nozzle – Using the concentrator nozzle gives you the option of an airspeed of 180 mph.
Compact And Lightweight – Very user friendly, if you need to use this leaf blower for a long period of time, you can.
Check the latest price on Amazon.
Best Budget Option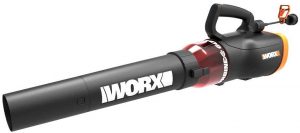 You want power? Then you've got it when and where you want it with this monster of a leaf blowing machine.
This leaf blower is our budget choice option, what we haven't done here is to go for a really cheap leaf blower that will work fine for a short while and then stop working altogether. It may be a budget choice but it's got to be fit for purpose.
We've gone for a tried and trusted model that really will get the job done and will last for many more jobs to come.
This Worx leaf blower really does pack some power, it has a variable airspeed output of 110 mph which is impressive enough. But when you combine that with the air volume capacity of 600 CFM, then you see why this is a monster of a leaf blower.
You may be thinking that it looks like a heavy piece of equipment, wrong, it's only 7.2 lbs, which makes light enough for single handed use. And if you need an extra boost of air for any particularly stubborn bits of debris, then you've got it with the use of the hyper stream air nozzle.
What We Like:
Very Powerful – Airspeed of 110 mph and a CFM of 600 will cope with the biggest of leaf blowing jobs.
Lightweight design – Light enough for single handed use.
Things to Consider:
Not Rock Bottom Budget Price – This is the budget choice, but if you go for the really cheap options then you won't get anything nearly as good as this leaf blower.
Check the latest price on Amazon.
Frequently Asked Questions
Do leaf blowers work on wet leaves?
We all know that leaf blowers work very well with dry leaves, with many gardeners and landscapers making use of leaf blowers on a daily basis. But many people are not so sure about whether they are actually any good for moving wet leaves about.
The answer is yes, leaf blowers are able to move wet leaves, provided that they have a powerful enough airspeed option. What is needed to shift those stubborn wet leaves is a powerful jet of air directed at the edge of the wet leaf so that the force of air gets under the wet leaf to lift it up.
How powerful does a leaf blower need to be?
Leaf blowers are usually quoted with airspeed and CFM values prominently displayed. But what exactly do they mean with regard to different job circumstances?
If you are simply using the leaf blower to clear debris away from buildings or for clearing leaves from small paths or small yards then a medium to high airspeed leaf blower will suffice.
For larger volumes of leaves that need moving around then you need to go for a high CFM ( cubic feet per minute ) rating, as a high air volume is what is needed to move large amounts of leaves.
So for example, a CFM of 400 will move 400 cubic feet of air around every minute.
What types of leaf blower are available?
When looking to buy a leaf blower you need to make sure that it is suitable for your needs. If you have a large area of leaves to move that are away from places with electrical power, then an electric leaf blower would be no use.
Your best option would be to go for a gas powered leaf blower, which could be a handheld or a backpack version. Or a battery powered leaf blower, sometimes also called a cordless leaf blower. Both of these options give you the freedom to move around without the constraint of power cords.
What should i look for in a leaf blower?
Depending on where you are using the leaf blower, if it's remote from any electrical source then a gas powered or battery powered option is your best bet.
The air volume capacity ( CFM ) of the leaf blower is the most important value to consider if you have large volumes of leaves to move. The higher the CFM value, the more leaves you will shift.
Other important factors to consider are the weight of the air blower, and overall size. You may be needing to use it in places with restricted space to maneuver, so a more compact designed leaf blower would be more favorable.
Other Worthy Mentions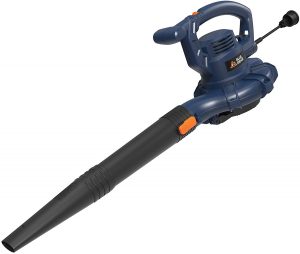 Powerful 12.0 Amp 3 in 1 leaf blower, vacuum and mulcher will soon get your yard looking it's best again.
Key Features:
220 mph blower speed.
350 CFM air volume capacity to shift large amounts of leaves.
Adjustable speed control.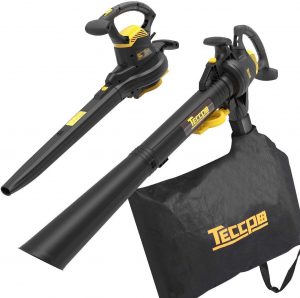 TECCPO 3-in-1 Leaf Blower/Vacuum/Mulcher
This great value for money 3 in 1 leaf blower, mulcher, and vacuum offers speed control with powerful airspeed and air volume capacity.
Key Features:
Variable airspeed from 170 to 250 mph.
280 to 410 CFM to clear large volumes of leaves.
40L collection bag to catch those leaves.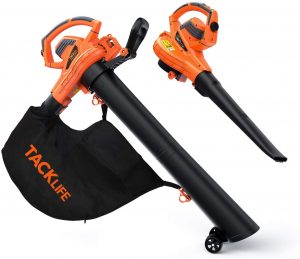 Variable speed, 3 in 1 leaf blower, vacuum and mulcher will help you get that yard looking neat and tidy again.
Key Features:
Powerful 12.0 Amp motor.
175 mph airspeed.
495 CFM air volume capacity.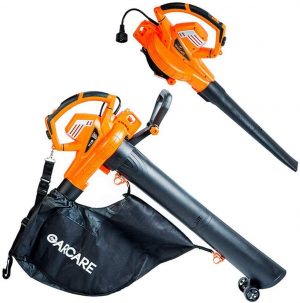 High quality 3 in 1 leaf blower, mulcher and vacuum machine.
Key Features:
Variable speed control.
280 mph airspeed.
Powerful 12.0 Amp motor.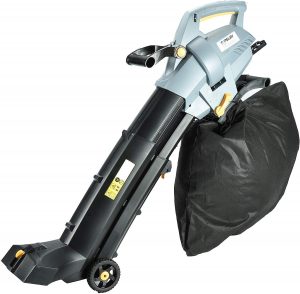 Super powerful 13.5 Amp leaf blower, mulcher and, vacuum machine.
Key Features:
Up to 565 CFM air volume capacity.
7 speed options.
185 mph airspeed.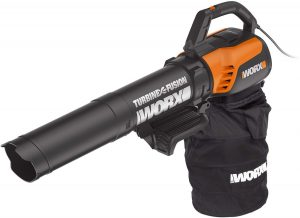 A great value for money 3 in 1, leaf blower, vacuum and mulcher with a powerful CFM of 525.
Key Features:
Weighs only 9.3 lbs.
Metal Impeller for efficient shredding.
2 speed control system.