This quick guide on the best marking gauges picks out the best options available so that you can decide for yourself which marking gauge is best for you.
A marking gauge, also known as a scribing gauge, is a tool used to mark out lines on a piece of material. It typically consists of a metal or wooden beam with a sharp metal point or knife at one end, and a sliding pointer or fence at the other end. The user can set the gauge to a specific measurement by adjusting the position of the pointer, and then use the sharp point or knife to mark a line along the material at that distance from the edge.
Marking gauges are commonly used in woodworking and metalworking to mark out lines for cutting, drilling, or other operations. They are an essential tool for ensuring that lines are marked out accurately and consistently, and they can help to ensure that the finished piece is of high quality. Some marking gauges also have additional features, such as a built-in level or a fence that can be adjusted to make angled cuts.
In addition to marking out lines, marking gauges can also be used for scribing or marking lines for joining two pieces of material together. This is typically done by setting the gauge to the desired distance from the edge of one piece of material, and then using the sharp point or knife to mark a line along the edge of the other piece. The two pieces can then be joined together by aligning the marked lines and gluing or clamping them together.
Marking gauges are an important tool for anyone working with wood or metal, and they are essential for ensuring that lines are marked out accurately and consistently.
We've focused solely on marking gauges in this post, if you need a mortise gauge then please check out my post on the best mortise gauge.
Click link to jump straight to each section.
The Best Marking Gauges Reviewed
Best Marking Gauge

If you like to use quality woodworking tools, then this wheel marking gauge from WoodRiver should definitely be included in your woodworking tool collection.
The WoodRiver name is well know and respected, providing quality tools since they first started out way back in 1928 from a one room shop in Boston. Now working from their premises in West Virginia they are America's leading supplier of tools such as saw's, planes, power tools and many more tools that help to get the job done.
This wheel marking gauge grabs your attention, it looks superb. Made from solid brass and stainless steel with Bubinga wood detailing to help with holding and handling the gauge as you work.
Clear and precise measurements are displayed in inches and millimetres along the stainless steel bar enabling you to work accurately on your woodworking tasks.

Size wise the wheel gauge measures 8.95 x 2.05 x 2.15 inches and weighs in at 0.65 lbs, the weight itself just adds to the quality feeling, the tool feels well balanced and solid.
Measurement adjustment is easily made thanks to the decently sized knurled knob and again, great attention to detail is shown here in the way that the sharp, fixed cutting wheel retracts into the recess in the brass base to protect the blade, and this clever feature also protects against accidental damage to other surfaces when the wheel gauge is at rest.
What We Like:
Quality Wheel Gauge – Made from solid brass and stainless steel, complimented with Bubinga wood.
Nicely Weighted Tool – This wheel gauge weighs 0.65 lbs, giving a solid robust feeling to the tool.
Decent Price – Check out the price, using quality tools to get the job done is essential in helping you to work efficiently.
Check the latest price on Amazon.
Alternative Top Pick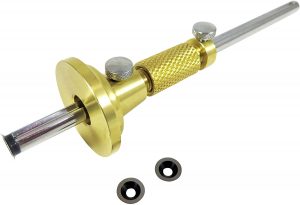 Precision tools are a must when working to high standards, tools that help to get the best results are essential, and quality tools should stand the test of time.
This marking gauge features a solid brass 1.625 inch diameter micro adjustable head that is lockable, with knurled knob and tail.

The 7″ by 5/16″ hardened steel beam has a groove along the length to help stop the head rotating when adjustments are being made.
As with our top pick choice this wheel gauge features the recess in the head to enable the 3/8 inch cutting wheel to be retracted to a safe position when not in use. You also get 2 addition cutting wheels supplied with this marking gauge.
Weighing 0.6 lbs this marking gauge has a solid feeling to it and is a great tool to have at your disposal.
What We Like:
Solid Brass Parts – Brass head, knurled knob and tail give this marking gauge a quality feeling.
Grooved Steel Beam – Helps to protect the head from rotation when adjustments are being made.
Micro Adjustment – When you need to work precisely, this gauge is will help you to do that thanks to the micro adjustment feature.
Check the latest price on Amazon.
Worth Consideration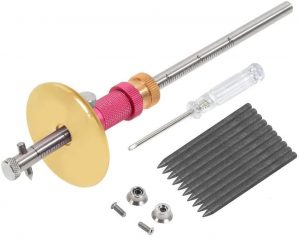 If you are looking for a wheel gauge marker that has the option of marking the work piece in a variety of ways, then this is the best option to go for.
With 4 types of markers in one tool this is a pretty versatile tool, as you'd expect you get the usual fixed cutting blade, this is the ideal choice for marking hard wood. You also get a bearing cutter blade which is a great choice for softer woods, there's a metal marking pen and finally 10 marking pencils.
With so many options here you really are spoilt for choice when it comes to marking your work piece.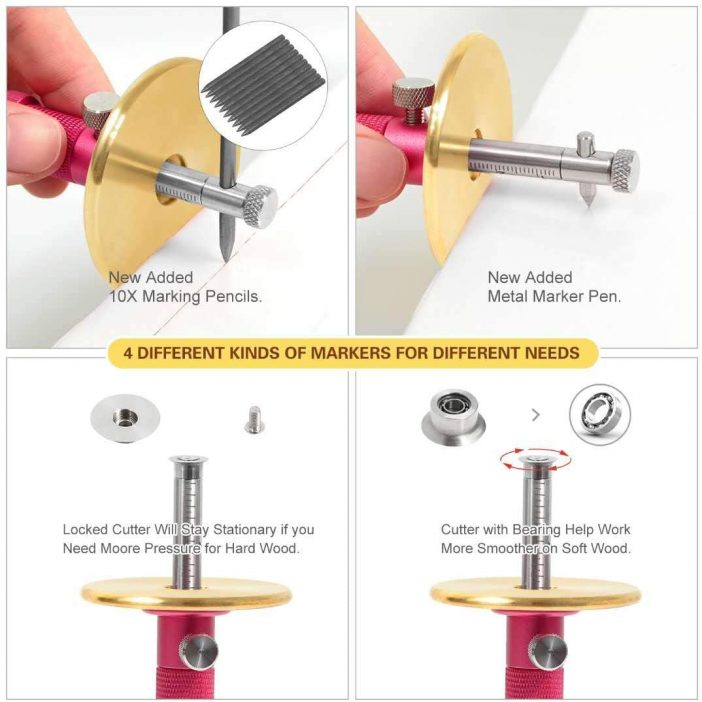 Nicely weighted at 8.5 ounces and featuring a 2.28 inch solid brass face, which incorporates a central recess area where the cutting blade can retract back into when the tool is at rest, and an 8 inch long steel rod that is marked out in 1/25 inch / 1 mm increments.
Adjustment of the marking gauge is easy to do, using the knurled knob and tail you can make large or micro adjustments via the 2 stage adjusting body. This micro adjustment feature really is a great option to have, and so useful when you are working to very precise measurements.
What We Like:
Lots Of Choice – 4 different types of marking options in one tool.
Micro Adjustment – Perfect for very precise working.
Great Value For Money – Real bang for your buck here.
Check the latest price on Amazon.
Best Dovetail Marking Gauge Kit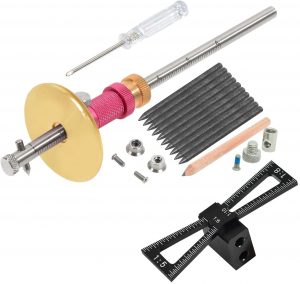 Dovetail Jig Wheel Marking Gauge
With multiple ways to mark your work piece, this kit also includes a dovetail jig to help you out on those woodworking projects,
Included in this kit for marking purposes is a bearing wheel cutter for softwood use, for hardwood there is a locking cutting wheel you also get 1 metal pin marker and 10 marking pencils.
The dovetail guide has slope ratios marked out 1:5, 1:6; 1:8, 1:10, in clear laser etched easy to read markings for soft and hard wood tasks.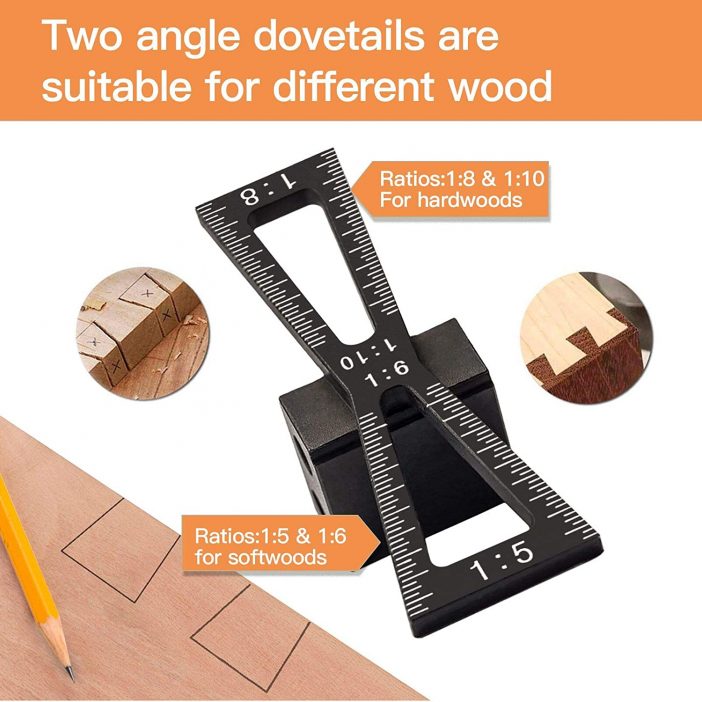 This 11.2 ounce marking gauge has a solid brass body with knurled lock nut, the 8 inch long steel bar is clearly marked out in 1/32 inch / 1 mm markings to help you achieve precise and accurate measurements on your woodworking jobs.
So if you like multi function tools then this is a great one to add to your woodworking tool collection and certainly a great choice if you work on dovetails a lot.
What We Like:
Versatile Tool – 4 different marking methods to choose from here.
Great Dovetail Jig – Useful dovetail jig included for use on hard and soft woods.
One To Add To Your Tool Collection – For marking woodworking projects and dovetails, this is a a handy kit to add to your tool collection.
Check the latest price on Amazon.
Other Worthy Mentions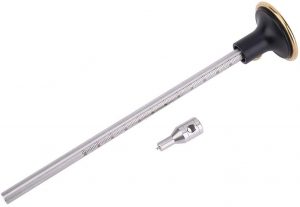 European-Style Wood Marking Gauge
Made from copper, aluminium and stainless steel this wood marking gauge is available in single and double shaft options.
Key Features:
Tool length of 7.2 inches.
Head size of 2.01 inches in diameter.
Rod size of 0.31 inches in diameter.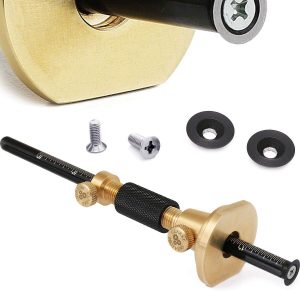 This marking gauge wheel kit features an anti roll design and includes 2 spare cutting wheels.
Key Features:
Solid brass body.
Length of 7 inches.
Grooved steel beam with measuring scale.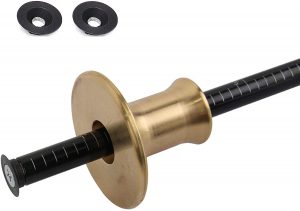 Red Oak Tools Wheel Marking Gauge Set
This handy stainless steel 6 inch marking gauge includes 2 spare cutting wheels.
Key Features:
Lightweight hand tool at only 7 ounces.
Solid brass locking screw.
Cutting wheel retracts into gauge face for safe storage when not in use.
Frequently Asked Questions
What is a marking gauge used for?
A marking gauge is a hand tool that is typically used by carpenters and joiners in woodworking to mark out tenons, dovetails and rabbets or just simply used to mark out where a cut needs to be made.
Marking gauges are also used in metal working environments for example, to mark out a predetermined line along a straight edge of the workpiece.
Consisting of a beam, headstock and a marking implement such as a knife, pin, pencil, pen or cutting wheel, the marking gauge is a very useful and easy to use tool.
A moveable headstock slides along a metal or wooden beam, this beam has a marking implement fixed to it, when the desired marking position is located then the headstock is locked in position usually by a screw or lever.
At the end or near to the end of the beam the marking tool is fixed in position and with the beam now locked in place a mark can be made on the workpiece by running the gauge parallel to the edge or surface.
What is the difference between a marking gauge and a mortise gauge?
Although a marking gauge and a mortise gauge in some cases look very similar, they do perform different jobs to each other.
A marking gauge comprises a lockable, moveable headstock sometimes also referred to as a fence or face plate, and a beam with a single marking device attached to it. This single marking device is often a pin, pen, pencil, cutting wheel or knife.
A mortise gauge is similar in appearance as it also has a moveable and lockable headstock that is adjustable and can be moved along a beam, but the difference being that with a mortise gauge there are two marking devices attached to the beam.
What is the difference between a marking gauge and marking knife?
The difference between a marking gauge and a marking knife is that with a marking gauge the marking implement is usually a sharp pin or even a pen or pencil.
A marking knife uses a sharp knife like blade, favoured for veneer work or for use when marking or cutting across the wood grain instead of using a pin which may possibly tear up or damage the surface when run across the wood grain.
What are the four parts of a marking gauge?
A marking gauge is a simple and very useful hand tool, favoured by DIYer's, carpenters, cabinet makers, joiners and metal workers; it consists of just these four parts,
The headstock, sometimes also referred to as the face plate or fence.
The beam, this is the part that the headstock moves along.
The locking mechanism, this secures the beam in a fixed position to the headstock.
The marking device, this is often a pin, cutting wheel, pen or pencil.
---
We hope this list of the best marking gauges has been helpful.
If there's anything good that you think we've missed, or if you have any questions about anything, then let us know down in the comments below.