This is a detailed guide to the best fret saw out there on the market today. As with all woodworking jobs, having the best woodworking hand tools helps you to achieve that professional-looking finish.
A fret saw is a type of saw that is used for making intricate and detailed cuts in wood or other materials. It is called a fret saw because it is often used to make cuts for inlaying decorative patterns, or "frets," into wood.
The blade of a fret saw is very thin and flexible, allowing it to make tight turns and follow complex patterns. The blade is held in place by a frame, which is typically made of metal or plastic. The user can adjust the tension of the blade to suit the material being cut and to ensure that the blade follows the desired pattern accurately.
Fret saws are commonly used in woodworking, jewelry making, and other crafts that require precise cutting. They are an essential tool for anyone who needs to make detailed cuts in wood or other materials, and they are particularly useful for cutting out intricate patterns or for making fine, detailed cuts in thin materials.
Some fret saws also have adjustable blades, which can be tilted to make angled cuts or to follow curved patterns. Fret saws are typically used by hand, although some larger models may be mounted on a workbench or other surface for added stability.
We've reviewed the best fret saws available so you can choose the fret saw that best suits what you're looking for.
They're summed up in the table below, but if you want to skip all the other talk and you just want to know which specific fret saws are currently the best to go for, then they're all right here in one place for you.
Click to jump straight to each topic.
The Best Fret Saws Reviewed
Best Fret Saw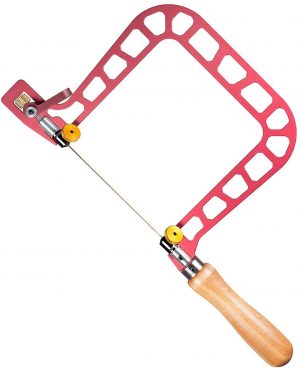 This woodworking fret saw from Knew Concepts is perfect for removing waste from dovetail work, it's super lightweight too weighing just 5.2 ounces.
The lightweight frame helps to reduce blade breakage and blade replacement is easy with the thumbscrew blade clamp system.
Blade tension is easily achieved via the cam lever, the included 15 teeth per inch (TPI) #7 skip-tooth blade can be swiveled 45 degrees to the left or right then locked into place.
What We Like:
Easy Blade Tensioning – Blade tensioning was always a chore with traditional fret saws, this Knew Concept fret saw features a cam lever to quickly and easily adjust the blade tension.
Versatile Fret Saw – This fret saw is great for large fret woodworking, and also smaller delicate jobs like hand-cut dovetails.
Check the latest price on Amazon.
Best Heavy Duty Fret Saw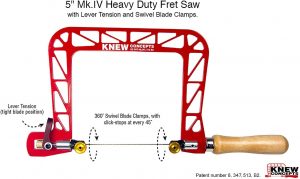 This heavy-duty version fret saw from Knew Concepts is lightweight and easy to maneuver, and adjust for various woodworking jobs.
The heavy-duty option comes supplied with 15 teeth per inch #7 skip-tooth blade, which gives a 360-degree cutting angle.
Weighing in at 9 ounces, which is nearly double the weight of the standard Knew Concepts fret saw, this fret saw is extremely strong.
Blade changing is easy and quick, and blade tensioning is now simple to do using the cam lever function.
What We Like:
Heavy Duty Fret Saw – This is a heavier version of Knew Concepts standard fret saw, with the added bonus of having a 360-degree cutting angle.
High Blade Tension – Designed to pull 50 – 60 lbs of tension on the blade to help reduce vibration when cutting.
Made In The U.S – This quality heavy-duty fret saw is made in Santa Cruz CA.
Check the latest price on Amazon.
Best Fret Saw for Deep Cuts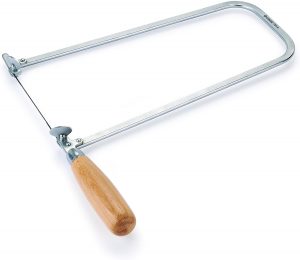 This fret saw from Groz features a chrome-plated frame with a hardwood handle, it's the perfect choice of fret saw for those times when deep cuts are needed.
With an 11-1/2″ depth of cut possible with this fret saw it is an excellent fret saw to use for detailed marquetry woodworking as well as fine detailed scroll cutting work too.
Using a 5 inch saw blade, this versatile fret saw can also be used with flat end blades as well as spiral, scroll, and jewelers blades making it a very useful hand tool to have at your disposal.
With an overall weight of 0.76 lbs and dimensions of 11.9 x 12.25 x 1.35 inches this deep cutting fret saw should be in every woodworker's tool collection.
What We Like:
Deep Cutting Capability – With cuts as deep as 11-1/2 inches possible this is a great fret saw for scroll and marquetry woodwork.
Versatile Fret Saw – This fret saw can be fitted with scroll, jewelers, spiral flat end saw blades.
Check the latest price on Amazon.
Best Bargain Range Fret Saw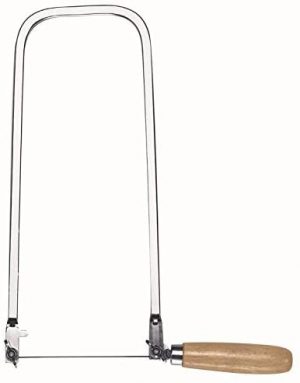 OLSON SAW – Olson Saw SF63507 Fret Saw
This bargain price fret saw is ideal for the home DIYer that does occasional woodworking jobs and doesn't want to spend much on a hand tool that won't be used that often.
This is another deep-cutting fret saw that uses 5 to 5 1/8 inch plain-end saw blades. Ideal for marquetry and scrollwork using scroll, spiral saw blades, and jewelers blades too.
Measuring 9.5 x 5 x 1.5 inches and with a weight of 0.71 lbs, this flat wire bargain-priced fret saw boasts a cutting depth of 13-3/4″ and will make a handy addition to your tool collection.
One thing to note here is that this fret saw does not include blades, so you will need to buy those separately if you go for this fret saw.
What We Like:
Bargain Priced Fret Saw – This is a low-priced fret saw, just remember that it does not include blades.
Check the latest price on Amazon.
Frequently Asked Questions
What is a fret saw?
A fret saw is a hand tool that is most often used for intricate cutting work. Bow shaped in appearance and ideal for shallow and deep cutting work where tight curves are required.
A fret saw usually has an extra fine cutting blade with up to 32 teeth per inch which is fixed in position in relation to the fret saw frame.
What is a fret saw used for?
A fret saw is the perfect choice of hand tool when it comes to making deep or shallow intricate cuts. Word workers for example may use a fret saw for removing waste timber and cleaning up dovetail joints.
Fret saws are also used for making deep, long cuts in the workpiece, this is made possible due to the bow-shaped design of the hand tool.
---
We hope this list of the best fret saws has been helpful.
If there's anything good that you think we've missed, or if you have any questions about anything, then let us know down in the comments below.