Choosing the best outdoor faucet or hose bibb as they are also referred to for your garden or yard should be a pretty easy task right? First of all, you've got to like the look of the faucet, and it's got to fit in with your garden or yard environment.
I mean we put a lot of work into our yards and gardens to make them look good don't we, so when it comes to adding things such as a faucet to our pride and joy, then we want to make sure that it looks right.
That's why we've looked at a variety of outdoor faucets (which are also referred to as sillcock, spigot, hydrant, and hose bibb's) with different styles and features so that you can choose one that will be perfect for your own requirements.
The Best Outdoor Faucets | Hose Bibbs Reviewed
Also in this guide
Brass Cross Faucet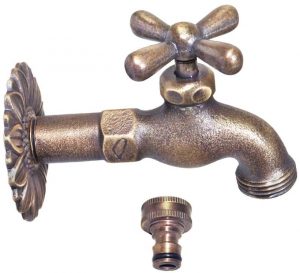 Brass Cross Garden Outdoor Faucet
This antique style brass cross faucet with brass connector is a perfect choice for adding a touch of the old school look to gardens and yards alike.
Key Features:
5-inch long outdoor brass faucet.
Fits 1/2 inch water pipe.
Antique style, brass finish.
This classy antique style brass outdoor faucet is suitable for connecting to a 1/2 inch water pipe supply. Size-wise, measuring from the water pipe connection point to the outside edge of the faucet spout comes to 5 inches. There's also a nice 2.75-inch sunflower style circular wall plate flange to conceal the incoming water pipe supply.
Check the latest price on Amazon.
Brass Dragon Faucet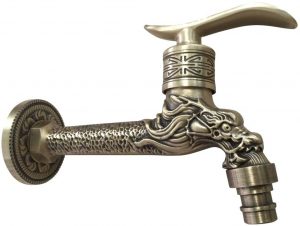 Brass Dragon Design Outdoor Garden Faucet
This decorative dragon design garden spigot with antique style brass finish looks fantastic and makes a great garden focal point.
key Features:
Solid brass faucet construction.
Lever handle for easy turn operation.
Decorative dragon design.
This decorative dragon designed outdoor garden faucet is perfect for creating a garden focal point. Made from brass with an antique style finish, it's easy to operate thanks to the lever style handle.
Measuring 5 1/2 inches in length from the wall plate flange to the front of the faucet spout, and 4 inches in height from the bottom of the spout to the top of the lever. The circular wall flange measures 1-15/16″ and finishes off the look to perfection.
Check the latest price on Amazon.
Antique Brass Finish Faucet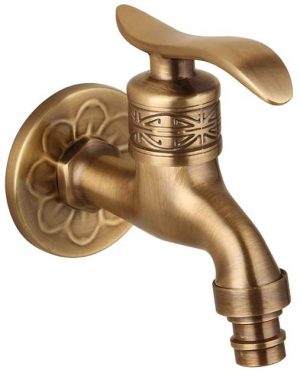 Add a touch of style to your garden with this outdoor, antique brass finished faucet with easy turn lever handle.
Key Features:
Copper faucet with antique brass style finish.
Cold water use only.
Uses a 1/2 inch male thread to wall pipe connection.
With its smooth looks, this copper faucet with antique style brass finish is a real attention grabber and it's sure to get many admiring glances and lots of complimentary comments.
Measuring 4.3 inches in length from the front of the spout to the rear threaded connection point it not only looks impressive but it is also very easy to use with the curved lever handle.
Check the latest price on Amazon.
Decorative Faucet Set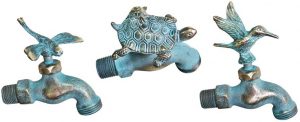 All 3 of these brass faucets attach to a standard 1/2 inch water supply pipe, making it a breeze to swap out.
The overall length of the faucets is 4 inches and this is measured from the front of the faucet spout to the screw thread connection supply pipe.
Check the latest price on Amazon.
Brass Bird Faucet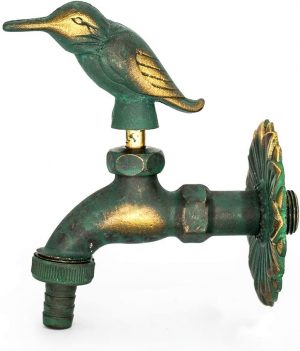 This brass faucet attaches to the standard 1/2 inch size water pipe and features a circular sunflower design wall plate flange.
Check the latest price on Amazon.
Brass Rabbit Faucet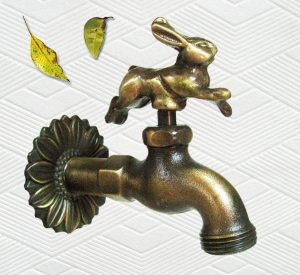 Made from brass this fun water faucet featuring a rabbit handle looks great and certainly stands out from the normal outdoor faucets you expect to see.
Connecting this faucet is easy as it attaches to a standard 1/2 inch water supply pipe. Size wise this outdoor faucet measures 5 inches in length and also includes a circular sunflower style pattern wall flange.
Check the latest price on Amazon.
Brass Goldfish Faucet
Brass Goldfish Garden Outdoor Faucet
Made from solid brass this goldfish handle faucet would make a perfect choice for those of you with a pond or water feature in you yard or garden.
Standard 1/2 inch water pipe connection makes for an easy install. The overall length of this goldfish styled outdoor faucet is 4 inches.
Check the latest price on Amazon.
Faucet and Hose Stand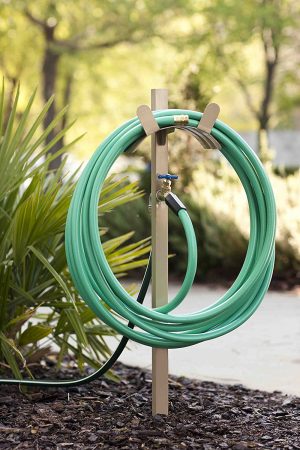 This brass faucet and hose stand combination is a great way to keep the hose handy and ready to go when you want it.
Capable of holding up to 150 feet of 5/8 inch hose, this hose stand with brass faucet will keep the hose tidy and ready for use at all times. The post is of steel construction with a powder-coated finish to protect it from the weather, the post can be mounted in compact soil or set in concrete.
Check the latest price on Amazon.
Heavy Duty Hose Bibb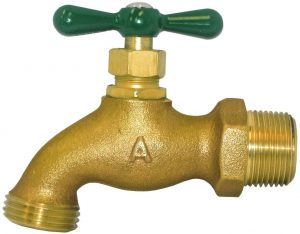 American Valve M71HD 3/4″ Hose Bibb
Also available in 1/2 inch water supply pipe connection size, this heavy-duty faucet for 3/4 inch water pipe also has a 3/4 inch outlet for high water volume output.
This heavy duty faucet is sized at 3.86 x 1.18 x 3.15 inches, and has a high volume output when connected to a 3/4 inch water supply pipe.
Check the latest price on Amazon.
Frost Free Wall Faucet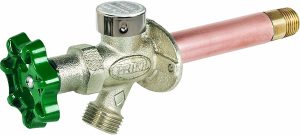 The copper pipe section, sized at 1/2″ MIP x 1/2″ SWT is available in various length sizes, this is the section that passes through the wall from the outside to the inside.
Check the latest price on Amazon.
Wall Faucet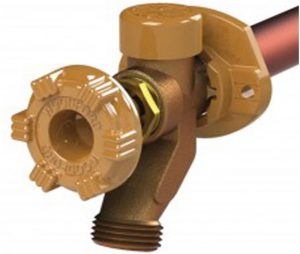 Connecting to a water supply via the rear pipe which is available in various lengths to suit your own particular requirements and featuring a 3/4″ male hose thread nozzle.
Check the latest price on Amazon.
Frequently Asked Questions
Do I need to cover my outdoor faucet in winter?
During winter when the weather turns cold, cold enough to freeze water, then it is essential that any external water faucets are are either covered with an insulated cover to prevent freezing or completely drained of water to avoid damage to the faucet from frost.
What happens if my outside faucet freezes?
Most people don't realize that their outside faucet has frozen until the weather changes and turns milder. That's when the frost eases and the thaw begins.
When the water supply is turned back on, the resulting damage to the once frozen faucet will be plain to see.
Frozen outside faucets usually split at the stem due to the water expansion from the frost, resulting in water being sprayed out from the split or damaged pipe.
How long does it take for a pipe to freeze at 20 degrees?
When the outside temperature is at or dips just below 20 degrees then you run the risk of pipes freezing up if they are not insulated extremely well. Pipes exposed or with very low-quality insulation covering them will freeze after 6 hours if the temperature is just below 20 degrees.
How do you prepare outdoor faucets for winter?
Preparing for winter is most important especially when it comes to outdoor faucets, the last thing you want is for them to freeze up and get damaged.
Start by turning off the internal water supply feed to the outside faucet, then go outside and turn the handle to the open position on the faucet to let any water that's left in the pipe drain out.
Even after you have drained the water from the pipe it's always a good idea to cover the faucet with an insulated cover for the rest of the winter, or until the chance of freezing has passed.