There's only so much you can pack on to a motorcycle when you want to get away for a while. Just heading off for a few days with all the essentials means that you soon run out of storage space pretty quick on a motorcycle.
Pull behind motorcycle trailers are often used by people who are planning to take long trips on their motorcycles, as they can provide extra storage space for gear and supplies. This can be especially useful for carrying items that might be difficult to fit on a motorcycle, such as large camping tents or multiple sets of luggage. By using a pull behind motorcycle trailer, you can avoid having to strap large or bulky items to the back of your motorcycle, which can be both inconvenient and potentially dangerous.
Another advantage is that it can help distribute the weight of your gear more evenly, which can improve the stability and handling of your motorcycle. When you carry heavy items on your motorcycle, they can affect the balance of the bike and make it more difficult to control. By using a trailer, you can spread the weight of your gear out, which can help improve the stability of your motorcycle and make it easier to ride.
Also pull behind motorcycle trailers can provide added protection for your gear. When you carry items on the back of your motorcycle, they are exposed to the elements, which can cause them to become damaged or wet. By using a trailer, you can keep your gear enclosed and protected from the wind, rain, and other elements. This can help ensure that your gear stays in good condition and is ready to use when you need it.
Hooking up a motorcycle cargo trailer opens up a whole load more options for those trips away or maybe you just want a tow behind motorcycle trailer for transporting items about that you just couldn't do on the back of a motorcycle.
We've taken a look at the best pull behind motorcycle trailer kits and pull behind motorcycle campers available and reviewed them, our top pick is a great looking trailer and perfect for transporting a wide variety of items.
Take a look and check out the reviews, I'm sure there's a motorcycle trailer here that'll be ideal for you and your needs.
The Best Pull Behind Motorcycle Trailers Reviewed
Also included in this guide
Top Pick
Black Widow BW-TBMT-DP Motorcycle Cargo Trailer
This is our top pick, the cool looking Black Widow tow behind trailer is made from high strength, lightweight aluminum with a diamond plate finish and most importantly, it provides you with an incredible 14 cubic feet of storage space.
That's plenty of room to make sure that you've got all those essentials with you when you head off for a few days or even weeks away.
This impressive-looking pull behind motorcycle trailer boasts a weight capacity limit of 600 lb, providing you with plenty of transportation options, and with the torsion axle suspension system, you get a smoother ride too.
Size wise this cargo trailer measures 7′ 5.5″ in length X 4′ 1.75″ wide and has a depth of 38.5″. The 14 cubic feet of storage space is carpeted and there's also a handy LED light built into the storage area too.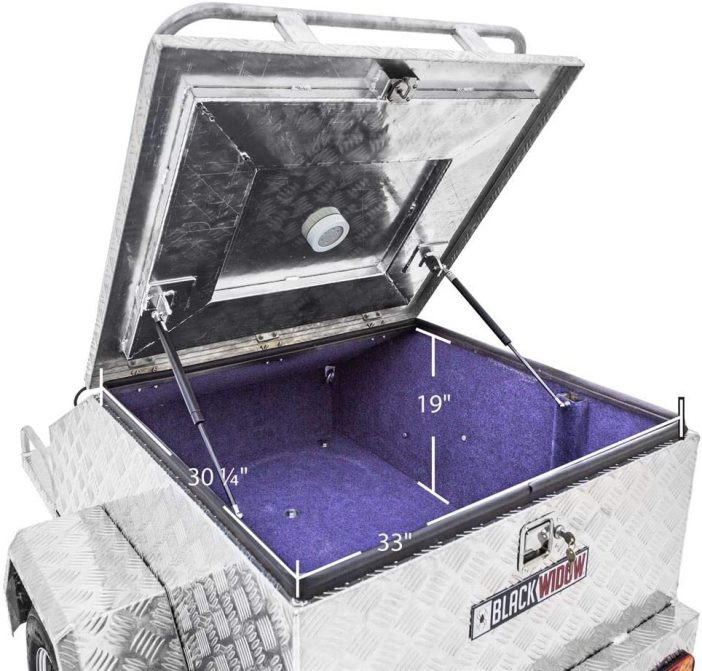 As you can see from the picture there's a lot of storage room available here, and another great thing to note is that it's lockable too so that means everything is kept safe and secure.
Included in this trailer kit is a lockable 1-7/8″ hitch ball couple, as well as LED brake and signal lights, these lights are connected via the included 5 pin male connector cord.
What We Like:
Lots of Storage Space – An impressive 14 cubic feet of storage capacity available for those long or short vacation trips.
Great Looking Trailer – Made from strong yet lightweight aluminum, this 170 lb motorcycle trailer certainly looks like the real deal.
Impressive Weight Capacity – This motorcycle trailer has a 600 lb weight capacity limit, so there's plenty of weight capacity there for all those essentials that need to be transported about with you.
Check the latest price on Amazon.
Best Camping Trailer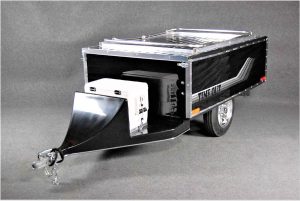 This is our recommendation for the best motorcycle pull behind camping trailer, it's the deluxe camper from Time Out Trailers and it's perfect for short and long stay camping trips.
Ride, park, and set up camp when and wherever you want to with this easy to assemble motorcycle camper trailer.
With 16 cubic feet of cargo space and a one-person setup time of around 3 minutes, this Delux motorcycle pop up camper trailer is a great choice for short and long stay vacations.
This deluxe camper provides a comfortable place for two people to stay in, and that's thanks to the length of 14 and a half feet that you have available when it's assembled.
With 23 cubic feet of storage space available for all those essential items that you need to take along on your camping trips, this deluxe motorcycle camper trailer boasts being the smallest trailer for towing when closed up and the largest pull behind motorcycle camper when set up.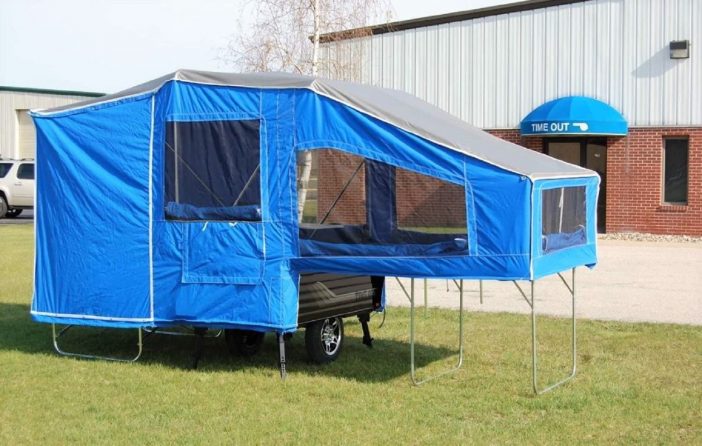 Each deluxe camper comes with a queen-sized air mattress and tinted window coverings in the bed area for privacy and which also acts to keep the sunlight out. You also get a table and chair included in the kit which all fold down and packs away neatly when it's time to move on.
Hooking up this 2 X 12 inch wheeled camper trailer to your motorcycle is a breeze using the 1 7/8″ ball coupler and included wiring harness.
What We Like:
Lots of Room – You're not short of space with this deluxe camper trailer, it's 14.5 feet long when fully assembled.
Quick Setup – If you need to set this camper up on your own, it should take around 3 minutes.
Comfortable Camping – This pop-up type camper trailer comes complete with a queen-sized air mattress, ensuring a comfortable night's sleep.
Check the latest price on Amazon.
Best Budget Option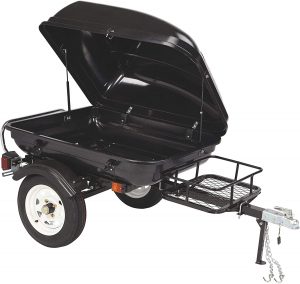 This is our budget pick for pull behind motorcycle trailer. It may be budget-priced but it still offers great storage and high load capacity.
If you are after a trailer that gives real bang for your buck then this is that trailer. Measuring 78 x 44.5 x 38 inches and with 16.6 cubic feet of storage space available, this pull behind motorcycle trailer could be just the trailer you've been looking for.
With a sturdy steel frame and heavy-duty lockable ABS shell, this 600 lb load capacity trailer with leaf spring suspension sits on top of 2 X 4.8 x 12-inch diameter tires that allow for a maximum towing speed of 45 MPH.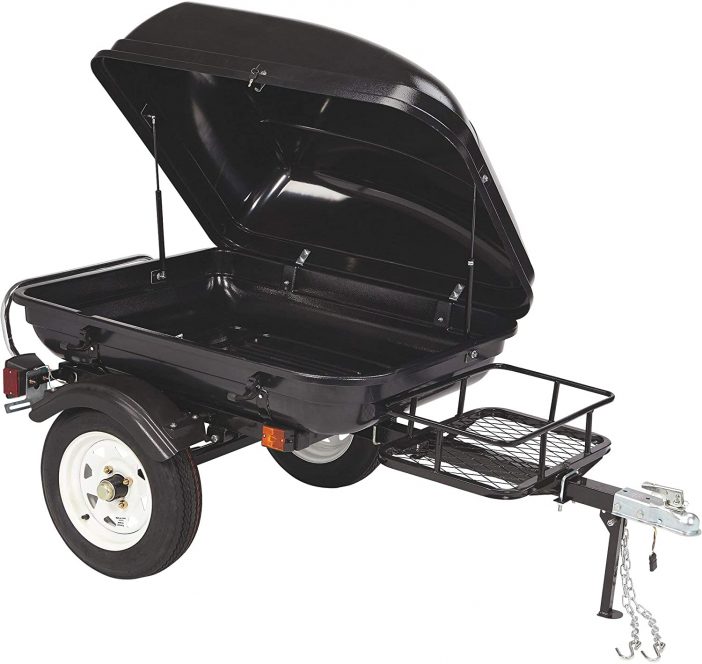 What We Like:
Real Bang For Your Buck – This is a great value pull behind motorcycle trailer, it may be budget-priced but it offers plenty of storage space with a high 600 lb load capacity.
Lockable Storage – The heavy-duty molded ABS shell case with 2 additional side latches is lockable and comes with 2 keys.
Easy Lid Opening – No struggling here when you need to open the lid, the self-assisted hydraulic struts make for easy lid opening every time.
Check the latest price on Amazon.
Frequently Asked Questions
Is it difficult to pull a trailer on a motorcycle?
When you attach a trailer to a motorcycle it changes the way your motorcycle feels and handles when you are riding it. If you are not used to or have never towed a trailer using a motorcycle then it is highly advisable that you take the time to practice different maneuvers off-road or in a private area where you can learn safely, away from traffic.
Why is towing an empty motorcycle trailer dangerous?
Towing an empty motorcycle trailer can be dangerous, especially if the trailer is lightweight. This is because the trailer may bounce about at speed if there is no weight being carried inside the trailer.
So ensuring that a motorcycle trailer always carries some weight is a good idea, this just helps to keep the trailer stable and that helps for a smoother ride.
Of course, every pull behind motorcycle trailer has a maximum weight load limit, this maximum weight load limit should never be exceeded under any circumstances.
Do pull behind motorcycle trailers need plates?
Most states require you to display plates on your vehicle by law. Chances are that if you using a motorcycle to tow a trailer then the motorcycle plate will not be clearly displayed because of the pull-behind trailer obscuring it from view.
If you are in any doubt as to whether a particular state or states that you may be traveling through require you to have a vehicle plate attached to your trailer, then it's always best to check first before you travel through that particular state.
What checks do I need to do before taking a pull behind motorcycle trailer on the road?
Checking your motorcycle pull behind trailer is safe to use before every outing is extremely important and should only be carried out by someone that is competent to do so. These checks should be carried out slowly and never rushed ensuring that they are carried out correctly. So always allow time for doing this before the journey starts.
Checks should include making sure that the trailer's wheels are secured correctly and that they rotate freely. Check that the tires of the trailer are in a good roadworthy condition with road legal tread and that they are correctly inflated, referring to the manufactures pressure recommendations for the amount of weight that the trailer will be carrying.
Nuts, bolts, and any other fixings to all parts should be checked, ensuring that they are secure and if any are found to be loose then they should be tightened to the correct torque level as per the manufacture's guidelines.
The frame of the trailer should be carefully looked at for any signs of damage, such as dents or cracking. If any defects are found then the trailer must not be used until it has been repaired by someone authorized and qualified to do so.
All light's including indicators and stop lamps should be inspected for damage along with any power cords and plugs. Don't forget to check that the light's function correctly when connected to the vehicle's power supply.
When the trailer is attached to the motorcycle ensure that the coupling is correctly secured, and that any linking cords are correctly routed.
Other Worthy Mentions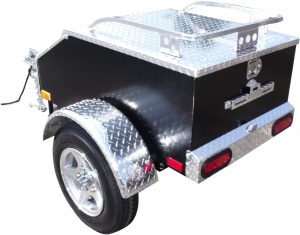 Pull Behind Motorcycle Trailer
This pull behind trailer looks amazing with the black and silver look finish. It's sure to get the attention as you cruise the highways.
Key Features:
All aluminum cargo box
LED bumper lights
Chrome coupler system for weather resistance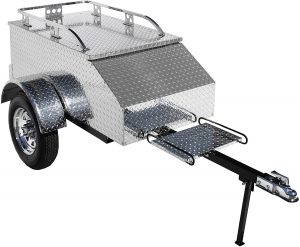 Pull Behind Motorcycle Trailer XL
This pull behind motorcycle trailer looks absolutely stunning.
It comes with a carpeted storage area and an overlapping lid to ensure everything inside stays nice and dry if it rains.
Key Features:
XL version providing 14 cubic feet of storage space
LED bumper lights
4 pin flat connector