This is a quick guide to the best concrete self leveler. So if you want a quick setting floor leveling compound for jobs that need doing fast, or perhaps a slower setting compound is what you'd prefer that gives you extra time to work, or just the regular underlayment, we've got it covered right here in this guide so that you can choose for yourself the best concrete self leveler that suits your needs.
A concrete self-leveler is a type of material that is used to create a smooth, level surface on a concrete or wooden floor if the wood is suitably treated before hand. It is a liquid product that is applied to the surface and then spread evenly using a trowel or squeegee. As it dries, the self-leveler forms a smooth, level surface that is ready for use without the need for additional grinding or finishing.
Concrete self-levelers are typically made from a mixture of cement, sand, and other fine aggregate materials, along with a liquid polymer or resin binder. This mixture is mixed with water to create a pourable, liquid product that can be easily applied to the surface and as it dries, the self-leveler forms a smooth, level surface.
One of the key advantages of using a concrete self-leveler is that it is much faster and easier to apply than traditional concrete finishing methods. Traditional concrete finishing involves grinding and smoothing the surface of the concrete using specialized tools and equipment, which can be time-consuming and labor-intensive. By contrast, a self-leveler can be applied quickly and easily, without the need for specialized equipment or skills.
Another advantage of concrete self-levelers is that they can create a smoother, more even surface than traditional concrete finishing methods. This can be especially useful in applications where a smooth, level surface is critical, such as in warehouses, factories, or other industrial environments.
In summary, concrete self-levelers are a useful product for creating smooth, level surfaces on concrete floors. They are easy to apply, and they can create a smoother, more even surface than traditional concrete finishing methods.
When you're working with compounds that need to be mixed together it can get pretty messy so for your own safety it really is best to make sure that you wear appropriate PPE (personal protective equipment) suitable for the task. This should include safety goggles, a suitably rated dust mask, hand and face protection and safety foot ware.
So if you are wondering how to level a floor for tile, the best self levelers are listed in this table below. If you want to skip all the other talk and you really just want to know which specific concrete self levelers are currently the best to go for, then they're all right here in one place for you.
Click to jump straight to each section.
The Best Concrete Self Levelers Reviewed
Quikrete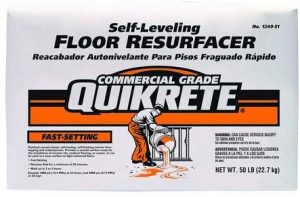 If you need to level off an uneven area of concrete ready for putting down some new flooring, then this easy to use floor leveller will self level up to 1 inch per application.
Using a suitable container to mix the leveller in, slowly add the powder to approximately 4.5 quarts of clean water. Using a mechanical mixer is the easiest way to mix the water and powder together, time wise around 4 minutes of mixing should be enough to obtain a lump free compound.
Then simply pour the mix out on to the uneven concrete surface and it will find its own level from featheredge up to 1 inch.
As this is a fast setting underlayment you'll have around 20 minutes working time, so you'll need to work quick once you have it mixed, Of course this working time is also effected by the temperature that you are working in so if the temperature is hot then you may have a slightly shorter working time.
Amazingly once poured this self leveler should be set hard enough to be walked on in between 2 and 4 hours which is pretty impressive, and great for when you want to get a job done fast, but again temperature will play a part in how quick it dry's.
Tiles and other flooring types can be put down once the surface is walkable, but If you are looking to put a heavy load on the area that has been levelled then full bond strength is achieved over a longer period of time, so don't rush to load up the area soon after the application appears to be set.
Check the latest price on Amazon.
LevelQuik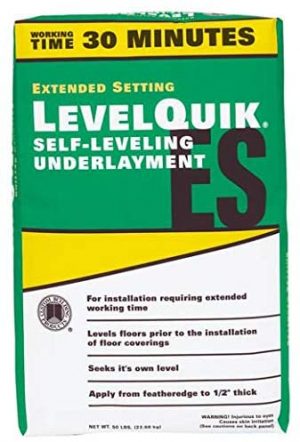 If you want a little extra working time when working on levelling up that concrete then this is the self leveler to go for.
Capable of levelling up to 1/2 an inch, once poured you'll have around 15 minutes to correct any imperfections and if you want more time then troweling the surface will gain you around another 15 minutes.
This self leveler is also good for use on surfaces such as brick, stone, exterior graded plywood, ceramic tiles, pavers and wooden subfloors with joists up to 24 inches.
So if you've got different types of floor that need levelling, and you want more time to work when the mix is poured then this is a great choice of self leveler to go for.
Simple to mix, just a case of adding the powder to clean water as per the instructions on the pack.
Don't forget to check out our essential accessories section for your mixing tools and containers.
Check the latest price on Amazon.
Sakrete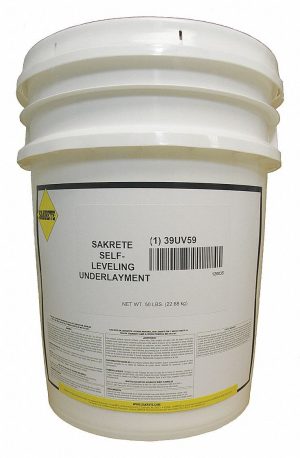 This 50 lb gray colored self leveler comes in it's own pail, and has an application time of around 25 minutes.
Perfect for interior and exterior concrete levelling jobs.
Supplied with it's own mixing bucket this concrete leveler can be easily mixed with clean water, once mixed to a lump free, smooth compound then pouring can take place.
This concrete leveler will go from fine feather edge up to 1 inch thick per pour. With a working time once mixed of around 25 minutes and a set time of around 90 minutes, though do bear in mind that temperature does play a big part in working and setting times so if it's warm or hot then working and curing time will be shorter.
Typically once poured and left to set, walk on time is approximately 6 to 8 hours, and a drive on time of around 72 hours.
If you do need extra mixing containers or an electric paddle mixer to get the mix just right then check out our recommended essential accessories section.
Check the latest price on Amazon.
Henry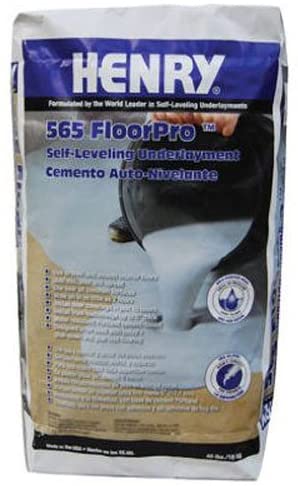 This interior self leveler comes in a 40 lb pack and can level floors from feather edge up to 5 inches thick.
Manufactured in the US this self levelling compound is suitable for a variety of floor surfaces such as concrete and also wood using the Henry primer to ensure a good surface bond.
This is a fast setting leveler and once mixed with clean water and poured into position this self leveler will be set enough to walk on in around 2 to 3 hours, and after around 6 hours you'll be good to go if you want to start installing ceramic tiles.
For all other floor coverings you'll need to wait for around 16 hours before you can get started.
If you need a bucket or mixing equipment to help you get the mixture to the right consistency then be sure to check out our handy essential accessories section.
Check the latest price on Amazon.
Ardex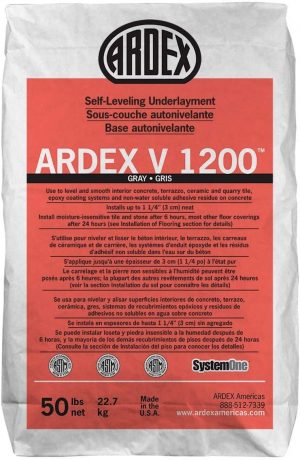 This self lever is gray in colour and is a quick setting solution to repair uneven flooring, and if you need to work fast to get the job done then this is a great choice to go for.
Supplied in a 50 lb bag, you just need to pour the powder in to a suitable mixing container that has the recommended amount (instructions on pack) of clean water in it.
Mixing the powder and water together should be done using an electric paddle mixer to ensure that a smooth lump free mixture is achieved.
Once mixed you'll be able to pour the self leveler on to the desired area and level from feather edge up to 1 1/4 inches. This is pretty quick setting too and if you really do need to work quick to get the job completed then this is a good choice to go for.
If you need to get on with the tiling or stone laying as soon as you can, then as long as the product is moisture insensitive then you'll be good to go after 6 hours.
For most other floor coverings it's recommended that you wait for 24 hours before you start to lay them.
Check the latest price on Amazon.
LevelQuik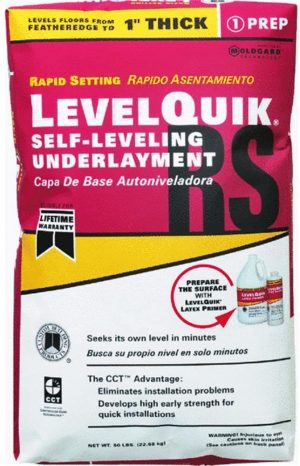 This interior and exterior grade self leveler underlayment resists mold and mildew and is suitable for use on a wide range of flooring types.
If you are looking to get a smooth level surface before you put down new ceramic tile, resilient flooring, carpet, wood parquet or natural stone then this 50 lb bag of self leveler will do just that for you.
Not only does this compound work on concrete but it is also suitable for use on cement backboard, wonderboard, terrazzo, stone, sheet vinyl, PVC and wooden subflooring with joists up to 24 inches on center.
Simply mixing the 50 lb contents of the bag in a suitable mixing container with 6-3/4 quarts of clean water and then pouring out the mix on to the chosen surface will give you a feather edge to 1 inch thick level surface.
Check the latest price on Amazon.
Essential Accessories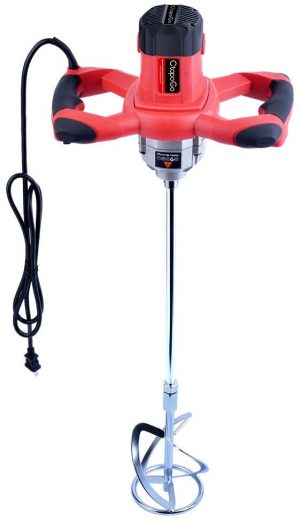 Portable Electric Paddle Mixer
Using this 1600 watt electric paddle mixer is a great way to ensure your mix is just right for your floor levelling jobs.
Key Features:
Includes a mixer, shaft and blade.
6 speed options available.
Comfortable ergonomic handles.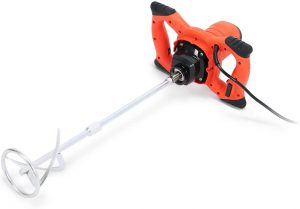 To help with your mixing jobs this powerful 1800 watt handheld electric paddle mixer will soon have that mix ready to pour.
Key Features:
6 speed control.
Suitable for mixing liquids such as concrete, cement, paint and plaster.
Ergonomic handles.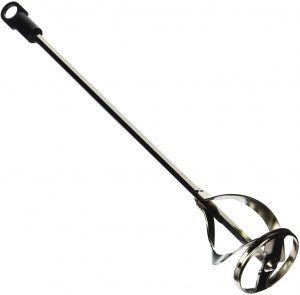 If you have a suitable hand drill already and you just need the mixing tool then this is a great option to go for.
Key Features:
Zinc plated steel construction.
Ideal for a 5 gallon bucket.
Non slip hex head.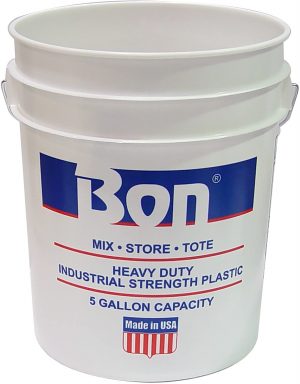 Frequently Asked Questions
How do you prepare a floor for self leveling compound?
When you are looking to put down some self levelling compound on to a suitable surface then you need to prepare the surface first to ensure that the self leveler bonds as it should.
If you are going to pour the underlayment on to a concrete surface then you need to make sure that the concrete surface is free from any loose debris, this is a simple task and can be done with a vacuum cleaner or simply with a brush and shovel.
If you are looking to pour the self leveler on to a wooden surface then you will first need to make sure that the wooden surface is clean, dry and free of loose debris.
You will also need to prepare the wooden surface by giving it a coat of a suitable primer to seal the wood. This just stops the wood from soaking up moisture from the self leveler compound which could cause the wood to swell and split once the leveler is applied.
When you are happy that the work surface is free from debris and other imperfections such as screws or nails that have worked their way loose, then you are good to go with the self leveler mixture.
How do I level a small concrete floor?
Levelling a small concrete floor is quite an easy job to do, firstly clear the area or any loose debris using either a hand brush or a vacuum cleaner.
Then after selecting a suitable concrete self levelling underlayment, in a suitable container or bucket, mix the powder with the recommended amount of water as per the mixing instructions on the self leveler pack.
When the mix is free from lumps, it's usually best to use a powered hand held mixer to mix the self leveler powder and water together to ensure you obtain a well mixed compound.
Then it's simply a case of pouring out as much of the mixture as you need on to the concrete surface and let the self levelling underlayment find its own level.
How much does a 50 lb bag of self leveler cover?
The answer to this question depends on as to how much depth and how large the area is that you are levelling.
So for example, lets say we have a 50 lb bag of self leveler and we mix it with the recommended amount of clean water as per the instructions on the pack. In most cases if you were to pour the mixture out to a depth of 1/8 of an inch, then you should find that the area covered is around 50 square feet.
Can you pour self leveling concrete over existing concrete?
As long as you have bought the correct type of self leveler, that being one that is suitable for use on concrete then yes you can pour self leveler over existing concrete.
Firstly make sure that the surface to be covered is clear of dirt and debris, this is just a case of brushing off any loose bits of concrete or using a vacuum cleaner.
In some cases where the surface is of poor quality, then it is advisable to use a suitable primer on the concrete first before adding the self leveler to make sure that a good bond is formed when the self leveller is applied.
---
We hope this review of the best concrete self levelers has been helpful.
If there's anything good that you think we've missed, or if you have any questions about anything, then let us know down in the comments below.