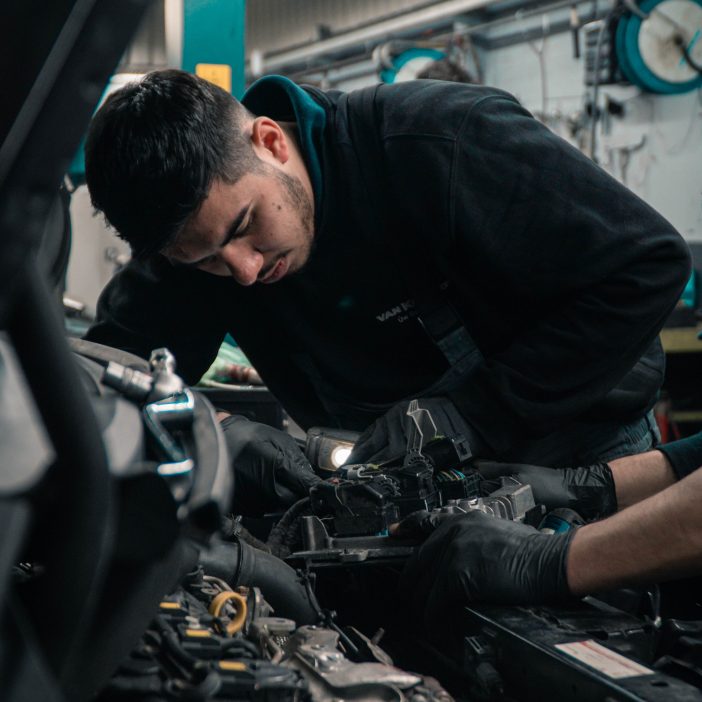 If you're looking to upgrade from the traditional manual grease guns where you have to pump and pump and pump the tool by hand to get the grease flowing which, let's face it isn't much fun especially if you're working in a cramped, dimly lit spot. then this at a glance, no nonsense review and buying guide will help you to decide which is the best cordless grease gun to go for.
Of course there are certain factors that need to be taken into consideration when deciding which cordless grease gun to go for. Price of course is usually the top concern, along with performance and reliability, which as we all know is really important when you're spending your hard earned money.
We recommend the Dewalt DCGG571M1 cordless grease gun it's our 'Top Choice' when it comes to getting value for money, high performance and reliability.
Top Choice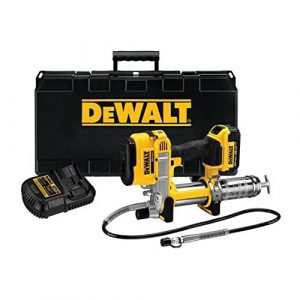 Powerful motor delivers incredible performance
This incredibly powerful cordless grease gun from Dewalt produces an amazing 10,000 (max) psi and is capable of emptying 16 grease cartridges from just one Dewalt 20 Volt Max 4.0Ah battery.
The Dewalt DCGG571M1 cordless grease gun is the one to go for if you use lots of grease and need to keep it flowing consistently and reliably.
Power is what this grease gun is all about. With it's variable speed trigger function it'll push out a very impressive and consistent flow rate, combine this with a max 10,00 psi at hand which ensures you'll power through any grease clogging that you may encounter, emptying up to 16 grease gun cartridges from just one fully charged Dewalt 4.0 Ah battery.
Incorporated with tough carbon steel part sections this grease gun has a built in grease filter in the pump which is removable and cleanable, it's also quipped with a really useful built in LED light that's super bright and easily does the job of lighting up the darkest of work areas. There's also the essential purge valve for getting rid of any trapped air that may be present, and this does the job extremely well.
There are three options to choose from for getting this grease gun filled up, you can simply use a grease gun cartridge which is quick and easy to do, just insert it into the cylinder, you can also use the cylinder as a suction pump to suck grease into the cylinder if you use a tub to store the grease in or attach a hose to the gun and pump grease into the cylinder that way.
Perfect for mechanics when servicing vehicles, or for use in the construction industry, or on agricultural machinery, machines in factories or other factory equipment that needs grease lubrication to keep those moving parts running freely.
Runner Up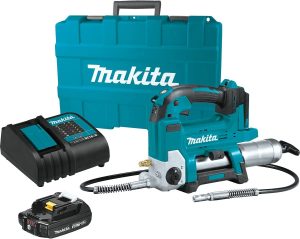 Feature packed, robust and powerful grease gun kit
Packing lots of power this highly recommended grease gun kit from Makita is tough, reliable and has loads of helpful features to help you get the job done quickly and efficiently.
The Makita XPG01SR1 18V LXT® Lithium-Ion Grease Gun Kit (2.0Ah) is a very impressive and powerful grease gun. It is packed with user friendly features, such as a variable speed trigger and the two speed function option, this really is a great option which offers low and auto speed choice for better control of the grease flow.
And for those times where you'll be packing lots of grease there's a really useful lock on button to keep the grease flowing at a maximum rate of 10 oz per minute.
Power is the key to packing that grease and again Makita have not disappointed, this grease gun is equipped with a powerful motor that can deliver up to 10,000 psi (max) pressure.
You also get a 47-1/4" flexible hose, built in LED lights and of course the essential air bleed valve for purging the system of any air that may be trapped, and there's also a handy shoulder strap to attach to the grease gun for better comfort while working.
Also Great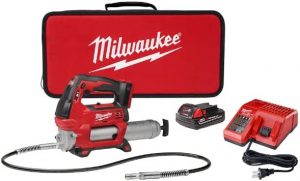 Impressive performance and loads of power
With a maximum flow rate of 10 oz and a 10,000 max psi this grease gun from Milwaukee is definitely an option worth considering.
This M18 Cordless 2-Speed Grease Gun Kit – No. 2646-21CT from Milwaukee has a max operating pressure of 10,000 psi it can push out the grease at a rate of 10 oz per minute and keeping an eye on the flow rate is a really handy grease counter dial.
As you would expect, you get a long flexible hose, this one is 48 inches in length, and there is the all important bleed valve for purging any air that maybe trapped. There's also a shoulder strap to provide more comfort while working for long periods of time, a grease coupler and a lock on trigger function for when you need to keep that grease flowing.
For the price you pay we would have liked to have seen a hard shell case included to house the hose, grease gun, battery charger and battery but you only get a soft carrying case with this kit.
Worthy Mention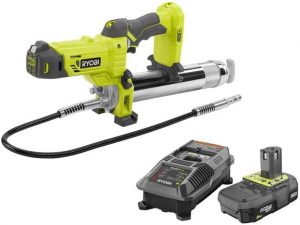 Maybe not one of the more well known names but this grease gun from Ryobi really does perform well.
Great value for money option, impressive performance and excellent warranty.
The Ryobi P3410-P163 18-Volt ONE+ Grease Gun Kit is really worth taking a look at. OK so you don't get a hard shell case or even a soft case with this grease gun, but what you do get is great value for money.
It produces a very impressive maximum working pressure of 10,000 PSI and a maximum flow rate of 7.5 oz per minute, which is right up there with the bigger more well known brands.
You get a 30 inch long flexible hose, there's a plunger rod marking system that helps you to keep an eye on how much grease you have left in the tube, a super bright built in work light and the all important bleed valve to release any trapped air.
Also included with this kit is a 2.0 Ah Lithium battery, battery charger and a very impressive 3 year warranty.