A cordless radar detector, sometimes also referred to as a wireless radar detector makes an ideal choice for the person that often uses different vehicles to travel about in.
With a battery operated, wireless radar detector, you have the freedom to easily move between vehicles, because there's no cords or cables to set up and install, it's just a case of mounting the unit in your chosen position and you're good to go.
Radar detectors work by detecting frequencies operating within certain ranges, these ranges are often referred to as bands, such as X band, K band, Super Wide Ka band, and POP.
A lot of reviews for cordless radar detectors, on the internet, are not actually reviewing cordless radar detectors at all, they are listing one's that have to be wired in.
Reviewed here are genuine cordless radar detectors, powered by batteries.
We have reviewed the best cordless radar detectors out there so that you can choose for yourself which model you think would best suit your needs.
The Best Cordless Radar Detectors Reviewed
Click on the link below to jump to each section
Our Top Pick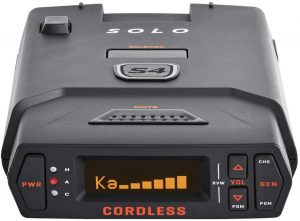 The cordless Escort S4 radar/laser detector is quick and easy to set up. And best of all it's battery powered so there's no cords or cables to run, making it a breeze to move and install in different vehicles.
The Solo S4 is the ideal choice for anyone who swaps between vehicles a lot and wants a radar detector that super easy to use and completely cord-free.
That's what you've got here, wireless portability with all the convenience of battery power, which is why this is also a firm favorite with travelers that are frequently using rental cars for their journeys.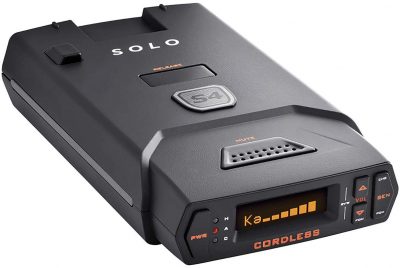 Providing long range protection against radar and laser speed guns including X-band, K-band, instant-on, and SuperWide Ka-band frequencies.
The SoloS4 is very user friendly and with 9 programmable features that enable you to set this radar detector up to your own driving style.
Once you have your settings stored, they are saved in the unit's memory. When it's time to swap out the batteries, you won't lose any stored settings, all the information will still be there when you put new or recharged batteries back into the unit.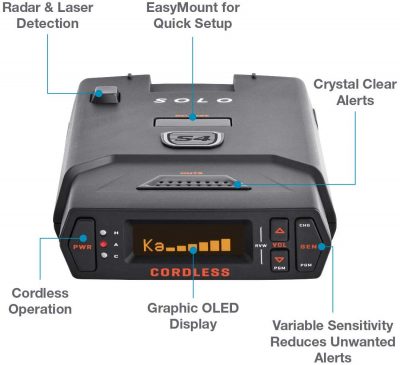 The OLED display screen gives you clear and easy to read information instantly, giving you real-time ticket protection. Variable sensitivity is a great feature that reduces unwanted alerts so that you don't get bombarded with alerts that are not relevant.
The easy-mount system makes it so easy to transfer between vehicles, just place it on the dashboard or windshield then turn the unit on and you're good to go.
It's always recommended that you use good quality batteries in this cordless, wireless radar detector because the more alerts that you receive means more demand is put on the batteries. This is another reason to make sure that the variable sensitivity feature is fine-tuned to filter out unwanted alerts.
Included is a handy travel case to keep the radar detector protected when not in use, or for when it's being carried around. Along with a quick reference guide, you also get 2 AA batteries to get you up and running right out of the box.
What We Like:
Cordless freedom – No cables or cords to install, just pure battery power for ease of movement between vehicles.
Good Clear Display Screen – The OLED display screen gives you clear easy to read information in real time.
Programmable – Store up to 9 features to suit your own style of driving.
Check the latest price on Amazon.
Runner Up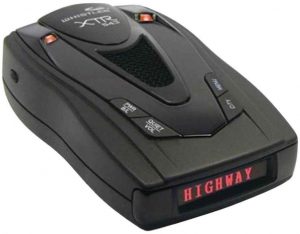 A great addition to take along on any car or truck journey, helping you to keep an eye on your speed and also possibly saving you the cost of a speeding ticket.
This is our runner up choice, the Whistler XTR 543, capable of detecting POP mode radar which is a type of radar that was specifically designed to beat radar detectors.
POP mode uses very short bursts of radar that are just long enough to detect vehicle speed but are short enough bursts for most radar detectors not to register.
Offering 360 degrees of protection, the front laser antenna has a high gain optical lens that gives increased sensitivity and field of view, while the rear laser antenna incorporates an integrated optical waveguide that provides detection of laser signals that are transmitted from behind your vehicle.
Information is clearly displayed on the red alpha-numeric text display screen. Voice alerts warn you of picked up radar and you also get additional warnings of received alerts via the 2 LEDs that are mounted on the top of the unit and flash when the unit picks up a radar signal.
Helping you to get the most out of your batteries, you have options to reduce the level of display brightness. Helping to reduce unwanted alerts you have 3 city and highway mode options which allow you to adjust the sensitivity to cut out those unwanted alerts.
A really cool feature is the priority alert mode that ensures the most important alert is displayed if multiple alerts are detected at the same time.
Battery life, of course, depends on how many alerts you receive and how you have your device set up, you get 4 modes of dim/dark operation setting's to help you save battery power but remember the more false or unwanted alerts you receive the shorter the battery life will be.
What We Like:
Easy To Set Up – Nothing complicated here, no cords to run or cables to install, runs off battery power.
Good Mode Options Available – From battery saving options to city or highway mode settings, all designed to get the best out of the batteries.
360° Coverage – Front and rear laser antenna gives you all-round detection protection.
Check the latest price on Amazon.
Frequently Asked Questions
How far do radar detectors detect?
Most radar detectors have a working detection distance of around 1.5 miles, some models have the ability to detect radar up to 3 miles away.
Vehicle speeds are usually measured at around 1000 feet away, that's about 1/5 mile distance and at such a long distance the laser beam is over 3 feet wide by the time it picks your vehicle up.
What is K and Ka band on a radar detector?
K band on a radar detector is the radar frequency that covers 18ghz-27ghz. Police radar K band frequency operates strictly between 24.125 and 24.15ghz, which means that if your radar detector has K band coverage, then it should alert you when K band radar is being used.
Ka band on a radar detector refers to the frequencies between 26.5–40 gigahertz so if your radar detector is activated and displays the Ka warning you know that a radar gun using those frequencies is being used.
Where should you place a radar detector?
First of all, read the instructions that come with your radar detector, manufacture recommendations for mounting your radar detector are always your best choice.
Generally speaking, radar detectors should be mounted in a central position in your windshield. This is because a central position is a compromise between low and high mounting positions.
Also if your detector has front and rear protection, then this central position offer's unobstructed front and rear detection coverage.
An important thing to note is that wherever you decide to mount your radar detector you must ensure that you don't obstruct your driving view.
Do radar detectors pick up speed cameras?
Fixed speed detection cameras installed at the sides of roads, don't tend to transmit frequencies to detect your speed. So therefor radar detectors won't pick up fixed speed cameras, GPS systems will help you to detect fixed speed camera locations.
So if you are looking for a radar detector that also will warn you of fixed speed camera locations as you approach them, then you need a radar detector that has GPS built into the radar unit.