This is our no-nonsense guide to the best dead blow hammers, with quick recommendations so you can choose the best dead blow hammer that suits what you're looking for.
A dead blow hammer is a type of hammer that is designed to minimize bounce-back when it strikes a surface. Unlike a regular hammer, which can bounce or rebound when it hits a hard surface, a dead blow hammer has a special design that absorbs the impact of the strike and prevents the hammer from bouncing back. This allows the user to apply more force to the strike without worrying about the hammer bouncing off the surface, which can be dangerous and can also cause damage to the material being struck.
They are commonly used in metalworking, woodworking, and other applications where the user needs to strike a surface with force. They are particularly useful for tasks that require a lot of force, such as driving nails or chisels, or for tasks where the user needs to avoid damaging the surface being struck. For example, a dead blow hammer can be used to strike a piece of metal without causing it to dent or deform, or to strike a piece of wood without splitting it.
Dead blow hammers are typically made of metal, with a rubber or plastic head that contains small metal shot or sand. When the hammer strikes a surface, the shot or sand inside the head absorbs the impact of the strike, preventing the hammer from bouncing back. Some dead blow hammers also have additional features, such as a built-in level or a replaceable head, which can make them more versatile and useful in different applications.
Dead blow hammers are an important tool for anyone who needs to apply a lot of force when striking a surface, and they are essential for avoiding damage and ensuring that the strike is delivered effectively.
We've listed below are the best dead blow hammers to go for, the first 5 recommendations are for single dead blow hammers and the last 5 are sets of dead blow hammers.
They're all summed up in this table below. So if you want to skip all the other talk and you just want to know which specific dead blow hammers are currently the best to go for, then they're all right here in one place for you.
Click to jump straight to each section.
The Best Dead Blow Hammers Reviewed
Trusty-Cook

Available to purchase in various weights and sizes ranging from 45 ounces (2.81 lbs) with a length or just over 14 inches right up to 192 ounces (12 lbs) sledgehammer type, with a length of around 33 inches, so there is sure to be one size combination that is just right for your needs.
The hammer head holds the all important vibration dampening shot, and it has to be said that 'this is a seriously tough tool'! It's got a steel core, and it's extremely durable it is resistant to oil and chemicals and features a polyurethane non slip grip handle.
This multi use mallet is the ideal choice of hand tool for use in numerous tasks such as automotive jobs, woodworking projects, metal work, landscaping, and countless other tasks.
Check the latest price on Amazon.
Halder

The 4.75 x 2 x 12.5 inch long Holder Supercraft hi-viz dead blow hammer features two replaceable 2 inch diameter nylon faces.
These nylon faces are extremely tough indeed, they will not crack and are suitable for working on a wide variety of materials such as rock, steel, wood, concrete, metal, brick, plastics, and many more surfaces.
There's also a super strong steel housing that contains that all important impact absorbing steel shot and the heavy duty handle is made from steel tube for high strength and durability, with a covering that provides ample grip when working.
Check the latest price on Amazon.
Gearwrench

This dead blow hammer maximises force, it sustains impact and absorbs the impact shock, exactly what you'd expect from a quality tool.
Featuring a non sparking polyurethane covered body, it's resistant to chipping and splitting and also a steel shot chamber and super tough steel handle with a really grippy textured surface which has been reinforced to cope with the toughest of usage.
Sized at 12.75 x 4.18 x 1.25 inches this tool allows the user to use conventional work tools with this dead blow hammer. Thanks to the steel face and pein chisels and punches can be struck without risk of damaging the striking surface.
Check the latest price on Amazon.
Capri Tools

Plenty of weight and size options available for this non marring polyurethane covered hammer.
Weight and length options of 1 lb, 2 lb, 4 lb, and 6 lb are available in the short handle length and longer handled 30 inch, 9 lb and 36.5 inch, 12 lb versions are available for those of you that need a sledgehammer type dead blow hammer.
With a steel reinforced round ergonomic handle which gives the user a firm grip on the hammer, and a surface covered in polyurethane this dead blow hammer won't mark work surfaces or absorb liquids as it is oil, water, and grease resistant.
As you'd expect this dead blow hammer has a shot filled canister that maximizes force but which absorbs impact shock as well as reducing rebound.
Supplied with a 10 year warranty these dead blow hammers are built last.
Check the latest price on Amazon.
Olsa Tools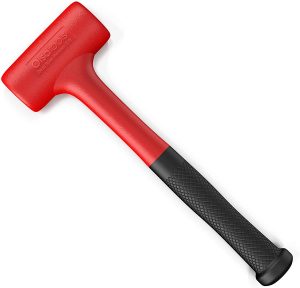 Measuring 14.5 inches from the top of the hammer head to the base of the handle, with its all steel construction and non slip grip, this chemical resistant tool is built to last and well suited for not just professional use but would be a great option to have in you home workshop or general tool collection.
The shot filled polyurethane head absorbs impact strike and reduces rebound and most importantly won't mark the work piece thanks to the soft face.
Check the latest price on Amazon.
Titan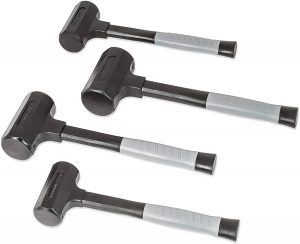 The dead blow hammer sizes included in this great value for money set are 8, 16, 24, and 32 ounce. The handles of each hammer have a textured surface to enable you to keep a good grip on the hammer when you are using it.
What you get here in this 4 hammer set from Titan is real bang for your buck, check out the price.
Check the latest price on Amazon.
Wilton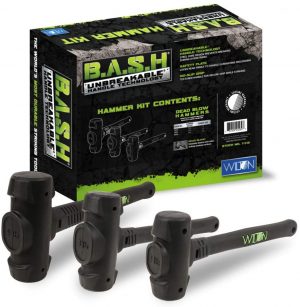 The 3 hammer weight and length sizes that come in this kit are a 2 lb, 14 inch, a 3 lb 14 inch, and a 4 lb, 16 inch. These sizes are the most common sizes bought from the B.A.S.H range of dead blow hammers and are ideal for most tasks.
Feature wise these hammers have a thick ergonomic handle that gives a non slip grip, there is also a hole in the end of the handle for attaching a lanyard for safety.
These dead blow hammers are spark resistant, there are no exposed metal parts on these hammers at all, and of course the dead blow function stops any bounce back when striking hard surfaces.
Check the latest price on Amazon.
Efficere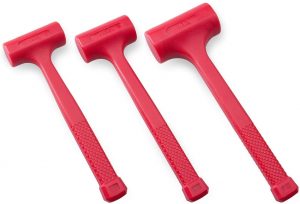 This highly visible red colored set of dead blow hammers comes with 3 hammers weight sized at 1 lb, 2 lb and 3 lb.
Made from reinforced steel with a high impact rubber exterior and non slip textured handle that helps you to keep a firm grip on the hammer.
Thanks to the steel shot filled hammer head these dead blow hammers are bounce resistant when used on hard surfaces.
Check the latest price on Amazon.
Amazon Basics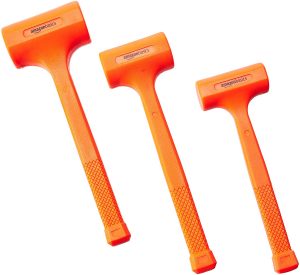 Amazon Basics – Dead Blow Hammer Set
This set of orange colored dead blow hammers would make a great addition to your home workshop, for help with home maintenance and repair jobs.
This dead blow hammer set from Amazon is bright orange in color and a great choice for general repair work. The 3 hammer sizes that come in this set are 1 lb, 2 lb, and 3 lb in weight with the steel shot filled head taking care of any rebound and a high impact poly coating that helps to prevent marring.
The handle section of the hammer is textured which helps the user to keep a good grip on the hammer while working.
Check the latest price on Amazon.
OEM Tools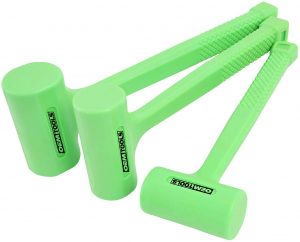 Featuring a steel shot filled head to eliminate bounce, a non slip textured handle to ensure you keep a good grip on the tool and coated in non marring, non sparking rubber.
This heavy duty hi visibility dead blow hammer set is a great choice for a variety of jobs such as woodworking tasks and mechanical repairs.
Check the latest price on Amazon.
What We Think of Some Other Dead Blow Hammers Available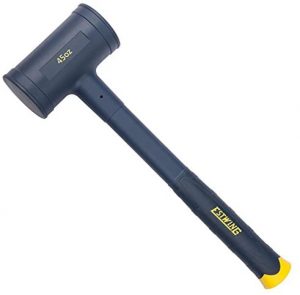 Estwing Dead Blow Hammer – 45 oz Mallet
This Estwing dead blow hammer is oil and chemical resistant and would be a great choice of hammer for use in the auto repair industry.
Key Features:
Great for tough jobs, with its steel core polyurethane handle.
Cushioned non slip grip.
Dead blow technology that holds vibration on impact.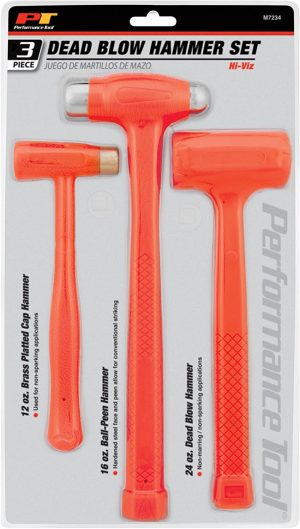 Performance Tool M7234 Dead Blow Hammer Set
This is a handy set of hammers to have in your tool collection for a variety of work tasks.
Key Features:
12 ounce brass hammer.
16 ounce ball peen hammer.
24 ounce dead blow hammer.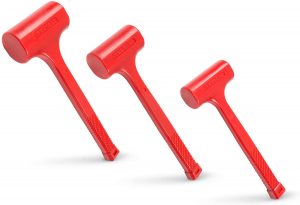 TEKTON 30709 Dead Blow Hammer Set
This brightly colored set of dead blow hammers are made from steel with a polyurethane coating to help protect struck surfaces from marring.
Key Features:
16, 32, and 48 ounce hammer set.
Textured handle for grip.
Steel shot in the hammer head to absorb impact.
Frequently Asked Questions
What do you do with a dead blow hammer?
A dead blow hammer or dead blow mallet as they are also referred to is a special type of hammer. Designed to deliver powerful blows whilst having very little or in some cases, no bounce back from the struck surface.
That makes a dead blow hammer ideal for applications where you need to deliver a forceful blow to the work surface but don't want to risk damaging the work piece.
For example, dead blow hammers are often used in the automotive industry where, shall we say 'persuasion' is sometimes needed when fitting or removing stubborn vehicle parts, but done so without causing damage to those parts.
What is the difference between a dead blow hammer and a rubber mallet?
Although quite similar in appearance a dead blow hammer acts very differently to a rubber mallet when being used.
Lets take a look at a rubber mallet, you get various length size and head weight options that are suited to different job requirements, when using a rubber mallet when you strike the intended surface you will get what is called 'rebound'.
Rebound is where the mallet bounces back up due the force of the impact when the rubber mallet makes contact with the struck surface.
With a dead blow hammer when you strike an object there is no bounce back, this is all down to the design of the hammer head. Inside a dead blow hammers head is usually a container space that is filled with small steel shot which absorbs the impact strike and therefor stops any bounce back.
What is the purpose of the soft face dead blow hammer?
The purpose of having a soft face on a dead blow hammer is to ensure that when you are working on surfaces such as copper, aluminium, lead, brass or plastics then when an impact strike is made on any of these surfaces that no marring is caused to the surface due to the force of the impact.
Some types of soft faced dead blow hammers are non sparking, as they are generally completely covered in a polyurethane coating that also helps to make it oil and chemical resistant too.
What are the characteristics of a dead blow hammer?
There are many different styles and sizes available of dead blow hammers but the characteristics are generally the same.
Usually made from steel and completely covered in polyurethane, the handle is generally strengthened to allow the user to deliver strong blows from shorter distances.
A canister or container inside the hammer head is generally filled with steel shot that helps to deliver strong impact force whilst also absorbing impact rebound when contact with the work surface is made.
---
We hope this review of the best dead blow hammers has been helpful.
If there's anything good that you think we've missed, or if you have any questions about anything, then let us know down in the comments below.