Detail sanding machines are an absolute must have tool for carpenters, joiners or indeed anyone who works with, or enjoys tinkering around with wood and has a keen eye for detail.
So when it comes to detailed trim work sanding jobs or tricky restoration projects such as furniture refinishing, you need to get the right tool for the job, let's face it, you wouldn't use a sledgehammer to crack open a nut, would you?
A detail sander will save you time and effort in the long run, plus you'll get that professional looking finish that we all long for.
The Best Detail Sanders Reviewed
Our Top Pick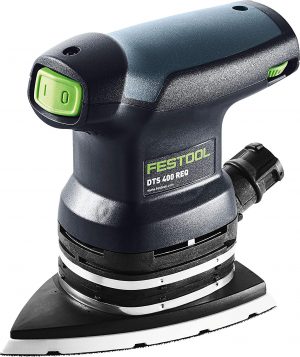 A high quality detail sander, suitable for the professional worker or homeowner.
This new model version features 25% increased power over the previous version, surface protection and long life reusable dust bag.
Designed with hard work in mind, this detail sander will run all day if you need it to.
This is our top pick choice detail sander, this new improved Festool detail sander has 25% more sanding power over the previous model, and a new 'protect' feature helps to minimize pad damage whilst also protecting against surface damage too.
Professional workers and homeowners that want that perfectly sanded finish should definitely go for this model.
Weighing only 2.5 lbs this ergonomically designed detail sander complete with rubberized hand grip means that overhead and vertical sanding jobs can be completed more efficiently.
And as for keeping all that dust created from the sanding process under control, you can either attach the detail sander, via a flexible hose to a dust extraction system or use the reusable dust capture bag provided.
What We Like:
Increased Power – A huge 25% increase in power over the previous model makes this detail sander a very powerful tool.
Surface Protection – Protects the sanding pad and work surface from accidental pad contact.
High Sanding Capability – 6,000 – 12,000 OPM ( oscillations per minute ) to help you complete those sanding jobs quickly.
Check the latest price on Amazon.
Best Reasonably Priced Detail Sander: Ryobi CFS1503GK
Best Reasonably Priced Detail Sander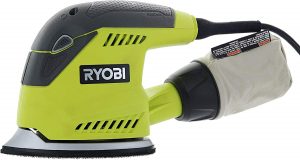 A comfortable holding position makes this detail sander very user friendly.
Included sanding pads will get you to work straight away.
This detail sander lets you work on those hard to get to places thanks to its compact design, and weighing in at only 3 lbs you'll be able to work longer without feeling fatigued. There's a comfortable holding position thanks to the rubber over molding, this also helps to reduce friction between the sander and the user's hand.
The on-board dust collection bag helps to control any dust created, there's even a dust protected activation switch, so you'll have no problem starting or stopping the sander no matter how messy it gets.
Included with this detail sander are 10 sanding pads of various grit to help get you started on the road to that perfectly sanded finish.
What We Like:
Compact design – Perfect for sanding in hard to reach awkward places.
Comfortable Holding Position – Rubber over molding helps with grip and also helps to reduce friction between the sander and the user's hand.
Carrying Case – Keeping your detail sander safe and sound whilst not in use is a very handy carrying/storage case.
Check the latest price on Amazon.
Best Battery Powered Detail Sander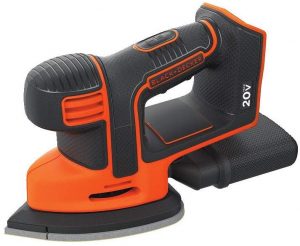 BLACK+DECKER BDCMS20B 20V Cordless Mouse Sander
This powerful multi featured detail sander will help you complete those sanding jobs easily and efficiently.
Its lightweight ergonomic design makes for comfortable use, even on long sanding jobs.
This cordless detail sander from Black + Decker doesn't come with a battery pack, battery packs and a charger are available to buy separately, Click Here for the Black + Decker battery and charger latest price on Amazon.
If you have other Black + Decker 20 volt Max Lithium battery powered tools then you'll be pleased to know that those batteries are compatible to use with this detail sander.
This excellent quality sander is lightweight at only 2.1 lbs, compact and ergonomic, it's great for getting right into those really hard to reach places. Also included is a detail finger attachment for even more detailed sanding options.
Dust control and collection is an essential part of any tool that creates that particular hazard, this Black + Decker detail sander's dust collector is easily detachable to empty out or clean during sanding job's.
As for attaching different sanding paper types, this is made easy with what Black + Decker calls a hook and loop system. Proving that Black + Decker have faith in their product is a 2 year limited warranty.
What We Like:
Compact Design – Great for working in really tight spaces, there's even a detail finger attachment included for more sanding options.
Lightweight – Forget user fatigue, this only weighs 2.1 lbs.
Things to Consider:
No Battery or Charger – Remember that this cordless sander from Black + Decker doesn't come with a battery pack. A suitable Black + Decker battery pack and charger are available to buy separately. Click Here for the Black + Decker battery and charger latest price on Amazon.
Check the latest price on Amazon.
Frequently Asked Questions
What is a detail sander used for?
A detail sander is a hand-held device, used to sand down or smooth out imperfections in wood. Powered by either electricity or batteries they contain a small motor that provides power to a vibrating pad.
Detail sanders have triangular shaped sanding pads, The reason for this triangular shape is to enable the vibrating sander pad to fit into corners or tight spaces.
Detail sanders are often referred to as 'mouse' or 'corner' sanders. The term mouse sander because of how the detail sander looks, it looks a bit like a mouse shape with the power cord as the mouse tail. And as for being referred to as a 'corner' sander, this is because it is especially useful for sanding in corner areas.
What is a good sander for furniture?
The best sander to use for furniture restoration is a detail sander. The reason for this is that furniture as you know can have tight corner sections that would be very hard to work on with an orbital ( circular ) or belt sander ( oblong ) shaped sanding pad.
A detail sander has a triangular shaped sanding pad to enable access to corners or tight spaces. The sanding pads allow for different grades of sanding paper to be attached giving the user control over how much or how little wood is sanded off.
Can you use a detail sander to remove paint?
A detail sander makes an excellent choice of tool for removing paint from wooden surfaces, and if the correct sanding paper is selected then it is possible to use a detail sander for the removal of paint from other surfaces such as metal.
Using a detail sander to remove paint from surfaces is a much more convenient method of stripping painted surfaces. As with any sanding job's dust is always created so it is very important to wear an appropriate dust mask, even if your sanding device has a dust collection system.
Chemicals used to strip paint are messy and can be dangerous if not applied correctly. Appropriate safety equipment must be worn as fumes given off by these chemicals can be detrimental to your health and to the health of other people that are about.
What is the difference between a detail sander and an orbital sander?
A detail sander is used sand hard to access tight places, such as corner areas of furniture, staircases, window frames and other hard to get to reach spaces. This is made possible due to its sanding pad being triangular shaped, so the pointed end of the sanding pad is ideal for those awkward places. Orbital sanders are very different to detail sanders, the sanding pad is circular shaped on an orbital sander, so getting access to corner area's is not possible.
Other Worthy Mentions
These detail sanders didn't quite make it into our reviewed section but they are definitely worth taking a look at.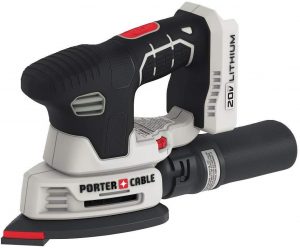 PORTER-CABLE 20V MAX Tool Only (PCCW201B)
This battery powered feature packed detail sander from Porter-Cable has variable speed control, for precise sanding and a detachable dust collection bag.
Battery and charger sold separately.
Key Features:
Vacuum attachment port, for more efficient dust collection.
Low profile design, making it possible to access awkward shaped places.
SKIL 7302-02 Octo Detail Sander
This detail sander is great for small project sanding jobs.
Key Features:
Pressure control technology.
Micro-filtration dust control system.
8 sanding attachments.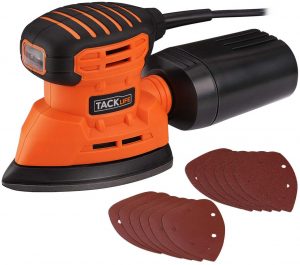 This powerful compact detail sander will help you with those hard to get to sanding jobs.
Key Features:
Runs at 12,000 RPM.
Long power cord.
12 sanding attachments included.