Having the best drawer dishwasher in your kitchen or food prep area is the perfect way of making sure that your plates, cups, glassware, and cutlery stay spotlessly clean ready for when you want to use them next.
Drawer dishwashers make a great addition to any kitchen and provide a hiding place to keep all those dirty dishes out of sight after a meal, keeping the kitchen worktop and sink area clear.
And if getting rid of waste food scraps always seems to be a problem, then take a look at my review on the best garbage disposal, problem solved.
We all know how difficult it can be at times keeping our kitchen clutter-free and tidy, but with a drawer dishwasher kitchen appliance helping out with the washing up, that's one less thing on the list to do.
The Best Drawer Dishwashers Reviewed
Fisher Paykel invented the drawer dishwasher concept, so quite simply, if you want the best drawer dishwasher that is available today then look no further, the Fisher Paykel single or double drawer dishwashers are the best choice to go for.
Best Single Drawer Dishwasher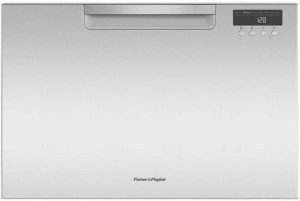 This 24-inch single drawer dishwasher looks amazing in stainless steel and runs so quietly that you'll hardly notice it's on.
This 24″ full console single drawer dishwasher is feature-packed and offers the choice of 6 wash cycles which includes a quick wash option too, it's also ADA compliant and Energy Star Certified.
There's sufficient room inside this 24-inch drawer dishwasher for 7 place settings and when this drawer dishwasher is working away getting everything clean, you'll be amazed at just how quiet it is.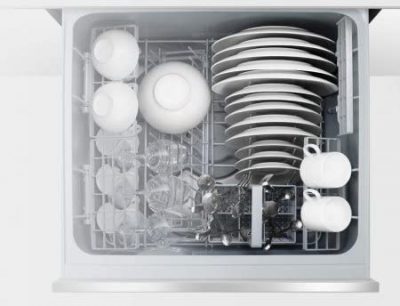 Once the cleaning cycle has finished then the fan assisted drying cycle takes over and makes sure everything is nice and dry to complete the job.
Being full console the control panel is set nice and neatly in the stainless steel door front, so at a glance it's easy to see what is selected and where the dish washing washing cycle is up to.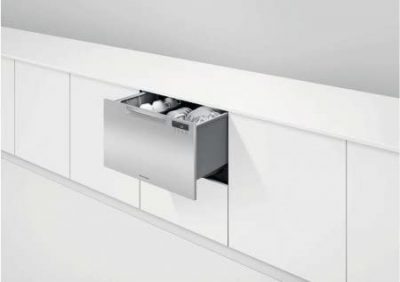 Designed to complement any kitchen with its stylish looks, the ergonomic stainless steel front is easy to keep clean and with a recessed handle adding the finishing touch to its sleek look.
What We Like:
Quiet Drawer Dishwasher – At just 45dB, you'll be amazed at just how quiet this drawer dishwasher is when it's working.
Stylish Design – This full console 24-inch dish drawer looks superb in stainless steel.
Lots of Dishwashing Space – Room for 7 place settings to be cleaned and dried.
Check the latest price on Amazon.
Best Double Drawer Dishwasher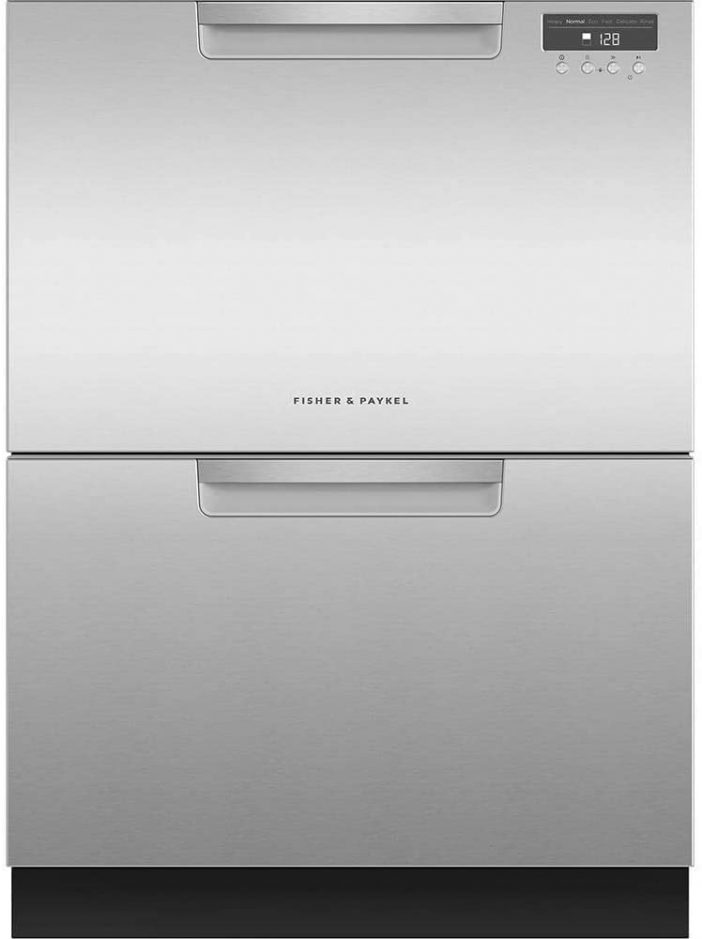 This 24 inch double drawer full console dishwasher can handle up to 14 place settings, and if you are in a hurry there's a quick wash option too.
If the single drawer option is just not big enough for you then this 24″double drawer dishwasher is the answer. Finished in ergonomic stainless steel this double dish drawer option takes care of up to 14 place settings in one go.
ADA Compliant and Energy Star Certified this drawer dishwasher offers 6 cycles to choose from and even includes a quick wash option for when you need fast results.
The full console control panel is positioned on the front of the stainless steel door for quick and easy access to the controls.
What We Like:
Big Wash Capacity – Wash up to 14 place settings in one go.
Great Wash Options – Half load and quick wash are among the dishwashing options.
Stainless Steel Finish – Stainless steel gives that high class, professional look to the kitchen appliance.
Check the latest price on Amazon.
Frequently Asked Questions
Are dishwasher drawers good?
Ask anyone who has a single or a double drawer dishwasher if they think they are good and you will more often than not get a favorable response from them.
What's not to like? Drawer dishwashers are space-saving, usually super quiet, and are designed to be a part of your kitchen or food preparation area, not just stuck in a corner out of the way.
Perfect for small loads and fast washes too, and with various wash cycle options available you shouldn't ever run out of cups, cutlery, or clean plates.
How long should a dishwasher last?
On average between 6 and 12 years but there is no definitive answer to this question because lots of things need to be taken into consideration of course.
The make of the washing machine, its specification, how often it is used, and in what type of environment the washing machine is being used, all play a part in the expected work life of a dishwashing machine.
How many dB is a quiet dishwasher?
When measuring noise levels we take a measurement in dB. The initials stand for decibel and from the measurement you get an indication of exactly how loud or how quiet a certain noise is.
As an example, a normal conversation between 2 adults would result in a dB reading of around 50-60 decibels.
When using this measurement to test the sound dB level of a dishwasher then you would expect to see a reading of around 40 dB for an extremely quiet dishwasher, all the way up to 60 dB for a noisy dishwasher.
On average, a dishwasher with a dB reading of around 50 would be considered a quiet dishwasher.
Is it cheaper to wash dishes or use a dishwasher?
This is a question that is often asked and the answer all depends on your dishwashing habits.
Lets say for example that you are washing the dishes by hand in the sink or a bowl and more often than not you'll have a faucet running to keep a clean supply of water for washing off the soapy water. This style of dishwashing is using a lot of water and not the most environmental or efficient way of cleaning the dishes.
With a dishwasher you'll have a choice of many washing cycle options and usually a fast or Eco option wash too. These washing cycles don't use more water than is necessary and if the water is heated by the dishwasher itself then it is only heats the water that it is going to using.
So if you are looking for the best and most cost-effective way to clean your dirty dishes then in the long term a dishwasher is your best option.