This is an in-depth guide to the best drill for concrete walls, with our recommendations based around different people's criteria, so you can choose the best drill for concrete walls that suits your needs.
They're summed up in this table below. If you want to skip all the other talk and you just want to know which drills for concrete walls are currently the best to go for, then they're all right here in one place for you.
Click to jump straight to each section.
The Best Drill for Concrete Walls Reviewed
Best SDS Corded Drill for Concrete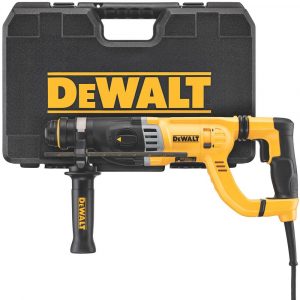 The DeWalt D25263K produces a very impressive 3.0 joules of impact energy, and what that means is that this drill is capable of fast drilling, even into the toughest of concrete and when it comes to chipping or breaking up concrete, you'll get excellent results with this rotary hammer drill.
Providing the impressive power output is an 8.5 amp motor, that loves to work, and work hard!
Vibration from impacting is controlled by DeWalt's Active Vibration Control system, this clever feature is built into the drill handle, it acts as a dampener to protect the user. We think this is a great feature and one worth having if you are planning on using a drill for long periods of time.
Another nice feature of the DeWalt D25263K rotary hammer drill is the integral clutch system that performs the very important task of reducing sudden high torque reactions.
What is a high torque reaction? This is a situation, for example where you might be working and the bit jams, the clutch will reduce the torque output so that you are not battling to try and control the drill while the bit is jammed.
Keeping the dust down while you are working is always a good idea and this drill is compatible with DeWalt's D25301D dust extraction system.
Not surprisingly you get a very decent 3 year warranty and a 2 year free service with this SDS rotary hammer drill, DeWalt produce excellent power tools, power tools that are respected by trades people all over the world.
What We Like:
Powerful SDS rotary hammer drill – Producing an impressive 3.0 joules of impact energy for fast drilling and chipping work.
Anti Vibration Control System – Built into the drills handle, this protects the user from excessive tool vibration when working.
3 Year Warranty – These DeWalt power tools are tough and reliable, that's why you get 3 year warranty and 2 years free service included.
Check the latest price on Amazon.
Best SDS MAX Corded Drill for Concrete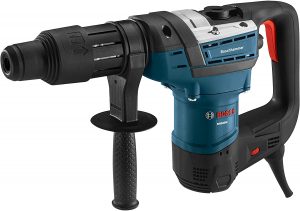 If you are looking for a an SDS MAX rotary hammer drill that will work all day long for you on the toughest drilling and chiseling jobs, then this is the best option to go for.
Featuring a tool free bit changing chuck, which allows you to quickly change bits or chiseling attachments with ease.
Extremely powerful and robust, the Bosch RH540M provides an incredible 6.1 ft – lb impact energy performance, and keeping control of all that power is down to the super reliable 120 volt, 12 amp variable speed motor rated at 170 to 340 RPM in rotary mode, and an amazing 1,200 to 2,750 BPM in hammer mode.
If chiseling in awkward, hard to get to places then the Bosch Vario lock function is at hand to help you out. This function allows you to choose from 12 different lockable chiseling positions to help you tackle those tricky situations.
This Bosch RH540M SDS MAX rotary hammer drill is a beast when it comes to tackling hard demanding jobs, but you may be surprised to hear that it weighs in at only 15.2 lbs.
This really is the best drill for concrete walls if you are after a corded SDS MAX rotary hammer drill.
What We Like:
Big On Power – 120 volt, 12 amp motor supplies all the power you will need.
Massive Impact Performance – An incredible 6.1 ft – lb energy impact performance.
Not Too Heavy – At just 15.2 lbs, you'll be able to work longer with this powerhouse of a drill.
Check the latest price on Amazon.
Best SDS Battery Drill for Concrete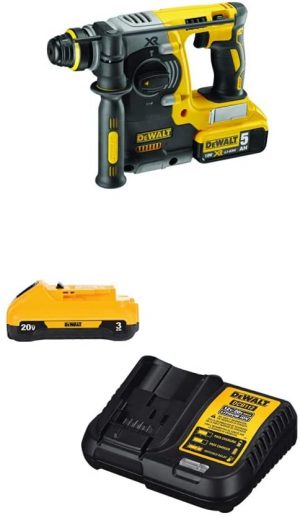 Battery powered or cordless power tools really do give the user freedom of movement while working as there are no cords or power cables to get in your way while you are working.
This is a cordless hammer drill that not only 'talks the talk', but it 'walks the walk' too, turning out 2.1 joules of high impact energy to enable fast drilling of concrete. And of course, this 20 volt Max battery drill features the DeWalt Shocks Active Vibration System which is built into the handle to help ease working vibration.
Power is supplied to the powerful brushless motor from the 20 volt Max battery system and this bundle also includes a battery charger and a 3.0Ah capacity battery that features the 3 led fuel gauge system which lets you know at a glance just how much battery power you have left in the battery.
This battery drill is also OSHA table 1 compliant when you pair it with the DWH303DH on board extractor system to help keep dust down while working.
Selection of the drill operation mode is easy, there's a rotating dial that lets you select from drill, hammer drill or chipping function.
In our opinion this really is the best drill for concrete walls if you are after a cordless, battery powered SDS rotary hammer drill.
What We Like:
Complete kit – You get everything you need here, the drill, a battery and a battery charger include in this bundle.
Powerful Cordless SDS Battery Drill – Providing 2.1 joules of impact energy for tough concrete drilling and chipping work.
Cordless Freedom Of Movement – No need to run cords or power cables out to get this drill working, just attach the battery pack and away you go.
Check the latest price on Amazon.
Best SDS MAX Battery Drill for Concrete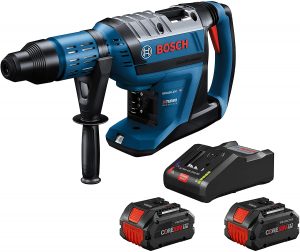 Bosch PROFACTOR 18V HITMAN GBH18V-45CK24
This battery powered SDS MAX drill from Bosch is a seriously good piece of kit.
If you you have some heavy duty concrete drilling and chipping to do then this is certainly worth taking a look at, it offers great value for money.
You will be amazed at just how powerful this Bosch 18V 1-7/8 In SDS-max cordless rotary hammer drill is, and remember, it is a cordless drill that we are talking about here, yet it gives you the power and performance that would put a lot of corded power drills to shame.
Delivering an almighty 9.3 ft – lb of impact energy that makes drilling into or chipping away concrete a breeze.
Weighing in at a beefy 19.6 lbs, this also includes the weight of the battery pack. Having a good amount of weight on this drill is a real asset and really helps when dealing with tough concrete drilling and chipping jobs.
Delivering the power is the high performance Bosch Biturbo brushless motor, you get a built in user interface which lets you know how the drill is performing and another neat feature is the Kickback control technology system that operates if the drill bit binds or other sudden tool reaction occurs.
Of course when drilling or chiseling you are going to get tool vibration from the work in hand, Bosch have incorporated an anti vibration handle into this drill which helps to reduce that vibration.
In this package you also get two super powerful 8.0 Ah battery packs and a turbo charging unit, along with an auxiliary handle and a carrying case to keep everything protected and organised.
This has to be the best drill for concrete walls if you are after a cordless, battery powered SDS MAX rotary hammer drill.
What We Like:
Lots Of Power – Corded drill performance from a battery drill.
Complete Package – Drill, batteries and charging unit are all included in this package, you even get a carrying case too.
Keep Working For Longer – Thanks to the battery turbo charging unit you can keep working for longer, you get 50% battery charge in just 15 minutes and up to 80% battery charge in only 26 minutes.
Check the latest price on Amazon.
Worthy Mention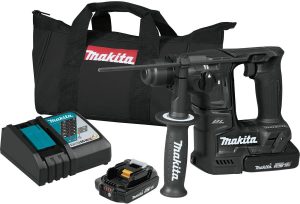 With a compact design of only 10-3/4 inches, and weighing in at just 4.6 lbs, and that includes the weight of the battery too, this drill is great for working in tight spots and awkward areas.
The reliable Makita brushless motor produces a variable drill speed of 0-680 RPM and a BPM count of 0-4,800 and 1.2 joules of impact energy.
A vibration absorbing handle helps to reduce vibration when working and that really helps when dealing with tough concrete drilling jobs.
As this is a complete kit, lets see what you get in the box, Included is –
Makita 18 volt rotary hammer drill
2 X 18 volt LXT Lithium-Ion battery packs rated at 2.0 Ah each
Rapid battery charging unit
Side handle
Tool bag for drill and charger storage
What We Like:
Compact Design – Great for working in awkward areas where space is tight.
Lightweight – Just 4.6 lbs including the weight of the battery pack.
Complete Kit – Everything you need for drilling holes in concrete, you get the rotary hammer drill, 2 batteries, a battery charger, a side handle and a tool bag to keep everything together.
Check the latest price on Amazon.
Frequently Asked Questions
Which drill is best for drilling into concrete a rotary hammer drill or a hammer drill?
A rotary hammer drill is the best choice of drill to go for if you are drilling into concrete simply because a rotary hammer drill delivers more impact force than a standard hammer drill when drilling.
How do rotary hammer drills work?
Rotary hammer drills work by creating a high impact pounding action, this action is produced by a piston inside the drill body that operates inside a cylinder creating air pressure. This air pressure is driven forward, and it's this air pressure that ultimately drives the hammer impacting mechanism, enabling you to easily drill into tough concrete.
---
We hope this list of the best drills for concrete walls has been helpful.
If there's anything good that you think we've missed, or if you have any questions about anything, then let us know down in the comments below.