Using the latest sonar technology, the best fish finders send out sonar pulses using varying frequencies to create detailed information about what it's like below water level.
You've invested in a quality fishing rod and reel, you're serious about fishing but you're spending way too long waiting for the fish to find your bait, then try the more effective method of taking the bait to the fish.
These sonar waves bounce off objects such as rock formation, weeds, hazards and of course fish, reflecting back to feed the fish finder with very detailed information.
This detailed information is then processed by the fish finder and the relevant information is displayed on the fish finder display screen.
We've taken a look at the very best fish finders out there and have reviewed them for you so that you can choose the best one to suit your own fishing requirements.
Click on a link below to jump to that section.
The Best Fish Finders Reviewed
Whether you fish from a Kayak, boat, or from land, we all know how frustrating it can be waiting hour after hour for the fish to take the bait. Fish finders give you the advantage by feeding you detailed information about the water that you are fishing in.
Our Top Pick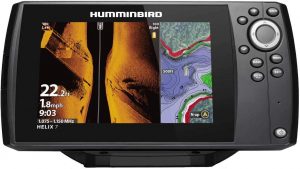 Humminbird Helix 7 Chirp MSI GPS G3N
This feature packed fish finder from Humminbird navigated easily to our top pick spot.
Sonar frequencies of 50/83/200/455 kHz are supported, It also has a 7 inch display screen which helps you to clearly see and pinpoint exactly where the fish are positioned.
MEGA Down imaging is a great new feature added to the Helix 7 fish finder, this gives amazing underwater clarity covering depths down to 125 feet and giving 3 times more detailed information compared to standard Down imaging sonar.
Knowing what's down there before you cast is easily achieved, long well defined fish arches, fish holding structures and of course the bottom is clearly visible. Powered by a low Q CHIRP transducer, the dual spectrum gives you 2 ways to search, wide mode for maximum coverage and narrow mode that gives you maximum detail.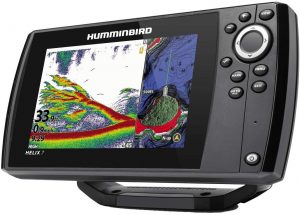 Switchfire sonar offers you 2 display modes, you can remove detail or add detail depending on your own preferences, water temperature, and water depth, even water turbulence can all be accounted for.
A really useful feature is the in built basemap which provides clear underwater views of the terrain helping you to spot hazards, depth markers, buoys, contours and lots more.
There are charts covering 10,000 lakes and US coastal areas included to help you get the best out of your fishing trips.
The autochart live function is something that you'll love playing around with. With access to the Humminbird Lakemaster feature's, you have the ability to create real time maps of your own fishing spots including details such as vegetation, bottom hardness, and depth contours.
A maximum recording time of 8 hours is possible too so you really can build up lots of detailed information about those favorite secret fishing spots.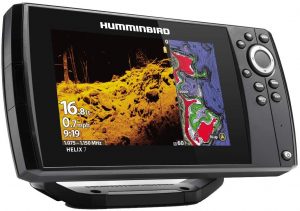 And if one fish finder isn't enough for you then you'll be pleased to know that with ethernet networking you can connect multiple fish finders to give you that professional grade fishing setup.
Other add on systems like Minn Kota i pilot link, CHIRP radar, and 360 imaging are also worth considering if you are after setting up multiple fish finders.
As with most high tech equipment, this 20 x 13 x 10 inch fish finder comes with Bluetooth, which enables you to perform software updates, and if you link it to your mobile phone then any notifications your phone receives will be displayed on the Humminbird too. This means you won't be fumbling around trying to find your phone when you get a message through.
What We Like:
Great Depth Coverage – Depth coverage of down to 125 feet is possible with this Humminbird Helix 7.
Create Your Own Maps – With up to 8 hours of recording time available, you can create your own maps of your favorite fishing areas.
Great For Add On Systems – If you want to set up multiple fish finders then add on systems like Minn Kota i pilot link, CHIRP radar, and 360 imaging are all good options to consider.
Check the latest price on Amazon.
Best for Professionals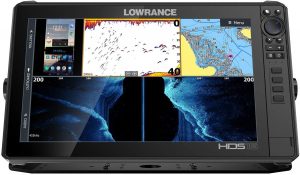 Lowrance HDS 16 Live 16 inch Fish Finder
If you are serious about fishing and want the best professional equipment to help you along, then this no transducer fish finder will make the perfect choice for you.
Neatly fitted into this unit is a high performance quad core processor that if required enables the 16 inch screen on this fish finder from Lowrance to be split into 6 separate viewing sections.
This means that running programs such as structureScan 3D, Mercury VesselView Link, and Lowrance Outboard pilot is possible due to the powerful processing power.
Simultaneously viewing CHIRP sonar along with StructureScan 3D or StructureScan HD, really does give you the best possible views of fish below and to the sides of your boat. As for the actual image quality, you get near photographic image quality thanks to the wide range of color enhancers available.
Keeping an eye on exactly where you are, is achieved courtesy of the internal GPS antenna, 10Hz position updating ensures position accuracy.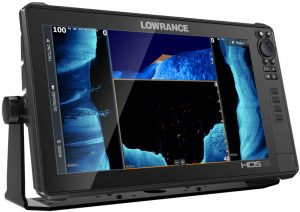 Adding extra CHIRP sonar transducers, for example, on the bow along with an in hull or transom mounted transducer creates a live sonar network.
This network can be viewed all at the same time on the HDS 16 screen.
Another great feature is the easy routing mode, this automatic route planning system auto plots the shortest and most importantly, safest course to follow. This auto plotting system takes into account the boat draft, beam and height measurements making sure hazards are avoided.
What We Like:
Great Sized Fish Finder – This 16 inch fish finder gives plenty of display options, up to 6 different displays can be viewed, give vast amounts of mapping information.
Feature Packed – Just about everything you need to know about what's below you in the water.
Powerful Operating Processor – Quad core processor ensures the information obtained is quickly processed and displayed.
Check the latest price on Amazon.
Best for Ice Anglers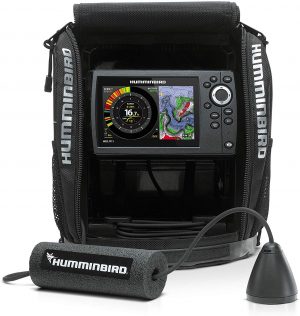 Humminbird 410970-1 ICE Helix 5 Fishfinder
Feature packed this clever piece of technology will keep you fishing through those icy waters.
Detailed location information is relayed back to the color TFT display screen keeping you informed of exactly what is happening down there.
This Humminbird Ice Helix 5 fish finder features a 5 inch display screen with a 800H x 480V resolution and color TFT display.
You'll be longing for the next big freeze so that you can get out there and set this thing to work. You'll soon discover exactly what awaits you under the ice, thanks to the dual spectrum CHIRP digital sonar system.
Weighing in at 8 lbs, you know that this feature packed piece of technology has got everything it needs to deliver the information that you require when your out and about on those fishing trips.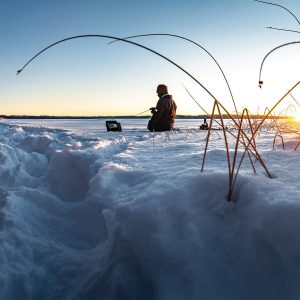 Built in GPS ensures accurate positioning at all times, and with the excellent Humminbird basemap you're all set up with the local ecological knowledge to get you fishing.
There's a 3 color fiber optic display that gives you detailed information about the lake bottom and also indicates the fish and your lure too.
As for deciding exactly where you want to mount this fish finder, you have the option of gimbal or the in dash mounting kit.
Of course, this unit is very adaptable, so once all that ice has thawed away you can still use this fish finder for your summer fishing.
Stopping you from receiving false information from other units that may be in use locally is the rejection setting feature that helps you to fine tune your own system and stop receiving other unit signals.
And also included in this package is a really handy carrying case that keeps everything neat and tidy when being transported around, or stored away until the next fishing trip.
What We Like:
Great Color Display – Nice clear color TFT display screen keeping you updated with everything you need to know about what's going on down below the surface.
Tailor Made For Ice Anglers – If your thing is ice fishing and you want the best fish finder to help you along, then this is the one to go for.
Nice Sized Fish Finder – If you're after something that's not too bulky the at 7.5 x 3.3 x 4.6 inches, this is definitely worth considering.
Check the latest price on Amazon.
Best for Hobbyists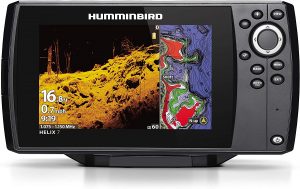 This is our third Humminbird fish finder to be featured in our reviews section, it has to be said that Humminbird does produce outstanding fish finder units. That's proven by the amount of happy customers that leave very positive feedback about Humminbird fish finder products.
This 10.5 x 3.7 x 5.8 inch unit features a 7 inch color TFT display screen with a resolution of 800H x 480V that helps to keep you informed with all the relevant information that you need to keep fishing in the right areas.
MEGA Down imaging gives you clear underwater coverage right down to 125 feet below the water's surface. The low Q CHIRP transducer and the dual spectrum CHIRP gives you the choice of 2 different searching options. The wide mode option gives you maximum coverage while the narrow mode option provides maximum detail.
Turned on to the 2 display mode feature and you can choose exactly what you want to see on the display screen. You can choose to keep an eye on water depth or water temperature, water turbulence or even choose to see lure presentation.
Included with this 5.3 lb fish finder is a transducer, power cable, and gimbal mounting bracket to help you choose the right setup that suits how you fish.
What We Like:
Great Display Size – 7 inch ultra wide display screen to keep you updated as to what's happening below the water level.
Dual Spectrum CHIRP – Get the advantage, know what's down there before you cast in.
Two Display Modes – You decide what information appears on screen, from water temperature to water depth, it's up to you.
Check the latest price on Amazon.
Best Budget Option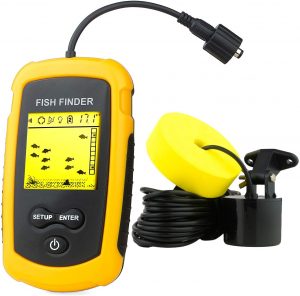 Venterior VT-FF001 Portable Fish Finder
This is our budget option choice but you'll be amazed at the features that this fish finder has.
Ideal for offshore fishing, boat fishing, ice fishing, lake fishing, in fact, you could use this just about anywhere that there's fish in the water.
This unit has the ability to detect water depths from 3 feet to 328 feet, it will let you see short and tall weed hazards along with sand or rock obstacles on the seabed.
Suitable for both day and night fishing trips, this unit has a backlit display screen to keep you informed even on the darkest of night fishing trips.
5 selectable sensitivity levels let you choose just how you want to be informed of what's going on down there below the water level. Selectable unit readout of either feet or meter depth level readings are all down to the user's own personal choice.
What We Like:
Plenty Of Features To Choose From – Budget option but still lot's of very useful features to choose from to help you along on your fishing trips.
Impressive Depth Scale – This unit will keep you informed of water depths from 3 to 328 feet.
Versatile Usage – Ideal for boat fishing, offshore fishing, ice fishing, lake fishing, and sea fishing.
Check the latest price on Amazon.
Frequently Asked Questions
How does a fish finder work?
Fish finders are very clever pieces of technology, sonar uses sound to locate objects underwater.
Fish finders use active sonar which sends out sound pulses out into the water and waits for an echo.
This echo enables the fish finder to create an image of what the sound bounced off, such as rock formations and hopefully fish.
What is Chirp on a fish finder?
CHIRP is often mentioned in the product information when viewing fish finder products, and it something that you should definitely look out for if you are considering purchasing a fish finder.
CHIRP stands for compressed high intensity radiated pulse, what it actually does is to send high pulse energy into the water. This is done to generate detailed images using frequencies ranging up to 117k.
These detailed images are relayed back to the fish finder display screen and the information is available for the user to make use of.
Is chirp better than sonar?
Chirp sonar is most definitely better than traditional sonar, traditional sonar, for example, transmits at around one percent of the time.
Chirp sonar transmits ascending pulses, ten times as long in duration, putting 10 to 50 times more energy into the water, even though chirp devices transmit at lower peak power compared to non chirp fish finders.
Is a fish finder a depth finder?
Fish finders display lots of information about the water and its surroundings. One of the most useful features found on a fish finder is the ability to find out how deep or how shallow the water is.
Using a transducer, quality fish finders will not only display water depths, but they are also capable of producing images of underwater details such as rocks, weeds and of course fish.
Other Worthy Mentions
These fish finders didn't make it into our top picks section, but we thought that they were still worth a mention.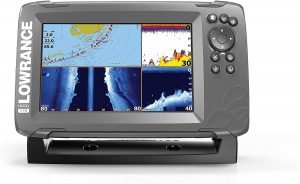 Lowrance HOOK2 7 – 7-inch Fish Finder
With a phone like menu system, this fish finder is really easy to use.
Key Features:
Wide angle Chirp sonar feature gives you double the coverage of traditional fish finders.
Easy to set up just one transducer to be mounted.
Preloaded with 4,000 lake maps with 1 foot contours.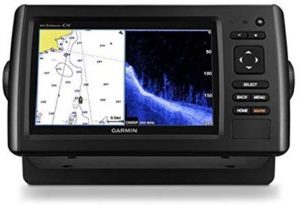 Garmin Echomap Chirp 74Cv with transducer, 010-01801-01
High frequency sonar produces near photographic image displays on this high quality feature packed fish finder.
Key Features:
Chirp sonar helps to produce greater detailed below water information.
5 hertz GPS updates position and heading an incredible 5 time a second.
Includes Chirp sidevu capabilities.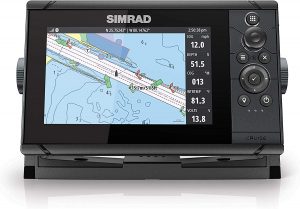 If you want a fish finder that is simple to use, then look no further this is the one for you.
Key Features:
Everything you need to get going, all together in one package.
Split screen view of sonar, charts or navigation.
Easy control navigation with a rotary dial.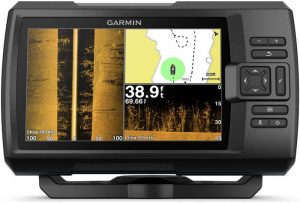 Garmin Striker 7SV with Transducer, 7″ GPS Fishfinder
The 7 inch display screen on this fish finder will keep you informed of everything you need to know about what's going on below the water.
Key Features:
Screen resolution of 800 x 480 keeps you right up to date with all the action.
Built in WiFi to keep you in touch with the Active Captain app.
The transducer is included with this fish finder.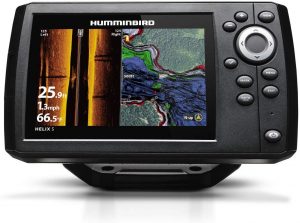 Humminbird 410230-1 Helix 5 Fish Finder
Superb quality fish finder has everything you need to find those fish.
Key Features:
5 inch LED backlit widescreen display, giving high quality visual feedback.
Chirp digital sonar for reaching greater depths and greater range.
Basemap includes 10,000 lakes in addition to US coastal coverage.