The best heat gun can probably be described as being like a hair dryer, but blowing out way more heat than a hair dryer ever could. We're talking around 140°f heat output for a hair dryer, whereas heat guns produce around 1200°F of heat.
Heat gun temperature control is usually by a selection switch or ideally by an LCD display, control screen. Some cheap end heat guns offer no temperature adjustment and have a set heat setting, these are to be avoided as not every job requires the same amount of heat.
So if you want the best heat gun for removing paint or for use in other applications such as drying wet surfaces, thawing pipes, shrink tubing, shrink packaging, bending plastics, bending PVC, welding plastics, joining tarps, softening adhesives, soldering, de-soldering, paint stripping… and the list goes on and on.
As you can see, a heat gun is a really useful tool to have in your collection as it has so many different uses. In the past, a heat gun was always a hand-held device, but now the better-designed heat guns have the ability to support themselves, which means the user has both hands free to work.
The Best Heat Guns Reviewed
The Best Heat Gun
Master Appliance VT-751D Industrial Heat Gun
This is our top pick Heat Gun made by Master Appliance, a company with a long history in the Heat Gun manufacturing business, in fact over 60 years. Present-day they operate out of a modern manufacturing facility in Racine, Wisconsin and they lay claim to having introduced the first industrial-quality heat gun to the worldwide marketplace in 1958.
So let's get down to business and see why this got our Top Pick. Firstly, don't think that because it says Industrial Heat Gun in the product description that this is only for industrial use. What that tells you immediately is that this is industrial grade quality, built to perform well in the most demanding environments and built for work, hard work. You can plug it straight into your standard house-hold electrical outlet point and get to work.
What you notice first about this Master Appliance Heat Gun is the rugged die-cast aluminum housing, it just oozes quality. Attached to this is an adjustable 90-degree rubber backed stand for hands free use on bench tops if, say for instance you're planning on running it for long periods of time, or that you just need both hands free to work.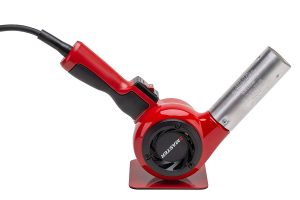 As you may have guessed, the VT part of VT-751D Heat Gun stands for Variable Temperature. That's the important thing to note here, what you're getting is a heat gun with a power rating of 1740 watts, and has fully variable temperature adjustment, ranging from 100f – 1200f. Let's just think about that for a moment, this now means that we have so many different usage options available for this heat gun. Let's face it, you don't want to be blasting every item you're working on with 1200f of heat, some things require a little less heat to get the job done correctly and safely.
For instance, perhaps you want to use the heat gun for drying something out but you don't want to damage the item you're working on by applying too much heat, so you just turn the heat setting down to a safer level. Or if you're heating, welding, shrinking, soldering or endless other tasks that require different levels of heat, then adjust it accordingly and you'll find out that this heat gun will do the lot, no problem.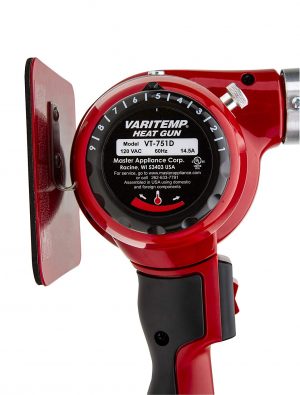 Remember, this is an industrial grade high-quality tool, and so this means that it packs some weight too. Weighing in at 5.28 pounds, and even though it has a redesigned ergonomic soft-grip handle, that handy adjustable 90-degree rubber backed stand is a much-appreciated usage option.
As for actually getting all that heat out of the gun, well that's down to the upgraded long life, high-speed universal motor, which the manufacturer says delivers 2x plus run life.
For you technical folks out there that want to know about what this heat gun airflow and airspeed is, well as you'd expect from a company with this much heat gun manufacturing experience, this heat gun exceeds industry standards at an incredibly high 27 CFM airflow at 3400 fpm.
For the non-technical folks, what CFM and fpm actually refers to is the measurement of airflow and airspeed. So, in this case, the Master Appliance VT-751D Industrial Heat Gun has a CFM of 27. This is a measure of the airflow, stated in Cubic Feet per Minute at 3400 fpm, fpm refers to the airspeed produced, as measured in Feet Per Minute.
Phew glad all that technical stuff is out of the way!
What We Like:
Reputation – You can rest assured that this heat gun will handle the toughest of jobs, It's been manufactured by Master Appliance a company with over 65 years of making heat guns, and assembled in the US.
Industrial Quality – Just look at it, this thing will cope with any job you give it.
Variable Heat Control – fully variable temperature control from 100f – 1200f, an option that gives you total control for different applications.
Output – Exceeds industry standards at a massive 27 CFM airflow at 3400 fpm.
Handy Stand – Built-in adjustable 90-degree rubber backed stand, let's you put this heat gun down on a bench so you've got both hands free to work.
Things to Consider:
Weight – Weighing in at 5.28 pounds. This thing is industrial grade, so it's gonna be heavy, just use the inbuilt handy stand when you can if using for long periods of time.
Price – You want the best, then you have to pay for quality, but remember unlike buying a cheap heat gun that's not up to the task, you won't be throwing this one out.
Suitability – So we know this heat gun will tackle any job, but is it overkill for what you want to use it for? If so then read on and check out our Other Worthy Mentions review section, there's bound to be one in there to suit your needs.
Check the latest price on Amazon.
This heat gun is not at the rock bottom end of the budget market either, as those really cheap options out there are usually useless and can be pretty dangerous too. This heat gun is aimed at the handyman or occasional user market, but I have to say here that I reckon as a backup heat gun, this would be a great buy for tradesmen too.
The features that are packed into this heat gun are pretty amazing when you consider that these options are usually only found on the so-called big-name brand's heat guns and at a premium price too.
So what do you get? or more like where do I start? that should be the question to ask first.
Let's start with the build quality, weighing in at only 2.8 pounds it looks and feels really good. It's got a strong, tough feeling to the outer casing which looks like it could handle a few knocks and bumps without falling to pieces immediately.
As for the temperature control options well, you get plenty of choice here.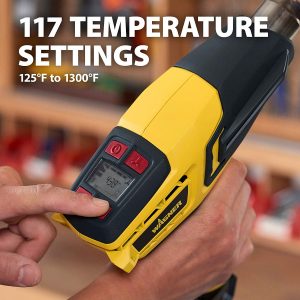 This thing has a Ceramic element and a temperature range from 125°F all the way up to a scorching 1300°F.
Heat settings can be adjusted in 10°F increments, that's an amazing range to choose from for all those projects that require specific levels of heat.
It features an LCD screen that keeps you clearly informed of your current choice of fan speed settings and of course the selected temperature. A feature we loved was the memory function, which lets you recall the last settings used, very useful.
The 6 fan speeds, yes you read correctly, and I'll say it again, the 6 fan speeds and heat settings can be easily changed via the 4 red push buttons, 2 above and 2 below the LCD control panel. This is a really neat set up and the thing we liked about this was the fact that the red push buttons were a good size to use, not fiddly or small.
It even has a cool down mode too that will automatically turn off the heat gun once it has reached a safe temperature.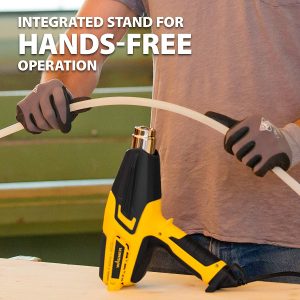 All of the heat guns we've reviewed here have had the handy integrated stand feature, giving you the hands-free usage option, and this budget choice includes that too.
Think of the times you've been working on a job where you need both hands to do the task, but one hand is holding the heat gun! Yes, we've all been there, and we know it's a bad idea but you're trying to prop that heat gun up but it just won't stay where it's meant to stay.
That's why it really does make sense to always go for a heat gun with the integrated stand feature. It really does make some jobs a whole lot easier to do and obviously for safety reasons this is a must-have feature if you often find that you need both hands free to work.
And on the subject of safety, don't forget to always put on some safety glasses and use heat resistant gloves rated appropriately whenever you are using a heat gun.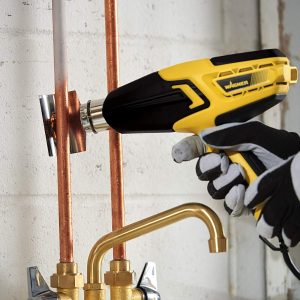 A couple of nice design features I want to mention here that you may not have noticed are, to start with, the built-in sidebars on the heat gun casing. These help to prevent the heat gun nozzle from touching the surface if you lay the heat gun down on its side.
And there's also a handy hanging loop at the bottom of the handle, for when you want to hang the heat gun up or if you want to store it away safely.
Also included in this heat gun package are two nozzle accessories, a glass protector and flare nozzle, a nice addition to get you started on those heat gun tasks.
What We Like:
Features – So many features, you really are spoilt for choice.
Price – Budget range so budget range price.
Controls – Good sized push-button controls, not small or fiddly to use.
Warranty – 5-year limited warranty, that's how confident Wagner is about the quality of this heat gun.
Things to Consider:
Suitability – Aimed at the handyman or occasional user market, but I have to say here that I reckon as a backup heat gun that this would be a great buy for tradesmen too.
Reliability – There's a lot of technical stuff packed into this budget range heat gun, are all the components used, good enough to last? well, Wagner definitely thinks so, as it comes with a 5-year limited warranty for your peace of mind.
Check the latest price on Amazon.
Other Worthy Mentions:
In this section, we've reviewed Heat Guns that we thought were definitely worth mentioning.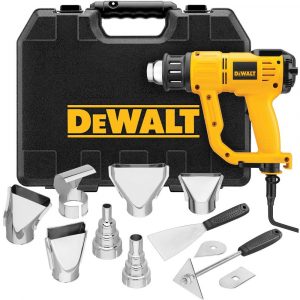 Dewalt, as you may know, is a massive company with a big reputation for producing quality tools, and that's what we found here in this heat gun kit.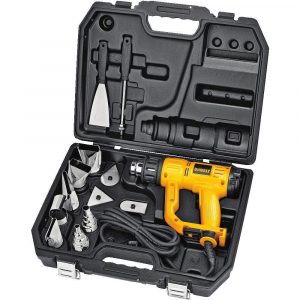 As this is a kit, you get the heat gun and 12 common accessories in a tough Dewalt case, every item having its own place this keeps everything organized, nice and tidy.
The first thing you notice when you pick up this heat gun is how compact and lightweight it feels. Weighing in at only 2.3 lbs, and along with its ergonomic comfort grip, you'll be able to comfortably use this heat gun for long periods of time if you need to. When it's time for a break just sit the heat gun in the handy built-in kickstand support, which by the way also enables the user to work without having to hold the heat gun, leaving both hands free to work.
So getting onto the subject of actually using this heat gun from Dewalt, when you're holding the heat gun ready for use, you notice the LCD display screen at the top rear end of the drill, a perfect position to keep an eye on the heat setting. This particular model is powered by a 1550 watt motor and has a temperature range of 150 to 1100-Degree F, with the ability to adjust the temperature within 50-Degree increments. And if things start to get a little bit too hot, then the built-in overload protection shuts the heating element down and prevents burn up.
Now for the technical stuff, ok so this heat gun has an Air Flow Capacity of 18 CFM, so what exactly does that mean? (AFC) Air Flow Capacity is the quantity of air being moved, CFM stands for Cubic Feet per Minute, in this case then this heat gun is capable of moving 18 Cubic Feet per Minute of air.
What We Like:
Temperature Range – Impressive 150 to 1100-Degree F.
LCD display Screen – Easy to keep an eye on the selected temperature.
Variable Temperature – Gives the user the ability to adjust the heat settings in 50-Degree increments.
Air Flow Capacity – An impressive 18 CFM.
Accessories – Kit form, so you get the protective Dewalt storage case and 12 heat gun accessories, all kept nice and tidy.
Long Power Cord – 10ft of cable supplied with this heat gun.
Weight – Weighing in at only 2.3 lbs.
Things to Consider:
Price – At the higher end, but still cheaper than our Top Pick, and remember you'll be getting a great performing heat gun and all those accessories too.
Suitability – You get a lot for your money, but do you need all these features and accessories.
Do you want it as a kit – If you don't want this as a kit and just want the heat gun and 3 accessories, ( Fishtail, surface nozzle, and Cone nozzle). DeWalt does sell this heat gun as a non-kit option too. Check the latest price for this non-kit option on Amazon.
Check the latest price on Amazon.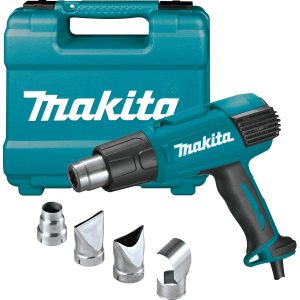 The thing that really impressed me about this Makita heat gun, was that it has a real feel of quality to it, nothing felt flimsy or weak, it looks and feels tough, but this isn't a big bulky tool, it's compact and only weighs 2.0 lb.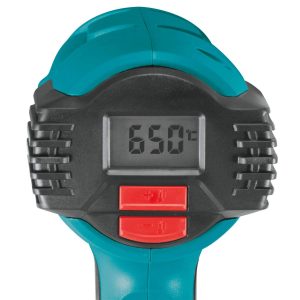 So let's run through those features. A power rating of 2000 watts is the driving force behind this Makita heat gun. The variable temperature control display is located at the rear of the heat gun, this gives you a clear view of the selected temperature, which ranges from 122 – 1202°F and can be adjusted by the push-button controls in increments of 50°F. On the safety side of things, there is built-in overheat protection just in case things get a little too hot.
.
This kit also comes with four heat gun accessories, a 1-3/8″ Glass Protection Nozzle, 1-3/8″ Wide-Slot Nozzle, 1-3/8″ Reflector Nozzle, and a 1-3/8″ Reduction Nozzle. If you need more attachments, that's no problem as it's compatible with various accessories.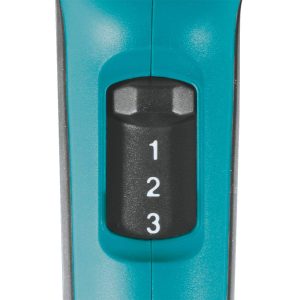 The slide selector switch, located on the rear of the rubberized pistol grip handle gives you three airflow settings, those being cooling, low and high, this offers really useful options when you're working on projects that require different heat control.
There's a 6.6 ft power cord that gives you added maneuverability also an integrated rear stand that can support the heat gun in the "up" position.
What We Like:
Build Quality – This heat gun looks and feels strong,
Variable Temperature Control – This is essential when using a heat gun for different jobs, you don't want to be blasting everything with 1202°F of heat!
LCD Temperature Display Screen – Easy to see which heat setting has been selected.
Kit Form – Nice to be able to pack it away in its protective case, keeping everything safe when transporting it around or for storing it away until the next job.
Things to Consider:
Price – Again not the cheapest heat gun out there. But as we always say, if you want quality then it's worth paying that little bit extra for it.
Check the latest price on Amazon.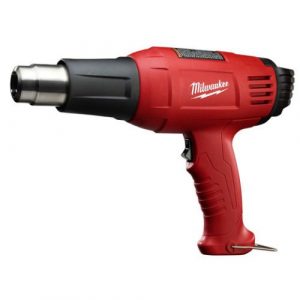 The Milwaukee Electric Tool Corporation was founded in 1924, they've been around a long time, so you can pretty much guarantee that this company knows a thing or two about designing and building quality power tools, that's for sure.
Ok, let's talk about this worthy mention. Design-wise and build quality is as you'd expect, it has a real solid feel to this heat gun. It's housed in tough ABS plastic, this not only protects it against knocks and bumps but also protect's the user from heat transfer when holding the heat gun too.
So it doesn't come with an LCD display screen to show you the selected temperature, but the important thing here is that it does have temperature control. Remember, that's the important feature to look out for when choosing a heat gun, not every job you do with a heat gun requires the same temperature.
In this case, you get dual temperature options of 570 and 1000 degrees F, delivered from the 11.6 amp, 1500w supply. These options are selected by means of a three-position rocker switch – off, high and low positions, located in the grip handle. A nice and straight forward control option.
Another useful feature that is normally only found in the more expensive heat guns is the hands-free option. This heat gun can be positioned upright on a stable surface, leaving both hands free to work, all that you have to do is snap the support stand into the center notched position and away you go.
What We Like:
Build Quality – We thought, as you'd expect, that this heat gun is well built and certainly capable of handling demanding jobs, this thing will run all day long.
Heat Selection – Simple rocker switch selection.
Support Stand – Essential for hands-free working.
Things to Consider:
Heat Output – You are limited to just two temperature options.
Suitability – Depending on the type of work you are doing, does this heat gun give you the required temperature options.
Check the latest price on Amazon.