Hydroponic growing systems enable you to create vegetable and herb gardens indoors, and best of all, you can do it without all the mess that is associated with outdoor gardening.
Hydroponic systems are methods of growing plants using nutrient-rich water instead of soil. In hydroponic systems, plants are typically grown in a container filled with an inert growing medium, such as gravel or perlite, and their roots are suspended in a solution of nutrient-rich water. This allows the plants to access the nutrients they need for growth without the need for soil.
Hydroponic systems are often used for growing vegetables, as they provide an efficient and effective way to grow plants without the need for soil. In a hydroponic system, plants can be grown in a controlled environment, which allows the grower to precisely control the temperature, light, and nutrient levels to optimize plant growth. This can result in faster-growing plants, higher yields, and better-quality produce.
There are several different types of hydroponic systems, including wick systems, water culture systems, ebb and flow systems, and drip systems. Each type of system has its own unique features and benefits, and the best system for growing vegetables will depend on the specific plants being grown and the conditions in which they are grown. In general, hydroponic systems can be an effective and efficient way to grow vegetables, and they are an important tool for anyone interested in hydroponic gardening.
Forget muddy boots and dirty hands, there are no gardening tools required. There's no soil to dig over or soil to sieve, no weeds to pull out and no fences to put up to protect your garden from the wildlife.
What you get with a hydroponic growing system is clean hassle-free gardening all in the convenience of your own home or office space.
Follow the growing instructions and you will enjoy harvest after harvest all year round, you'll be supplied with healthy succulent herbs and vegetables.
Vegetables such as Lettuce, Cabbages, Carrots, Onions, Parsnips, Cucumber, Eggplants, Peas, Asparagus, Beans, Potatoes, Radishes, Beets, Cauliflowers, Broccoli, Artichokes, Brussels Sprouts and Tomatoes which course as we all know are technically a fruit can all be grown, and more besides.
Don't think that it's a complicated process either, a lot of these systems are very user friendly and when connected to Wi-fi, you can receive update reminders as to when watering or feeding times are required.
There's lot's of hydroponic growing systems out there to choose from, what we've done here is to select the best ones, and reviewed them for you, so that you can choose which one best suits your needs and requirements.
The Best Hydroponic Systems Reviewed
Best for Seed Starting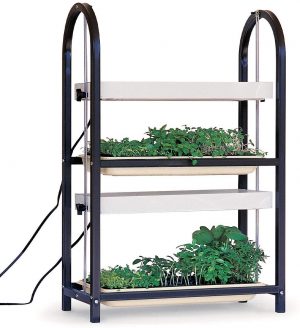 Burpee Home Professional Two Tier Grow Light
Ask any experienced gardener about growing plants from seed indoors, and one of the first things they'll tell you is that it's essential that you give the seeds the right amount of light.
Not enough light when the seedlings start to show will result in the plants becoming thin stemmed and leggy.
Made in the US, this Burpee home professional two tier grow light system, has all your lighting requirements taken care of.
Each tier has a 22 x 11 inch growing tray with a fully adjustable light box fitted with 2 x 20 watt wide spectrum bulbs, ensuring that plenty of light is present to get those seedlings off to a healthy start.
Compact and also lightweight this 2 tier system gives you double the plant production without taking up double the room. At 40 inches high x 27 inches wide and 12 inches deep this system gives you plenty of scope as to the type of plants you wish to grow.
There are lots of seed kits available to buy on Amazon such as:
As for putting this system together, it's really easy to do and shouldn't take you long, as the instructions are very clear.
What We Like:
Plenty Of Light – No more thin leggy stemmed plants, this is the perfect choice to ensure strong seedling growth.
Great For Limited Space – This is a two tier growing system, which means that you get double the growth without taking up double the room.
Very Easy To Assemble – Easy an quick to set up, meaning more time spent on planting those seeds.
Check the latest price on Amazon.
Best for Vegetables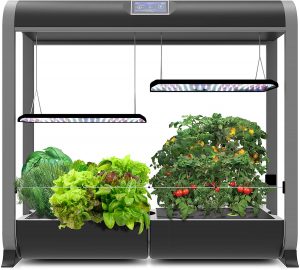 The AeroGarden Farm Plus is packed full of features to help ensure you grow perfect produce time after time.
The really great thing about these hydroponic systems is that it's possible to grow vegetables, herbs and so much more all year round.
There's no soil to mess with, everything is grown naturally in water, add energy efficient LED lighting to the ingredient and what you get is faster growth, which in turn means more frequent harvests.
This stylish, modern looking farm plus model, which is also available in white, will fit perfectly into any home environment. Standing at 24 inches tall, the farm plus has a 24 plant capacity, 12 pods on one side and 12 pods on the other.
This basically means you have the option of growing two gardens at the same time, using separate controls for each garden. For instance, you could choose to grow taller vegetables on one side and smaller veg on the other, each side under separate control to suit different growing stages and requirements.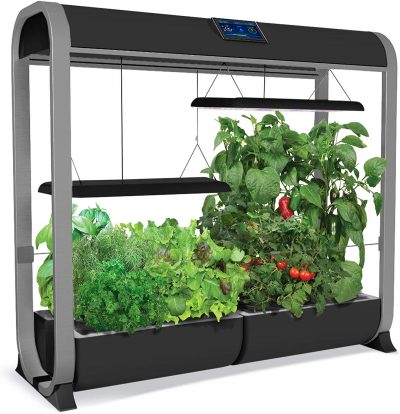 As the plants start to grow, the two 60 watt LED panels, which by the way, are motorised, can be adjusted independently to allow for different growing heights.
These super bright lights are tailor made to produce just the right level of white, blue and red light for optimum plant growth.
With a growing height of 24 inches, the farm plus is capable of producing big full flavored harvests all year round, and remember, there's no messy soil to play around with.
Keeping the growing process under control is made easy too, there's a touch screen control panel with interactive display to help you keep a track as to, for instance, how many days planted, when water is required or when plant food needs to be added.
This farm plus model is also Wi-Fi enabled so you have the option of using the free AeroGarden App to control and monitor the growing process.
Through the App you'll be able to receive notifications directly to your phone letting you know when it's time for watering or feeding. You can also keep friends and family updated with the growing process with a simple one touch posting to social media sites.
If you decide not to use the App or Wi-Fi features, the AeroGarden Farm Plus will still work perfectly well.
Other size options of this AeroGarden hydroponic growing system are available to buy on Amazon, there's the Farm model at 12 inches tall and the Farm XL at 36 inches tall.
What We Like:
Great Versatility – Grow two separate gardens at the same time, control each one separately.
Harvest All Year Round – Grow your vegetables all year round if you want to, keeping you supplied with fresh, full flavoured produce.
Smart Control – Controlling and keeping up to date with the watering and feeding process can all be done with the help of the free App, you can even keep friends and family updated with pictures, with simple one touch posting to social media sites.
Check the latest price on Amazon.
Best for Herbs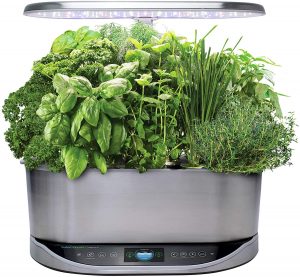 This in home garden system is the perfect choice for those of you that want fresh garden produce but without all the mess that goes with gardening.
This new version Bounty Elite boasts 40 new features that help you to grow your favorite plants all year round. The 9 pod growing system with a 3 step water level indicator, enables you to grow a wide variety of plants all at the same time, and with a 24 inch grow height available you're not stuck to growing just small plants.
Included with this system is a 9 pod gourmet herb kit to get you started, the planting process is easy and very straightforward and with no soil needed, there's no mess. Just drop the pre-seeded pods and they'll be sprouting within a couple of days, and ready for harvesting in a couple of weeks.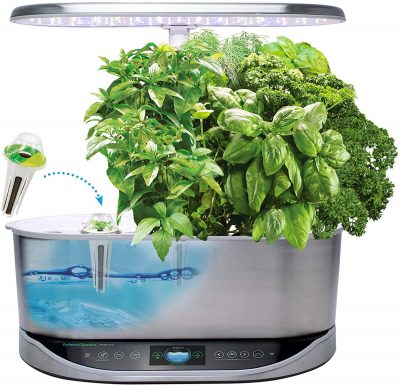 With a high resolution touch screen control panel, it's easy to navigate the controls.
Remember, this is the upgraded system and it's packed full of helpful features to make growing your chosen plants more enjoyable.
Wi-Fi enabled and compatible with Alexa you can be sure you'll be kept informed about water levels and plant food top up times.
Perfect growing conditions are made possible thanks to the infinite dimming 50 watt LED grow lights.
These grow lights deliver the perfect lighting spectrum and can be set to mimic sunrise and sunset lighting levels over an hour, at the start and end of each day to recreate outdoor lighting levels, inside.
Planning a trip away for a few days? no need to worry about your plants while you're on the beach, there's a vacation mode option that will take care of the growing process for you, so you can just relax.
The 9 pod gourmet seed kit includes:
Genovese Basil (x2)
Thai Basil
Curly Parsley
Italian Parsley
Thyme
Chives
Dill
Mint
What We Like:
No Soil and No Mess – Perfect for the home, made from stainless steel, it will sit nicely in any home environment.
You Can't Fail To Grow – With a 100% germination guarantee, just keep the water and feed intervals on time and you will reap the rewards.
Great Growing Height – You're not restricted to small plants with this system, with a 24 inch growing height range you can choose from a wide variety of plants to grow.
Check the latest price on Amazon.
Best for Beginners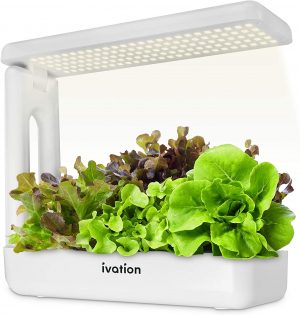 This all in one starter kit is capable of growing Herbs, plants, greens and vegetables all year round, all you have to do is add your own choice of seeds and your good to go.
It is possible to grow an amazing 11 different plants at the same time, with this no mess, soil free system. Included in this package are 30 seeding pots, 15 baskets, tweezers, a measuring container for getting those levels just right and 5 planting hats that prevent algae growth.
The key to getting the plants growing correctly is down to the 125 mini LED lights which supplies the plants with perfect lighting levels, there's even an automatic cycle option that mimic's outdoor day and night lighting levels too.
The perfect combination of 100 percent natural water and the correct lighting levels helps to quickly produce healthy plants, much faster than traditional outdoor gardening.
What We Like:
Great Starter Kit – Get started with this no soil, no mess growing system. 11 different plants can be grown at the same time with this kit.
Fully Adjustable LED light – Maximizing light coverage is easy and ensures the plants are receiving the correct light exposure.
Indoor Garden – Bringing the great outdoors indoors, without the mess.
Check the latest price on Amazon.
This modern looking indoor plant growing system uses 22 LED light bulbs giving a full lighting spectrum to simulate outdoor lighting conditions.
Featuring a built in timer that works on a 16 hour on and 8 hours off loop so that you don't have to remember how long the lights have been on for.
Nicely sized at 16.5 inches × 11.4 inches × 5.4 inches multiple plants can be grown at the same time and because of the modern stylish design, this indoor growing system makes a nice addition to your kitchen, office or living room.
What We Like:
Timer Function – Automatically works on a 16 hour on and 8 hours off loop, meaning that you don't have to remember how long the lights have been on for.
Modern And Stylish Looking – Makes a nice addition to your kitchen, living room or office area.
High Quality LED Lights – Budget option, but high quality LED lighting included to mimic natural daylight.
Check the latest price on Amazon.
Frequently Asked Questions
Do you have to change the water in hydroponics?
In order to maintain healthy plant growth in hydroponic system's it is essential that the water being used is clean, contains all the appropriate nutrients and also has the correct pH level.
Depending upon the type and size of plants being grown in your hydroponic system relates to how often the water will need to be changed.
Smaller water reservoirs will need to be kept topped up with water more often than larger reservoirs. It's not only the plants that use up the water, evaporation of the water is also a big consideration. This water evaporation is often caused by the warmth given off by the strong lighting used to mimic natural daylight growing conditions.
How fast do hydroponic plants grow?
Hydroponic growing systems have been proven to significantly speed up the growing process of plants. Studies have proven that in most cases the growth rate is between 30 and 50 percent faster compared to the traditional growing in soil method.
Not only is hydroponic growing much faster than conventional growing, it also produces a much greater yield.
Do plants grow better in soil or hydroponics?
Plants certainly grow better using a hydroponic system than the more conventional method of using soil.
This is due to the fact that in a hydroponic system the plant is being given all the nutrients it needs several times a day, without the plant having to use its energy looking for nutrients with its roots, as it would have to do in soil.
This saved energy is then used to produce faster growing plants and in turn, this creates a faster yield.
Is tap water OK for hydroponics?
When considering tap water use in hydroponic systems it must first be proven that tap water is suitable to be mixed with the hydroponic nutrient solution.
Tap water comes into our homes in a form that is safe for us to consume, tap water can contain various compounds that have been used in the cleaning process.
Chlorine, for instance, makes the water safe for us to drink, but even such small concentrations of Chlorine can be toxic to some plants.
Chlorine can be removed from tap water simply by leaving the water in sunlight for 12 to 24 hours. This should have reduced the level of Chlorine in the water to a level that is safe to use with your hydroponic plants.
Chloramine is used in the treatment of tap water too, this can be removed in the same way as removing Chlorine, but much longer exposure to sunlight is required.
Hard and soft water can also have an effect on hydroponic growing, due to the amounts of dissolved minerals in the water.
It is always advisable to thoroughly test out your tap water with an appropriate water testing kit, to find out exactly what is in the water before using it in your hydroponic system.
Other Worthy Mentions
These ones didn't make it into the editor's choice section, but we still think that they are definitely worth a mention.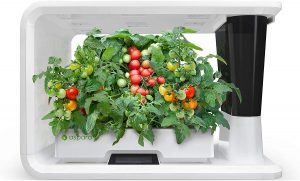 PerfectPrime aspara Nature -AS1001WH
Up to 16 plants can be grown at once with this stylish looking hydroponic system.
Key Features:
Red and blue light wavelengths produced by powerful 60 watt LEDs help to make the plants flourish.
Smart sensors control the plants growing environment and adjust the controls automatically.
Get notifications to your phone with information about watering and feeding requirements.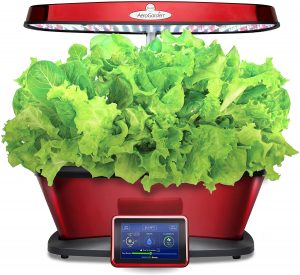 AeroGarden Classic 9 Elite WiFi, Red
This hydroponic growing system includes a gourmet herb growing kit. Keeping you supplied with healthy, fresh produce all year round.
Key Features:
Up to 9 plants can be grown at the same time with this AeroGarden system.
Wi-Fi enabled to help you keep up with watering and feeding times.
Full spectrum 45 watt LED lighting.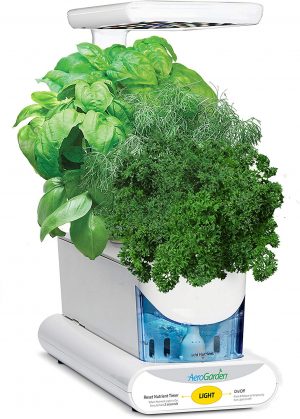 This system includes a 3 pod herb seed kit to get you started.
Key Features:
User friendly control panel lets you know when to add water or plant food.
Light's controlled automatically to mimic outside growing conditions.
Plants up to 10 inches tall can be grown with this system.
Includes a 6 pod gourmet herb kit to start you off on your home hydroponic gardening system adventure.
Key Features:
Full spectrum 20 watt LED lighting system.
Grow up to 6 plants at a time, and up to 12 inches tall.
No soil, no mess plant growing system.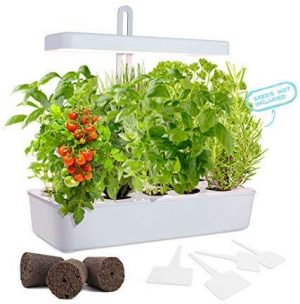 GrowLED LED Height Adjustable,10-Pod Indoor Garden Germination Kit
This system allows you to grow up to 10 plants at a time.
Key Features:
Full spectrum LED lighting provides the perfect lighting levels to grow your plants quickly.
Smart timer feature, 16 hours on and 8 hours off, to mimic outside light exposure times.
Adjustable light, as the plants grow the light can be moved upwards.