Forget about using your regular drill for driving in screws.
You'll no doubt already know just how frustrating it is trying to drive stubborn screws in when they refuse to go in. The driver bit spins and jumps on the screw head, damaging it so that you can't drive the screw in or unscrew it either.
Basically, you are causing yourself more work and stress than is necessary. The simple answer to all this hassle is an impact driver. They just work, and the job is done before you know it.
Let's take a look at the best option for an impact driver first of all because we look at a mid-range alternative for those who don't need the absolute highest power that you can get.
The Best Impact Drivers Reviewed
Of course, if you're not too interested in Tool Connect and you just want the best performing impact driver you can get, then you can simply ignore those extra features because the DCF888P2BT is still easily the best option out there.
After all, DeWalt is trusted by tradesmen the world over for very good reason. The build quality and durability of their products are second to none, and so they're basically just the most reliable tools you can get. They're also really easy to use, thanks to their ergonomic designs.
This impact driver is no exception. We think it feels very well-balanced in your hand, and it's more compact than you might expect, at only 5.3″ from front to back.
As for the weight, it's only 2.8 lbs without the battery, which is pretty light for something so durable. DeWalt seems to have made this thing tough by design, rather than adding extra bulk.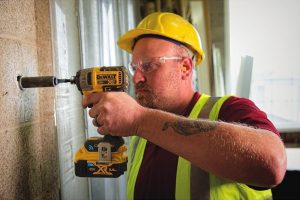 As for the features, there are powerful LEDs for lighting up even the darkest of workplaces. This is definitely a feature we use often because it just makes it easier to see what you're doing.
There's a handy tool belt clip so if you're up some stepladders and need to use both your hands, you can hook this impact driver to your tool belt rather than having to balance it on the steps, with the chance of it falling off and getting damaged.
Now, there is the option of the 887 model instead of this 888 model, but we're certain the 888 is simply a better deal. The main reason to choose this 888 model rather than the 887 is because it has 4 speeds rather than 3, and comes with 5.0Ah batteries rather than the 4.0Ah ones which come with the 887's kit.
You basically do want to go for the 5.0Ah battery because the extra run time and extra torque is a significant upgrade, and the difference in price between the two kits actually makes the 888 more cost-efficient because of that.
The max speed of this impact driver is a whopping 3250 RPM, and its max torque is 1,825 in-lbs, which beats the equivalent model from Makita which only has 1,500 in-lbs of maximum torque.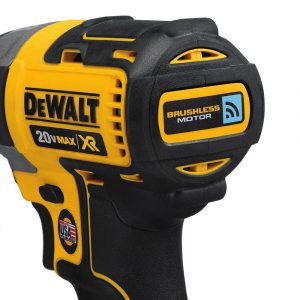 We'd definitely recommend going for tools that use brushless motors, like this one has, because of how much of an improvement they are over traditional brushed motors. A brushless motor gives you up to 75% more run time compared to the standard brushed motors that you usually find in impact drivers. That's the reason why all of the impact drivers we've reviewed in this guide have brushless motors. 75% more battery life is huge.
As we mentioned before, one of the standout features of this impact driver is that it also comes with Tool Connect. If you already know all about Tool Connect, you can skip this part, but here's a handy little roundup of its features for those who don't know.
Tool Connect is the latest tool technology, which gives you features such as:

Last seen – check on the app to see when your assets were last seen.

Allocate – with this you can allocate your tools to others and set return dates and reminders.

Customise – tailor the tool's speed and torque to the specific job in hand.

Missing Asset – here you can mark the asset as lost or stolen and use the tool connect network to locate it.

Virtual Fence – get alerts and disable the asset if it leaves the 30m radius area.

Track – track your assets and make sure they are where they are meant to be.
Here's Dewalt's video about Tool Connect's features:
What We Like:
Great Build Quality – DeWalt is trusted by tradesmen the world over to get the job done. This impact driver feels like it has a solid construction while still managing to not be bulky.
Brushless Motor – Delivers up to 75% more runtime vs. 18V NiCad brushed motors. We personally wouldn't choose a brushed motor anymore because of how much more convenient it is not having to charge it up as often. You basically can just use it at maximum torque for much, much longer and you pretty much don't even have to worry about the battery level at all. You can simply charge one of the two battery packs while you're using the other.
One-Handed Loading – This driver lets you load the 1/4″ hex chuck with only one hand, thanks to the easy-grip sleeve.
Two Powerful 5.0Ah Batteries – The extra run time and extra torque is a significant upgrade over even 4.0Ah batteries, and the difference in price between this kit and the next one we're reviewing actually makes this choice more cost-efficient because of that.
4 Speeds of Torque Settings – This one has 4 speeds rather than the 3 you get with the 4.0Ah one without Tool Connect that we're looking at next.
Things To Consider:
There's No Equivalent Version Without the Smart Features – As you'll see with the alternative pick below, the closest driver that they offer to this one has a few other downgraded features too and isn't actually that much cheaper at all. If you don't care about the Tool Connect smart features and just want an amazing impact driver, at least you have that with this one.
Check the latest price on Amazon.
This one doesn't have Tool Connect, and its battery packs are 4.0Ah instead of 5.0Ah. Also, it only has three speeds instead of four, but at least the maximum speed is the same.
If you only need to use low, medium and high-speed settings, rather than having that medium one split into a low-medium and medium-high speeds like in the first one, then the lower number of speed options won't make a difference to you at all.
And, of course, if you just want a really good impact driver, and don't care about having Tool Connect smart features, then this is the one for you.
What We Like:
Great build quality – Just as high quality as the top pick.
Brushless Motor and XR Lithium-ion Batteries – Up to 75% more run time than traditional brushed motors, and although these are 4.0Ah ones in this kit rather than the 5.0Ah batteries in the top pick, they're Lithium-ion: the best kind of batteries you can get, because they have greater capacity compared to standard units.
3 LED Lights – Built-in, to light up the darkest of workplaces. A really handy feature we use often.
Tool Belt Clip – Hook the unit onto your belt so it's ready for the next task when you need to use both hands while you're up a ladder.
Still Great for When 4.0Ah is Enough – If 5.0Ah batteries would be overkill for what you're using this for, then this one will be just right for you, and save you a little money too.
Things To Consider:
Only 3 Speeds – The above model that we've featured as the top pick has four speeds rather than three.
Not Even That Much Cheaper than the Top Pick – To be honest, the downgrade from the 5.0Ah batteries the top pick has to the 4.0Ah batteries this one has accounts for the price difference alone. However, you also miss out on the Tool Connect features as well as having only 3-speed settings rather than 4. We'd really just recommend going for the top pick for the 5.0Ah batteries alone if you want the absolute best-performing impact driver. Besides, you can just completely ignore the extra Tool Connect features if you don't want to use them.
Check the latest price on Amazon.
Best Mid Range Impact Driver
Of course, this makes it cheaper, while you still get the same high-quality tool. You can always upgrade your batteries in the future, you see.
What We Like:
Great build quality – Trusted by tradesmen the world over to get the job done.
Brushless Motor and XR Lith-ion Batteries, giving you more run time and capacity over standard units.
Perfect for – general not too demanding jobs.
3 LED Lights – built-in, to light up the darkest of workplaces.
Tool Belt Clip – Hook the unit onto your belt so it's handy, ready for the next task.
Things To Consider:
Only 2.0Ah Battery.
Just 3-speed settings.
Check the latest price on Amazon.
Best Budget Impact Driver
The downside to having only one battery, of course, is that you can't just leave one charging while you use the other. However, if that doesn't bother you, then the only other drawback left is that it comes in a bag rather than the hard case the other ones come in.
I mean, some of you will even prefer Makita to DeWalt, so that makes this a pretty good cost-effective option that also happens to be what you're used to. Though, while we tend to use DeWalt tools most of the time, this one still felt ergonomic, well-balanced and powerful enough to do the job.
What We Like:
Low Price for a Good Tool – It's quite a bit cheaper than the other tools in this post, because it comes with less "accessories," if you could call less batteries and a bag rather than a hard case "accessories." To be honest, because the tool itself is great, the other stuff doesn't matter that much when you get the whole kit for this price.
Full Charge in Only 30 Minutes – Useful, considering there's only one battery.
Things To Consider:
Can Bounce Around at High Torque – While you won't necessarily always be using it at maximum torque, we found that it tends to become unstable when you do put it on that setting. It's still just fine at lower torque settings though.
Check the latest price on Amazon.