There are a lot of impact wrenches on the market, so which is the best impact wrench to go for? there are some standout ones that really are a cut above the rest
We'd definitely recommend going with ones which use a hog ring rather than a detent pin because it's so much more convenient for when you want to change your socket. Having to use a separate tool to change the socket on a detent pin impact wrench is just a pain.
Also, brushless motors and 5.0Ah batteries are going to make the biggest contributions to your tool's power, other than that, going for quality products from reputable manufacturers like DeWalt and Makita is the best choice.
So if you are looking for an impact wrench for mechanical work, construction work, or for building scaffolding for home or professional use, then we have it covered here.
Let's start by looking at the best impact wrench out there.
The Best Impact Wrenches Reviewed
DeWalt is one of the biggest and most respected tool manufacturers in the world and the DEWALT DCF899HP2 1/2 Inch 20V MAX XR Cordless Impact Wrench Kit with Hog Ring Anvil certainly lives up to that reputation. Trusted by tradesmen the world over, this DeWalt Impact Wrench certainly delivers, you won't be disappointed.
When you first get hold of the DeWalt DCF899HP2 you can just feel the quality, there's nothing flimsy or weak about this DeWalt Impact Wrench. It looks tough and It feels tough, in fact, it has been drop tested from 6′-8′, and the anvil is resistant to shearing and breakage. Enough said.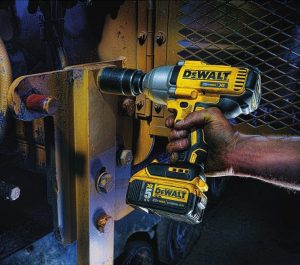 Thanks to DeWalt's ergonomic design this Impact Wrench feels good to hold and work with. It's well balanced, lightweight, compact and comfortable when used for long periods of time.
We definitely recommend going for this DeWalt brushless motor Impact Wrench, brushless motors deliver up to 75% more run time compared to non-brushless motors, this is a huge difference.
Weighing in at 7.2 lbs and sizing up at 17.1 x 5.9 x 9.8 inches, this Impact Wrench will handle the most demanding of any jobs that you can give it with ease.
How come?
Here's how: with a max torque of 700 ft/lbs, a breakaway torque of 1,200 ft/lbs and powered by a 5.0Ah Lithium-ion battery, that's how.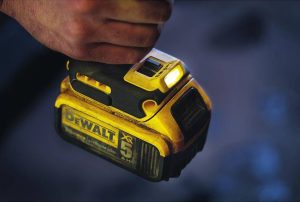 The DeWalt DCF899HP2 cordless impact wrench is ideal for working in cramped dark places thanks to its compact design. It even has LED lights built-in, to light up the darkest of work areas. This is a feature we love, it just makes the job in hand a whole lot easier when you can see what you're doing.
We love the fact that this tool has a 3-speed selector switch, this allows for specific drive control/torque depending on the type of job you are doing, and, of course, there's the standard forward and reverse drive option too.
Speed 1: Gives you 100 Ft-lbs / 130Nm

Speed 2: Gives you 300 Ft-lbs / 400Nm

Speed 3: Gives you 700 Ft-lbs / 950Nm
Another really useful feature we like a lot is the battery fuel gauge, you just press and hold the fuel gauge button and a combination of 3 LED lights illuminate showing you the level of battery charge you have left. Simple and very useful.
Check out DeWalt's video about it:
In the video, it states that the fuel gauge feature is available on the 1.5Ah and 3.0Ah battery packs but we would like to add that it is also included in the 4.0Ah and 5.0Ah battery packs too.
What We Like:
Great Build Quality – The name that's trusted by tradesmen the world over to get the job done. Solid construction, looks and feels tough enough to tackle the most demanding of jobs.
Ergonomically Designed – This DeWalt Impact Wrench feels well balanced and comfortable to hold especially if you are working with it for long periods of time. Great for avoiding fatigue.
Brushless Motor – Gives superior performance, run time and durability over standard motor units, We recommend you only buy brushless motor units because of the increased performance that they give you.
5.0Ah Batteries – The DeWalt DCF899HP2 kit comes with 2 extremely powerful 5.0Ah Lithium-ion battery packs. More than enough power to keep you going at the job.
Fuel Gauge indicator – Enables you to keep an eye on the powerful 5.0Ah Lithium-ion battery's available power, simply at the press of a button.
Torque Options – 3 torque options available, you choose the torque for the job in hand from 130Nm to 400Nm up to a massive 950Nm.
Things To Consider:
Nothing Really – We found it really difficult to find anything that we didn't like.

OK, so if we have to pick something, well maybe some people would prefer a hard shell tool case instead of the kit bag for durability… But you know what? When that kit bag starts to get worn in like it's been designed to, you can be sure it'll still look cool.

I mean, what's not to like really? This is a top-quality tool kit from a top-quality manufacturer, we loved it and we're sure you will too.
Check the latest price on Amazon.
The Best Makita Impact Wrench:
First impressions when you take hold of the Makita Impact Wrench are really great. |The solid, high-quality feeling, and great unit balance that makes it comfortable to hold really make this product feel good to use – and it looks pretty cool too.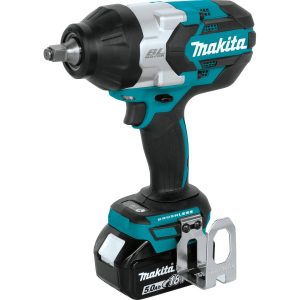 Let's get down to the details :
This Makita Impact Wrench is at a compact size of only 9″ long, and still manages to deliver a mighty max torque of 740 ft/lbs and a breakaway torque of 1,180 ft-lbs.
You have the choice of 3 maximum speed settings ranging from:
900 RPM / 1,800 IPM
1,000 RPM / 2,200 IPM
1,800 RPM / 2,200 IPM
With RPM meaning revolutions per minute, and IPM meaning impacts per minute.
The 1/2″ anvil with friction ring makes for quick and easy socket changes, which is essential for fast working. We'd definitely recommend going with this hog ring version rather than the detent pin one because, with a detent pin, you have to use a separate tool every time you want to change the socket.
What We Like:
5.0Ah Batteries – Just like the DeWalt kit above, this one also comes with 2 extremely powerful 5.0Ah Lithium-ion battery packs. More than enough power to keep you going at the job.
More Torque than DeWalt – This one has a max torque of 740 ft-lbs compared to the DeWalt kit above's 700 ft-lbs. It's pretty good, but it's only a 5.7% increase, so it's not a deal maker in itself.
Brushless Motor – Again, brushless motors have such a significant impact upon performance and battery life that we recommend you always choose tools that have them, whenever possible.
Things To Consider:
Quite Heavy – This tool is 10% heavier than the DeWalt one when they both have their batteries on. It's something to keep in mind.
Check the latest price on Amazon.