Choosing the best log splitter for your needs can be a confusing and time-consuming process. Do you want gas powered, electric powered or just plain old human powered? Then there's the size, log splitting power, build quality, warranty… the list and questions go on and on.
We've saved you the time and effort by checking out the many different models out there and have chosen 3 Log Splitters that although are very different to each other, we are confident that after reading our review's of them, you will know which one will be perfect for your own requirements.
What did we look for? – we've looked at what's available out there and chosen what we think are the best, not only in terms of actual Log Splitting, of course, but also considering cost, reliability, build quality and perhaps most importantly, how it's actually powered.
So let's start by taking a look at our top choice. Now remember this won't be to everyone's requirements, say perhaps it does more than you really need or it's not powered the way you want it to be. If that's the case take a look at the 2nd review and then maybe the 3rd review. We're sure one of these Log Splitters will be perfect for you.
The Best Log Splitters Reviewed :
The Best Gas Powered Log Splitter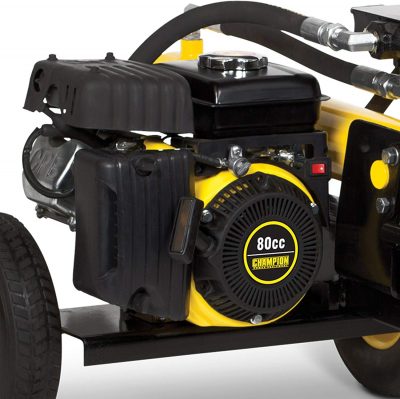 Now, this is great for the freedom that a Gas motor Log Splitter gives you.
This means that you are not limited to a length of cable that you would be if this was electric powered and no need to worry about all the physical work you'd have to put in if it was a hydraulic Log Splitter.
Due to its compact design, it'll fit into most flatbed trucks, or if you prefer, you can hitch it up using the 2-inch ball coupler and tow it up to speeds of 45mph, it even has 'never-flat tires' so no need to worry about punctures.
Ok, so now for the big question, is it actually any good for splitting logs?
The answer is a big 'yes' and it even has no problem with logs up to 19 inches in length and 50 lbs in weight, and guess what? because of the low profile design of the Champion 7-Ton, you won't have to lift the logs up very high when putting them onto this machine.
This is a great design feature, let's face it, you don't want to be lifting 50lb logs any higher than you have to. And it's a quick worker too –
Cycle Time – 20 seconds – Fast work, and with a massive Maximum Working Pressure of 3000 psi, the question is, can you keep up with its speed and keep it loaded with logs to split?
And remember, you can park this Gas Powered log splitter up anywhere and start work. It'll deal with all kinds of weather conditions and to show you how confident Champion is with the build quality, they include a 2-year warranty for your peace of mind.
What We Like:
Gas Motor – Take it anywhere, as long as it's got gas in the tank it's ready for work.
Compact Design – Load it up onto your flatbed truck or simply hitch it up and tow it to the job site.
Build Quality – Built to work, with a 2-year warranty to give you peace of mind.
Cost – We think you are getting great value for money when you look at what this machine can do, where it can do it, and how easily it does it.
Things To Consider
Gas Motor – Gives you more freedom as to where you can use this Log Splitter, but it means you have to keep it topped up with gas to keep it working. If this is going to be a problem for you, read our next review below where we'll be reviewing an electric- powered log spitter.
Portability – Do you really need to be able to load it onto a flatbed truck or tow it to the job site.
Check the latest price on Amazon.
If you'd like a bigger capacity for this model click the option you prefer below.
Champion 20-Ton
Champion 22-Ton
So if a Gas powered Log Splitter is not what you're after, how about an electric powered Log Splitter, check out the next review.
The Best Electric Powered Log Splitter
Boss Industrial ES7T20 Electric Log Splitter, 7-Ton
Firstly don't let the industrial heading in the description make you think that this is only for professional workers. This Log Splitter from Boss is just as much at home with the occasional user as it is with a professional worker.
This Electric Powered Log Splitter has a powerful 2 HP electric motor. This produces 7 Tons of splitting power, the same as the Gas Powered one we reviewed above, that's where the similarity ends.
This Log Splitter needs electricity to run, so this means no engine noise like the Gas Powered machine and that in turn means no harmful engine fumes either, so you can use this electric powered Log Splitter indoors as well as outdoors. Of course, where you use this machine depends on whether you can get that electric supply to it.
Size-wise this is another pretty compact machine, at only 40 inches long X 13.5 X 20.5, it really will fit anywhere you need to set it to work.
What we like :
Powerful Electric Motor – delivers 7 Tons of splitting force, that's an incredible hydraulic pressure of 3500 psi.
One-handed operation – so easy to use you can operate it one-handed.
Quality Assurance – 2-year warranty included as standard.
Side Rails – Keeps the logs nice and stable when splitting.
Things To Consider:
Electric Motor – Unless you have a portable generator, you're limited to where you can use it, as you always need a power supply nearby to connect into.
Check the latest price on Amazon.
The Best Hydraulic Log Splitter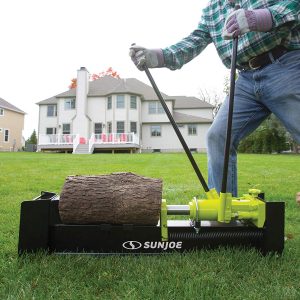 Sun Joe LJ10M 10-Ton Hydraulic Log Splitter, Green
As you can see from the picture above, this Log Splitter from Sun Joe is manually operated. Don't think that this means you are in for a really hard physical workout every time you need to get some logs split, this is where the hydraulic operation design of this machine comes in.
Ok, so you do have to put some physical effort in to Split the logs by moving the handles forwards and backwards to operate the hydraulic RAM, but don't look at it like it's a chore, look at it like you're doing some exercise and keeping fit too.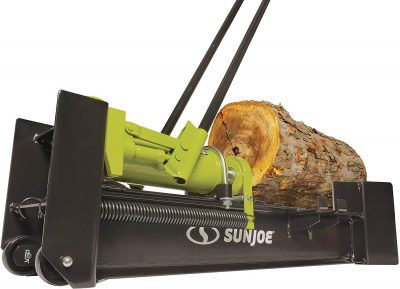 As for what this machine can do, well you can load logs up to 18 inches long and 8 inches wide onto it.
Then select pump options 1 or 2 and let the hydraulics take the strain of splitting the log while you provide the manual power.
As you can see in the picture the Sun Joe has a handy spring return feature to pull the RAM back when it's finished with one log, ready for the next log.
Weighing in at 87 lbs, you might think this is too heavy, but it needs this weight to keep those logs stable and in place, you don't want those logs tipping the machine over on to its side.
No need to worry about where to store the log splitter when it's not in use because it really is a compact machine.
Measuring only 41.1 x 8.1 x 11.8 inches, so you're sure to have somewhere to keep it, ready for the next log splitting job.
What We Like :
No noisy Gas or Electric motors – you provide the power manually.
Versatile – Take it anywhere you want too, not having to keep it topped up with Gas or finding an electricity supply to plug it into.
Exercise – yes really, because it's manually operated it does give you a workout but at a pace, you decide.
Things To Consider :
Weight – 87 pounds, but remember this weight helps to keep the machine from jumping or rocking about when you are splitting logs.
Effort – It does require a certain amount of physical effort if you have a lot of log splitting to do on a regular basis then be prepared for all that exercise.
Check the latest price on Amazon.