Pond fountains not only look great in your pond or lake, but they also perform an important job in helping to keep the water in the best possible condition by providing essential water movement and aeration.
Having a well cared for pond in top condition looks absolutely stunning especially on a beautiful day in full sunshine with lily pads and a fountain, and even more so if you have fish such as Koi carp gently swimming around.
So whether you are looking for a fantastic display fountain with lights for night time illumination or simply a fountain that will help to keep your pond or lake water free from algae and green water, I'm sure there will be something here in this best pond fountain review guide to suit your needs.
The Best Pond Fountains Reviewed
Click below to jump to each section
Best Pond Fountain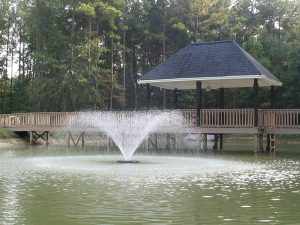 Kasco Marine 3400VFX050 Aerating Fountain
This 3/4 HP floating fountain is the perfect choice for giving your pond water the essential aeration that it needs, and with the classic 'V' fountain spray pattern, it's stunning to watch too.
Great for small, medium, and even large ponds this low maintenance, clog-resistant 3400 GPH fountain produces a stunning 6′ tall x 21′ wide spray pattern which looks absolutely spectacular.
Of course, not only does this fountain look amazing but this fountain is also doing an essential job too, providing maximum oxygenation to help improve the water quality of your pond or lake. Keeping the water moving plays a vital part in your pond's health, which intern helps to keep the fish in your pond healthy and happy too.
The 3400VFX050 comes supplied with a 50-foot length of cord, and if that's not long enough there is also an option to purchase a 100-foot cord length.
The Kasco Marine 3400VFX050 features a robust heavy-duty motor that is also suitable for use in salt-water and other corrosive environments, and most importantly this fountain kit includes a GFCI protected control box and the whole bundle is backed by a 2-year warranty.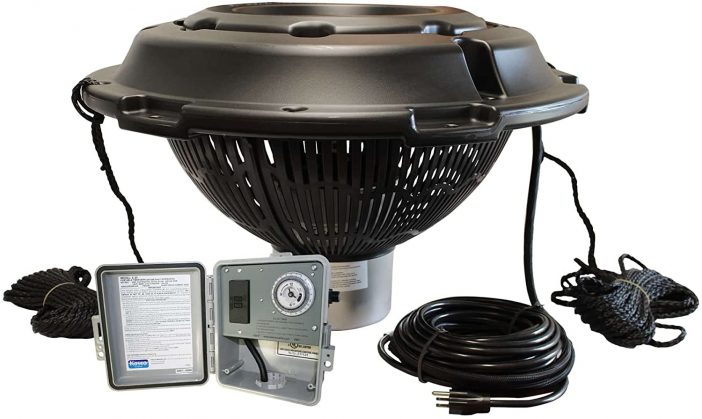 This really is a very versatile fountain too, as you can add lights to the setup to give spectacular night-time displays. The LR-275 low voltage lighting kit includes 2 lamps and you also get a choice of red, green, yellow, or blue colors. Also included is a transformer that's integrated into the system, which basically means that it just plugs into the control panel.
What We Like:
Big Display Fountain – This fountain produces a stunning 6′ tall x 21′ wide spray pattern which looks absolutely spectacular.
Heavy Duty Motor – Perfect for standard pond freshwater and also suitable for use in salt-water and other corrosive environments too.
Built to Last – Covered by a 2-year warranty for your peace of mind.
Check the latest price on Amazon.
Runner Up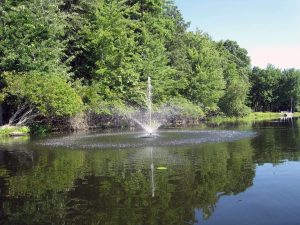 With a pump output of 4000 GPH this system is suitable for all pond sizes, if you want to create a big display feature then this is the pond fountain for you. Various spray pattern options are available ranging from 7 ft to 15 ft in height, and width range options of 8 ft to 20 ft.
And thanks to the included 7 high flow custom nozzles you really are spoilt for choice and if that's still not enough spray pattern options then a simple nozzle adjustment enables you to create your own spray patterns.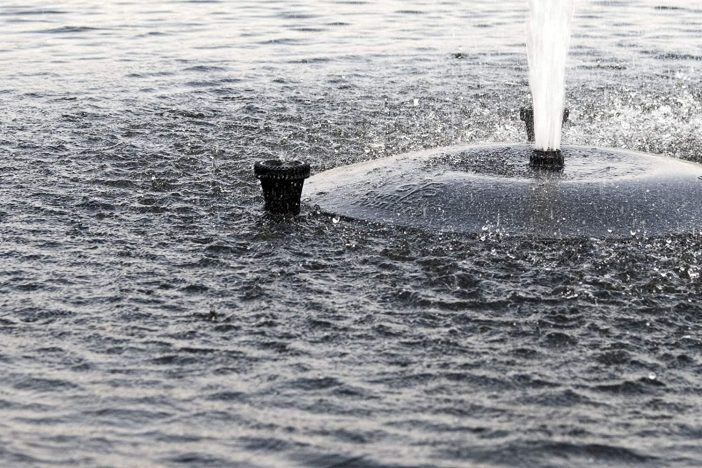 Power-wise this pond fountain system uses only 3.5 amps of electricity and included with this pond fountain is a massive 100-foot length of power cord to enable you to hook up to a suitable power supply outlet, ensuring of course, that the circuit has the correct circuit protection. If you're not sure about how to connect this pump up, then just contact your local electrician for advice.
Each of these fountains include 50 feet of marine-grade mooring rope and an intake screen, this intake screen does a really important job, it stops any debris from getting sucked into the pump and effecting the pumps output flow rate.
Because this pond fountain pump is extremely powerful it is recommended that there is a water depth of at least 4 ft present for this fountain to work efficiently.
What We Like:
Big Display Options – Includes 7 nozzles for different display effects, or you can simply create your own pattern by adjusting the nozzles.
High Pump Output – A very impressive 4000 GPH pump output to create impressive water patterns.
Long Power Cord Length – This pond fountain display system comes with a massive 100 ft of power cord.
Check the latest price on Amazon.
Best Fountain With Lights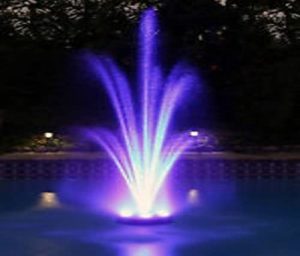 This energy efficient water pump uses only 190 watts of electrical power and has a pre filter box to help eliminate debris from entering the pump. The water pump outputs a very credible 1580 GPH and incorporates a 1 inch diameter tube connector.
For the size of this pump, at 9.8 inches long X 6.06 inches wide X 5.7 inches in height, you really do get great performance. With the included trumpet nozzle you can produce an amazing fountain spray of 8 feet tall by 6 feet wide. With the 3 tier nozzle, you can also create some pretty spectacular displays up to 9 feet tall by 7 feet wide to keep you entertained.
So what about the spectacular color-changing lighting displays? well, you get 6 clusters of 60 LED lights, giving a grand total of 360 LED lights. These lights are incorporated into the light ring which measures 19 inches in diameter X 5 inches in height, and as you can see from the picture, it looks pretty amazing too.
Also included with this floating fountain are two long power cables, each cable is 33 feet long, one cable is for the water pump and the other one is for the floating lighting ring.
What We Like:
Complete Fountain And Light Kit – Fountain pump and LED lights included.
Big Spray Patterns – The trumpet nozzle produces a fantastic fountain spray of 8 feet tall by 6 feet wide, the 3 tier nozzle up to 9 feet tall by 7 feet wide.
Great Pump Performance – 1580 GPH to keep that spectacular display going.
Check the latest price on Amazon.
Best Solar Powered Fountain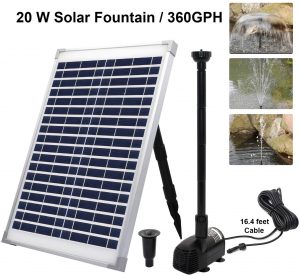 If a solar powered fountain is what you are looking for then this impressive 20 watt kit is worth serious consideration. With no cables to install or electrical power supply to sort out, you really are on to a winner here with this solar powered fountain system.
So as long as the sun keeps shining you'll get water flowing, and flowing at a very impressive 359.3 GPH. Yes, that's an incredible flow rate which gives a water fountain height of 6.9 feet and all for free, thanks to the sunshine. Also included in this kit are two fountain heads for a wide variety of spray patterns.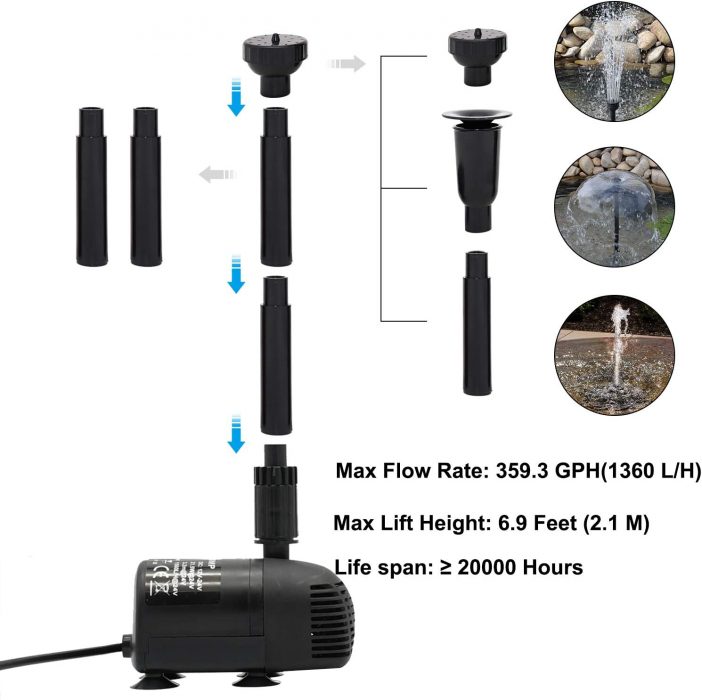 The durable aluminum framed 20-watt solar panel, with an adjustable angle feature is the key to supplying the pump with a 12-volt dc power supply that keeps the water flowing. As soon as you connect the pumps 16 feet of cord to the solar panel you will get instant water flow, as long as it's sunny of course.
And if you require a longer length of cord, there is a 16 foot extension available, that can be purchased separately.
This solar powered pond fountain system is also available in a 5 watt, 10watt, and this version the 20 watt. Which ever version you go for, right out of the box, it's an easy set up and you're good to go, it really is as simple as that.
What We Like:
Free Power – Everyone likes to get things for free, and so long as the sun keeps shining then you'll be getting free electric power to keep the pump working and the water flowing.
Easy Set-Up – No hassle running in power cords, this system is a breeze to get working right out of the box.
Impressive Water Flow Rate – A very impressive 359.3 GPH can be pumped using this 20 watt version.
Check the latest price on Amazon.
Best Bang for Your Buck Fountain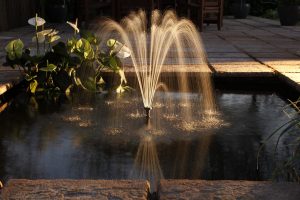 Available for pond sizes of 200 gallons, 300 gallons, and this model which is a 600-gallon version. This efficient fountain pump and filtration kit provides all the right ingredients to ensure that your pond water not only stays clear and healthy but also looks amazing when the illuminated fountain is in full flow.
Keeping the pond water clean and healthy looking is what the Aquagarden submersible pump system is best at. Featuring a built in 5 watt UV clarifier light that kills algae and green water plus there's a mechanical and biological filtration system that helps to keep the water clean and healthy too.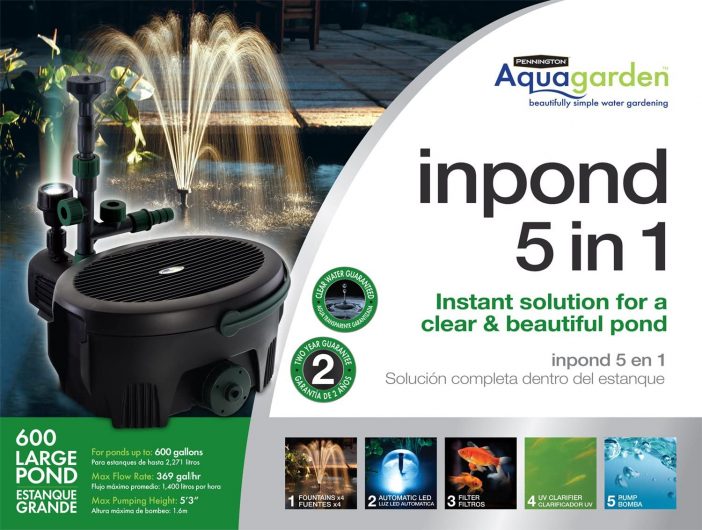 The pump works off a 120 volt supply and uses just 24 watts when in use, it can provide an impressive 369 GPH with a maximum pumping height of 5 feet 3 inches. The UV lamp is 9 watt rated and the LED spot light that provides the illumination uses just 0.76 watt.
What We Like:
Complete Pond Care With Fountain – You really are getting bang for your buck here with a complete pond care system, it does everything you need to keep pond water looking good and healthy.
Illuminated Fountain – You get an illuminated fountain feature too, with an LED spotlight that provides night time visibility.
Great GPH – This 600 model for large ponds boasts a 369 GPH flow rate.
Check the latest price on Amazon.
Frequently Asked Questions
What does pond fountain GPH mean?
The initials GPH stands for gallons per hour, the flow rate of water. In this instance, it refers to the amount of water that the water pump can move through the pond fountain.
The actual (GPH) gallons per hour of course, also depends on other factors such as the height that the water is being pumped to and also the outlet size that the water is being released from.
Does a pond fountain provide good water aeration?
Pond fountains do provide good water aeration up to a certain point. Some pond fountains float on top of the water, the water pump draws water from only the top part of the pond. This means that the middle and deeper parts of the pond won't be getting sufficient water movement to really aerate the water sufficiently.
Other types of pond fountain pumps, classed as submersible, sit at the bottom of the pond and draw the water from the lower depths, this helps to circulate the water from the deeper parts of the pond and spray it out onto the surface area of the pond.
Ideally, a pond fountain should be used in conjunction with a pond filtration system to ensure that your pond is getting the correct aeration, and in doing so creates a healthy pond environment for your fish to thrive in.
What types of pond fountains are available?
There are many types of pond fountains available today such as display, submersible and solar-powered systems.
Many pond or lake display fountains incorporate lighting that illuminates the fountain spray so that at night time your fountain can be quite a focal point to watch and relax to after a busy day.
Most display fountains feature the famous 'V' shape water spray pattern, but there are numerous fountain nozzles and heads available to change the spray patterns to your own personal choice.
Pond and lake fountains can either be of a floating type or a submersible type that sits at the bottom of the water.
Each pond fountain type has its own advantages and disadvantages, such as, pumps that sit at the bottom of the pond or lake tend to clog up quicker because water is drawn into the pump locally from the sediment and surrounding debris that lies on the water bed.
It's always a good idea to ensure that if you are using a pump that is of the submersible type then make sure that the pump positioned on something that elevates it above the sediment.
Solar powered fountains are a very popular choice, of course you need plenty of sunshine to keep the water flowing. Solar powered kits offer a real alternative and are a great solution for people that wouldn't otherwise be able to incorporate a water fountain into their pond or lake.
Is a fountain good for a pond?
Adding a pond water fountain will certainly benefit your pond. It will help to keep the water circulated and aerated to a certain degree the aeration process adds essential oxygen to the water, this intern restricts the algae of the nutrients that help it to grow and eventually to cause problems in your pond.
Water circulation in a pond or lake is very important, water pumped through the fountain will help to mix the algae affected area into the deeper parts of the pond so that it receives less sunlight and less chance of algae growing.
Adding a pond fountain will also add a visual effect to your pond to create a relaxing and tranquil area for you to relax by.
Adding a fountain and a pond filtration system would be a great combination to help keep your pond water clean and your pond fish healthy.
Other Worthy Mentions
Included in this section are more pond and lake fountains that we thought are definitely worth consideration.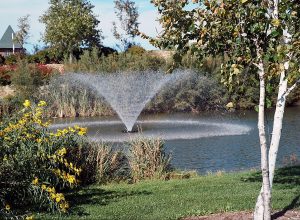 Kasco Aerating Fountain – 1 HP
This 120 volt display fountain is great for aerating your pond water and producing a fantastic V shaped spray pattern.
Key Features:
V shaped spray pattern 8 ft high X 26 ft in diameter.
Package includes float, mooring rope and control panel.
100 ft power cord.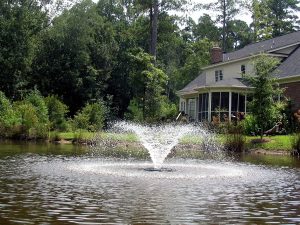 Kasco VFX Aerating Fountain – 1/2 HP
A superb display fountain with included 50 ft power cord, designed for ponds up to 1/3 acre.
Key Features:
V shaped spray pattern of 5 ft tall by 15 ft wide.
Stainless steel and thermoplastic outer components.
120 volt supply required, using just 5.6 amps when running.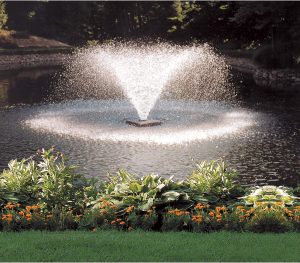 This 115 volt 1/2 HP display fountain produces a stunning 10 – 22 ft spray pattern.
Key Features:
Pumps water at 400 GPH.
Salt water approved.
Power info, 115 volts, 10 amps, 680 watts.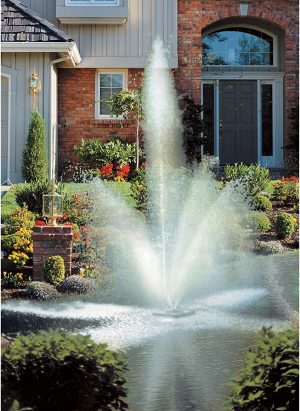 Scott Aerator Clover Big Shot Fountain
Powerful 1/2 HP pond fountain, complete with 70 ft of power cord.
Key Features:
Floating fountain system.
Spray pattern of 20 ft high X 15 ft wide.
Center stream shoots 15 to 20 ft high.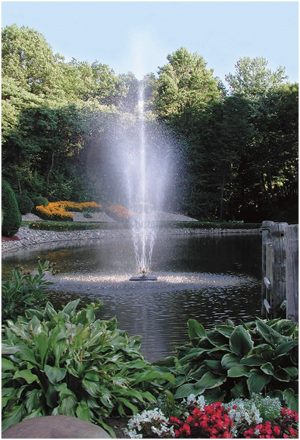 Scott Aerator Twirling Waters Pond Aerator
This fantastic twirling water pond fountain helps to aerate pond and lake water.
Key Features:
100 ft of power cord included.
1/2 HP – 115 volt stainless steel submersible pump.
5 year pump motor warranty.