There are certain jobs that are best left to machinery, such as digging post holes. A post hole digger attachment for a tractor is definitely one way of saving yourself a lot of sweat and probably a lot of back pain too if you were to try and do the job manually.
Tractor-mounted post hole diggers typically consist of a frame that is attached to the tractor, with one or more augers or digger blades mounted on the frame. The augers or blades are rotated by the tractor's power take-off (PTO) shaft, which drives the digger and allows it to dig into the ground. The operator can control the depth and angle of the digger blades using levers or other controls on the tractor.
These tractor-mounted post hole diggers are generally used for large-scale digging projects, such as installing a fence or planting a large number of trees. They are often preferred over hand-held post hole diggers because they are faster and more efficient, and they can dig deeper and more accurately than manual diggers.
Some tractor-mounted post hole diggers are also designed to be used with hydraulic power units, allowing the operator to control the speed and power of the digger blades more precisely.
Making short work of hole excavation, whether you are working in clay soil or rocky soil in the fields, on a farm, ranch, smallholding, or just the yard at home.
There are a variety of auger sizes available for getting the soil removed in a quick and efficient manner, all that is needed is for you to choose the best 3 point post hole digger equipment.
We've taken a look at and reviewed the best post hole diggers for tractors so that you can choose for yourself which one would best suit your needs.
The Best Post Hole Diggers for Tractors Reviewed
Click below to jump to each section.
Our Top Pick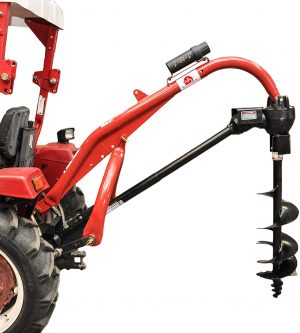 Tool Tuff Pole-Star 1500 Post Hole Digger
This high-quality heavy duty 3 point post hole digger will have you wishing you'd bought one sooner, as you see how easily it creates holes for your posts in no time at all.
This post hole digger from Tool Tuff fits Cat 1 and Cat 2 tractors and will make short work of that usually time-consuming job of digging post holes.
Of course, it's not only a beast when it comes to digging post holes in super quick time, but it's also perfect for countless other applications.
Such applications might include, for example, if you are creating an orchard area, where you need lots of holes for new trees to be planted, or holes that could be filled with concrete, and if you've got a good cement mixer you could create foundation piles for shed and storage outbuildings.
This heavy-duty 3 point post hole digger with series 4 driveline is rated for tractors up to 75 horsepower.
The super heavy-duty gearbox with a 3:1 reduction ratio combined with the heavy-duty reinforced steel boom and the 2″ output shaft that incorporates dual 1/2″ bolt holes for auger attachment, ensures that you have the perfect set up for the job in hand.
Included is a spiral auger tip, so all you have to do is to decide upon which of the 5 heavy duty auger combinations available that you need for the jobs that you have lined up.
And if the auger combo you require isn't listed then if you contact the good people at tool tuff direct, they say that they will create the combo for you, how cool is that!
What We Like:
Heavy Duty Construction – These are the words we like to see, heavy-duty construction, that's just what is needed for tough hole digging jobs.
5 X Auger Combo's Available – And if the auger combination you require isn't listed then contact the seller and they will create that combo for you.
Versatile System – Rated for Cat 1 and Cat 2 tractors up to 75 HP.
Check the latest price on Amazon.
Alternative Top Pick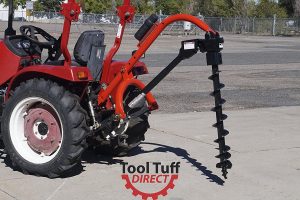 This tough, category 1 rated 3 point tractor post hole digger is compatible with 6, 9, and 12-inch earth augers bits that are bolted in place onto a 2-inch gearbox shaft.
The boom is made from high strength 2-7/8″ tubing complete with adjustment holes and manual canister. This strong PTO driveline 1 series comes with the all-important safety shields, 1 3/8″ x 6 quick release x 1 1/4″ round w/ shear bolt.
A lift arm spacing of 27.5″ is achievable thanks to the heavy-duty high strength A-frame system.
Included is a neat hardware kit that supplies you with all the pins and bolts. You can buy this tractor post hole digger with or without the standard 48″ long 6, 9, or 12-inch earth auger, the choice is yours.
What We Like:
Strong Construction – High strength 2-7/8″ tubing.
Gearbox – Featuring a heavy duty right angle gearbox.
A-Frame – A very useful 27.5″ lift arm spacing.
Check the latest price on Amazon.
Runner Up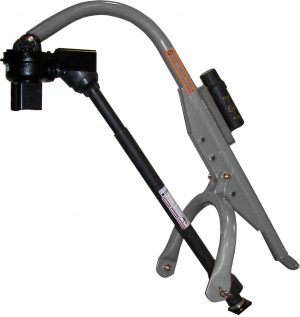 Dirty Hand Tools 100624 Model 110
Suitable for use with Cat 1 and Cat 2 tractors, this heavy-duty system will make the work look easy, even in the toughest of ground environments.
If you are in the market for a quality piece of post hole digging equipment then you won't go far wrong with this 3 point post hole digger from Dirty Hand Tools.
As you'd expect from a quality piece of kit, the heavy-duty 95 horsepower rated gearbox with a ratio of 3.18:1 makes this a post hole diggers dream come true.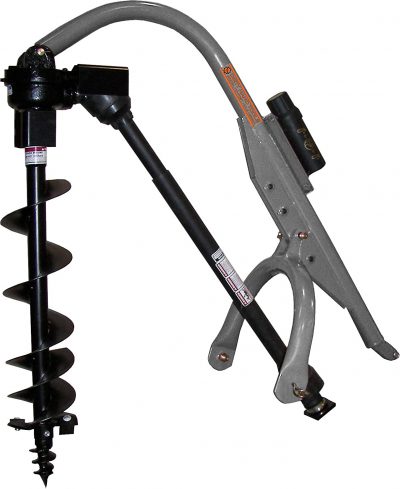 This thing weighs in at 284 lbs, and it ain't small either at 72 x 29 x 14.5 inches, but then again you wouldn't expect it to be lightweight and small would you.
What this tells you is that this BYPY 4 Driveline series is certainly up for the job.
With 4 boom positions available and a boom length of 70.8 inches, and a boom diameter of 3.25 inches combined with the 2-inch diameter auger drive, I'm sure you'll agree this is a must-have tool if you have a lot of post holes to excavate.
You do get a spiral tip point included but augers are sold separately, with a wide variety of size options available to choose from.
RanchEx 6, 9, 12, 18, and 24 inch augers are all available options, so whatever job you have lined up, there is sure to be an auger to suit your needs.
The gearbox, boom, auger and A-frame are covered by a 3-year warranty, and the driveline is covered by a 1-year warranty for complete piece of mind.
What We Like:
Heavy Duty – This equipment is strong and built to last.
Plenty Of Auger Size Options Available – You can choose from 6, 9, 12, 18, and 24 inch augers which are all available options.
Great Warranty – 3 years warranty on the auger, boom and A-frame and 12 months on the driveline.
Check the latest price on Amazon.
Worthy Mention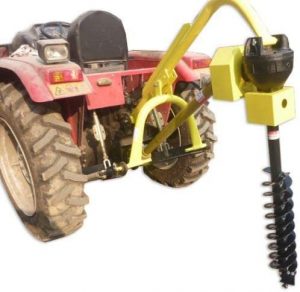 This heavy duty post hole digger is for use with tractors up to 60 HP. Made with a boom frame of 2.875 inches, it features the standard 3 point connection system.
There is also an option to buy a 30 HP version of this model.
Some nice safety features in the form of shields over the driveline, gearbox U joint, and gearbox output shaft are a welcome addition.
With a w/slip clutch PTO drive running at a speed of 540rpm and an oil-filled, gearbox drive rate of 3.18:1 your all set to get those holes dug in extra quick time.
Weighing in at 237 lbs, and with a 6-inch auger that can drill to a depth of 41 inches included to get you working, you can't say that this isn't worth serious consideration.
There are options to purchase a 12 inch or a 9-inch auger if that is something that would be better for the type of work that you have in mind.
What We Like:
Strong Construction – Made with 2.875 inches of strong steel tubing.
Auger Included – You get a 6-inch auger included with this post hole digger.
Safety Features – We like the shields covering the driveline, gearbox U joint, and gearbox output shaft, it's good to see.
Check the latest price on Amazon.
Frequently Asked Questions
What is a tractor PTO auger?
A tractor PTO (power take-off) auger is a piece of equipment that is used in conjunction with the tractor's power take-off drive, and the tractors 3 point hitch system.
The PTO auger harnesses the tractors available power via a PTO shaft that is connected to the tractors PTO drive.
This supply of power enables the auger to turn and therefore drill into the ground producing a hole, size dependant upon the size of auger used.
What is a 3 point hitch?
A 3 point hitch or 3 point linkage as it is sometimes referred to is a piece of equipment that is made up of several different components all working in conjunction with each other.
The 3 point hitch is the most common and widely accepted way of attaching machinery such as a post hole digger, plow or other agricultural equipment to a tractor.
The basic principle of a 3 point hitch is such that when a piece of machinery is attached to a tractor, the orientation of the implement is securely fixed in position with respect to the tractor and the hitches arm position.
What size augers are available for tractor post hole digging?
As we all know different jobs require different tools, the same goes for post hole digging, in an ideal world one auger would do the lot, but we know it doesn't work like that, don't we.
Fortunately, there are lots of auger options available to suit the many different jobs that require different sized holes.
Of course, auger use is also dependant upon the power of your tractor, if you are using a 24-inch auger for example, then you are going to need a tractor with plenty of available power to get that auger working smoothly and efficiently.
Sizes include 6 inches, 9 inches, 12 inches, 18 inches, and 24 inches are common sizes but often you will find that augers can be made to suit specific jobs if required.
How do i find out what category my tractor is?
Finding out what category your tractor is, is very useful as it enables you to select different types of equipment that could be used with your tractor.
Of course, your first port of call for the category information should be to check the paperwork that came with your tractor when you purchased it.
If your paperwork is not available, as in, you've put it somewhere very safe, so safe in fact that you can't find it now, then to give you an idea as to which category your tractor might be, refer to the list below.
Category 0 is associated with tractors up to 20 HP.
Category 1 is associated with tractors from 20 – 45 HP.
Category 2 is associated with tractors from 40 – 100 HP.
Category 3 is associated with tractors from 80 – 225 HP.
If you are still unsure as to which category your tractor is, then if you have the make, model and if possible, the engine serial number to hand, give your local tractor dealer a call and they'll be sure to help you out.