Adding a spiral staircase to your home can really transform the place, the best spiral staircases add a modern stylish look to its surroundings and can certainly add the wow factor.
Chosen to save space or sometimes just to enhance a space where you need to move from one floor to another, spiral staircases offer an easy solution to areas with limited space and where a conventional staircase just wouldn't fit in.
We've taken a look at and reviewed the best, most stylish spiral staircases available, so that you can choose for yourself which one would best suit your needs.
The Best Spiral Staircases Reviewed
Click below to jump to each section
This elegant and super stylish spiral staircase certainly would make a really stunning feature and certainly give the Wow factor to any home.
With nothing to weld, paint, stain or seal when it arrives to you, it's ready to be installed. Supplied with all the treads, landing, handrails, balusters, hardware and accessories you need to get started on the install. Written instructions and a very handy demonstration video is included to ensure you have a hassle-free build.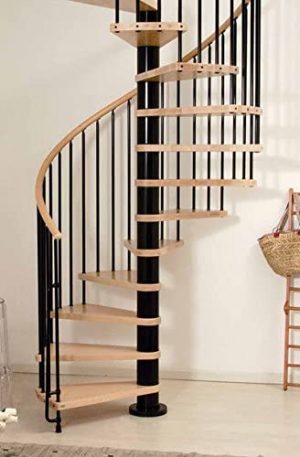 The treads are 24-1/2″ long and made from solid clear sealed beech wood with a thickness of 1 5/8 inches ensure a real solid footing.
Strong 12 gauge steel ensures a weight capacity of 700 lbs is achieved, and the beautiful handrails have a flexible core covered with simulated wood grain PVC, matched in color to the floor treads.
Talking of flexibility, the overall height of the Phoenix Vital Life Arke spiral stair kit is adjustable from 8′ 3″ to 10′.
If you require more height adjustment options then additional, accessories can be bought separately to makes height adjustments from 6′ 10″ to 12′ 4″ making this a very versatile spiral staircase kit.
What We Like:
Everything In One Box – All you need to get that beautiful contemporary looking staircase installed.
Solid Beech Treads – Comes with a generous tread length of 24-1/2 inches.
Flexible Handrails – The handrail incorporates a flexible core that is covered with a simulated wood grain effect PVC which compliments and matches the tread color perfectly.
Check the latest price on Amazon.
Alternative Top Pick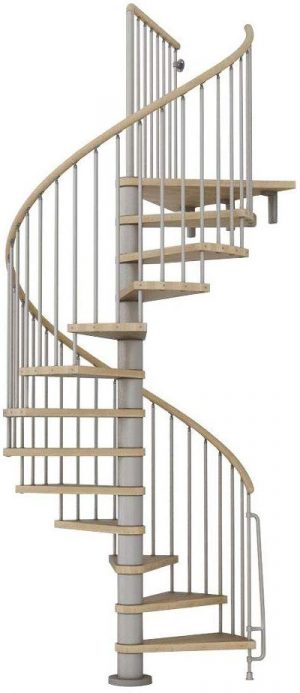 Available in many different sizes to suit your own particular requirements, this Arke Phoenix wood tread spiral staircase kit is supplied to you in just one box.
The great thing is that, like our top pick choice, there's no painting required and no woodstain or wood seal to put on, it's good to go right out of the box.
All the accessories and hardware are included along with the treads, handrails, balusters, and landing area.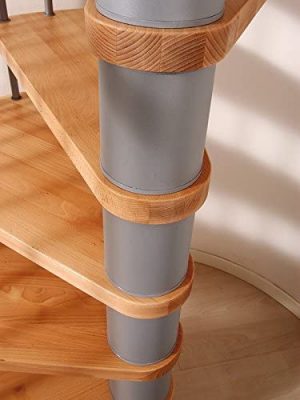 The solid, clear sealed beech wood treads are slightly shorter in length than the top pick choice, at 20-1/4″ but still match the 1 5/8 inches thickness of the tread.
The metal work is rated at 12 gauge and is good for 700 lbs weight capacity.
The tread color matched handrails have the flexible inner core, and again with this model you get some decent height adjustment options from 8′ 3″ to 10′.
An additional accessory kit is available to give you even more height adjustment from 6′ 10″ to 12′ 4″ if needed.
And as for putting the kit together, if you need any help you can refer to the written instructions or the included video.
What We Like:
Impressive looking Spiral Staircase – This staircase just looks stunning in powder grey.
Solid Wood Treads – Beautiful clear sealed solid beech wood treads.
Lots Of Height Adjustment Available – Plenty of height options to help you get the perfect fit.
Check the latest price on Amazon.
Best Budget Option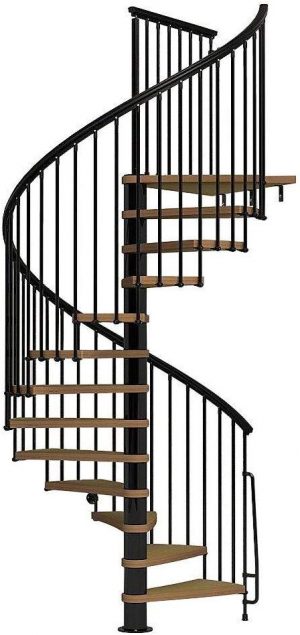 This spiral staircase, which is also available in a 51-inch diameter version, looks stunning, the standard kit includes 12 multi-layered birch plywood stair treads, matching landing, 2-inch diameter handrail and all hardware and connectors.
The powder coated hi gloss finish adds a nice contrast to the layered birch stair treads. and a great install option here is that it can be installed in a clockwise or counterclockwise rotation.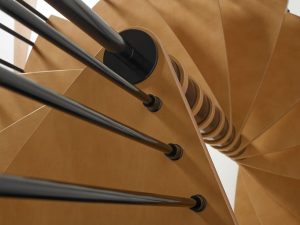 Heightwise this kit is adjustable from 107-½ inches to 119-5/16 inches, rise between stair treads is adjustable from 8-7/32 inch to 9-3/16 inch so that gives plenty of scope for making sure you can fit it in exactly where you want it to go.
The manufacture says that the complete installation of the spiral staircase should only take a day, using common household tools, complete detailed instructions are included with the kit.
What We Like:
High Quality – It may be the budget option but it is still high on quality.
Stunning Design – Looks amazing and will add a real touch of class to your home.
Great Price – For what you get here, and how great it looks, it is worth serious consideration.
Check the latest price on Amazon.
Best Outdoor Spiral Staircase

This all in one complete unit comes with treads, landing, handrails, balusters and all the hardware parts and accessories.
The best thing about this outdoor spiral staircase kit is that there are no parts to paint, weld, or treat with preserver.
The black 2 inch diameter PVC handrail looks great, and offers a nice contrast to the galvanised finish of the stairwell.
Weight capacity of this external spiral staircase is 700 lbs and with plenty of size options available to choose from, there is bound to be one that will be perfect for your needs.
What We Like:
Complete System – Everything you need in one kit.
Weather Proof – Hot dipped to protect it from all weather conditions.
Lot's Of Size Options – This kit is available in lots of size options to ensure you get the right kit for your needs.
Check the latest price on Amazon.
Frequently Asked Questions
Do spiral staircases save space?
One of the main reasons that people decide to choose a spiral staircase is because they have limited space to install a staircase. Of course, spiral staircases can also be used in areas that are not space-restricted and as such can add a real touch of style to their surroundings.
Spiral staircases do save on space, with many different sizes and styles to choose from, there is bound to be a spiral staircase solution for whatever space you have to work with.
How easy are spiral staircases to install?
Most spiral staircase kits on the market today come with step by step instructions and some manufacturers also supply DVD instructional videos for you to follow.
If you are used to DIY projects and are handy working with tools, and you have the right tools for the job, then installation in some cases should only take around a day for two competent adults.
It's always worth checking with your local building authority before you start work that it ok for you to install the spiral staircase, as they may need to inspect it during installation to ensure that the work complies with local regulations and requirements.
How big of an opening do I need for a spiral staircase?
To answer this question you first need to know the diameter of the spiral staircase that you have chosen to install. This is obviously very important and the opening should only be cut out when you are absolutely sure that you have made your final decision as to which spiral staircase to buy.
Let's take an example of a spiral staircase with a diameter of 55 inches, then you should be looking to cut out a hole measuring 59 inches.
The extra 4 inches if you think carefully about it, actually means 2 inches of a gap which is to allow for your hand, fingers, and knuckles to pass freely along the handrail and not make contact with the finished walls or building fabric as you travel up or down the staircase.
Can you install a spiral staircase outdoors?
Spiral staircases can be installed outdoors, but they need to be weatherproof. There are many different types of outdoor spiral staircase kits available, let's take a look at a few options available, starting with a galvanized steel spiral staircase.
This is probably the most common type of exterior spiral staircase, galvanized steel to protect it from the elements. Super bright and shiny when first installed, but after around 6 months or so the bright galvanized surface does dull down to a greyish tone.
It's at this point that you can paint the galvanized surface if you wish, providing that you use the correct paint for galvanized steel, then the structure should remain rust free for years to come.
Cast Iron external spiral staircases are also very popular, but you must ensure that the cast iron structure is always well painted to resist rust from forming.
Powder-coated Aluminium spiral staircases are another long term maintenance-free option for exterior stairs. The Aluminium structure is rust-resistant on its own, but with the added powder coating layer, this ensures a maintenance-free staircase for years to come.
Worthy Mention