Telescoping ladders are the best solution where storage space is limited, retracting down to around a third of their extended size, they offer all the functionality of a set length ladder but with the convenience of being able to be retracted down and stored away easily.
Telescoping ladders are ladders that can be adjusted to different lengths, allowing them to be easily extended or retracted as needed. This makes them very versatile and convenient to use, as they can be adjusted to fit a wide range of tasks and work environments.
One of the key advantages of telescoping ladders is their compact size and portability. When not in use, these ladders can be easily collapsed and stored in a small space, making them ideal for use in tight spaces or for transport in a vehicle. Additionally, the adjustable nature of telescoping ladders means that they can be used for a wide range of tasks, from reaching high shelves to working on roofs or other elevated surfaces.
Another advantage of telescoping ladders is their safety and stability. These ladders are typically designed with multiple locking mechanisms to ensure that they stay securely in place when extended, providing a stable and secure platform for the user.
Overall, telescoping ladders are a convenient and versatile option for a wide range of tasks and work environments. Their compact size, portability, and adjustable nature make them an excellent choice for anyone in need of a reliable and very versatile ladder.
Ideal for homeowners, shopkeepers and favoured by tradesmen due to the strength, functionality and portability that these telescoping ladders offer.
Varying in height, load capacity and weight there are many different options to choose from, they are a great tool to have at your disposal.
We have selected and reviewed the best telescoping ladders available today, to help you decide which is the best option to suit your needs.
Also in this guide
The Best Telescoping Ladders Reviewed
Top Pick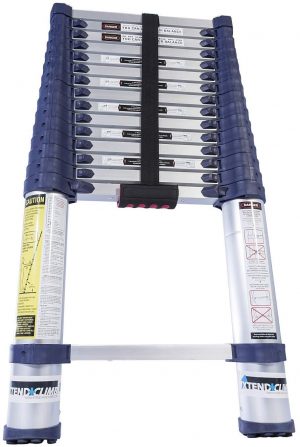 Xtend & Climb Pro Series 785P+ Telescoping Ladder
If you want the best telescoping ladder available today then this is the one to go for.
This professional series ladder from Xtend & Climb is suitable for the professional worker and homeowner alike.
This fantastic quality telescoping ladder from Xtend & Climb really will take you to new heights that's for sure, it was designed for the professional market but is also suitable for home use too.
Those new height's I was talking about, well, this ladder opens up in 'foot' intervals and keeps opening up until it reaches a very impressive 15.5 feet, this gives you an average reach height of 19.5 feet, width-wise this ladder is 19.75 inches.
This telescoping ladder weighs in at 36 lbs and is super strong, and the reason for this strength is that it's made from aeroplane grade aluminium alloy.
When you've finished the job and it's time to put the ladder away, using the angled thumb release feature you can safely retract the ladder down to just 36.5 inches. This makes it compact enough to be picked up with one hand using the integrated carrying handle.
There's also a heavy duty closure strap to ensure everything stays nice and secure so you can safely put the retracted ladder into your car or truck, no messing about tying the ladder onto a roof rack.
As a professional grade ladder it has certain safety standards it must adhere to, and this ladder meets the latest 2019 ANSI/OSHA standards for safety compliance and duty rating ANSI Type 1 (250 lbs).
What We Like:
Strong Construction – Made from aeroplane grade aluminium alloy.
Easy To Transport – Retracts down from 15.5 feet to just 36.5 inches and can be picked up with one hand.
Angled Thumb Release – A great safety feature, follow the instructions for safe ladder retraction.
Check the latest price on Amazon.
Alternative Top Pick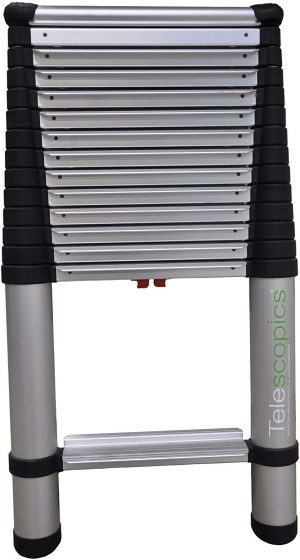 The Telesteps 14.5 feet telescoping ladder is a very impressive and versatile piece of equipment, Telesteps ladders are trusted by the US military and law enforcement teams.
Made from high quality aircraft grade aluminium alloy, this super strong 30.5 lb ladder has height adjustment options in 1 foot increments that will get you up to an 11.5 ft standing height, which gives you an 18 foot reach height.
Featuring an automatic extension and retraction system, combine that with a one touch release mechanism and this all helps to make this telescoping ladder really easy to use.
When the ladder is fully retracted it measures just 32.4 inches in height making it easy to carry or to load into a vehicle.
As you would expect from a top quality piece of equipment, it has to pass rigorous safety tests and this telescoping ladder is OSHA compliant, ANSI 14.2 tested and has a maximum working load of 300 lbs, and is type 1A professional/contractor duty rated.
What We Like:
Superb Quality – Super strong, made from aircraft grade aluminium alloy.
Automatic Operation – Automatic extension and retraction system to help the user safely adjust height options.
Proven performer – Trusted by US military and law enforcement teams.
Things to Consider:
Quite Expensive – Dearer than our top pick, but it has to be said that this is top quality equipment and we all know that quality costs.
Check the latest price on Amazon.
Best Budget Option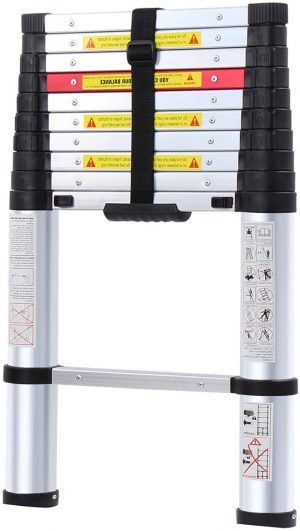 WolfWise 10.5FT Aluminum Telescoping Ladder
A really well designed telescoping ladder ideal for home or commercial use.
Featuring slow ladder retraction that brings this ladder down to a compact 18.5 inches, making it easy to transport about.
This is our budget choice option and it really does give you bang for your buck, with a telescoping ladder you get the usability of a full length ladder, combined with the conveniences that a telescoping ladder brings.
This telescoping ladder has a 330 lb weight limit capacity, and this is down to the quality of the aerospace engineered aluminium alloy used to construct this ladder.
The full length of this telescoping ladder is 10.5 feet when extended and with a simple one button retraction feature that can retract the ladder from its full height down to just 18.5 inches and all done within 8 seconds.
No need to worry about this 20.6 lb telescopic ladder retracting fast and pinching your fingers, this retraction process is a slow and smooth operation. And once retracted you can transport the ladder about easily thanks to the integrated carrying handle.
What We Like:
Value For Money – Budget option but still high on quality and features.
Safe Slow Retraction – Ladder slowly retracts down when required, taking around 8 seconds to retract fully.
Check the latest price on Amazon.
Frequently Asked Questions
Are telescoping ladders safe?
As with all equipment that is used to assist you in whatever task you are doing it is always advisable to make sure that when buying the equipment in the first place that it meets the current safety standards.
Telescoping ladders are used to help you work at varying height levels, so it is essential that when working at any height that the equipment you are using is safe and fit for purpose.
The best type of telescoping ladders have an indicator to let you know when each step section selected is locked in the correct position.
Another good safety feature on the better quality telescoping ladders is slow ladder retraction, this only allows the ladder rungs to slowly retract down when adjusting the height, rather than collapsing down quickly and possibly trapping fingers or hands.
If the ladders have been stored away or transported about it is essential that they are thoroughly examined for defects prior to use, and if in any doubt about their safety then don't use them until they have been checked over and passed as safe to use by a person qualified to do so.
What is a telescoping ladder?
A telescopic or telescoping ladder has all of the characteristics of a set length ladder but with the added advantage of being able to retract down to a smaller size, hence the name 'telescopic.'
If you can picture the portable type of telescope that opens out of itself and also closes back in on itself, then that is how a telescopic ladder works.
Each step or rung section opens up usually 12 inches at a time and locks into place within the ladder structure. This gives the user plenty of height options to choose from.
Do you have to fully extend telescopic ladders?
Telescopic or telescoping ladders are designed to be used at varying height levels, that is what makes this type of ladder a favourite with tradesmen such as builders, painter and decorators, plumbers, electricians and homeowners too.
Each section can be adjusted in height for each job that you are using the ladders for. Maybe you need to get something out of the attic space, so the ladder needs to extend upwards. Perhaps you are just doing some painting at a lower level, the ladder can be retracted accordingly. Best of all when the ladder is finished with it can be collapsed down to a short height of around 3 feet to enable easy transportation.
What are telescopic ladders made of?
Telescopic ladders are usually made from aluminium alloy, the better quality high end telescoping ladders are often made from aeroplane grade aluminium alloy. The high quality aluminium used provides strength and durability to the equipment.
Remember this equipment is supporting you above the ground, so you should make sure that you feel safe while you work, so always ensure that your telescoping ladder is made from top quality materials.
Other Worthy Mentions
These telescoping ladders didn't quite make it into our top picks, but we thought that they were definitely worth a mention.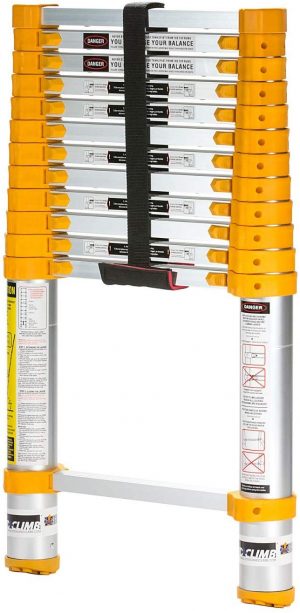 Xtend & Climb Home Series 770P+
High quality ladder with a 12.5 ft standing height, constructed from aeroplane grade aluminium alloy.
Key Features:
Meets ANSI/OSHA safety and duty standards.
No pinch retraction system for safety.
Retracts down to 32 inches.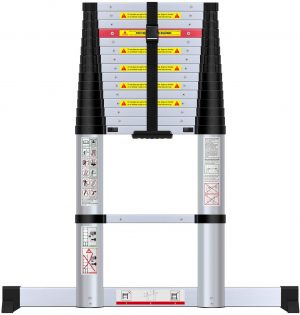 High quality strong telescoping ladder with stabilizing feet for added grip.
Key Features:
One button retraction system.
Maximum load capacity of 330 lbs.
Compact storage size.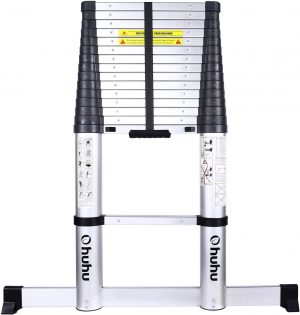 Ohuhu 15.5 FT Telescoping Ladder
Super strong telescoping ladder with stabilizer bar and one button retraction system.
Key Features:
EN 131 certified.
Load capacity of 330 lbs.
Non slip end caps.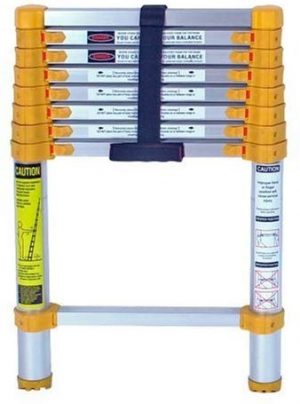 This 8.5 ft telescoping ladder is perfect for those jobs around the home.
Key Features:
No pinch retraction system.
Strong construction.
Integrated carrying handle.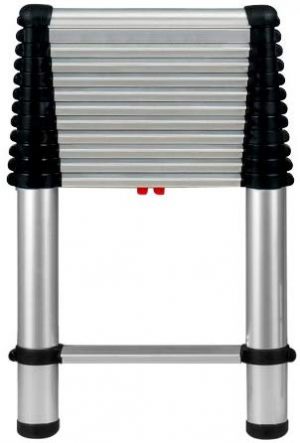 This superb quality telescoping ladder provides a 16 foot reach.
Key Features:
12.5 ft telescoping ladder.
Type 1 rated for 250 lbs.
Weighs 23 lbs.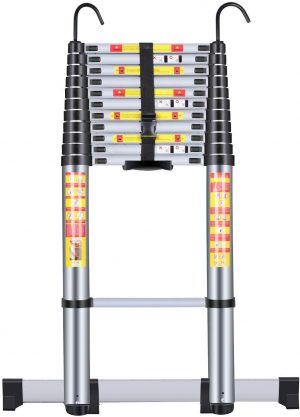 Strong heavy duty 15.5 foot telescoping ladder. Ideal for home and professional use.
Key Features:
EN 131 certified.
Retract's down to just 3 foot for easy transportation.
330 lbs maximum weight capacity.
Ladder weight of 23 lbs.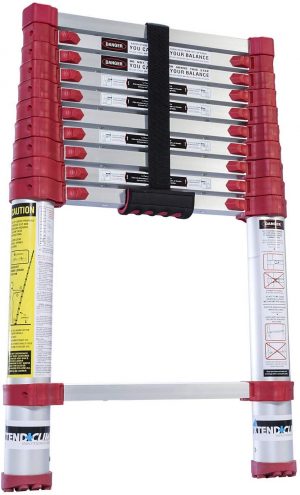 A top quality telescoping ladder from Xtend & Climb, gives a 10.5 foot standing height and retracts down to just 30 inches for easy transportation.
Key Features:
ANSI/OSHA safety and duty rating.
Safety no pinch closure system.
Aeroplane grade aluminium alloy construction.