Choosing the best tile cutter to buy can at first seem very confusing, so many questions to answer before you can decide which is the best tile cutter for your needs.
A tile cutter is a tool that is used to cut tiles, typically made of ceramic or stone. It is a specialized tool that is designed to create precise, straight cuts in tiles, and it is an essential tool for anyone who works with tiles.
A tile cutter typically consists of a base, a cutting wheel, and a handle or lever for applying pressure to the cutting wheel. The base is typically made of metal or other sturdy materials, and it has a guide rail or bar that the tile is placed against as it is being cut. The cutting wheel is mounted on a movable arm, and it is made of a hard, abrasive material, such as diamond or carbide, that is able to cut through the tile.
To use a tile cutter, the user first places the tile on the base, with the cutting line aligned with the guide rail or bar. The cutting wheel is then lowered onto the tile, and pressure is applied to the handle or lever to activate the cutting wheel.
One of the main advantages of using a tile cutter is that it allows the user to create precise, straight cuts in tiles. Because the tile is held firmly in place against the guide rail or bar, and because the cutting wheel is guided along a fixed path, the resulting cuts are straight and accurate. This is important for creating clean, professional-looking tile installations, and it can save time and effort compared to using other cutting methods.
Another advantage of using a tile cutter is that it can be used on a wide range of tiles, including ceramic, porcelain, and stone tiles. Most tile cutters are designed to be adjustable, so that they can be used on tiles of different thicknesses and sizes. This makes them versatile tools that can be used for a wide range of tile cutting tasks.
"Do I need a different tile cutter for different types of tile? What size tile cutter do I need? Which one is best for the size of the job I'm doing?"
All very important questions, so what we've done here in this review to help you decide, is to answer those questions so that you can choose for yourself which is best for your own requirements.
The reviews that follow will help you to decide which manual tile cutter is best for you. If however, you were thinking more along the lines of using an electric-powered wet tile saw, then check out my wet tile saw review post.
The Best Tile Cutters Reviewed
| | | | |
| --- | --- | --- | --- |
| Editor's Choice | Ideal for | Brand | Click Image to Read Review |
| Our Top Pick | Medium to large projects, including porcelain, glass, glass mosaic and ceramic tiles. | Montolit 63P3 | |
| Reasonably Priced Option | Small to medium projects, including porcelain and ceramic tiles. | QEP 10800 | |
| Best Budget Option | Small projects, light-duty use cutting porcelain and ceramic tiles. | QEP 10214Q | |
Also in this review guide
Our Top Pick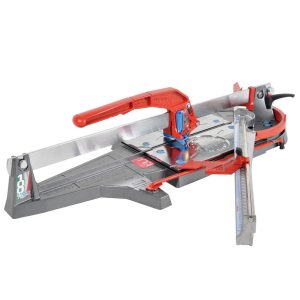 This is quite likely the only manual tile cutter you'll ever need to buy. The Montolit 63P3 manual tile cutter can cut all types of tile up to 24-inches long, and up to ⅞ inch in thickness.
Equipped with a Titanium-coated tungsten carbide cutting wheel, porcelain, ceramic, and glass tiles, including glass mosaic can be cut to your own requirements.
This versatile manual tile cutter is definitely a cut above the rest, it's made from die-cast aluminium and nickel-plated steel and weighing in at 21 lbs, you really do get a feeling that this tile cutter can handle the most demanding of tile cutting jobs.
The ergonomic push scribe handle helps to make cutting all types of porcelain, ceramic, glass and glass mosaic tiles an easy job. Tile sizes up to 24 inches in length and ⅞ inch in thickness can be cut easily, even diagonal cutting is simple thanks to the very useful large protractor square.
Even when you're working on large tiles this thing keeps its position, it doesn't rock or shift about as you're cutting and that's because of the solid build quality. You really do have a stable piece of equipment to work on.
This Montolit 63P3 manual tile cutter comes equipped with a titanium cutting wheel, and to assist with tile splitting there is a sprung table. To help support large tiles, you have the option of using the extendable support rod.
What We Like:
Protective Cut Off Device – Made from special non-scratch plastic, this helps to avoid damage to tiles during the cutting process. This is a really neat feature, that will save a lot of tile wastage.
Quick And Easy Setup – The foldable design of this tile cutter makes for quick and easy job starts, as the tile cutter doesn't need to be dismantled when being transported or stored away.
Two Measuring Scales – Helps the user to get precise, detailed cutting measurements and so helps to reduce wastage from mismeasurement.
Check the latest price on Amazon.
Reasonably Priced Option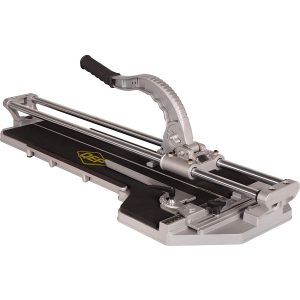 QEP 10800 QEP 10800 28-Inch Rip and 20-Inch Diagonal Professional Porcelain Tile Cutter
This manual tile cutter can be used for wall and floor tiles up to 28 inches in length and 5/8 inch thickness, it can also be used for diagonal cuts up to 20 inches.
Thanks to the Titanium-Coated tungsten carbide cutting wheel, cutting tiles is made easy. And for those extra-large tiles, the base includes side arm extensions to give added tile support.
This QEP 10800 professional-grade tile cutter, can easily cope with large tiles up to 28 inches in length and up to 5/8 inch in thickness, with the ability to cut diagonally up to 20 inches. Its wide base is made from cast aluminum alloy, with cutting stability provided by heavy-duty rubber pads.
The long-lasting, replaceable 7/8 inch titanium-coated, tungsten-carbide cutting wheel has 4 height adjustment levels to assist your cutting requirements. Helping you apply the force when scoring or snapping the tile is a large grip handle that feels comfortable in your hand which is ideal if you have a lot of tiling work to do.
What We Like:
Big Tile Cutting Range – Can be used to cut wall and floor tiles up to 28 inches in length and 5/8 inch thickness, diagonal cuts up to 20 inches are also possible with this manual tile cutter.
Strong Construction – 20.1 pounds in weight, and a base made from cast aluminum alloy sat on heavy-duty rubber pads, all combine to make a really stable tile cutter.
Check the latest price on Amazon.
Best Budget Option

Great for smaller sized tiling projects, ceramic and porcelain floor and wall tiles up to 14 inches long and 1/2 inch thick can be cut with this manual tile cutter.
This budget-priced tile cutter is perfect for small-sized tiling projects, obviously as it's budget-priced it has it's limitations. Cutting length is a maximum 14 inches long, with a maximum tile thickness of 1/2 inch, diagonal cuts are possible up to 10 inches. There's a handy adjustable cutting guide that comes in useful.
Weight-wise its quite light at just 5.05 lbs, this is due to the lower build quality materials used, so you might have problems keeping this tile cutter stable while working on 14 inch long tiles.
What We Like:
Great for Occasional Use – Ideal for small repair jobs or small tiling projects, if you're planning on cutting a lot of tiles but still want to keep the costs down then check out our Other Worthy Mentions section, you're sure to find a tile cutter there to suit your needs.
Things to Consider:
Budget Price – A cheap priced manual tile cutter, remember it does have its limitations so don't expect it to perform as well as the more expensive better quality tile cutters. Basically you get what you pay for.
Check the latest price on Amazon.
Frequently Asked Questions
How does a tile cutter work?
Manual tile cutters work by scratching a line across the surface of the tile, this is achieved by using hardened metal point or a replaceable wheel. On the better quality manual tile cutters, the scribing /scoring wheel is usually made from titanium-coated tungsten carbide, this is an excellent choice of material due to its hard-wearing capabilities. The tile can then be snapped by simply applying pressure directly below the line and also on each side of the scored line on top of the tile.
Can you cut porcelain tiles with a tile cutter?
Most of today's quality manual tile cutters have the ability to cut porcelain tiles. Usually, manual tile cutters are used to cut ceramic tiles, but porcelain and even glass tiles can be cut depending upon the type of scoring wheel used. The correct type of wheel or scoring tool is important because using the wrong type could result in cracked or chipped tiles along the scored line. A titanium-coated tungsten carbide wheel is ideal for scoring porcelain tiles, but remember porcelain is brittle so it can still chip and crack quite easily.
Do you cut ceramic tiles upside down?
When using a manual tile cutter to cut ceramic tiles the tile face should be facing upwards when you are scoring it with the scoring wheel. The back of the wall and floor tiles are usually designed to be uneven so that the bonding material used can grip on to the back of the tile. Placing the tile face up when scoring provides a cleaner, sharper cutting line for the tile to break along and avoids uneven line cuts. This is true for all types of tile when using a manual tile cutter.
How do I stop a tile from chipping when I cut it?
Getting a clean cut along the scored line of a tile is something that everyone strives to do when working with either wall or floor tiles.
There are some basic rules to follow to achieve this goal. Firstly ensure that the cutting wheel is not damaged and also if the cutting wheel is dull, then it will need to be replaced as a dulled wheel will result in a chipped scoring line.
With the tile facing upwards and firmly positioned in your manual tile cutter, take hold of the scoring wheel handle and apply firm pressure starting at the end of the tile closest to you.
It's really important that you score the top edge of the tile at this point, running the wheel with firm pressure all the way along the tile to the far top edge of the tile. If the top edge of the tile isn't scored correctly at both ends then this can result in tiles not snapping cleanly.
Other Worthy Mentions
These manual tile cutters didn't make our top or alternative picks. The following manual tile cutters that are still worth considering, as they offer different options that may suit your needs. We thought that they were definitely worth a mention.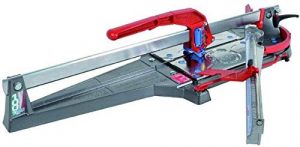 Montolit Masterpiuma Evolution 3
A top quality manual tile cutter with a self-adjustable scoring system. Suitable for medium to large tiling projects.
Key Features:
Cuts tiles up to 29 inches in length.
Heavy-duty ergonomic push scribe handle.
Suitable for all tile types.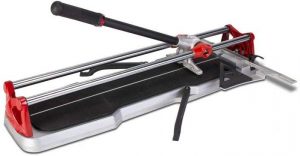 A high-quality product with fast cutting operation can even be operated with one hand, includes carrying case and a 3 years warranty.
Key Features:
24 Inch straight, and 18 Inch diagonal cutting ability.
Weight of 25.4 lbs keeps the cutter stable.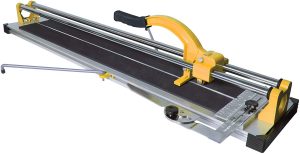 QQEP 10630Q 24-Inch Manual Tile CutterEP 10630Q
This tile cutter can be used to cut ceramic and porcelain tiles making it ideal for small to medium-sized tiling projects.
Key Features:
Up to 24-inch tile cutting capacity.
Titanium-coated tungsten-carbide scoring wheel.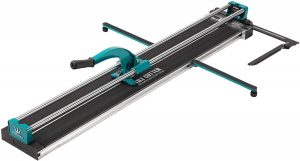 This manual tile cutter is for those big tiling projects, equipped with an infrared ray device to help achieve more accurate cuts.
Key Features:
Cuts tiles up to 48 inches long, and 0.24 inches thick.
Stabilizing arms for bigger tile support.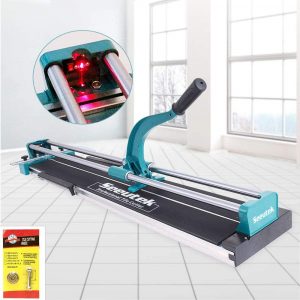 Ideal for medium to large tiling jobs, strong sturdy construction with stabilizing arms for supporting big tiles.
Key Features:
Big cutting length of 35 inches.
Money back if you are not happy with the product.