Ask anyone who works with wood as a profession or even as a hobby, which is their most used woodworking tool and I'll bet a wood router is often their top response.
Wood routers are such versatile tools, spinning the cutting blade at very high speeds, fixed base or plunge type and often used with a router table they offer the user endless woodworking options. Used by carpenters in cabinetry making or furniture restoration where perhaps traditional joints are required.
Router jigs are used to create a template or guide for the routers cutting blade to follow, jigs are especially useful when repetitive cuts in wood are required.
Routers are also used for recessing of door hinges, to shape wood, rebate, cut inlays, profile edges, make dovetail joints and numerous other tasks.
With so many options available, we've taken a look at the best ones out there and reviewed them for you, so that you can choose the best router to suit your woodworking needs.
The Best Wood Routers Reviewed
Our Top Pick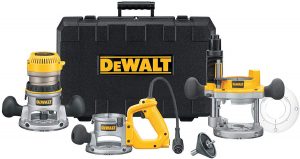 This three base router kit comprises fixed, plunge and D-handle bases to cover all routing job requirements. DeWalt's powerful 2 1/4 HP router motor means even the toughest of hardwoods can be worked on with ease.
DeWalt's soft start motor reduces start up torque, there's also electronic variable speed control which provides smooth, constant power delivery with speed options of 8,000 – 24,000 rpm available.
Precise depth adjustment for those precision jobs can be obtained in 1/64 inch increments using the micro fine depth adjustment ring to ensure a perfect routing finish every time.
And with micro fine depth adjustment of 5/128 inch per turn available on the plunge base, this makes for precise routing in jobs like veneer and inlay work.
As you would expect from DeWalt, the build quality of this woodworking machine is second to none.
A heavy duty die cast aluminium base and motor housing, combined with precision machined brass bushings, and hardened steel guide rods ensure very smooth and accurate plunge strokes.
Rubber over-molded handles provide the perfect grip, balance, and control while working and with an integral through the column dust collection system that actually collects 95 percent of the dust created, you don't have to keep stopping to clear debris away from your cutting line.
What We Like:
Powerful Routing Machine – Powered by a 12.0 Amp, 2 1/4 HP motor that delivers easily enough power to work smoothly on the hardest of woods.
Electronic Variable Speed Control – Delivers smooth constant speeds of between 8,000 and 24,000 rpm.
Integral Dust Control – Through the column dust collection system collects an incredible 95 percent of dust created.
Check the latest price on Amazon.
Alternative Top Pick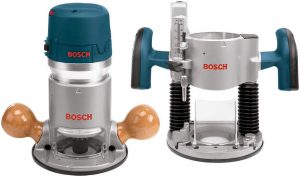 Bosch 1617EVSPK Wood Router Tool Combo Kit 
Our alternative top pick wood router from Bosch is another powerful very versatile routing machine.
Perfect for applications such as edge forming, slot cutting, bit plunging, laminate trimming, and dovetail cutting.
One of the first things you notice about this Bosch wood router is the hardwood grip handles, they make a really nice feature, but they aren't just for show, they really do help you to keep firm control of the sturdy 18.2 lb router while it's working.
And work is what this router was built to do, this dust sealed, powerful soft start 12.0 Amp, 2.25 HP variable speed motor is capable of speeds ranging from 8,000 – 25,000 RPM.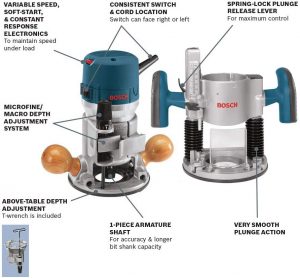 With Bosch's constant response circuitry the router will maintain a constant cutting speed throughout the cutting process.
This constant speed is maintained even when working on hardwood, meaning that cleaner, more accurate cuts are achieved.
Included with this kit is a fixed base, a plunge base, collet chucks of 1/4 and 1/2 inch, a shaft wrench, a collet nut wrench, and chip shields.
Also included is a really neat looking carry case to help you keep everything together when storing or transporting the router about.
Bosch manufacture a benchtop router table that is compatible with this router, it is available to buy on Amazon. Check the latest price for the Bosch benchtop router table.
If you need any more convincing of just how good this Bosch router is, then check out this short video of this router in action.
What We Like:
Powerful Motor – Enables you to work on the toughest jobs, with constant speed for cleaner, more accurate cutting.
Good solid weight – Weighs 18.2 lbs, helping you to keep the router firmly in position while working.
Variable Speed Control – Speeds of between 8,000 and 25,000 rpm are possible with this router.
Check the latest price on Amazon.
Best Budget Option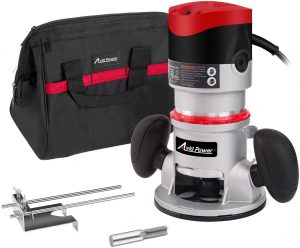 This is our budget choice wood router, but don't think in this case that budget means low quality, far from it. Powered by an 11 Amp motor, this 2 HP router has a running speed of 25,000 rpm, meaning it has plenty of power, enough to tackle the toughest of hardwoods.
Depth adjustment of 1/64 inch increments is provided by a micro fine adjustment ring, making this router suitable for precise routing work such as edge forming, bit plunging, dovetail cutting, and laminate trimming.
This router doesn't disappoint when it comes to build quality either. Aluminium is the choice of material for the motor housing and router bases, with rubber handles to ensure the user maintains a strong grip while working.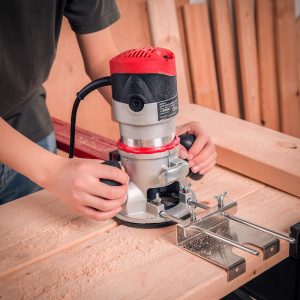 A nice touch here is the included edge guide, this lets the user route straight lines and also helps to create precise grooves along the workpiece.
This router comes equipped with a 1/2 inch collet and additional 3/8 and 1/4 inch collets too, to enable you to work on a large variety of routing jobs.
Two carbon brushes, two wrench tools, a user manual, and a toolbag are also included in this package.
What We Like:
Budget Choice – Budget choice that does not disappoint when it comes to routing ability, giving very impressive results.
High Speed – 25,000 rpm makes this router suitable for the toughest of routing jobs.
Powerful Motor – 11 Amp, 2 HP motor giving plenty of power when it's needed.
Check the latest price on Amazon.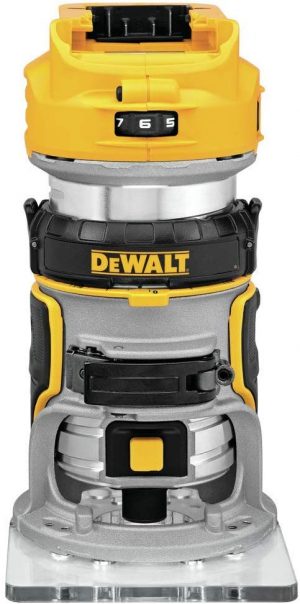 This router uses the DeWalt 20 Volt Max battery pack system so if you have other DeWalt tools that use the 20 Volt Max battery pack system then you could use those batteries in this router.
If you don't have other DeWalt 20 Volt Max power tools, then you'll need to buy a battery pack for this router. It's definitely worth getting a powerful battery pack, ( and a spare battery to use while one is being charged ) that can cope with tough woodworking jobs.
A powerful twin 5.0 Ah battery pack is the best option to go for. DeWalt battery packs are available to buy on Amazon, check the latest price for the DeWalt battery pack.
Compact and powerful, this 2.6 lb, soft start, variable speed cordless router can run at speeds of between 16,000 and 25,500 rpm, that's really impressive because remember we are talking battery powered here.
The variable speed dial allows the user to select precise speeds for different routing applications.
During the cutting process, dual LED lights brightly illuminate the work area to ensure that the user can see exactly how the cutting process is progressing.
After the cutting process has finished and the power shut off, the built in electronic brake slows down the motor quickly.
A release clamp system means tool free base and bit changes, combined with the depth adjustment ring allow the user to work fast, meaning less down time between jobs.
What We Like:
Brushless Motor – So much more efficient than older style brushed motors, giving more power, better performance, and reliability.
Cordless – Cord free for easy movement around the workplace.
Plenty Of Power – Use a decent sized amp hour ( Ah ) battery in this router and you will see just how well this tool performs.
Check the latest price on Amazon.
Frequently Asked Questions
What are routers used for?
Wood routers are an extremely useful, versatile tool. A must have tool for anyone that works with wood, whether you want to use it for craft or hobby work, or if you are a carpenter, DIY enthusiast or builder then a good wood router becomes an essential tool to have in your collection.
Routers can be used to create intricate, detailed inlays in wood, and are capable of creating perfectly rounded edges on work projects such as tables, cabinets and other furniture.
Wood routers can be used to bevel a picture frame, make a house number sign, make draining grooves in a cutting board, profile edges, trim wood, recess hinges, cut inlays, shape wood, and create decorative flutings.
What is a router jig?
A router jig is used in conjunction with a routing tool. What the router jig does is to provide a template or guide for the router cutting blade to follow.
This is especially useful when making repetitive motions, for instance when you are working on a project that requires you to make duplicate items.
Jigs are generally made of wood and are easy to make and put together, it's always a good idea to make a jig before you start any repetitive woodworking job.
What is the difference between a fixed base router and a plunge router?
Plunge routers give the user the ability to move the router cutting bit up and down on the base. This is made possible by spring loaded supports on either side of the router body. This allows the user to plunge the cutting bit downwards into the wood.
This plunging method is essential when you are working on the top of a piece of wood, for example in jobs that require fluting, dados, mortices, grooves, insets, and rebates.
Plunge routers can also be used for edge work too, in applications that require edge profiling for example.
A fixed base router has the router cutting bit locked in a fixed position on the router base, meaning that the cutting bit doesn't have the ability to move up or down like a plunge router can.
What is a collet on a router?
A collet holds a router cutting bit firmly in place, usually made of steel for strength the collet is connected to the router shaft, which in turn is connected to the motor.
The most popular routers have 1/4 inch and 1/2 inch collets, this indicates the size of router cutting bit the collet will accept.
Router machines with the 1/2 inch sized collet are far more versatile because of the availability of cutting bits in larger diameters.
Often you will find that the 1/2 inch collet routers come with collet adaptors that enable the collet to accept 1/4 and 3/8 inch router bits.
Other Worthy Mentions
These wood routers didn't make it into our top picks section, but we think they are definitely worth a mention.
This super powerful 3 – 1/4 plunge router from Makita has all the power you will ever need to complete the toughest of routing work.
Key Features:
15 amps of power, it'll tackle the hardest of woods, easily.
22,000 rpm set speed routing power.
13.4 lb tool weight, nice and strong power tool.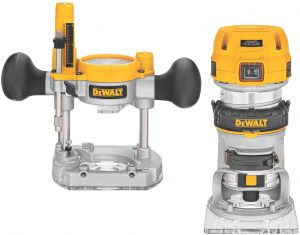 DEWALT Router Fixed/Plunge Base Kit
This 1.25 HP router from DeWalt is a real workhorse when it comes to tough routing jobs.
Key Features:
Fast 16,000 to 27,000 rpm no load speed.
Soft start feature for smooth start up operation.
Dual LED lights to light up the cutting path.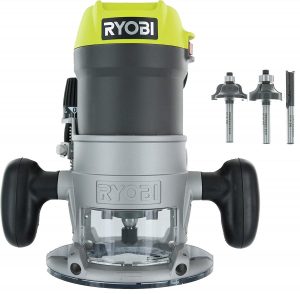 This very versatile router from Ryobi gives great work performance and offers real value for money.
Key Features:
Cutting depth of 2 inches is possible.
Superfast 25,000 rpm for quick routing work.
Comes with 3 multi purpose bits to get you started.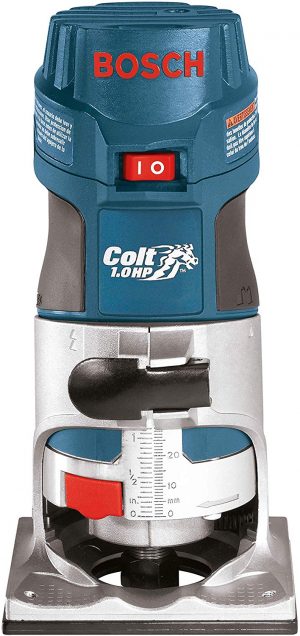 Make no mistake, this is an amazing routing power tool.
Feature packed, if you are after a router for small to medium sized jobs, then you won't be disappointed with this choice.
Key Features:
1.0 HP motor ideal for smaller routing work jobs.
High Speed, 16,000 to 35,000 rpm.
Variable speed motor for precise speed control in different routing applications.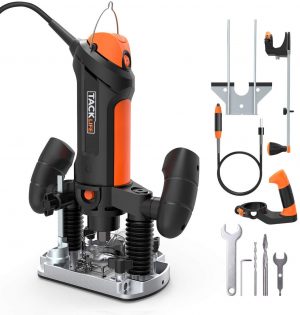 TACKLIFE Plunge and Fixed Base Router
This router is a great choice for less demanding router work.
Key Features:
5 Amp variable speed motor.
Ergonomic design gives the user more grip and comfort while using the router.
Dust collection ports, a must for dusty work.