Having a place to call home is something that everyone dreams of, your own space where you can kick back and do your own thing.
You choose how you want your home to look, the style, color scheme, and what type of furniture you want to put in it, your home is in a way, an expression of yourself.
Keeping your home looking good takes effort, for instance, we all know that if we didn't sweep the floor or vacuum the carpets on a regular basis then your home would soon start to look the worse for wear.
What you are doing here without even realizing it is maintenance, not everyone enjoys it but it has to be done to keep your home looking great.
Let's take a look at some simple, yet essential external maintenance job's that will not only save you money in the long term, but that also helps to keep your home a place that you can be proud to say is yours.
Tip #1) Start Here: The Roof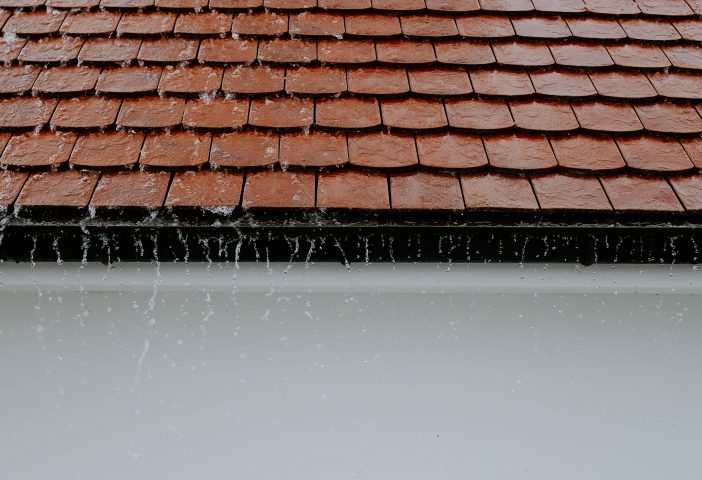 Perhaps the most important and prominent feature of any building is the roof, it's something that you take for granted and don't even think about.
The only time you take notice of the roof is when you either see a damp patch appearing in the ceiling or worse still if water starts to drip through the ceiling and onto the floor, by which time the damage is already done.
Questions to Ask Yourself So You'll Know What You Need to Do:
Every couple of weeks or so, or when you are in your garden or yard, take a good look up at your house roof, can you see any roof damage?
Can you see any tiles missing or any roofing tiles that have slipped out of position?
Do you look out for any broken roofing tiles on the ground or driveway? This is a very good indication that your roof is in need of some essential maintenance.
Do you put off roof repairs? Roofs don't fix themselves and the longer you leave it, the chances are the more it will cost to get it put right.
Here's What to Do if You Answered "Yes" to Any of Those Questions:
If you are a competent DIY enthusiast, handyman or handywoman with the right equipment and feel confident enough to tackle these jobs yourself then get to it.
If you're not that good at the hands-on stuff and you haven't got the know-how or tools, then it really will save you money in the long term by getting the professions in to sort out those roofing problems.
Once that roof starts to let in water, damage can be caused to the roof timbers, which over time can cause the wood to rot, which in turn weakens the structure. This can prove very costly to have the rotten or weakened timber replaced.
If you neglect roofing repairs jobs long enough then the chances are that when it rains you will start to get water coming through the ceiling below the failed roof area.
At this point, the damage is done and it's going to cost you some serious money to put right, you'll be wishing you had got that roof fixed weeks ago when you first spotted it.
Tip #2: Keep Your Rainwater Gutters Clean And Clear Of Debris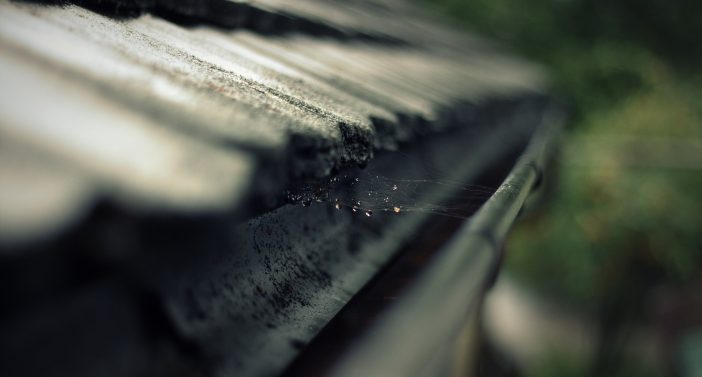 Rainwater gutters on roofing systems are designed to do a very important job, that is to quickly and efficiently direct rainwater from your roof to ground level where the water can then be diverted to a drain, soakaway or in some cases a rainwater storage area.
If you neglect your gutters, then over time, leaves and other debris can clog those gutters up, this can result in rainwater build up in the gutters.
If the rainwater can't flow away freely then there is a good chance that the water might just flow back into your home under the low hanging roof tiles just above the gutter system.
Now you don't need me to tell you how much damage this could cause, needless to say, the repair bill would be quite excessive.
Questions to Ask Yourself So You'll Know What You Need to Do:
Do you have a lot of trees in close proximity to your house, are any of the tree branches overhanging your roof?
When it rains, are there any downpipe gutters that lead to a drain with no water flowing through them?
Are there any damp issues inside your house in an area where the external rainwater gutters run?
Are there any parts of the gutter system that has water dripping from it?
Here's What to Do if You Answered "Yes" to Any of Those Questions:
If you answered yes to any of the questions above, then chances are that part of your house guttering system is blocked.
Gutter cleaning is a relatively simple job to do, the problem most homeowners have when trying to carry out home maintenance is that they haven't got the right tools or equipment for the job.
We all know that gutters are positioned high up off the ground, so you need a sturdy, correctly sized, and duty rated high-quality ladder for cleaning gutters, like this one which I recommended in my guide on the best ladders for cleaning gutters. You can check out that full guide here if you're interested.
The simple and quick fix is to do this job yourself, but only carry out this maintenance job if you are competent and feel that you can safely work at height.
If this is a job that is beyond your capabilities then get the professionals in and let them work their magic.
Money spent here is money spent well and will save you big bucks in the long term.
Tip #3) Save Money on Energy by Fixing Up Your Windows and Doors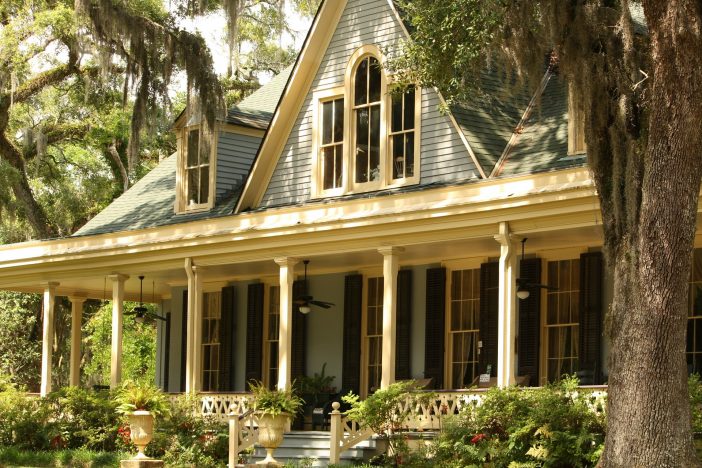 We all know that the purpose of windows is to let natural daylight in and when open, to let fresh air into our homes, and we love that because, well who doesn't like to get stuff for free?
As time goes by and the seasons come and go, if those window frames are made from wood then they will need some maintenance from time to time.
I'm sure you clean those windows so that you can see out of them and also let that free light pour into your home.
Let's be honest, have you ever really had a good look at how those wooden window frames are holding up to all the different weather conditions that get thrown at them?
Questions to Ask Yourself So You'll Know What You Need to Do:
Are there any wooden window frames that haven't been painted in the last 24 months?
Do you have difficulty opening any of the windows or doors?
When it's windy outside, can you feel a draft inside if you put your hand around the window frame or door frame?
Do any of the wooden window frames or exterior doors have paint peeling off them?
Here's What to Do if You Answered "Yes" to Any of Those Questions:
If you answered no to the above questions, then good job, give yourself a good pat on the back, ok I realize that might be a bit tricky, so get someone, anyone will do to give you a well-deserved pat on the back.
That sounds like you are keeping up with the maintenance and because of that, you have saved yourself money by not having to replace or repair any windows or doors.
Ok, so someone answered yes to some of those questions, this is only to be expected. We all do it, we try to put off those jobs for just another year… but that year soon comes around and if you keep putting it off then it's only going to cost you more in the long run.
Choose a nice sunny day, get the paint or wood stain out and give those window frames and doors a treat by applying a nice new coat of paint or wood stain.
Remember to open those windows before you paint, otherwise, you might not be able to open them if the paint dries with the windows shut.
Any windows or doors that are tough to open may require a bit of light sanding with either grit paper or a sanding machine tool.
As for any drafty areas around those windows or door frames, have a good inspection of where the window or door frame meets the building fabric.
Chances are that a few gaps have appeared and this is where the wind is getting in. A simple fix is to get some exterior filling compound that is weatherproof and that doesn't crack when it has dried.
These simple quick fix money-saving jobs are easy to do, and if you choose a nice day to do them, then they also become enjoyable jobs too.
Look after exterior wooden windows and wooden door frames because they are very expensive to replace, if you keep them well maintained, then they should last years and years, which means money saved.
Tip #4) Fire Your Gardener
Well, don't fire your gardener, but at the very least, take note of just how much your yard maintenance is costing you. I assure you, it's something you won't want to ignore.
Whether it's visitors or just people just passing by your property, you'll want them to have a good impression when they look at your home, that's because we are all house proud and rightly so.
The difficult thing is, keeping that yard looking good. Well, it shouldn't be difficult because when you have got it looking good then it should just be a case of some nice maintenance time every couple of days to keep it in shape.
Plants and shrubs as we all know can be very expensive, and if you're like me then it's always the plants that you really like that just happen to be the most expensive.
Questions to Ask Yourself So You'll Know What You Need to Do:
Do you employ a landscape gardener to look after your yard or garden?
Do you often find that your plants or shrubs die-off through a lack of care?
Do you have electric lighting in your yard or garden area?
Do you use tap water to water your plants and shrubs?
Here's What to Do if You Answered "Yes" to Any of Those Questions:
So to start with the first question in this section, lots of people do employ professional workers to look after their yard or garden maintenance.
There are many factors as to why people do this, we all lead very busy lives and at times it is hard to keep up with some tasks, paying someone to take over certain routine jobs such as ground maintenance is usually the first choice.
There are big bucks to be saved here if you can find the time to fit in that ground maintenance yourself, go on give it a try… you might just enjoy it.
As for plants and shrubs that we think would look absolutely fabulous in our yard, well you really do need to shop sensibly.
Get to know your soil type, get a testing kit, and find out which plants and shrubs are suited to the type of soil that you have.
For the price of a cheap soil testing kit, you can end up saving big by getting plants that will thrive in the type of soil that you have, and if you do your homework and find low maintenance varieties then that means less work for you to do.
Lighting up your yard or garden area really does enhance the look, often bringing out the lush colors of the plants, trees, and shrubs.
Electric of course isn't free, LED lights use a fraction of the power that regular lights use, so ensure that you have external grade LED lighting installed in your yard or garden area.
Using LED lighting will save you big time if you like to have your yard illuminated for long periods of time.
And as for the question as to whether you use tap water to water your plants and shrubs? This is something that people often don't really think about when it comes to saving money.
This money saver is for those properties that are on a water meter, so reducing your water usage means cheaper bills to pay.
And there's also that feel-good factor of you doing your bit to help out the environment.too.
Rainwater storage systems are available that enable you to hook up a flexible pipe to one of your gutters down pipes at approximately 4 feet from ground level, and then divert some of the rainwater into storage tanks or containers.
Then when it's watering time for the plants just link a garden hose up to the container, these water storage containers usually have a faucet built-in to let you control the flow of water out.
I hope you have found these home maintenance: simple jobs to save you money, guides useful, and with all that extra cash that you will be saving, give yourself a treat… you deserve it.