When there are essential maintenance jobs to be done like cleaning gutters, you want the best ladder for the job. Any task that involves high-level working requires quality, strong and stable equipment.
Access to gutters can be achieved by either using an extension ladder system, a combination ladder, a telescoping ladder, and even scaffolding systems.
Whatever your preferred choice is, it is most important that you choose a system that is right for your own needs and requirements.
It's not just a simple case of getting some ladders set up to clear leaves and other debris from the guttering to keep the rainwater flowing freely to the drains.
To work efficiently you must ensure that the ladders are suitable for the job in hand, that they have the correct duty rating and that they comply with the current ladder standards for use and quality.
We have looked at and reviewed the best ladders available for cleaning gutters and selected the best ones for you. We looked at all-round general purpose ladders, ladders for working on uneven terrain, and also ladders that are best for people with limited storage space.
The Best Ladders for Cleaning Gutters Reviewed
Click below to jump to each section in this review.
Our Top Pick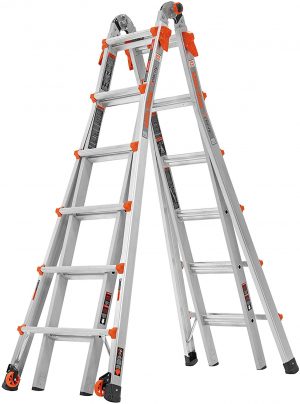 Whenever you decide to tackle those jobs that involve working at height, you need equipment that is strong, sturdy and fit for purpose and that's what you have here with this ladder system.
We've chosen this model as our top pick best ladder for cleaning gutters because we feel that it meets all the requirements that a ladder system should.
First off, when you work from ladders you want to know that the equipment that is holding you off the ground is strong enough to do so, that's where ladder duty ratings come in to play.
This ladder has an ANSI (which stands for American National Standards Institute) duty rating of Type 1A extra heavy-duty with a weight capacity loading of 300lbs.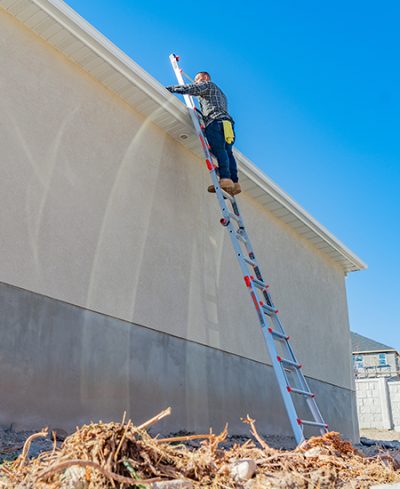 That's the important thing to note here, make sure that the equipment you use always has the appropriate duty rating to suit the person or persons that will be using the equipment.
As you would expect from a high reach top quality, ladder system, it's not going to be lightweight.
This particular model weighs in at 50 lbs, and yes that does sound a lot but because of the special alloy used to make this ladder, it's actually 20 percent lighter than any comparable industrial rated ladder.
Weight is certainly not a bad thing when it comes to using ladders, the weight adds to the stability and wide-flared legs help to give a sturdy platform from which to work from.
Helping you to move the ladder about is a set of wheels located at the bottom of the ladder system, this is a really great touch especially if you are using the ladders on your own and need to move it to different locations.
Giving you a maximum extension reach of 25 feet 10 inches, this will enable you to easily access gutters on single and double story buildings.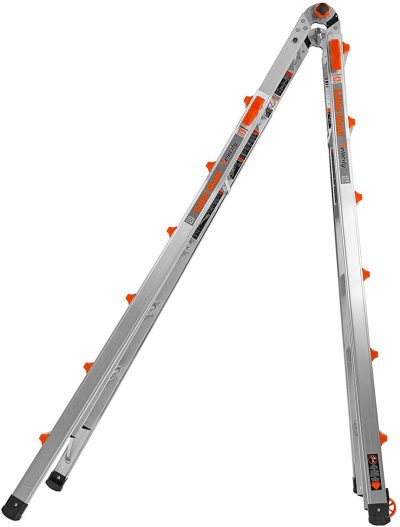 For single-story buildings, this ladder can also be used in the '90 degree mode' setup.
The 90-degree mode setup gets you really close to the building wall as single-story building gutters tend to be between 10 and 12 feet from the ground.
As you can see from the photos, this multi-position ladder system is versatile and very adaptable.
It can be used in all sorts of different situations and is certainly not just an extension ladder.
Setting the ladder into various positions is a quick and easy process, and once in the chosen position, the ladder can be locked in place courtesy of the Little Giants rock lock system.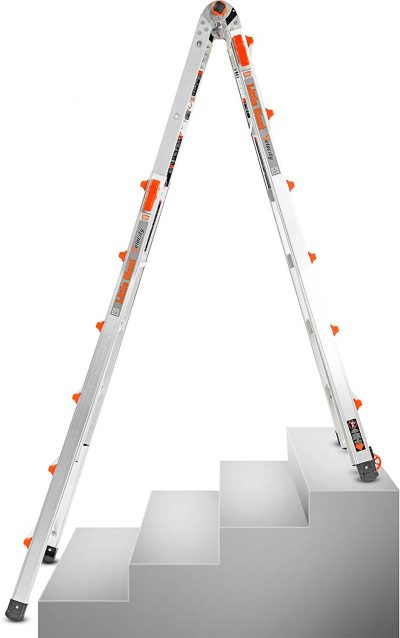 This is so easy to use, it's just a case of push the lock to release and adjust the ladder to the desired position, then tap to lock in place.
As we all know, some times it's just not that easy to get ladders set up where you need to set them up.
Maybe you have a situation where you need to work from a place that is set on different levels, as for example above some steps as shown in the photo.
This is no longer a problem, it's just a simple case of setting the ladders to staircase mode then lock in position and get to work on cleaning those gutters.
There is also an A-frame mode that gives you a maximum standing level of 8 feet 7 inches which equates to a maximum reach height of around 15 feet 1 inch.
So as you can see this is a really versatile ladder that, because of all the different setup options, will get you working when and where you want to work.
What We Like:
Strong And Sturdy – Exactly what you want in a ladder, strength and a stable place to work from.
High Reach Capability – It's essential that when you work from ladders that they are not being used beyond their limit, with regard to height. This ladder offers you a maximum extension reach of 25 feet 10 inches which should easily get you up to where you want to be.
Very Versatile Ladder System – This ladder system is very adaptable, it has an A-frame step ladder mode, 90-degree mode, staircase mode, uneven surface mode and of course the straight ladder mode.
There are different height options of this ladder available there's a 22 foot and a 17 foot version, both of which are constructed to the same very high standards as this model is, you can view these by clicking the latest price link below.
Check the latest price on Amazon.
Best Ladder for Uneven Ground
Working safely is the most important thing and at times when we are trying to position ladders, it's really hard to find level ground at the spot where we are trying to work. There is a solution to this problem and it comes in the form of Little Giants Revolution M26 ladder system.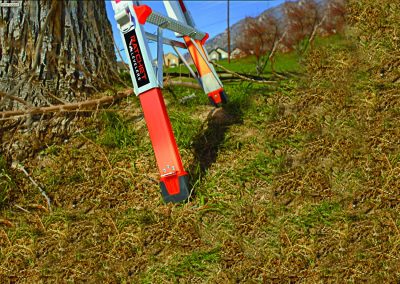 Featuring ratcheting levers that enable you to work safely on uneven terrain, these ratcheting levers allow close to 8.5 inches of adjustment per ladder leg.
Let's just think about that, what that actually means is no more wobbly ladders, phew!
You can set these ladders up perfectly every time with that amount of adjustment available.
So if you've been trying to get those gutters cleaned out, but the ground is just not level enough for you to work safely, then now you have a solution thanks to this stabilizing feature.
The same high quality construction of our top pick choice ladder system is included in this ladder system.
These ladders are made from aerospace-grade aluminum which makes it lighter than any other comparable 300 lb rated multiuse ladder, it also features flared legs that add to the stability of the ladder.
This is a truly versatile ladder and if you've struggled in the past trying to access those gutters, then because of the multiple ladder set up configurations possible with this system, you will find a mode that will help you to get to where you want to work.
The A-frame mode gives you an 11-foot 1-inch height, with a maximum ladder extension height of 23 feet, and of course, you can also configure the ladder into staircase mode and 90-degree mode too.
Whichever mode you to use you can be sure that with the quad lock hinges and the easy to use rock locks you'll soon have that ladder set up ready for work.
As we have mentioned before, safety ratings are a must to look out for when working with any equipment, and this ladder system has approval from OSHA, ANSI A14.2 safety standards.
So we know this ladder is perfectly capable of enabling you to work on uneven ground and of course, it's got a capacity rating of 300 lb which indicates just how strong this ladder is.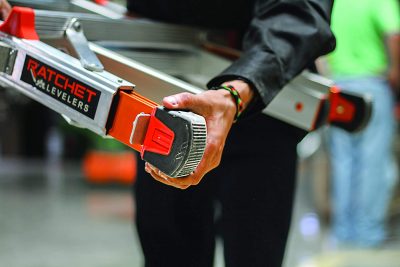 This ladder weighs in at 57 lbs, that's slightly heavier than our top pick choice simply because of the additional leveling feature that this ladder system incorporates.
And remember weight is a good thing when you talk about working at height as the last thing you want is to be standing on a set of flimsy ladders that bounce about as you use them.
Helping you to move the ladders in the folded position is a handy set of glide wheels so that it's an easy job to get the ladders to the required work location.
What We Like:
Ratchet Leveling System – A very clever design feature that enables you to level the ladder up on uneven terrain.
Strong And Sturdy – These ladders are super strong and meet OSHA, ANSI A14.2 safety standards.
Glide Wheels – Enable you to wheel the ladders around, in the folded position to the work position.
Check the latest price on Amazon.
Best Ladder for Portability And Storage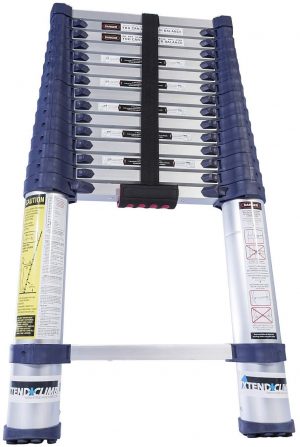 This is a telescoping ladder system, it's a really clever design that enables the ladder to retract down over the previous section. This helps to make this ladder system very compact and a great solution for people that don't have much storage space available.
Suitable for homeowners, tradesmen, and DIY enthusiasts this ladder will become a firm favorite when you need to get those gutters cleaned out, or for any other project such as home improvement or home remodeling jobs.
With a safe working height of 12.5 ft giving an average reach height of 19.5 feet these strong and super sturdy ladders weighing 36 lbs are made from airplane grade aluminum alloy.
As you would expect from a professional series ladder system, these telescoping ladders also meet the latest 2019 ANSI/OSHA standards for safety compliance and duty rating ANSI Type 1 (250 lbs).
Offering height options in 1-foot intervals, this telescoping ladder extends and locks in position by the foot, up to 15.5 feet and using the angled thumb release feature you can safely retract the ladder down to just 36.5 inches high X 19.75 inches wide. This makes it easy to pick up and carry around or put into the back of your vehicle for transportation.
So if storage space is limited but you need the capability of a full length ladder system, then you should give this Extend And Climb Series telescoping ladder serious consideration.
What We Like:
Telescoping Ladder Design – Clever design that lets the ladder retract down over the previous section.
Very Portable – You can retract the ladder down to just 36.5 inches high X 19.75 inches wide. That's compact enough to pick up with one hand and put the ladder system into the back of your vehicle for transportation.
Professional Series Ladder – Suitable for homeowners, tradesmen, and DIY enthusiasts this ladder is strong, sturdy, and made from airplane grade aluminum alloy.
Check the latest price on Amazon.com
If you are in the UK check the latest price on Amazon UK
Best Multi Purpose Ladder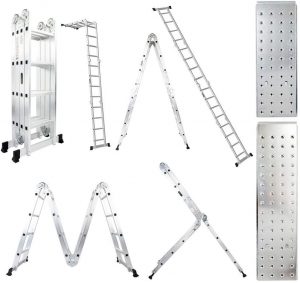 Luisladders Aluminum Multi-Purpose Ladder
This 15.5 ft multi-purpose extension ladder system can be configured in 9 different ways.
So when it comes to cleaning gutters or carrying out other essential maintenance work, this ladder will help you out with those tasks.
Used as an extension ladder in the leaning position for reaching high gutters, or set in the scaffold position for lower level guttering. Whichever way you configure this multi-function ladder you're sure to find a suitable position to help you work safely.
Made from aircraft-grade aluminum, and constructed with strong square rungs with supporting tubes this multi-purpose ladder system with a maximum load capacity of 330 lbs meets EN 131 standards and passes TÜV Rheinland GS certification.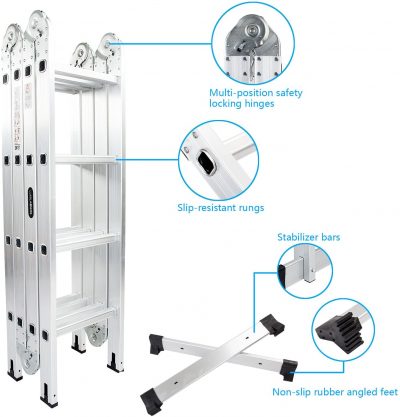 Supplied with 2 scaffolding plates that measure 34 inches and 42 1/4 inch.
These two very useful anti-slip scaffolding platforms are ideal for low-level jobs such as cleaning out guttering downpipes and checking on eaves troughs or surface water collection channels in single-story buildings.
This sturdy 16 rung general purpose ladder has multi-positional locking hinges, strong slip-resistant rungs, stabilizer bar, and non-slip angled rubber feet.
Of course, this multi-purpose ladder is ideal for other essential jobs such as window cleaning, loft access, painting the outside and inside of your house, and other decorating tasks too.
When it comes to storing this 41.8 lb ladder away after use, it should be easy to find a place for it, as it folds down to just 49.2 inches, making it easy to store or transport.
What We Like:
Very Versatile – Lots of working options available, 9 different positions are possible to help you get just the right set up for your work.
Strong And Sturdy – Made from aircraft-grade aluminum, this ladder is rated for a maximum load capacity of 330 lbs.
Easy To Store – This multi position ladder folds down to just 49.2 inches.
Check the latest price on Amazon.
Frequently Asked Questions
What are ladder duty ratings?
Duty ratings of a ladder refer to the maximum weight capacity that a ladder can safely carry. That's the important thing to note here, it's the maximum weight capacity, not just your weight that this capacity refers to.
When you are working on a ladder you might be using power tools or have paint cans etc these materials all add to the weight that is being put onto the ladder system, all this additional weight, as well as your own bodyweight, needs to be taken into consideration.
So before you use your ladders just take a bit of time to add up:
Your own bodyweight plus
The weight of any tools you will be carrying on the ladder plus
The weight of any work materials stored on the ladder plus
Your clothing, footwear and any safety equipment that you will be using
When you have totaled up the weight that will be put onto the ladder system, it is at this point that you need to check the duty rating sticker or specification label on the side of the ladder. It is a requirement set by safety standards that every ladder has this information displayed.
If you cannot find the sticker or label on the side of the ladder displaying this information, then do not use the ladder until the duty rating of the ladder has been positively established.
Ladder duty ratings are set into five categories, they are as follows:
Type IAA rated at 375 pounds (extra heavy duty)
Type IA rated at 300 pounds (extra heavy duty)
Type I rated at 250 pounds (heavy duty)
Type II rated at 225 pounds (medium duty)
Type III rated at 200 pounds (light duty)
What is a combination ladder?
When you are carrying out work that requires you to work off the ground, you may need to use a variety of step ladders to enable you to do the job safely.
This is where a combination ladder comes in very useful, as the name suggests, a combination ladder can be set up in different configurations to enable the user to access areas and most importantly work safely.
This type of ladder is often used by professional workers on construction sites as well as homeowners, handymen, handywomen, and DIY enthusiasts.
Jobs such as home improvement, remodeling projects or home maintenance such as gutter clearing or gutter cleaning along with interior and exterior projects such as painting.
Do ladders have an expiry date?
Ladders that are looked after correctly, and stored properly will last a very long time. When working on ladders treat them with respect, remember they are holding you above the ground, so as long as the ladders are well maintained then they will serve you well.
When stored away in-between jobs make sure that they are folded into their correct position and not twisted, don't be tempted to store tools or other equipment on the ladder.
Ladders do not have any expiry date and remember that they could possibly serve you well for a very long time provided that you look after them.
How do you use ladders safely on uneven ground?
When you have work to do that requires you to use step ladders or extension ladders, but the terrain that you want to set your ladders on isn't level does present a problem, or should I say used too.
Ladder systems such as the one by 'Little Giant' have come up with a great solution to this problem enabling you to work safely on uneven ground.
This system incorporates ratcheting levers that basically extend the length of each ladder leg individually, on the 'Little Giant' system the adjustment of each leg can be up to 8.5 inches.
Other Worthy Mentions
These ladder systems didn't make it into our top picks sections, but we thought that they were still worth a mention.
TACKLIFE Multi-Use Ladder, 17 Feet Aluminum
This high quality, very versatile ladder system made from aircraft-grade aluminum, features 5 different ladder combinations in one.
Key Features:
Exceeds ANSI standards.
Rated up to 300 lbs.
Non-Slip Rubber Feet.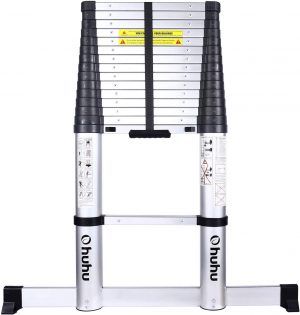 Ohuhu 15.5 FT Telescoping Ladder with Stabilizer Bar
This telescoping ladder is perfect for people with limited storage space but still need the capabilities of a full-length ladder.
Key Features:
Weight capacity of up to 330 lbs.
EN131 and SGS European safety standards approval.
Automatic locking pins to hold the rungs in place.
Retracts down to just 3.3 feet for storage or transportation.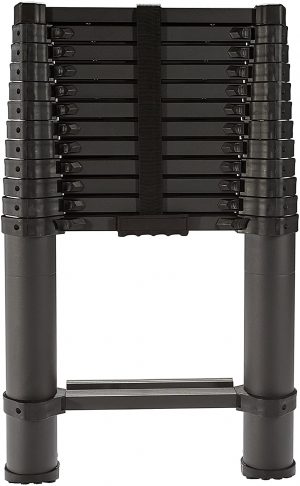 Xtend & Climb CS125300BK Contractor Series 12.5ft Ladder
This cool looking telescoping ladder from Extend And Climb just oozes quality. Made from airplane grade aluminum alloy that gives it strength and stability.
Key Features:
ANSI/OSHA rated for quality and safety.
Double over molded feet which give added durability and traction.
Extends and locks into position by the foot.
Easy to carry and store.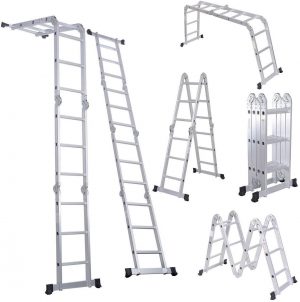 Luisladders Folding Ladder Multi-Purpose
This 12.5 ft multi-function ladder system offers you 7 different ladder combinations in 1 ladder.
Key Features:
Folds up to a compact 40.5″ x 11″ x 23.5″ for easy storing and portability.
EN131 Part 4:2007 standard for ladder safety and quality.
Load capacity of up to 330 lb.