A gas pole saw, or pole pruner, as I'm sure you'll have guessed is basically a saw on a pole, it's such a great idea when you think about it. Best of all this clever power tool invention enables the user to work on high up hard to reach places much more safely.
Think of it as a type of chainsaw that is mounted on the end of a long pole, allowing the operator to cut branches and limbs from trees without the need for a ladder. Gas pole saws typically have a two-stroke engine, which runs on a mixture of gasoline and oil, and a long, curved saw blade that is mounted on the end of the pole.
Gas pole saws are designed for use in a variety of settings, from residential gardens to commercial orchards and forests. They are particularly useful for pruning and trimming trees that are too tall to reach with a ladder, or for cutting down small trees and branches. Gas pole saws are typically more powerful than electric pole saws, and they offer greater flexibility and mobility.
Some gas pole saws are designed to be adjustable, allowing the operator to change the length of the pole or the angle of the saw blade to reach different parts of the tree. Some also have additional features, such as a bar and chain lubrication system to keep the saw blade lubricated, or a brake to stop the saw blade quickly in case of emergency.
Using a gas pole saw, for example, as a tree pruner, gives the user greater freedom of movement to work compared to using a corded electric pole saw where most of the time the power cord gets in the way.
What's really helpful is the fact that because most models have extendable poles, there's no need to use step ladders while you work.
Gas pole saw poles are often extendable, some enable the user to work at 15 feet cutting heights and because of the long reaching capabilities of a pole saw, as we previously said, this often means the use of a step ladder or telescoping ladders are no longer required.
Used by homeowners, gardener's, groundsmen and professional landscapers to keep yards looking their best, they have become an essential power tool to have in your collection.
Often capable of accepting other heads which transforms the gas pole saw into other useful maintenance tools such as a hedge trimmer, blower, edger, and brush cutter.
With so many gas pole saw options out there to choose from, we've taken a look at the best ones available and reviewed them for you, to help you decide which one best suits your needs.
The Best Gas Pole Saws Reviewed
Click on a link below to jump to that section
Top Pick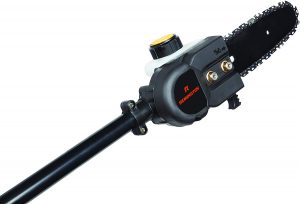 Remington RM25PS Maverick Gas Pole Saw
This 25cc, 2 cycle pole saw is the new version of the very popular Remington Maverick 8 inch bar pole saw, and it takes our top pick spot with ease.
It was engineered to be durable, efficient, easy to use, reliable and versatile.
That's exactly what you've got with the Maverick.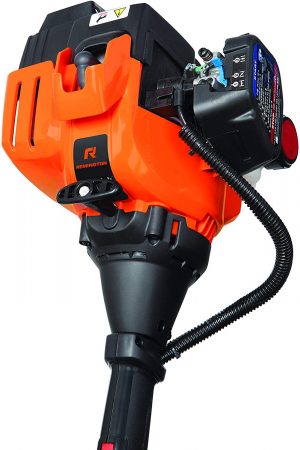 Weighing in at just 13.9 lbs, and with plenty of power provided by a 25cc, 2 cycle gasoline engine.
Starting the engine and getting to work fast is a breeze, thanks to the quick start technology which helps to make pull starts easier.
And as for pure cutting power, you get plenty of it, that's for sure.
If your yard is getting overgrown, then this pole saw will tackle anything from minor tree trimming jobs to full yard makeovers.
Powerful enough to cut through tough tree limbs, the Maverick comes with a 7 foot pole that can be extended or retracted to various lengths to suit different job requirements.
In fact, with the compact designed bar and chain mounted on the 7 ft extension pole, you really can get to those hard to reach places. A working height of up to 12 feet is possible which should be more than adequate for most cutting jobs.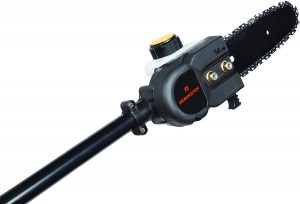 Keeping that fast cutting chain performing at its best is easy too.
This pole saw has an automatic chain oiler that ensures that the chain is well lubricated at all times, which in turn helps it to perform effectively and most importantly, efficiently.
This compact, cleverly designed 38 x 10.8 x 12 inch pole saw doesn't hold you back when other jobs need doing too. The Remington Maverick accepts other head attachments to help you with all those other yard jobs, making it a very versatile multi use tool.
What We Like:
Good Working Weight – This pole saw weighs just 13.9 lbs, meaning that you can work for longer and feel more comfortable while you are working.
Strong Power Delivery – Not the biggest engine out there, and it doesn't need to be either, this motor is more than capable of providing enough power to cope with tough limbs and branches.
Automatic Oiler – Keeps the chain properly lubricated, ensuring performance and efficiency.
Multi Use Tool – This pole saw accepts other head attachments, making this a very versatile tool to have.
Things to Consider:
Accepts Other Head Attachments – This is really useful if you have other hard to reach places that need maintaining, swap the head over and carry on with the next job.
Check the latest price on Amazon.
Runner Up

Poulan Pro PR28PS Gas Pole Saw
This is another versatile long reaching pole saw, ideal for reaching those branches that you've been longing to get rid of for so long.
This 14 lb cutting machine is powered by a slightly bigger motor than our top pick choice, which explains why it's slightly heavier too.
The 28cc, 2 stroke gas engine features what's called EPS, effortless pull start and as you may well have guessed, this makes starting the Poulan Pro a simple enough task.

Once you've got the engine up and running, then you're ready for some cutting action.
Capable of reaching up to 12 feet high, courtesy of the included 3 foot extension bar this machine will make short work of tough tree limbs and wooded areas, meaning that you'll soon have everything looking a whole lot more cared for.
As with our top pick choice, this is a very versatile tool to have in your gardening tool collection. The Poulan Pro Link system allows for no tools required attachment of different heads to help you complete those numerous other yard maintaining jobs that you've been putting off, such as, edger, hedge trimmer, blower, cultivator and brush cutter.
What We Like:
Great Reach – Capable of reaching up to 12 feet, giving you a big working range
Versatile machine – Poulan Pro Link system means that other heads can be attached to this pole saw, such as hedge cutter, blower, edger, brush cutter and cultivator.
Effortless Pull Start – EPS, makes it a breeze to get this motor up and running and ready for action.
Check the latest price on Amazon.
Best Multi Angle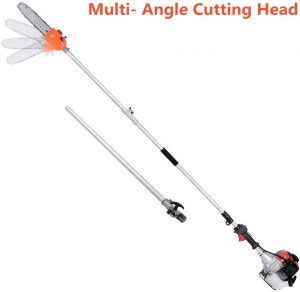 MAXTRA 90-180 Degree Adjustable Pole Chainsaw
What we've got here is a multi angle cutting head gasoline pole saw.
A multi angle cutting head, gives you lots more options when it comes to those tricky hard to reach places.
And as for getting to those hard to reach places… wait for it, you get a massive reach of 15 feet!
Yes you read correctly 15 feet!
Running on a powerful 42.7cc, 2 stroke gas engine which has a running speed of 7500 rpm, with an idling speed of 3000 rpm the sheer cutting power is amazing.
The adjustable 10 inch bar makes easy work of cutting through tough branches and logs up to 10 inches thick.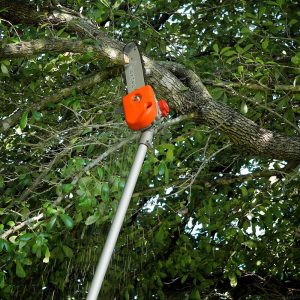 This pole saw can be adjusted from 8.2 feet to 11.4 feet, but that's not where the buck stops.
Supplied with this pole saw is a 3.6 ft extension bar, which when combined with the adjustable bar enables you to reach up to 15 feet.
This height range really does help, and better still it means no more working off step ladders to get to those high up places.
You'll feel so much safer working with both feet planted firmly on the ground.
Keeping that chain nice and sharp is easily done with the included chain sharpener, and also included in this bundle is a shoulder strap to help combat fatigue while using the pole saw.
As we all know it can be very tiring if you don't have the correct gear for the job in hand, so this nice addition of a shoulder strap is most welcome.
Once the job is done you can pack the pole saw neatly away in the supplied carry bag, this makes it easy to carry about or ideal for storing the pole saw away until the next time you need it.
Again, as with the other picks, you get the very useful option of attaching various heads to help with other yard or gardening jobs.
This great quality pole saw is backed by a 12 month warranty. A 24 hr support service is available and in case you have any difficulty in assembling your new pole saw, there's an available video to help you out.
What We Like:
Adjustable Head – Great for different cutting options, rotating from 90 to 180 degrees, making it a very useful and versatile pole saw.
Lots Of Cutting Power – Powerful enough to cut through the toughest of branches, up to an incredible 10 inches thick is possible.
Super High Reach – Possible to work at heights of up to 15 feet, supplied with an adjustable pole that extends from 8.2 ft to 11.4 ft and a 3.6 ft extension pole.
Check the latest price on Amazon.
Best All Rounder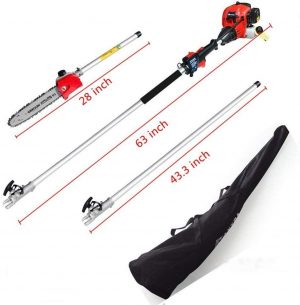 Powerful 42.7cc 2 stroke engine that features an easy start system to get you working quicker. Great for cutting thick, high-level branches.
This Maxtra pole saw is a great all-rounder, fitted with a big cutting capacity 10 inch bar and a big powerful 1100w, 42.7cc 2 stroke gas engine that gives this gas pole saw great cutting power.
This engine also features an easy start system that enables the engine to spring into life within 3 to 4 pulls on the pull starter. When the engine is up and running and ready for use it has an engine speed of 7500 rpm and an idling speed of 3000 rpm.
As with all power tools that emit noise it's always best to put safety first, always use appropriate ear protection along with your other essential safety gear. This pole saw has a noise level of 91 decibels when in use, so ear protection is a must.
There's a 500ml capacity fuel tank that's easily accessible, which is great for when you need to refill the fuel tank up if you've been working long and hard.
The big 10 inch bar is capable of cutting through branches up to 8 inches thick, and as for reaching those high up branches there's a trimming height of between 8.2 and 11.4 feet possible using the adjustable pole.
With a no load weight of 16.5 lbs and a gross weight of 21 lbs, this gives a real solid feeling to this pole saw. Moving the pole about while you tackle those high branches is made easy with the help of the anti slip hand bar and shoulder strap, which also helps to reduce user fatigue.
Keeping everything all together after the job has finished comes courtesy of the included carry bag, it's just perfect for transporting the pole saw to the next job or equally as good for use to store the saw away until the next time it's needed.
What We Like:
Powerful Motor – 42.7cc engine supplies all the power you need for cutting through branches up to 8 inches thick.
Nice Balanced Weight – An included shoulder strap and anti slip hand bar ensures easy maneuverability of the machine while working.
Strong Pole – Tough and durable the pole is 26mm in diameter, giving plenty of support to the pole saw.
Check the latest price on Amazon.
Frequently Asked Questions
What is a pole saw for?
A pole saw can be used for trimming tree branches, large shrubs or bushes or other thick limbed vegetation. Tree branches that would normally be quite difficult to trim, because of how high up they are, are easily accessed with the use of a pole saw.
Pole saws can be either gasoline, electric, battery or plain old human powered, so depending on your own requirements it's easy to choose one that best suits your needs.
Some pole saws can reach up to 15 feet or more in some cases, which means that the use of step ladders is not required.
We all know what a nuisance it is when we are working on step ladders, you complete a section then you have to get down from the ladders, put the tool down, move the ladders to the next section, pick the tool back up, climb the ladder…
None of that with a pole saw, with both feet securely planted on the ground while you work. You have the freedom to move around freely when you need to, without having the additional hassle that using step ladders brings.
How long can a pole saw reach?
A pole saw length can be as long as 15 feet, or more in some cases. What you need to ask yourself is, what is the highest branch that I need to trim in my yard? Then buy a suitable pole saw that can work at the required height.
Pole saws can usually be adjusted to various working lengths thanks to the clever pole design. For example, a pole saw may have an adjustable pole that can be adjusted from 8.2 ft to 11.4 ft.
This gives numerous working height options, and if there is an additional extension pole included, for example, 3.6 ft, then you could attach this extension to the adjustable pole length of 11.4 ft, and this would then give you a possible working height of 15 feet.
What safety gear should be worn when using a pole saw?
Essential safety gear that should be worn when using a pole saw includes:
Head protection.
Ear protection.
Eye protection.
Hands protection.
Feet protection.
Suitable clothing should also be worn, nothing too tight or too baggy that might hinder your movements while you are working.
How much do pole saws weigh?
Pole saws vary in weight due to the type of power used to run the pole saw motor. The heaviest pole saws are usually gas powered, and can weigh up to 24 lb for the more powerful motor types.
Electric pole saws can also pack a bit of weight, with some models reaching the 15 lb mark. Not as powerful as a gas pole saw in cutting terms, the electric pole saw is always going to need an electrical power outlet close by to enable you to work.
Cordless or battery powered pole saws offer the lightest choice, but of course, this all depends on the battery size chosen to keep the pole saw working. Batteries with a high amperage tend to be heavier and so these cordless pole saws can weigh up to 14 lbs with a high quality battery pack installed.
Can you cut a hedge with a pole saw?
A pole saw is best suited for cutting thick tree branches or thick stemmed vegetation, not thin stemmed branches that you get with hedges.
Most pole saws have the ability to swap their cutting heads to allow for different cutting or trimming uses. Cutting head attachments include, amongst others an edger, blower, brush cutter, cultivator and hedge trimmer.
So it would be safer and more efficient to use the correct attachment for the selected job in hand.
Other Worthy Mentions
These gas pole saws didn't make it into our top picks section, but we think they are definitely worth a mention.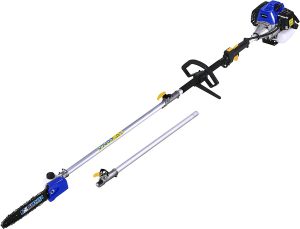 BLUE MAX 53542 32.6 cc Gasoline Pole Saw
The Bluemax 32.6cc gas pole saw is perfect for keeping that yard in order.
A safety automatic clutch makes for easier startup, and with a built in anti vibration system that ensures comfort while working, you're all set to get going.
Key Features:
10 inch bar and chain for maximum cutting capacity.
Fuel primer, removes air from the carburetor for easy starting.
A nicely balanced pole saw that Weighs in at 21.9 lbs.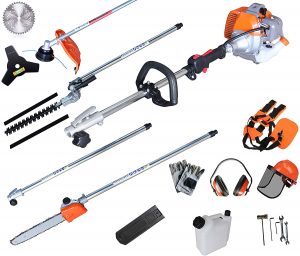 PROYAMA Powerful 42.7cc 5 in 1 Multi functional Trimming Tool
This pole saw has everything you need to get that yard looking great.
This multi function trimming tool, can be used as a trimmer, Hedge trimmer, String trimmer, Brush cutter and of course, a Pole saw.
Key Features:
42.7cc powerful engine, provides lots of cutting power.
Safety gear includes ear defenders, face shield and gloves.
43 inch extension pole helps you to reach those high up places.

SENIX CSP4QL-L 26.5CC 4 Stroke Gas Powered Pole Saw
An 8 inch bar and chain combined with a powerful 26.5cc 4 stroke engine gives this pole saw real cutting strength when it comes to tackling thick branches.
Key Features:
Auto chain oiler, keeps the cutting chain lubricated.
Big reach, this pole saw can reach the dizzy heights of 15 feet.
Includes a shoulder strap for added comfort.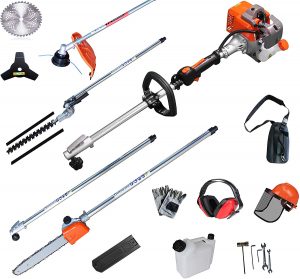 PROYAMA 26cc 5 in 1 Trimming Tool
This 5 in 1 multi tool kit will get all those yard tasks completed in double quick time.
Key Features:
26cc 2 stroke gas engine provides the power to get those jobs done.
Easy starting system means you're up and running quickly.
Safety gear includes face shield, ear defenders, and gloves.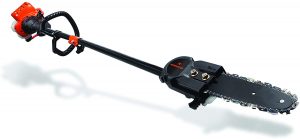 Remington RM2599 Maverick 25cc 2-Cycle 8-Inch Gas Pole Saw
This super popular gas pole saw enables you to work at heights up to 12 feet.
Those branches that you've been after for so long are now within your reach.
Key Features:
Auto oiler keeps the cutting chain perfectly lubricated.
Comes with a 7 foot extension pole for those high up jobs.
Accepts other head attachments making it a very versatile tool.