Scaffolders are a tough breed, that's for sure, their job requires a lot of physical strength and a high degree of fitness and of course, the best scaffold ratchet for the job in hand.
We've all seen those guys when they are unloading the heavy scaffolding from their trucks, balancing the scaffolding poles or scaffolding planks on their shoulders, carrying them to the job site, they make it look easy, don't they?
One thing for sure though, it certainly isn't easy and experience is what counts in the construction industry. Knowing your strengths and limitations is key to working safely and that goes for any job that you do, from home remodeling to full scale refurbishment projects, we all need to work safely.
Scaffolders work at height most of the time, on various types of scaffolding systems, they wear safety harnesses to stop themselves from falling to the ground in the event of a slip or trip while they are working.
These professionals are doing a highly skilled job and for that, they need the best tools available to help them do that job.
The main use of a scaffolding ratchet is to help ensure the stability and safety of a scaffolding structure. When building a scaffold, it is critical to secure all of the components in place, to prevent them from moving or shifting during use. A scaffolding ratchet can be used to apply a precise and adjustable amount of tension to the scaffolding, which helps to keep it stable and secure.
We've taken a look at the best scaffold ratchets out there, and reviewed them for you so that you can decide for yourself which one best suits your needs and requirements.
If you'd prefer the power tool option of using an impact wrench for your scaffolding work, then check out my review of the best one's to go for.
The Best Scaffold Ratchets Reviewed
Click on the link below to jump to each section
Our Top Pick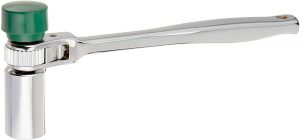 This scaffold ratchet has been designed, engineered, and manufactured entirely in the USA by the Wright Tool Company, they have been producing top quality hand tools since 1927.
The production technique uses Wright alloy steel, with precision heat treatment techniques which ensures a durable and extremely tough product that's built to last.
This nicely weighted 1.59 lbs, steel pear head 1/2 inch drive scaffold ratchet with contour handle, also features a soft face hammer head single pawl and has an overall length of 10 1/2 inches.
The Wright scaffold wrench is the perfect size as it enables you to apply plenty of leverage whenever tightening or loosening is required.
And with a 3 1/4 inch swing arc and 30 teeth (1 15/16 inch diameter) you have a tool that is definitely fit for purpose and ready the toughest of jobs, no matter what the environment is like.
As we mentioned before, this is a high quality tool and it goes without saying that it meets or exceeds ASME B107.110 standards.
So confident in their product, the Wright Tool Company includes a lifetime warranty with this scaffold ratchet.
What We Like:
Top Quality Product – Made by the Wright Tool Company in the US, they have been manufacturing top quality hand tools since 1927.
Meets The Highest Standards – This scaffolding ratchet meets or exceeds ASME B107.110.
Lifetime Warranty – That's how good this tool is, as long as you own it, it's covered.
Check the latest price on Amazon.
Runner Up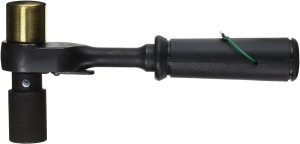 Williams BS-62 Scaffold Ratchet
This black Phosphate colored scaffold ratchet from Williams is a beast, not only does it look tough, it is tough. Built and designed for hard work it's definitely worth serious consideration and would be a great addition to your scaffolding tool collection.
Working in tight areas is something that goes with the job of scaffolding assembly and dismantling, but thanks to the 36 tooth gear with 10 degree of engagement it's no longer a problem if you are using this scaffold ratchet.
Featuring a 1/2″ drive with pinned 7/8″ 6 point socket, the socket incorporates a system called supertourque lobular opening which allows the user greater turning power without the problem of deforming or damaging the fastener.
As you can see from the picture this black Phosphate scaffold ratchet which measures 9.2 x 4.3 x 1.3 inches features a bronze hammer head, the reason for the use of bronze is to reduce hammer rebound when being used.
We said this tool was strong and we meant it, it weighs in at 2.52 lbs and when you get used to this weight there'll be no going back to a lighter tool. The handle gives a really firm feel and offers excellent grip to the user.
Socket direction change is quick and easily achieved by just a flick of a lever. Also included is a tethering device which is attached to the handle, that's something that should always be on the must have list when looking to buy a scaffold ratchet.
What We Like:
Strong Construction – Built for tough work.
Bronze Hammer Head – Reduces hammer rebound.
Nice And Heavy – At 2.52 lbs it may seem heavy but when you get used to the weight, you'll love it.
Check the latest price on Amazon.
One To Consider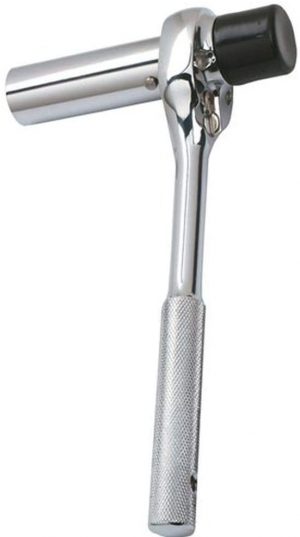 The Stanley Proto scaffold ratchet is a solid piece of kit, great for everyday use and definitely one worth adding to your tool kit.
This strong 10 x 5.6 x 1.8-inch tool weighs in at 2.17 lbs and incorporates a 1/2-inch drive where the socket is retained with a through-hole and pin for safety. There is also the essential hole in the ratchet handle so that a safety tether strap can be attached too.
The lower part of the handle provides a good gripping surface, great for when you need to add some force when working.
And as for the times when those fasteners and fixings need a bit of a tap, the hammer tip helps to reduce vibration and will help to protect the fasteners and fixings against distortion.
What We Like:
Great For Everyday Use – This is a great performer, you can use it every day, that's what it was made for.
Solid And Packs Some Weight – We all know that weight is good when you are using a tool for tightening and loosening fixings.
Safety Features – A absolute must when working at height is to make sure your tools can be attached to a safety strap, this has that option as well as having the socket retained with a through-hole and pin for added safety.
Check the latest price on Amazon.
Best for Safety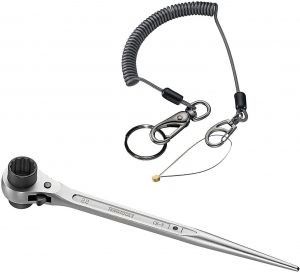 Safe working in any job is vital, not only to your own health but to other people's health too. A combination of working at height and using tools needs a high degree of safety that's for sure.
We all drop things from time to time, usually only a few feet to the floor, but when working at height on scaffolding if you were to drop a tool such as a wrench, there's a possibility that it could hit someone below and cause serious injury to them.
The 3KG rated safety wire stretches from 430mm to 1.6 meters and can easily be attached to the tool via the hole in the shaft and to your tool belt or other suitable anchor point.
Let's take a look at the ratchet itself. This PGW1922 ratchet / Podger combination features a double ended socket suitable for 19mm and 22mm applications, it's also compatible with 3/4 and 7/8 sizes too.
Lengthwise this ratchet measures 12.5 inches, and with a comfortable working weight of 1.15 lbs which is plenty long enough and heavy enough to get strong leverage when you need to.
This top quality scaffold ratchet / Podger tool comes with a lifetime warranty, which goes to show just what a well constructed robust tool it is.
Check the latest price for just the Teng Tools 19mm X 22 mm ratcheting Podger scaffolding wrench PGW1922 without the safety wire bundle.
What We Like:
Included Safety Wire – Includes a safety wire that easily attaches to the tool shaft, enabling you to secure the other end of the wire to a suitable anchor point.
Lifetime Warranty – You know when a product is exceptionally good because you get an exceptional warranty.
Good working weight – Not only is this ratchet a good working length, it also has a good working weight to it as well, ensuring plenty of leverage is possible when it's needed.
Check the latest price on Amazon.
Best Bang for Your Buck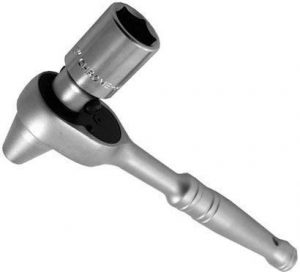 The ratchet features a 7/8 inch socket with a 1/2 inch drive on one face and on the other face has a hammer tip for when you need to give things a bit of persuasion, shall we say.
Weight wise, this scaffolding ratchet multi tool is spot on at 2.05 lbs. And as we've already mentioned in the previous review, the weight really is important when you want to give you that extra bit of leverage.
The old school reference really does fit the description of this tool, nothing fancy just a tool that will do the job and that will last the test of time.
You get the modern day requirements of course of the hole in the tool shaft so that a safety wire can be attached.
This scaffold tool really will give you bang for your buck that's for sure, and it certainly won't mean breaking the bank to buy it either.
What We Like:
Great Weight – Yes it might be one of the heavier scaffold tools around but that's not a bad thing.
No Frills Tool – Tightens, loosens and hammers that's what it does, and it's good at it too.
Bang For Your Buck – Lower end of the price range for this tool, but still great value for money.
Check the latest price on Amazon.
Best Open End Ratchet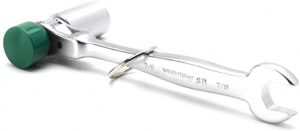 This top-quality scaffolding tool is made entirely in the USA. From the initial design and engineering to the forging and finishing, all the work is carried out in the Wright Tool premises in Ohio.
The Wright Tool 4488 is in fact 3 tools in one, you get the 1/2 inch drive, 7/8 inch scaffold ratchet which is perfect for tightening and loosening those nuts, bolts, clamps, and fasteners.
You get a really useful soft-faced, non-sparking interchangeable plastic hammer, great for when you're fitting fasteners and clamps.
And you also get the 7/8 inch open end scaffolding spanner which is located on the opposite end of the handle, this open-ended wrench is great for getting into those really tight, awkward places where you just can't get that ratchet head in.
Incorporated along the tool handle is a lanyard ring for attaching tool spiders, this safety addition is something that we always like to see and is an absolute must have feature for all working at height tools.
As you'd expect this well balanced, precision-made 12 inch x 6 inch x 3 inch scaffold tool weighing 2.05 lb meets/exceeds all ASME B107 hand tool standards.
When you buy a Wright Tool, you are buying a tool for life, and that's exactly what you get with this open-end scaffold ratchet tool, a lifetime warranty.
What We Like:
Multi-function Tool – 3 tools in 1 to help you carry out your scaffold work.
Highest Quality – Made entirely in the USA, from the design stage through to the production line.
Lifetime Warranty – This tool is for life, it's that good.
Check the latest price on Amazon.
Best Budget Option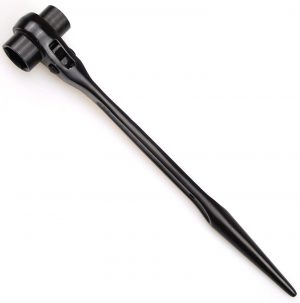 Made from CR-V steel, this 19 / 22 mm ratchet features a tapered shaft to help with the lining up of bolt holes in scaffolding.
Suitable for garages, workshops, auto part centers, carpentry, and numerous other workplaces, this affordable ratchet tool will make a handy addition to your tool collection.
What We Like:
Affordable Price Range – In the budget price range so it's affordable, and a useful tool, but don't expect this to last as long as our previously reviewed scaffold ratchets.
Check the latest price on Amazon.
Frequently Asked Questions
What is a scaffold ratchet?
A scaffold ratchet is a tool used to help assemble or dismantle scaffolding. Used to tighten and loosen nuts and bolts, the ratchet system technique enables tightening or loosening using short twists or turns of the scaffold ratchet. This is extremely useful when working in tight or hard to access places.
The most common ratchet size is 7/8 inch with a 1/2 inch drive.
Also sometimes incorporated into the ratchet tool is a hammer and a pry bar to help line the holes up in the scaffolding bars prior to inserting the bolts.
What is the hole for in a scaffold ratchet handle?
Scaffold ratchets, as the name implies are mostly used in the erection of or dismantling of scaffolding. As scaffolding is usually associated with working at height, then certain dangers are introduced.
Assembly of any structure will inevitably mean the use of power tools and hand tools, and in the case of building up a scaffolding system, these tools will, in some cases be used high above ground level. This is where working safely is most important.
From time to time we all lose our grip on whatever it is we are holding and that item drops to the floor, usually only falling a couple of feet to the ground at most.
But take working high up in the air on a scaffold for instance and you accidentally let go of your scaffold ratchet. Chances are that if it falls down and hits someone, then it could cause them serious injury.
That's where the hole in the tool shaft comes in, safety wires can be bought that enable you to attach the tool via the safety wire to an appropriate anchor point.
This means that if the tool is dropped then it only falls a short distance and is stopped from falling further due to the short length of the safety wire.
Why do scaffold ratchets have a hammer head option?
A scaffold ratchet is used in a work environment that sometimes requires a lot of physical strength to do do the job.
Scaffolding structures have to be solid, stable and most importantly, safe. When assembling or dismantling scaffolding systems it's sometimes necessary to use a hammer to tighten or loosen, for example, a coupling.
Most ratchets have a metal hammer option although some ratchets have a rubber faced hammer option which will certainly mean less chance of causing damage to the scaffolding system but will certainly mean less force is being applied when striking compared to the use of a metal faced hammer.
Why do scaffold ratchets have a tapered end?
Scaffold ratchets usually have the ability to perform more than one task when it comes to assembly or dismantling of scaffolding systems.
These scaffold ratchets are really best described as a multi tool, yes they are used for the tightening and loosening of nuts and bolts on a scaffold system. They also sometimes have a hammer head incorporated into the design as well.
The majority of scaffold ratchets have a tapered handle/shaft to assist in the lining up of bolt holes in the scaffold system. The tapered end inserted into a hole that isn't quite lined up helps to easily adjust the hole so that it will accept the scaffolding bolt or clamp.
Other Worthy Mentions
These scaffold ratchets didn't make it into our top picks section, but we thought that they were still worth a mention.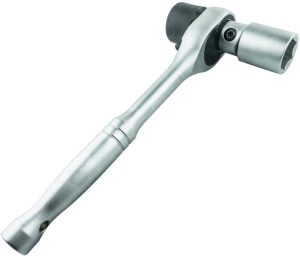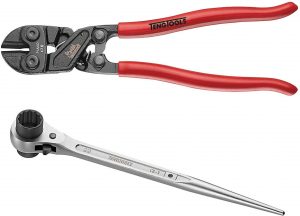 Teng Tools Scaffolding Podger Wrench 19 x 22 and 8 Inch Mini Bolt Cutters Bundle
Handy scaffold wrench, Podger bundle including an 8 inch bolt cutter.
Key Features:
19 / 22 mm scaffolding ratchet by Teng Tools, quality guaranteed for a lifetime.
Wrench hole in the shaft to enable the attachment of a safety lanyard when working at height.
8 inch bolt cutters, strong and a useful addition to your tool collection.

3/4″ x 7/8″ Dual Socket Spud Ratchet Wrench
This budget priced spud ratchet scaffold wrench from Magnum Tools offers real value for money.
Key Features:
3/4 and 7/8 inch ratchet system.
Tapered shaft for help in lining up bolt holes.
Strong steel construction.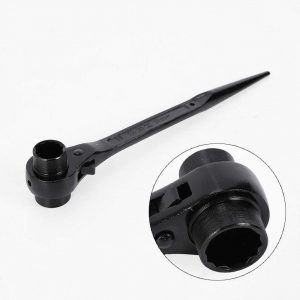 WUPYI 3/4″ x 7/8″ Dual Socket Spud Ratchet Wrench
A very useful addition to your tool collection, strong chrome vanadium construction scaffold spud ratchet.
Key Features:
Tapered handle to help line up bolt holes.
Weighs 1.25 lbs.
Heat treated for added strength.