If you are a professional ice hockey player, amateur player or someone that just loves to ice skate, you'll know how important it is to make sure your skates are well maintained, so that they perform as you'd expect them to on the ice.
Skate sharpeners are tools that are used to sharpen the blades on ice skates. They are typically electric or manual devices that use abrasive grinding wheels or honing stones to sharpen the blades. The use of a skate sharpener can help extend the life of a pair of ice skates and improve their performance on the ice.
Over time, the blades on ice skates can become dull and lose their edge, which can make them less effective for cutting into the ice. By using a skate sharpener to regularly sharpen the blades, you can help keep them sharp and maintain their performance for longer.
When the blades on your skates are sharp, they are able to cut more effectively into the ice, which can improve your speed, agility, and overall performance on the ice. This can be especially useful for competitive skaters, who need to be able to skate at their best in order to succeed in their sport.
Sharp blades ensure cleaner movement through the ice, which essential for game players that need a stable blade to ice connection so that hockey stick and puck control flow naturally.
Ice skating is great fun, whether it's for leisure or ice hockey training with the practise nets at your local ice rink or maybe even on synthetic ice tiles at home, the best way to keep those skates moving freely is to make sure that they are regularly sharpened.
Skate sharpeners come in all shapes and sizes, we've taken a look at the best ones available and reviewed them for you, so that you can decide for yourself which one would best suit your needs.
The Best Skate Sharpeners Reviewed
Click below to jump to each section
Best Automatic Skate Sharpener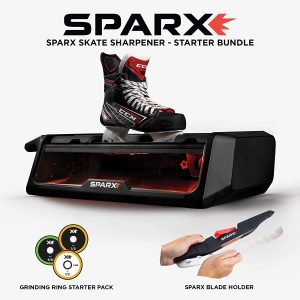 The ES 100 skate sharpener from Sparx Hockey is the perfect choice for keeping those blades sharp and keeping you moving.
The automated sharpening process gives you pro level accuracy, meaning no more dull blades slowing up your game.
This is a must have machine for those of you that want to spend more time on the ice instead of off it.
We've all been there, waiting around at the local ice rink to get your blades sharpened when all you really want to do is get on the ice, not forgetting how expensive it can be to get those skates sharpened, all those sharpening sessions soon add up.
With this skate sharpener, you really can use it anywhere, it's compact and portable, so as long as there is an electrical power outlet for you to plug the machine into, then you'll be able to get sharpening those blades.
You don't even need to remove the blade from the boot to sharpen it either. As as for those brand new skates, for their first sharpening just set the machine to 10 cycles and you'll get a perfect edge result.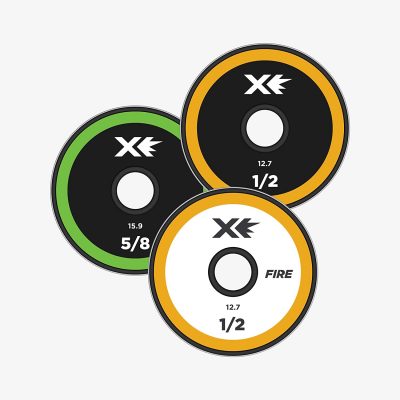 Supplied with everything you need to start sharpening right out of the box.
You get the Sparx skate sharpener ES 100, the Sparx grinding ring starter pack which consists of a 1/2″ and a 5/8″ hollow and also included is a 1/2″ FIRE flat bottom hollow too.
Also included is an additional blade holder, this allows you to sharpen removable steel that isn't attached to the skates, such as edge steel.
This is a great skate sharpening tool to have and a lot of people think so too. Many ice rink operators, retailers, teams, families and individuals use this system to keep their blades in top condition.
At present, there are more than 25 national hockey league teams, and every team in the national women's hockey league that use Sparx to sharpen their blades.
What We Like:
Pro Quality Sharpener – This is an automated sharpener, you'll get professional results every time.
Compact And Portable – A great sized machine, so that transporting it from one place to another is a breeze.
An Essential Piece Of Equipment – This really is a must have machine for teams, families, and individuals that spend a lot of time on the ice and need to keep their blades sharp.
Check the latest price on Amazon.
Best Manual Skate Sharpener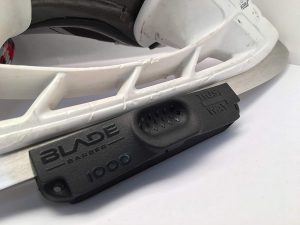 You'll be amazed at the results you get from this manual blade sharpening tool from Blade Barber.
This thing is quick too, you can sharpen skates in around a minute, which means more time spent on the ice.
This manual blade sharpener is available in the most popular hollows –
1/2 inch with 6.6 degree bite angle
1 inch with a 3.3 degree bite angle
3/4 inch with a 4.4 degree bite angle
5/8 inch with a 5.3 degree bite angle
7/16 inch with a 7.5 degree bite angle
9/16 inch with a 5.9 degree bite angle
11/16 inch with a 4.8 degree bite angle
So whatever your preferred choice, there's a Blade Barber to suit your needs, and all it takes is 3 to 4 passes along each edge to complete the sharpening process.
This tungsten carbide blade sharpener, measures 3.7 x 0.7 x 0.9 inches and works on all blade types and thickness. The way it works is to actually remove steel from the blade and in doing so sharpens the blade, so it's not a tool to be classed as just an edge touch up tool, it's a proper blade sharpening tool.
For those of you with black steel blades, this is great for your blades too as the steel is only shaved in the hollow and not the sides, so your black blade finish won't be touched.
Not recommended for new blade sharpening, this tool is expected to be able to sharpen around 25 to 30 pairs of skates before the tungsten carbide blade is worn out. The tungsten carbide blade isn't replaceable so a new unit will need to be purchased once the sharpener has dulled.
What We Like:
Great Quality Manual Sharpener – This blade sharpener gives great results and will keep you skates running smoothly for up to 30 sharpening sessions.
Tungsten Carbide Sharpening Blade – Great sharpening results from this super strong tungsten carbide blade sharpener.
Great For Black Steel Blades – The steel is only shaved from the hollow and not the sides of the blade, so your black blade finish won't be touched at all.
Check the latest price on Amazon.
Best Pocket Sized Skate Sharpener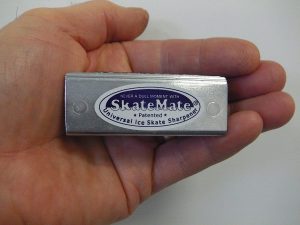 SkateMate patented handheld Ice Skate Sharpener
This pocket sized blade sharpener is perfect for keeping those blades in shape. So whenever you feel those skates starting to slow up, give them a conditioning with this handy sized sharpener.
This compact and very easy to use blade sharpener can be kept in your pocket so that you always have it with you when you skate.
The self aligning sharpener adjusts to fit any blade size, the abrasive cylinder reshapes itself to fit hollow ground, or flat blades automatically and it shapes itself to the ROH of the blade that is being sharpened.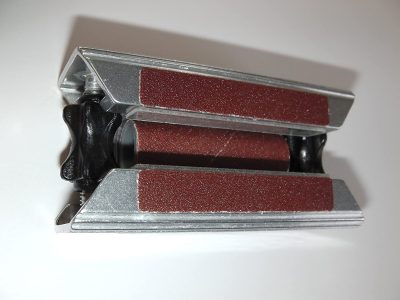 A deburring strip helps to give a perfect honed edge to the blades.
As we know blade edges can dull easily after only a short time on the ice, so keeping the edges sharp is essential to smooth skating control and speed.
What We Like:
Pocket Sized – Keeping it in your pocket means that you've always got it handy for when you need it.
Deburring Tool – Sharpens and deburrs to keep those edges clean and smooth.
Self Aligning – This blade sharpener self aligns to ensure the best sharpening is achieved.
Check the latest price on Amazon.
Best Bang for Your Buck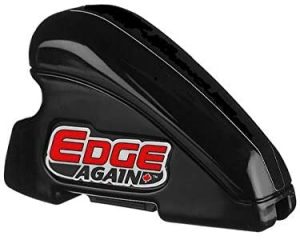 The Edge Again unit is a self aligning sharpener, it aligns on to the blade, allowing the unit to recondition both the inside and outside edges at the same time quickly.
This 7.7 inch x 7.7 inch x 1.5 inch unit is designed to last for around 20 pairs of skates sharpening sessions, this, of course, depends upon how much sharpening is required in each case.
The blades hollow or radius are not affected by the sharpening process, just the four sides are sharpened automatically to repair the inner and outer edges.
What We Like:
Bang For Your Buck – Great value for money, great for keeping your blades conditioned for around 20 sharpening sessions.
Fast Sharpener – When you get used to it, you can sharpen those skates in just a few seconds.
Keep Your Skates On – No need to remove your boots to get the blades sharpened.
Check the latest price on Amazon.
Best Budget Option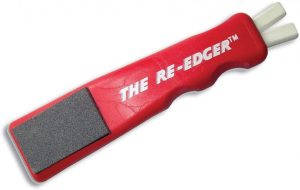 This hand held blade sharpener features ceramic steel and a honing stone to get those skates back in shape. It's never going to replace the need for a regular sharpen up at your local skate shop, but it will keep those blades sharp in between visits.
What We Like:
Simple To Use – Sharpen and hone those blades with ease.
Compact Size – Small enough to keep with you for quick sharpening sessions.
Impressive Results – It may be the budget choice, but great results can be achieved using this sharpener and edging tool.
Check the latest price on Amazon.
Frequently Asked Questions
When you buy new skates are they already sharpened?
When you buy brand new ice skates you will need to get them sharpened, brand new blades are not sharpened. The first sharpening is very important so it's best to get them sharpened at your local ice rink or sports store if they have the equipment to do it.
Can ice skates cut you?
Ice skates most definitely can cut you, especially if they have been recently sharpened. When you look at ice skate blades you may think that they appear to be flat, but if you look carefully you will notice that there is a hollow cut that travels the full length of the blade. This cut creates a sharp edge on either side of it, sharp enough to cut you.
Can you skate on dull blades?
It isn't a good idea to skate on dull blades, when blades are dull you will find that even basic maneuvers become very difficult to carry out. Take pushing off for example, when you apply the downward pushing force you will most likely notice that your skates will slip.
What happens if you don't sharpen your ice skates?
Ice skate blades that are not sharpened regularly will become dull, the usually sharp edges of the skate blade will round off. Rounded blade edges will seriously affect the users ability to skate properly, dulled blades are not able to cut into the ice as effectively as sharpened blades.
Other Worthy Mentions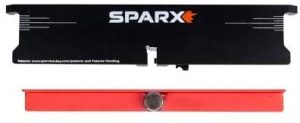 This machine will test to see how even your edges are and sharpen them with professional accuracy.
Key Features:
Measures height differance down to .001 of an inch.
Hardened steel wear plate.
Portable and easy to set up.

Skate Sharpener for Ice Hockey Skate
This handy skate sharpener works on all types of skates, just a couple of swipes with this tool will soon have your blade edges sharp again.
Key Features:
Works for goalie skates too.
3 year warranty.
Full maintenance kit.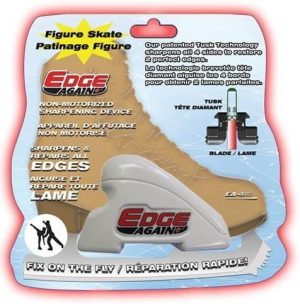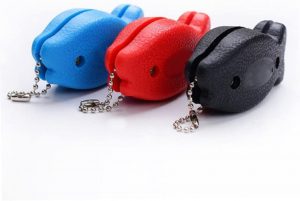 Linkin Sport Ice Skating Edge Blade Sharpener
Available in a choice of red, blue and black colors these fun edge sharpeners will keep your blades in shape.
Key Features:
Choice of colors.
Sharpening and deburring stone.
Long life use.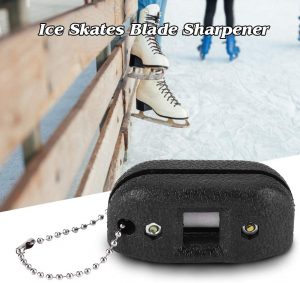 Bnineteenteam Ice Skate Edge Blade Sharpener
Compact and easy to use, keep it with you when you visit the rink so that you can give those edges a refresh.
Key Features:
Weighs only 40 g.
Adjustable for different blade widths.
Suitable for ice hockey, figure skate and goalie blades.