If you are looking for the best wood rasp to add to your woodworking tool collection there are plenty of options available, but not all wood rasps are equal when it comes to producing professional-looking results.
A wood rasp is a type of hand tool that is used for shaping and smoothing wood. It consists of a handle attached to a series of sharp, jagged teeth made of hardened steel or tungsten carbide.
The user holds the rasp in their hand and uses the teeth to remove small shavings of wood from the surface of the workpiece. This allows them to shape the wood into a desired shape or form, and to create a smooth, even finish on the surface.
Wood rasps are typically used in carpentry, woodworking, and other crafts where a high level of precision and control is required. They are often used in conjunction with other hand tools, such as chisels and files, to create intricate details and fine finishes.
Woodworkers love collecting tools to help them with their woodworking jobs, essential tools like a jack plane to get the project piece started or a smoothing plane for the finishing touches, we all love to add tools to our woodworking tool collection.
For this review we've selected the best wood rasps based on value for money, build quality and most importantly being able to get the job done to a satisfactory standard.
So if you are a cabinet maker, carpenter, joiner or an enthusiastic DIYer that likes to work with wood and wants their woodworking tasks to look their best, you'll know how important it is to have the best woodworking tools for the job in hand.
Only the best wood rasp models have been chosen so that you can decide for yourself which one is right for your needs.
Click to jump straight to each topic.
The Best Wood Rasps Reviewed
Best Wood Rasp

The Liogier 10 inch wood rasp takes our top spot for best wood rasp.
Great wood cutting ability for shaping and smoothing you woodworking jobs.
Classed as a number 11 stitching grain, (number 1 being the coarsest grain and number 15 being the finest) and featuring a wide profile.
This tapered wood rasp has a curved side and a flat side, making it a very versatile tool, ideal for rough shaping of the wood at the start of the project, and then smoothing the work piece when you want to get a more refined look.

This quality rasp is hand stitched and weighs 0.65 lbs, with an overall length of 15.4 x 1.5 x 1.4 inches.
If you are looking for a quality wood rasp to add to your woodworking tool collection then this wood rasp from Liogier is a great choice to go for.
What We Like:
Quality Wood Rasp – Quality tools are worth paying that little bit extra for.
Ideal For Detailing – Great for starting off your shaping work and also suitable for smoothing out work.
Good Weight And Size – With its wide profile, this nicely weighted and sized wood rasp could just be the tool you've been looking for.
Check the latest price on Amazon.
Best Saw Rasp

The Shinto saw rasp has one course side and one fine side to help you out with your woodworking tasks,
First off this is a very reasonable priced saw rasp offering real value for money. Designed with a course side for initial shaping and a smoother side for more finer detailed working.
This 9 inch saw rasp is made up of 10 hardened teeth saw blades, the blades are held together by rivets and designed to cut on the push stroke.
The actual design of the cutting teeth helps to prevent clogging and also helps when it's time to give the saw rasp a clean out.

This saw rasp hand tool weighs in at 0.44 Lbs and measures 14.05 x 2.8 x 1.2 inches.
If you are looking for an inexpensive saw rasp to help you with your woodworking tasks, then this is a great option to go for.
What We Like:
Very Affordable Tool – Certainly in the lower end of the price range for woodworking tools, offers impressive performance.
Double Sided – This saw rasp features a course side and a smooth side to help you out with various woodworking tasks.
Efficient Rasp – This tool can remove a lot of wood or just a little depending on what you want it to do.
Check the latest price on Amazon.
Alternative Saw Rasp
This saw rasp from Shinto enables you to change blades, or reverse blade direction.
This planer saw rasp has an offset handle that helps to apply leverage and also helps to control the rasp.
If your woodworking tasks require you to use multiple cutting blades then this could be a great alternative tool for you.
Blades used with this saw rasp can be changed quickly to help with differing woodworking requirements, so if you need a course cut for one job then a smooth cut for finishing then this rasp will be a welcome addition and a handy tool to have in your workshop.
Weighing in at 0.7 Lbs and measuring 16.05 x 5.5 x 1.7 inches (blade length 10¼ inches) this versatile planer type saw rasp features an offset handle which helps when applying working pressure and also helps with tool control.
What We Like:
Bang For Your Buck – Great value for money, this planer type saw rasp is low on price.
Nice Design – The off set handle allows you to change cutting blades or swap blade direction.
Super Sharp Blade – Look after this tool and it should last you a long time, comes with a really sharp blade.
Check the latest price on Amazon.
Best Handle Maker Rasp

This wood rasp has been designed for a specific type of woodworking job as the name suggests.
The handle maker wood rasp is a speciality tool and although it can be used for various woodworking jobs, its intended primary use is for the making of handles.
The Liogier 6 inch handle maker wood rasp is perhaps not a woodworking tool that everyone is familiar with, but once used for its intended purpose you will see why it is an essential hand tool to have in your tool collection.
This fine cut handle maker wood rasp is rated at 12 grain, what this refers to is the coarseness of the rasp. The grains are numbered from 1 through to 15, number 1 being the coarsest cut while number 15 being the finest.
Weighing 0.35 Lbs and measuring 10.2 x 1.5 x 1.4 inches this is a quality wood rasp that certainly should be included in your workshop woodworking tool collection.
What We Like:
Speciality Wood Rasp – This handle maker wood rasp, maybe a speciality hand tool, but add it to your tool collection and we're sure you'll find plenty of uses for it.
Rated 12 Grain – This is a 12 grain rated, that means that you will get a fine cut from this handle maker wood rasp.
Speciality Wood Rasp – Speciality tools usually come with a higher price tag, and this rasp may seem expensive, but it has been designed to do a specific job, and it does that job very well.
Check the latest price on Amazon.
Best 3 Piece Rasp Set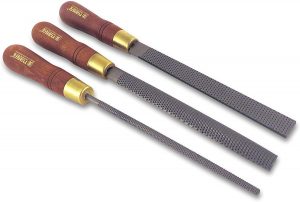 If you are looking for a set of wood rasps then this 3 piece set from Narex is certainly worth considering.
Ensuring even stock removal these blades are CNC stitched, to produce a uniformed cutting tooth pattern for efficient working.
This 16 teeth per square centimetre course cut wood rasp set consists of 3 rasps, you get,
1 X 0.315 inch (8mm) round rasp
1 X 0.787 inch (20mm) wide rectangular rasp
1 X 0.787 inch (20mm) wide half round rasp
The overall length of the rasps are 13.583 inches (345mm) with the handles measuring 5.709 inches (145mm) blades measuring 7.874 inches (200mm).
What We Like:
Nice Quality Rasp Set – This course cut wood rasp set certainly looks the part and would be a great addition to anyone's woodworking tool collection.
Check the latest price on Amazon.
Best Rat Tail Wood Rasp

This quality rat tail wood rasp is the perfect choice for woodworking tasks such as enlarging holes, working on spindles, and shaping timber.
The Liogier 8 inch rat tail wood rasp is our top pick here and for good reason, graded at 12 grain, which is classed as giving a fine cut (number 1 being the coarsest cut through to number 15 which is classed as being the finest cut).
Quality is what we like to see, and this hand tool is quality. This hand-stitched rasp weighs in at 0.319 lbs and has an overall size off 12.45 x 1.45 x 1.2 inches, it's the perfect choice for fine detailed woodworking jobs.
As with all woodworkers you've probably already got a round wood rasp in your tool collection, but like we always say, you probably have room for one more. This is one tool that should be included in your workshop tool collection.
What We Like:
Fine Cut – Great for detailing work, with the tapered round wood rasp stitched right up to the tip.
Check the latest price on Amazon.
Other Worthy Mentions

This is a 9 grain cabinet rasp and is suitable for working on hollow shapes and also for preparing flat wood surfaces.
Key Features:
Medium coarse cut.
Long tapered rasp.
Features a convex side and a flat side.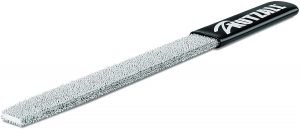 Kutzall Original 8″ Flat Hand Rasp
This carbide coated rasp is a versatile tool, suitable for use on surfaces such as wood, plaster, wallboard, and fiberglass and many more.
Key Features:
Multi direction cutting tool.
Soft grip handle.
Course graded.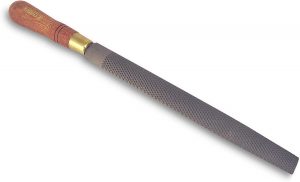 Narex 12″ Half Round Wood Rasp
Graded as coarse cut this half round rasp for working on wood has a blade hardened to RC 45 standard.
Key Features:
CNC stitched uniform tooth pattern.
10 teeth per square centimeter.
Overall size of 2 x 13.5 x 1.5 inches.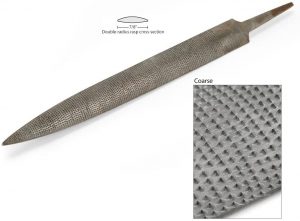 Perfect for shaping and contouring, this coarse graded wood rasp is handcrafted.
Key Features:
Rasp teeth are individually hand-struck on both sides of the rasp.
Sized at 7 inches in length by 7/8 inch wide.
Double radius rasp.
Frequently Asked Questions
What does a wood rasp do?
A wood rasp is a hand tool used by carpenters, joiners, and cabinet makers as well as DIYers that like to work with wood. It is used in woodworking to shape or rough out timber.
Types of wood rasp include half-round, rectangular, and round, they are generally made from hardened steel with individually cut teeth.
How does a wood rasp differ from a file?
A rasp is generally used in woodworking, whereas a file is usually used when working on metal.
If you were to use a file that is intended for metal work on a piece of wood, you will find that the files cutting teeth will soon clog up and become ineffective.
Wood rasps cutting teeth are designed differently to that of a file in the way that the teeth on a wood rasp are raised to a peak from the body of the metal shaft, allowing for wood shavings to clear easily.
How do you clean a wood rasp?
There are various ways to clean wood rasps teeth, to ensure that the hand tool is working correctly and efficiently.
One such method is to use a nylon bristle brush to clean any debris away from the teeth of the rasp. If this is done regularly then it will generally be enough to ensure that the rasp continues to perform well in its woodworking tasks.
Another method that I don't really favour is to clean the rasp with warm water, the theory being that the warm water soaks into the wood that is attached to the teeth of the rasp this then loosens the bits of wood debris and is washed out.
If you decide to use this method of using warm water then you must ensure that the rasp is completely dried off otherwise you will find that the rasp and its teeth will soon rust, and then the tool will be completely useless.
How do you sharpen a wood rasp?
There are two rules of thought when it comes to sharpening wood rasps, it is generally not something that can be achieved easily without specialist equipment simply because of the way the rasps cutting teeth are designed and positioned on the rasp body.
Number 1 option, you use the tool and maintain it by keeping it clean and only using it for its intended purpose. Then when you find that (hopefully after many years) that the tools cutting ability is diminishing, you decide that you've had your moneys worth out of the tool and it's time to buy a new one.
Number 2 option is to get the rasp professionally sharpened, there are many woodworking tool specialists that can do this for you, and most people that have this done often report that the tool is returned to them sharper than when they first bought it.
---
We hope this list of the best wood rasps has been helpful.
If there's anything good that you think we've missed, or if you have any questions about anything, then let us know down in the comments below.