Keeping your yard, garden, and walkways clear of fallen leaves is as we all know quite a task. It seems like as soon as you've finished and everywhere is looking neat and tidy, then the trees decide to throw some more leaves your way. In the past when all we had was a brush and shovel to gather those leaves up, it was a real chore.
Now though it's a whole lot easier to gather those leaves. With handheld and backpack gas leaf blowers, you can wander freely around your property gathering those leaves together. There's no electric cord restricting how far you can go which can be an issue with electric powered leaf blowers.
Best Gas Leaf Blower Reviewed
Best Gas Leaf Blower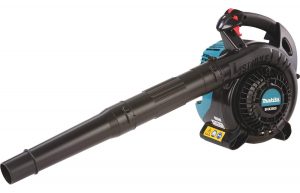 Makita BHX2500CA 24.5 cc MM4 4-Stroke Engine Blower
Before we get into the review I just want to say that this product doesn't let me link directly to it, so what you can do is click here or on any of the pictures and it'll be one of the first few products on that Amazon search page. Other reviewers appear to have avoided reviewing this one entirely, simply because of that. But let me tell you, it's absolutely the best choice out there.
Picking this Makita handheld Gas leaf blower as our top choice wasn't a difficult decision. You see, it's so much better than any other handheld gas leaf blower out there. In fact, you could say that it blows the competition away. Heh.
"So what's so good about this gas leaf blower? Aren't they all the same really?"
I'll tell you what's so good about it. And no, they aren't all the same. We're talking 4 stroke engines here – and that's the thing, you see, most of the handheld gas leaf blowers available today use 2 stroke engines, and because of that, certain problems arise.
To start with, the 2 stroke engine doesn't just run on straight unleaded gas like the Makita gas leaf blower does. Oh no. That would be way too easy. What you have to do with the 2 stroke engine is mix the gas with a specific amount of 2 stroke oil. This is where the majority of problems with 2 stroke engines start… or should I say… don't start.
The most common reason for 2 stroke engine failure is because of incorrect fuel mixture. This can cause, in the worst case, complete engine seizure. Other common problems caused by incorrect fuel mixture include, engines repeatedly cutting out, engines not running smoothly, and most common of all: not even starting.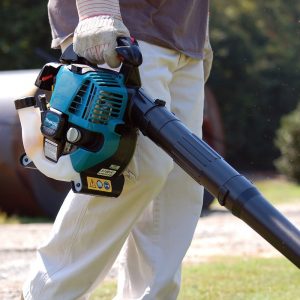 So, you're getting to see why we like the 4 stroke engine here, but we're not finished yet. There's way more to say about the benefits of the Makita 4 stroke engined gas leaf blower.
Let's talk about noise. The Makita 4 stroke engine is engineered to produce a lower engine noise output, and at just 67 decibels that is pretty amazing, it's on a similar noise level as a battery powered leaf blower.
Avoid the ones that don't even mention decibel levels in their write-ups. They're not telling you this for a reason.
Just as a comparison, take the Hitachi RB24EAP 23.9cc, 2 Stroke engined gas leaf blower as an example. It puts out an ear-splitting 96 decibels of noise.
"What was that you said?"
"I said it puts out an ear-splitting 96 decibels of noise!"
"What…"
Ok, so we know that we, of course, will have our ear defenders on when we are using the gas leaf blower, but hey, what about your neighbors or people walking by? You've gotta show a bit of consideration here.
Just to put it into perspective for you: Let's say for example you are are having a normal conversation with your best buddy. You'll be talking at a volume between 60 and 70 decibels. If you compare that to a big row with your ex-best buddy, where you're screaming and shouting at each other at full volume, then that's the difference between the two models here.
Over 85 decibels for extended periods of time can cause permanent hearing loss, so looking out for those decibel noise levels is a really important point to consider when choosing a gas-powered leaf blower. And, as we all know, it usually isn't just a five-minute job getting rid of all those leaves.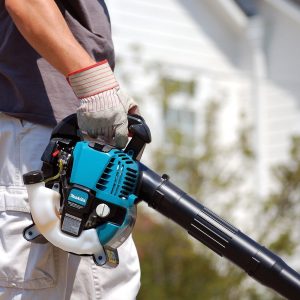 So, let's shift some leaves, Included in the package are 2 nozzles, a round end nozzle, and a long nozzle. You also get a handy tool kit included too.
Looking at the Makita gas leaf blower you'll notice how compact it looks – and you're right, it is – and you don't need to have superhuman strength to carry this around either.
Weighing in at a lightweight 9.8 lbs, and with a soft grip handle that helps to combat vibration, it really is pretty easy to maneuver this leaf blower about.
Ok, so we've filled the 17.7-ounce fuel tank up with regular unleaded gas. A large fuel tank opening makes it really easy to get that gas in, and with the translucent tank on show, this really helps to keep your eye on that fuel level.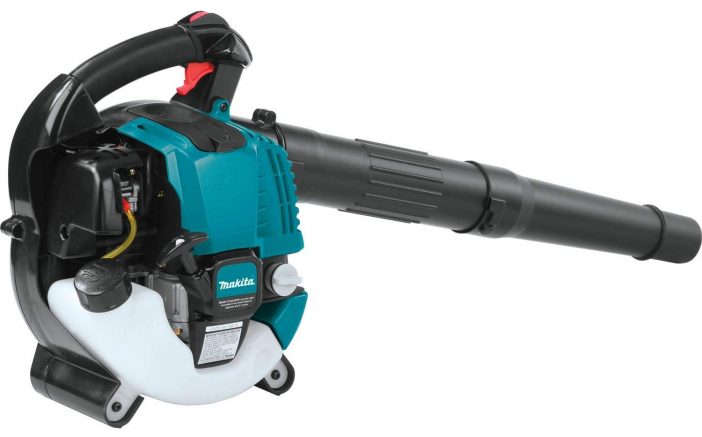 No problems there. That was easy. No messing about with hunting around for the oil to mix with the gas and then having to make sure that we get the mixture just right. Nope, none of that. Just pour the unleaded gas in and we're done.
Oh, and by the way, we're looking at up to 60% fuel cost savings here using this 4 stroke engine. That's pretty significant in itself.
Right, get ready for all that pulling on the pull cord to get this thing going… nope just kidding! Again sorry to disappoint you, as I know you just love that pull cord workout. This engine uses what Makita calls a "mechanical automatic engine decompression system," this basically means it will be easier and quicker to start, so, sorry, but you're getting no more pull cord workouts with this leaf blower.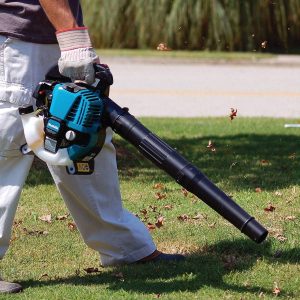 This best in class leaf blower is ideal for lawn and garden work, you'll soon have that yard clear of leaves in no time at all. And it's something that is not only suited to homeowners but professional workers too.
The max airspeed power is 145 mph and the max air volume is 358 cfm. What that actually means is that the maximum speed of the air that can be blown out of the leaf blower is 145 miles per hour.
With that, the maximum amount of air that is being moved is 358 cubic feet of air per minute, so there's more than enough power here. Oh, and there's a handy cruise control lever on the handle. This really helps in those situations where you need continuous operation.
Maintenance wise, everything is really easy to get to: There's a sliding spark plug cover for easy access, a large oil filling port for the engine oil and the dual-stage air filter is easily accessible too.
Makita gives a 2-year warranty on all emissions-related parts and all the other components are covered by a 12- month warranty.
What We Like:
4 Stroke Engine – There's so many benefits over 2 stroke engines, which I outlined above.
Low Noise Output – Only 67 decibels, which is significantly quieter than the competition, which can be around 96 decibels.
No Fuel Mixing – The 4 stroke engine means you don't need oil to mix in with the gas.
Fuel Cost Saving – Up to 60 percent fuel cost savings because of the more efficient 4 stroke engine.
Things to Consider:
Be Cautious of Long Warranties – Some of the other gas leaf blowers offer very long warranties to tempt you into buying their product, but always read the small print to see exactly what is covered or more likely what isn't.
Check the latest price on Amazon. It'll be one of the first products on that search page link. Like we said earlier, we can't link to it directly.
Click here if you want to add a blower vacuum kit to this model, you get a large capacity dust bag, and all the necessary attachments needed to help with the collection of leaves. The link will take you directly to the product page.